The Indian International talked about competition in the team, winning the ISL title and more.
India and Mumbai City FC goalkeeper Amrinder Singh featured in an Instagram Live video on the official Instagram handle of the Indian Football Team. In the interaction, the 27-year old was presented with questions from the fans of the Blue Tigers. Amrinder started in India's 1-1 draw against Oman, where he saved a penalty in the first half.
The custodian also won the League Winners' Shield and the ISL title with Mumbai City FC in the recently concluded season. The Indian shot-stopper described how it felt to win both at the same time. "I can't express how it felt at that time. There was a point where ATK had a match and if they were to win that match then they would secure the top spot. I think that was a confidence booster and that is where the motivation started."
"About the feelings, I can't describe how it felt. When we won the first trophy and then we went on to win the final. In a club where you have been for five years and to win the first trophy for that club. After that back-to-back in 10 days. It's not so easy. When you win a trophy and after that same performance and to maintain the same energy level."
Good relationship among goalkeepers
Subhasish Roy Chowdhury, Gurpreet Singh Sandhu and Dheeraj Moirangthem accompany Amrinder as the goalkeepers in the current Indian squad. On being asked about his relationship with his fellow shot-stoppers, Amrinder Singh stated, "I think we have a very good relationship. Whenever we are training, we have Gurpreet, Dheeraj, and Subhasish bhai who's our senior, we try to learn from each other.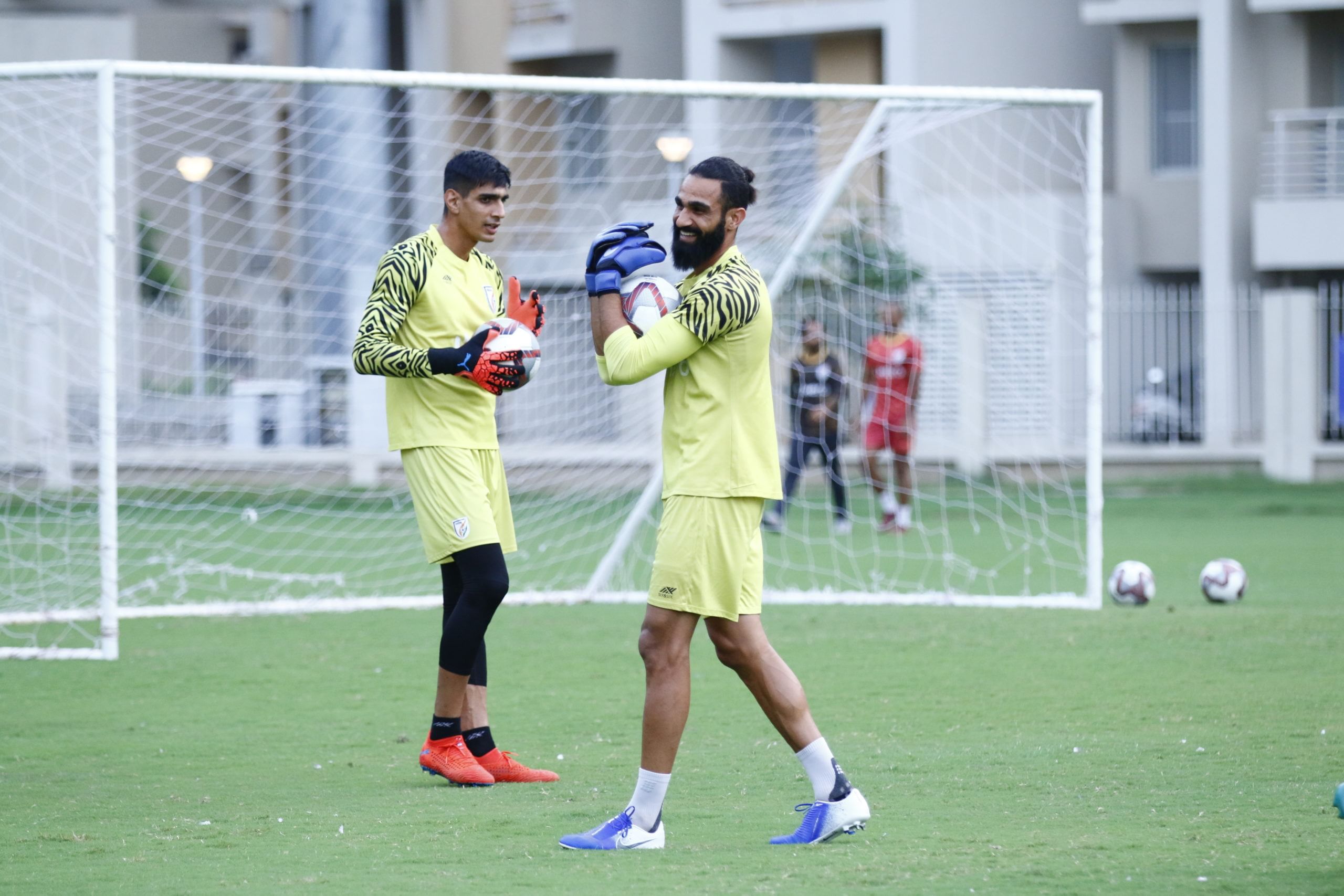 "We try to improve each other. All of them are experienced goalkeepers. Dheeraj is also coming up. I believe that if my fellow goalkeeper is doing well then it will reflect on me as well. We talk on how to handle certain situations, certain movements. Whichever one of us is playing, we discuss how to do what. We do not try to hide our mistakes, we talk about it openly and talk about solving it. I am learning from all of them and my intention is to learn as much as possible."
Goalkeeper training is tougher than it looks
One of the questions put in front of the 27-year old was about his training routine and how goalkeeper training differed from the training of an outfield player, to which Amrinder replied, "It may look like the goalkeeper is an easy position. You don't have to run too much. But, if you look at the training, I feel that the goalkeeper training is very difficult.
"You have to be mentally strong in training everyday. It depends on how strong you are mentally. Everyone makes mistakes, but it depends on how quickly you recover from that mistake and focus back on the game. So, of course, the goalkeeping position is a very difficult position. Behind us is the net and there is no-one else to make a save. We do not have much room for error."
Emerging Indian goalkeepers
Almost all of the Indian Super League clubs opt for Indian goalkeepers, which has seen the emergence of many promising glovemen. On being asked about his thoughts on that, the Mumbai City man said, "I believe that the Indian goalkeepers have showed in the ISL that they are there and can be trusted upon. They have repaid that trust.
"I think the goalkeepers have improved a lot in the last 4-5 years. They have shown that they can handle the responsibility and there are also many young goalkeepers among them. I believe that goalkeepers in India are doing really well right now."
On upcoming match against UAE
On being asked about his expectations against the UAE in the next game, the 27-year old answered, "If you are playing against any Arab team then you will have to prepare for a physical side. You have to be mentally strong. If you look at it, both UAE and Oman, both of them are physical sides.
"We did well in the last match and made a comeback. We struck to the plan and in the end we got a goal. UAE is going to be a physical side. In international matches, the more you stick to the plan, the better. I think the less mistakes you make, the greater are your chances of winning the game. There isn't much room for error at the international level. I believe that UAE and India are almost at the same level. I think the team that is mentally strong, stays focused and makes less mistakes will have a higher chance of winning."
For more updates, follow Khel Now on Twitter, Instagram and join our community on Telegram.