The 26-year-old opened up on his recovery from injury, rise of Indian football, coronavirus and more.
On Saturday, Nilanjan Dutta the media director of the Indian football team caught up with star defender Sandesh Jhingan, who spoke on a host of topics including his recovery from last year's injury and his best memories with Indian Super League (ISL) outfit Kerala Blasters, whom he left last week.
"It was quite frustrating," Jhingan began, after he was asked about how he felt at being forced to stay off the pitch for the last six months. "Everyone knows that this could happen to any time on any player, irrespective of the sport – so you gotta be mature enough to accept when it happens. Yes, I felt bad but neither sympathised with myself for it nor asked for others' sympathy. I know it's part of my job and that I have to recover from it. And I took it as a challenge to be an honest worker during my recovery phase, so I took my time to get back to the game."
"Of course, I missed playing a few games and at times, I also felt that should have been there – but these things have happened before. So the best thing to do was to wait for myself to heal completely before returning. Now I just can't wait to get back on the field and win games for both my country and my future club," he added.
At this point, the conversation turned to India's sub-par display in the 2022 FIFA World Cup Qualifiers. Although they are yet to finish their set of qualifying matches, the Blue Tigers haven't had a positive campaign having recorded zero wins from five matches so far.
"Well, at first I felt bad for not being able to take part (after the injury). I was really pumped up for this qualifying round, to be honest. I remember – when our draws were announced we said to ourselves, 'finally this is our chance to make it happen.' But things did not turn out the way we expected," the 26-year-old revealed.
"I will always regret how we lost against Oman. I think I could have done better in that match. The next few matches also did not go well for me. Even after I got sidelined because of my injury, I tried my best to keep the team motivated. Sadly things did not work the way we wanted them to. The boys gave their best – but you know, sometimes you win, sometimes you lose. You can't change it," Sandesh Jhingan added.
"I'm sure the boys always give their best – be it in training, be it during matches, everywhere. But sometimes things don't go your way, while at other times they do. Irrespective of the end result, we all learn from them and hence I am sure we will bounce back. The future looks great for India," he observed.
Sandesh Jhingan also said that if one takes into account the time between his first cap for India and now, the team's ambition and confidence levels have increased manifold.
"As you know, I made my debut for India in 2014. The ISL came afterwards and suddenly we were playing with and against a lot of stars, including foreign players like Wes Brown, Aaron Hughes and so on. As kids, we used to watch some of them on television and so we knew they were truly world-class. Playing with them was not as tough as we thought – in all fairness, most of them were past their prime, but they were still excellent footballers."
"Continuous exposure against such stars, both Indian and foreign, helped us play with more confidence later on. The draws against China in 2018 and Qatar last year were exceptional results. That's why I always say that we need more and more games against top sides. In fact, that's when you realise 'Hold on a second, we're pretty good as well!' That helps us improve our confidence too."
Earlier this week, he parted ways with Kerala Blasters, who he served for six years. He also reached two ISL finals with them, but unfortunately missed out on winning the trophy on both occasions. Amidst rumours that he left the Yellow Army to pursue opportunities in foreign lands, the centre-back said, "I think it's the dream of every Asian kid to go to Europe and play football in some of their major leagues, so the same applies to me as well."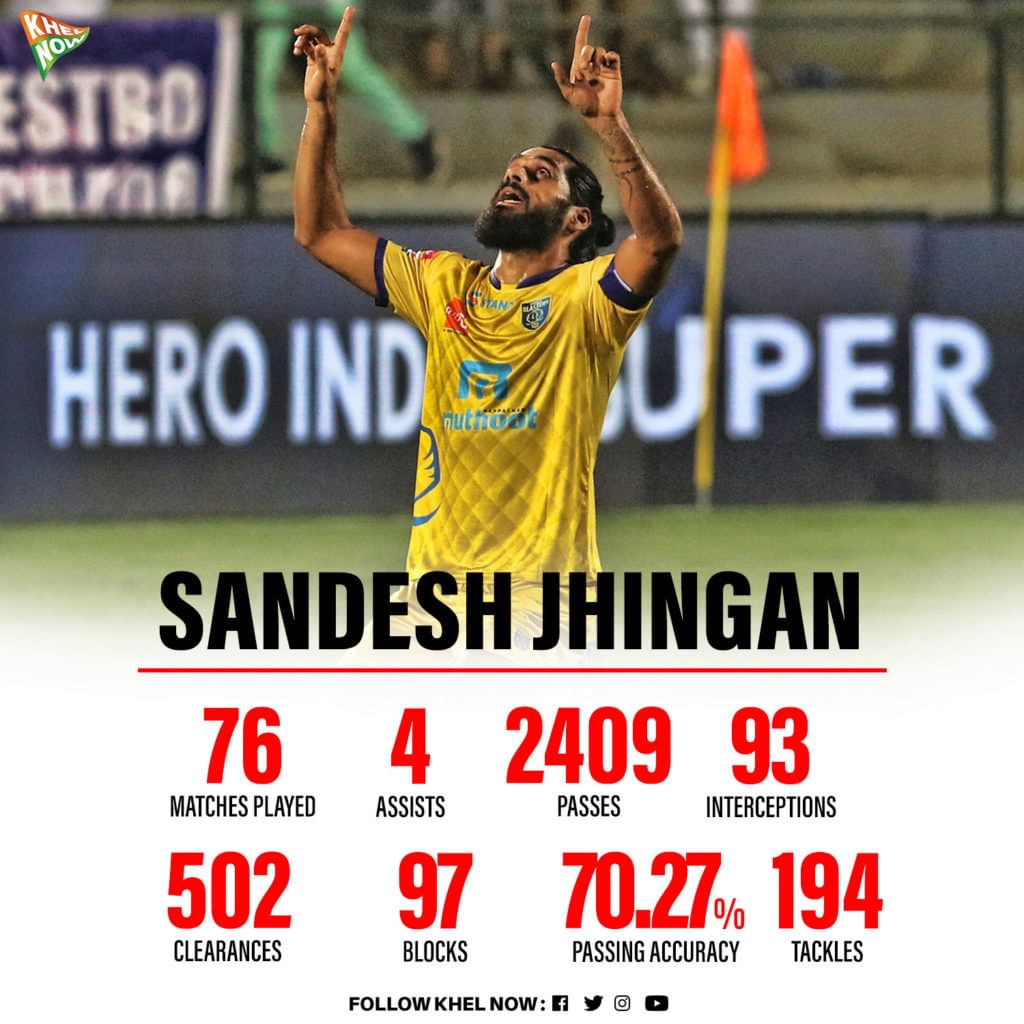 "But it's not possible for everyone. There are a lot of laws that restrict most of them from going abroad. If luck favours you and you manage to get a chance to play in European clubs, you still have lots more to do, as the quality of football there is unparalleled."
"But compared to olden times, I do feel that we will see more Indians playing in Europe in the years to come. It's because mentality has changed. People these days are exposed to foreign leagues more than in the olden days. Foreign stars who have played in the ISL are also returning home and are hopefully putting in good words about our players," he added.
"Players like Sahal (Abdul Samad), (Anirudh) Thapa and so on have enough quality to play in the best leagues of Europe. I strongly believe that in the next few years, Thapa would play in Spain and Sahal would play in Germany – I'm just giving instances here," he observed.
"When football returns, it will mostly be played behind closed doors. Fans are what makes the sport what it is, so their absence is going to be felt in the coming months," he said, when asked about the prospect of playing behind closed doors in future.
"But football is my profession as well. So when I'm asked to do my job by my club or country, I cannot say no and so I'll definitely play behind closed doors if necessary. Fans are being asked to stay away from the game for now, but that's being done only for the sake of their own safety. So it's good in a way, and once everything gets back to normal, all of us will be able to enjoy the game like we used to," Sandesh Jhingan signed off.
For more updates, follow Khel Now on Twitter and join our community on Telegram.