The Highlanders will be looking to replicate their heroics from last season.
NorthEast United will be eyeing yet another masterclass under Khalid Jamil come November 19, when the 2021-22 edition of the Indian Super League (ISL) begins. Last time, the Highlanders completed their heist for a top-four finish only for the second time in their history.
The Guwahati-based club has been a part of the ISL ever since its inaugural edition in 2014. They have mostly had mixed campaigns over the years. In the last seven seasons, they've made it to the playoffs just twice, once in 2019 and once in 2021. They've changed their overall approach in terms of how they operate and results have followed their way.
On that note, Khel Now takes a look at the team profile of NorthEast United ahead of the 2021-22 season:
Last season's performance: Third
NorthEast recorded a third-place finish on the table under Khalid Jamil last season. Jamil came in when Gerard Nus' term was brought to an end following his sacking. During that time, the Highlanders were struggling in a mid-table war, but later improved to finish third. Overall, the club won eight games and drew nine times in 20 matches. They lost just three matches in the league stage and recorded their highest-ever tally on the points table, with 33 points.
NorthEast United eventually bowed down to ATK Mohun Bagan in the second leg of the semi-finals. Had it not been for a missed penalty, things would've been completely different.
Pre-season
The Highlanders kick-started their groundwork in Goa in September, under the tutelage of Jamil. Their overseas players joined them a couple of weeks later, in mid-October. They were on the losing end of a 2-0 defeat in a 60-minute friendly with Jamshedpur FC and played out a 1-1 draw against Hyderabad FC last Monday. Mathias Coureur opened the scoring for them, but the Nizams equalized late in the second half through Halicharan Narzary.
Coaching Staff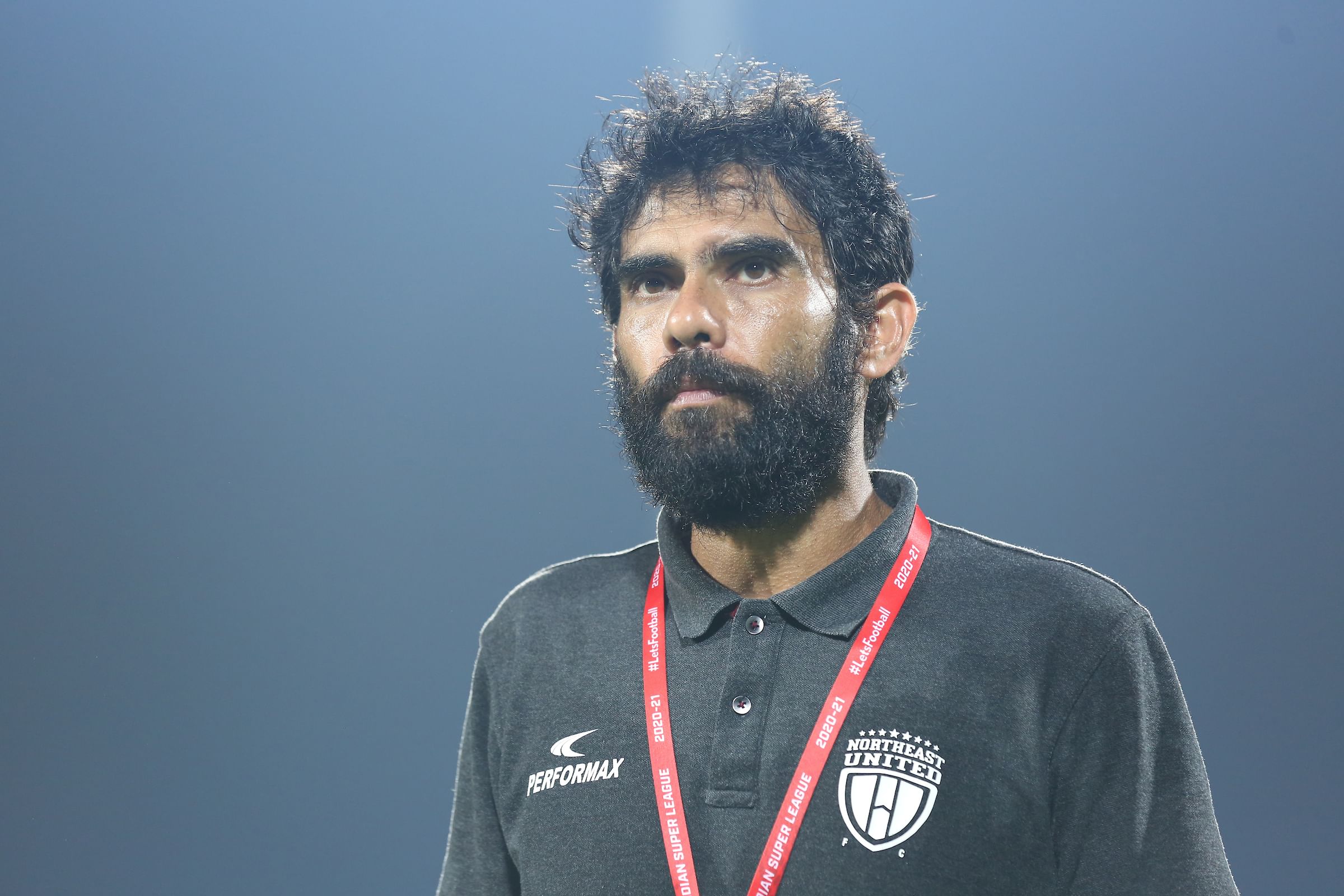 After bringing an end to their policy of chopping and changing, the Highlanders have appointed Khalid Jamil as their permanent head coach. Jamil becomes the first Indian head coach of an ISL outfit on a full-time basis.
Jamil is known for his heroics with Mumbai FC as well as Aizawl FC in the I-league and now with NorthEast in the ISL. He won the relegation battles with Mumbai and then the I-league with Aizawl against all odds. Last season, he led NorthEast to their second playoffs appearance.
Under Jamil, NorthEast recorded a 10-match unbeaten run, which included thumping wins against both the eventual finalists of last season's ISL. The tactician knows the ins and outs of the league and Indian football better than his foreign counterparts. As a result, he will have a key role to play in getting the best out of his boys this season.
Other members of Khalid Jamil's backroom staff:
Assistant Coach: Alison Kharsyntiew
Goalkeeping Coach: Cristian Patru
Transfer Dealings
NorthEast United had a decent summer. They've retained their core, but have also lost out on a few key players They've brought in many fresh faces in their domestic contingent, alongside three overseas players.
Ins
The Highlanders have roped in ISL winning duo Hernan Santana and Tondonba Singh from Mumbai City. They've also signed Mathias Coureur and Patrick Flottmann to complete their foreign contingent. Khalid Jamil has brought in Joe Zoherliana, Mirshad Michu, Jestin Gorge and Mohammed Irshad.
Other Indian players in their squad are Sehnaj Singh, Emanuel Lalchhanchhuaha, William Lalnunfela, Laldanmawia, Gani Nigam and Manvir Singh.
Outs
NorthEast United received a big transfer fee from Mumbai City and Chennaiyin FC for their wonderkids Lalengmawia and Ninthoinganba Meetei. They released their attacking trio of Kwesi Appaih, Idrissa Sylla and Luis Machado. The Highlanders have also let-go of their defensive trio of Ashutosh Mehta, Dylan Fox and Benjamin Lambot.
FC Goa paid a compensation fee to NorthEast for the transfer of Fox. Among the Indian players, Nim Dorjee and Gurmeet Singh have sealed a move to Hyderabad FC. NorthEast have also let-go of Wayne Vaz, Ponif Vaz , Lalrempuia Fanai and Britto PM.
Squad
Goalkeepers: Subhasish Roy Chowdhury, Mirshad Michu, Sanjiban Ghosh, Nikhil Deka.
Defenders: Tondonba Singh, Joe Zoherliana, Provat Lakra, Gurjinder Kumar, Hernan Santana, Patrick Flottmann, Jestin George, Mashoor Shereef, Mohammed Irshad.
Midfielders: Federico Gallego, Khassa Camara, Sehnaj Singh, Emanuel Lalchhanchhuaha, Imran Khan, Pragyan Gogoi, Pragyan Medhi, Rochharzela.
Forwards: Deshorn Brown, Mathias Coureur, VP Suhair, Lalkhawpuimawia, William Lalnunfela, Laldanmawia, Gani Nigam, Manvir Singh.
Tactical Formations
Primary: 4-3-3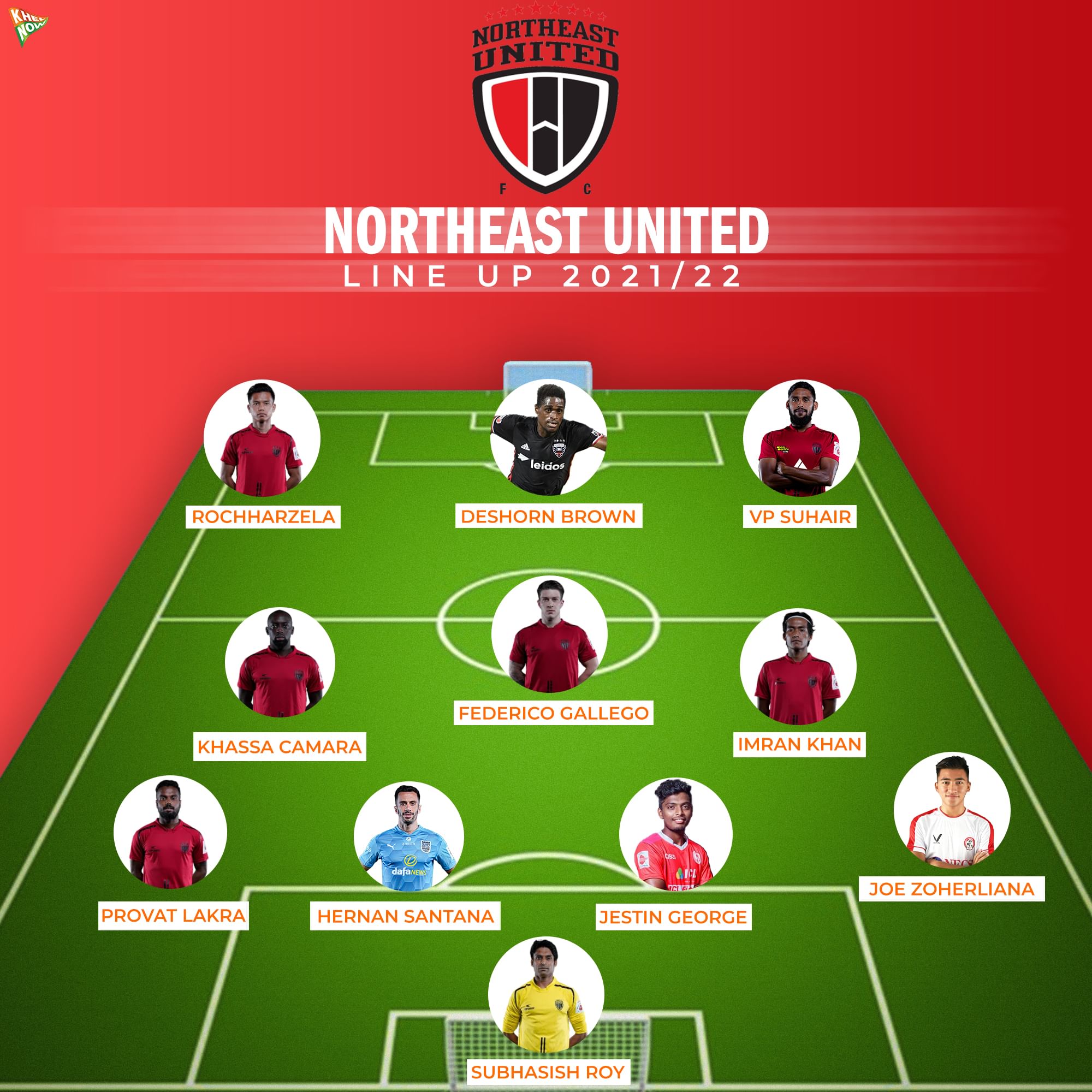 Khalid prefers offensive football while giving equal importance to the defence. Last season, he always used a 4-3-3 attacking formation which proved to be very successful. With this formation, NorthEast gathered 22 points in nine league games.
Subhasish Roy Chowdhury is expected to lead the Highlanders and will start in goal. Joe Zoherliana and Provat Lakra will be deployed as right and left full-backs respectively. Hernan Santana and Jestin George will form the centre-back duo.
Uruguayan magician Federico Gallego, Khassa Camara and Imran Khan will operate in the middle of the park. Deshorn Brown will lead the forward line alongside Rochharzela and VP Suhair.
Alternate: 4-2-3-1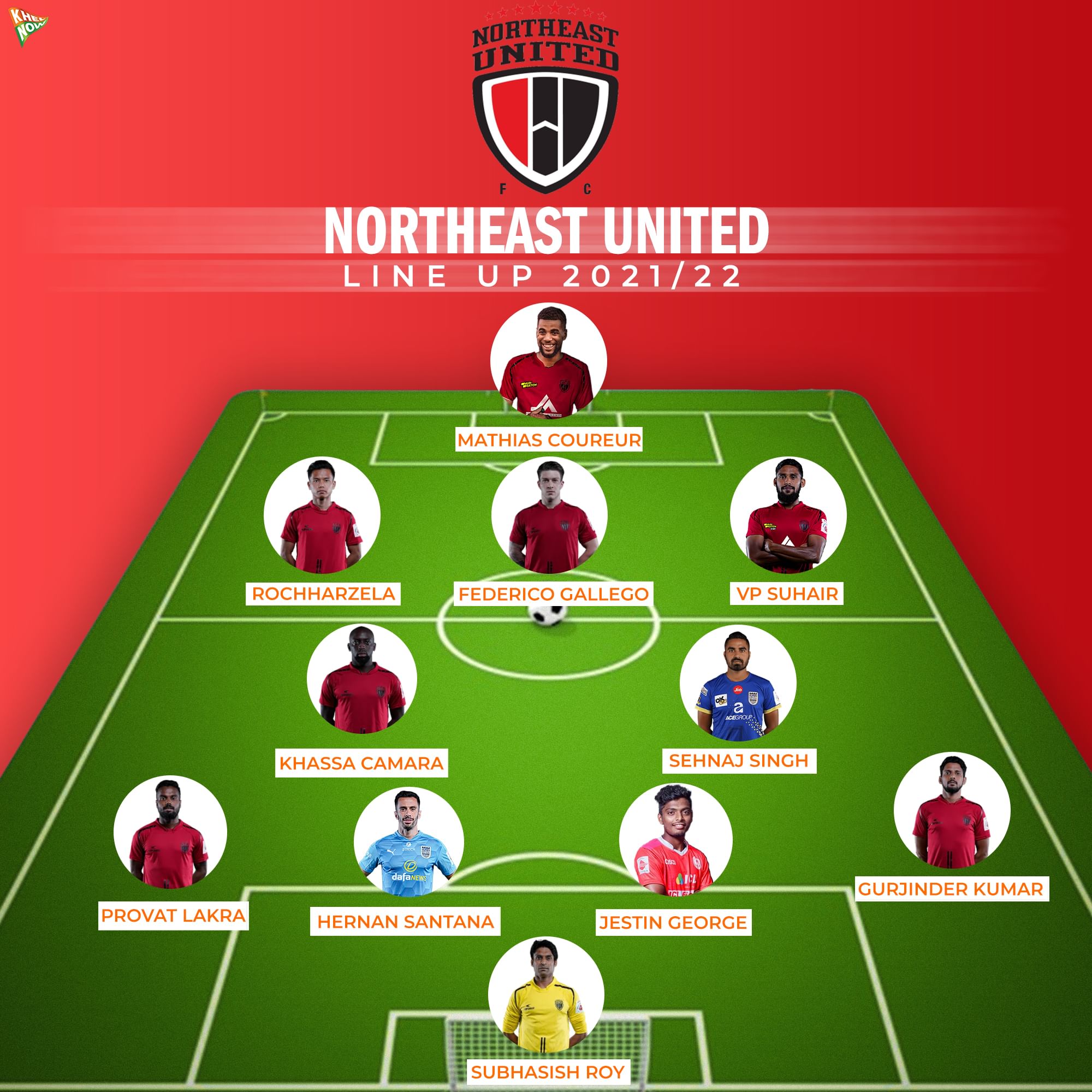 Other than the 4-3-3 formation, Jamil is expected to use the traditional 4-2-3-1 system. This system offers a balanced defence and attack. Not much will change in terms of player selection in comparison to the previous formation.
Subhasish will remain between the sticks. Provat and Gurjinder will start as full-backs, with Hernan and Jestin as centre-backs. Camara and Sehnaj will be deployed as the double pivot. The midfield front three will be formed by Rochharzela, Gallego and VP Suhair. Mathias Coureur will operate as the lone striker.
Strengths
A highly-experienced and reliable foreign contingent. The likes of Federico Gallego, Khassa Camara, Hernan Santana and Deshorn Brown know the league well. For Mathias Coureur and Patrick Flottmann, adjusting to the new surroundings shouldn't be a big task.
Khalid Jamil's ability to get the best out of limited resources is NorthEast United's biggest strength.
Khalid Jamil's knowledge about Indian football and the ISL in particular, will give him and NorthEast an edge over their nemeses.
The weight of expectations is less on them which will allow them to play free-flowing football.
Among their 26 players, many of them operate in different positions. Their versatility is no less than a luxury for Khalid Jamil.
Weaknesses
NorthEast United have an highly-inexperienced Indian contingent in comparison to their rivals. They don't have any Indian International in their squad this time around.
The Highlanders will be heavily dependent on their foreign players for creativity. Apart from Federico Gallego they don't have any other attacking midfielder.
The side from Guwahati lack a proper right-back. Joe Zoherliana has never played in the ISL and it might take some time to get use to the pace of the ISL.
NorthEast haven't recruited any convincing name to replace Apuia. Although they have signed Sehnaj Singh, it's not enough to fill Apuia's void.
They don't have back-up in key positions. For example, there's no proven backup to Federico Gallego.
The club lost out on their first-choice defensive duo of Benjamin Lambot and Dylan Fox from last season. They've brought in Hernan Santana who won the domestic double with Mumbai last season. But, the last-minute signing of Patrick Flottmann is highly unconvincing.
Players to Watch
Federico Gallego
Gallego has been NorthEast's best player for quite some time now. The Uruguayan was a driving force in leading the Highlanders to their best finish in the league table.
He contributed in every aspect of the game, be it scoring, creating or defending. NorthEast United's fate will depend on Gallego's form.
Imran Khan
The midfielder was one of the standout players for the Highlanders last season. Imran is a left-footed box-to-box midfielder and was excellent every time he stepped on the pitch.
Khalid handed him the responsibility to fill in the role of talisman Federico Gallego when he was out injured last season and Imran repaid his trust. With Apuia shifting sides to Mumbai, Imran's role at NorthEast has increased significantly.
Rochharzela
With Luis Machado and Ninthoi gone, NorthEast will depend on Rochharzela in the wider positions. The young lad can play on the wings and also as an attacking midfielder.
Rochharzela's speed, passing accuracy and off-ball movement makes him a good option for Khalid Jamil. He scored and assisted once to wrap up his debut ISL season and the Highlanders will be hoping for better performances from him this time around.
Hernan Santana
This will be Santana's second season in India after winning the domestic double with Mumbai City last campaign. He brings the winning mentality and the Spanish culture into the Highlanders' dressing room.
He'll have the responsibility to fill the void of leadership at the back left by Benjamin Lambot. Santana will form the core of the central defence alongside Patrick Flottmann or Jestin George.
Fixtures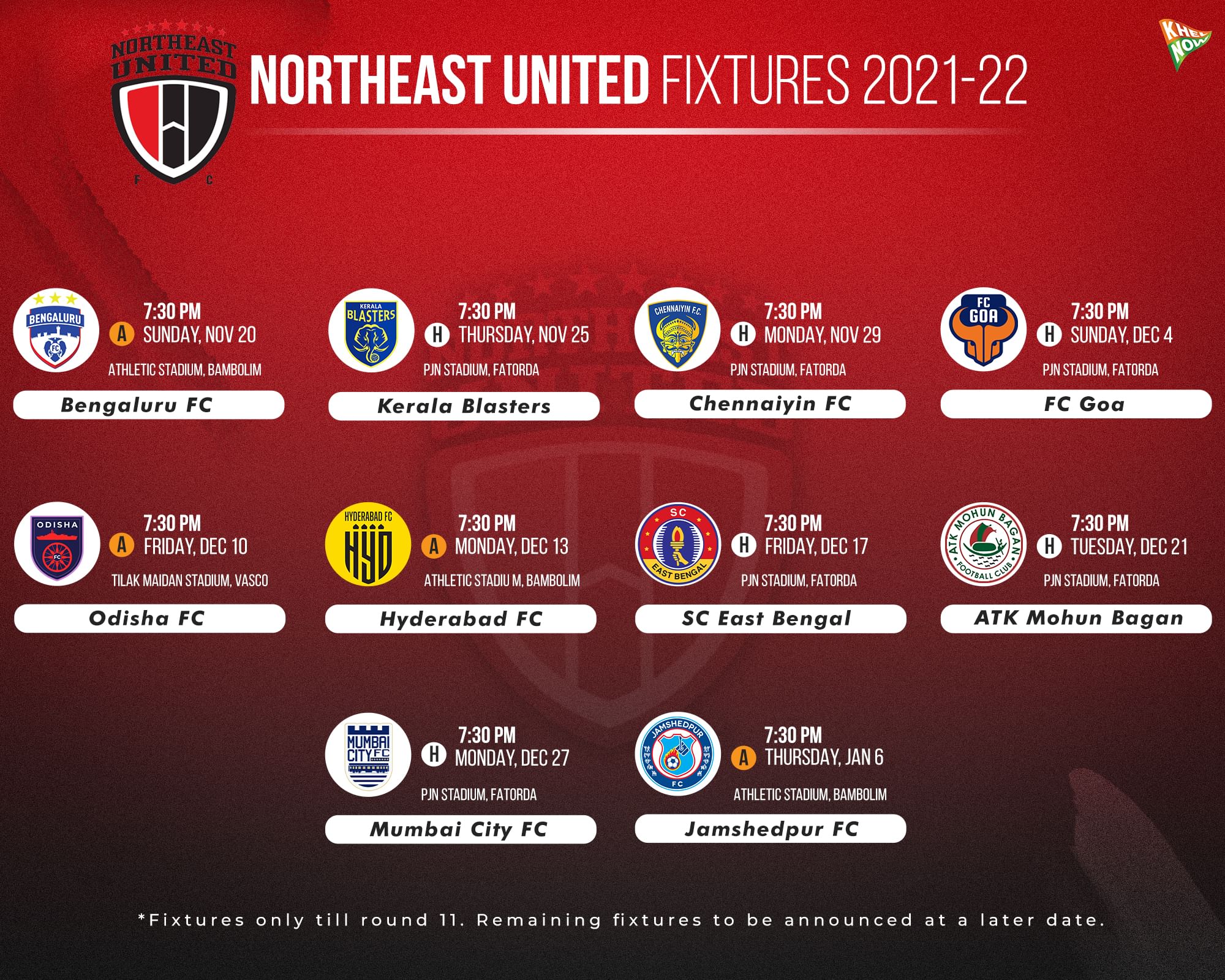 What to Expect
They say, never rule out a team led Khalid Jamil. Even NorthEast United are known for leaving Indian football fans open-mouthed every now and then. After a great season, the Highlanders have retained their core, but have also lost out on a few key players. They have roped in a good lot of foreign players and will be highly dependent on them.
Khalid Jamil will have the responsibility to get the best out of his Indian contingent and ensure all the players develop a good synergy. Jamil is known for getting results with his limited resources, but can he replicate his form from last season? Only time will tell!
For more football updates, follow Khel Now on Twitter, Instagram and join our community on Telegram.