ISL- Indian Super League
ISL 2021-22 Mid-Season Review: Goals, surprises & the rise of Gen Nxt
One of the biggest talking points of the season so far has been Sunil Chhetri's lack of form.
The Indian Super League (ISL) 2021-22 season has reached its midway point, with 57 games being played so far in the league stages. Since the season opener on November 19 when ATK Mohun Bagan beat Kerala Blasters in a thriller, a lot of entertainment has ensued in Goa.
Four different teams have topped the table so far. As many as nine teams are still in the battle for the playoffs spots and as many as five teams competing for the prized AFC Champions League spot. A lot of drama, controversy and action has taken place over the last few months in the Indian top-flight.
There has also been a game postponed due to the COVID-19 outbreak in the bubble. ATK Mohun Bagan's match against Odisha FC was rescheduled after players from the home team contracted the virus. There has also been positive cases in other clubs. Here's a review of what has happened.
Fact Sheet of Indian Super League 2021-22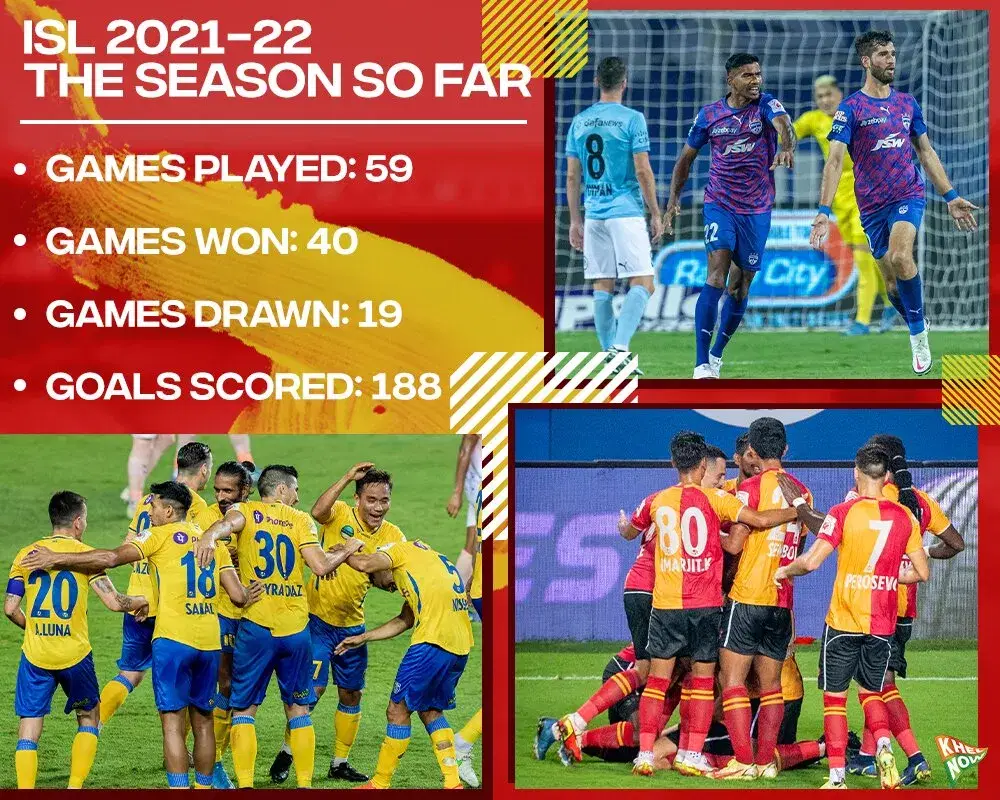 Best Performing Teams
Kerala Blasters
After disappointing for the past few seasons, Kerala Blasters have made a significant comeback in the ISL this season. Under new coach Ivan Vukomanovic, they've established themselves as one of the top contenders for the title this season. With exciting, prolific new foreign stars lighting up the team's playing style, the Blasters have entertained fans with some thrilling football this season – only losing a single game so far.
Hyderabad FC
The Nizams have only improved under Manolo Marquez in his second season at the club. The acquisition of current ISL top scorer Bartholomew Ogbeche has proven to be a masterstroke, as he's elevated them to newer heights. Hyderabad FC have looked compact against intimidating opponents, taken the fight to teams and come away with some positive results that have kept their title dreams alive.
Jamshedpur FC
After near hits and misses in his first season at Jamshedpur FC, owing to injuries and limited talent at his disposal, Owen Coyle has truly come into his own in the ISL 2021-22 season. With smart signing and a focus on youth, the Scot has shaped a team in his own image — feisty and fighters. The Men of Steel sit at second just a point off the leaders Kerala Blasters. Not just are they a potential playoffs favourite, but also a contender for the coveted AFC Champions League spot.
Worst Performing Teams
SC East Bengal
After their dismal debut season, things have gone from bad to worse for SC East Bengal. They're the only ISL team yet to win a single game this season. They sit at the 11th spot, with just six points from 10 games. Spanish head coach Manolo Diaz failed to impress before his sacking and their performances have been lethargic all season long. If this continues, the Red & Gold Brigade are looking at a bottom-place finish in the ISL.
NorthEast United
Khalid Jamil's underdogs haven't really been able to thrive under the pressure so far this season. Riddled with injuries and other issues, their season has derailed at the halfway point. Their domestic core has failed to impress, they've been defensively woeful (conceding the joint-most goals so far) and even the brilliant Deshorn Brown hasn't been able to save them.
FC Goa
The Gaurs have encountered all sorts of issues following their AFC Champions League campaign. They've started the season poorly, only winning three out of 10 games so far. FC Goa have been defensively poor, conceding cheap goals almost regularly and not being able to dominate games like before. They've also lost head coach Juan Ferrando to ATK Mohun Bagan, which really hasn't helped things.
Top Three Performers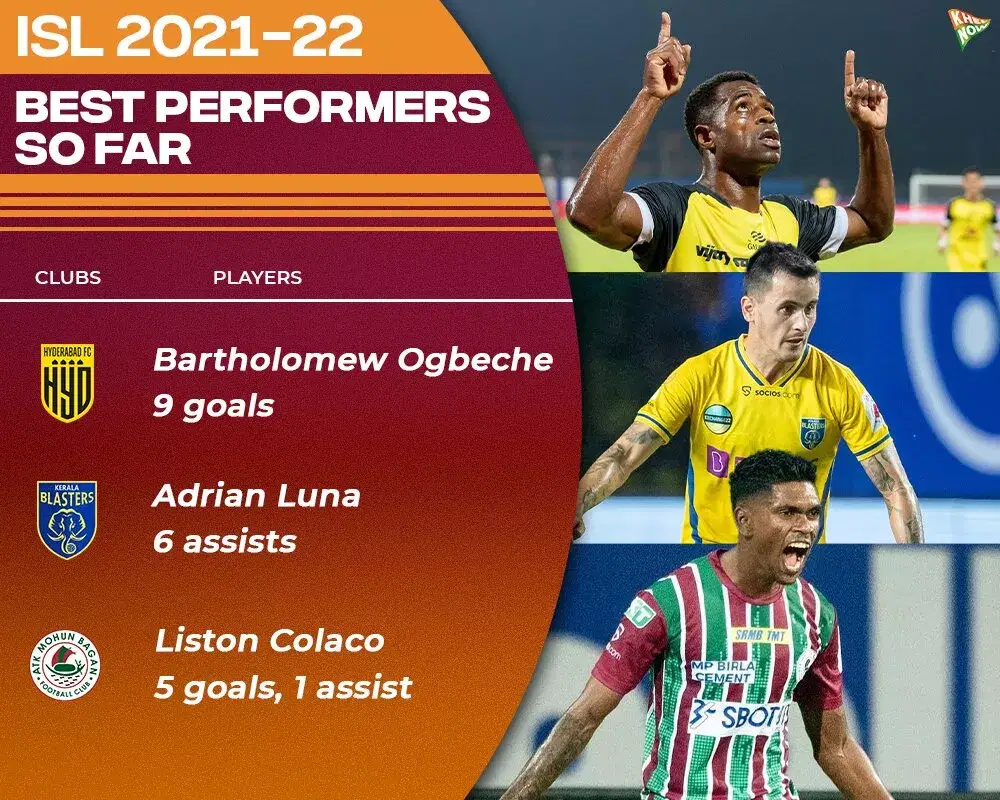 Bartholomew Ogbeche
A move to Hyderabad FC from Mumbai City has proven to be a masterstroke for Bart Ogbeche. The Nigerian striker has excelled as the leader of the Nizams, leading from the front as their main forward. Ogbeche has scored nine goals already in 10 matches, having an impressive goal conversion rate of 26%. The 37-year-old's age is not holding him back from scoring clutch goals. It's because of Ogbeche's brilliance that Hyderabad FC have soared this season and he could be the one to ensure their first-ever qualification for the ISL playoffs.
Adrian Luna
That he was going to be good was a mere suggestion when Kerala Blasters signed him on a free transfer from Melbourne City. But just how good can he be? With the Uruguayan on their side, the southerners are at the top of the table for the first time in eight years. Luna is the most creative player in ISL 2021-22, with an average of 2.2 key passes per 90. He has already created big chances and assisted six times, while also finding the net twice himself. In 11 games, Luna has created a total of 24 chances and has been the fulcrum of this Kerala Blasters team under Ivan Vukomanovic.
Liston Colaco
The Goan starlet has proven that he is definitely worth the big money ATK Mohun Bagan splashed to sign him last year. The eccentric winger has started the ISL season well, excelling on the wings for the Mariners. Colaco has scored five goals in nine appearances and is the highest-scoring Indian player in the league. With his excellent dribbling, trickery and pace, he's been tormenting every team in the league. Colaco has scored some world-class goals for the Mariners and has definitely been one of the most exciting players to watch in the ISL this season.
Underperformer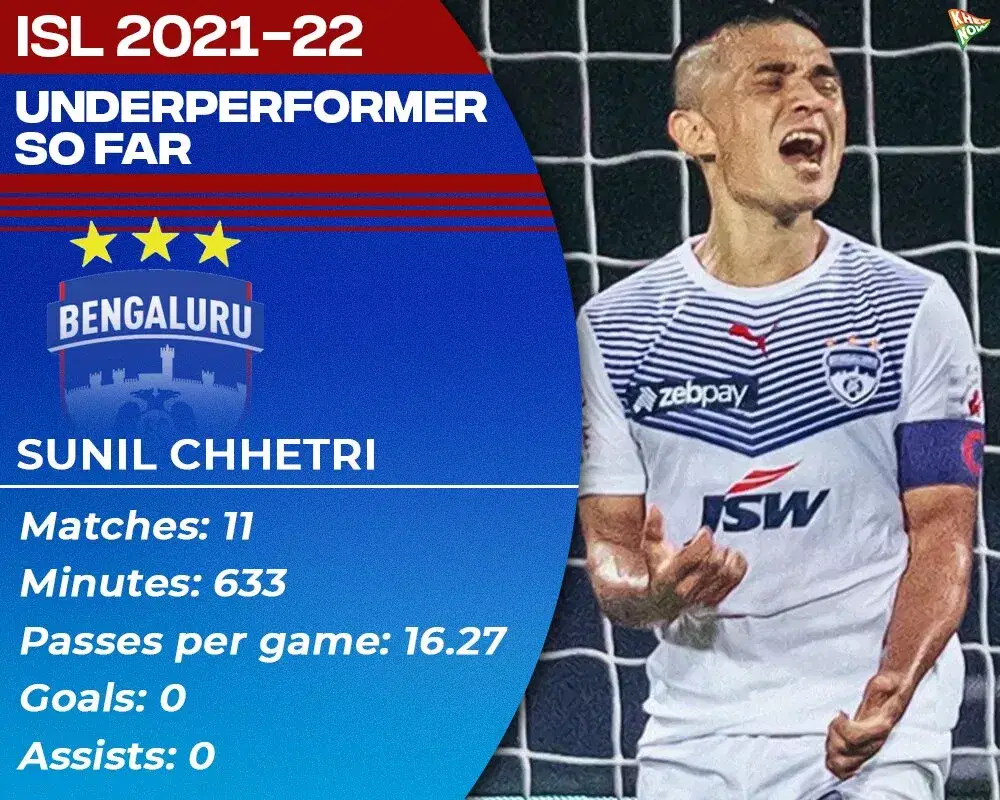 Sunil Chhetri
Despite coming off an impressive SAFF Championship win with India, Sunil Chhetri has struggled heavily in the ISL this season. The Bengaluru FC talisman has not started in their last five games and seemingly been benched indefinitely after some underwhelming performances. Chhetri has not scored a single goal in 11 ISL appearances, his worst-ever goalless run in the competition.
The 37-year-old doesn't seem a good fit for the current system and has missed some big chances all season. If this barren run continues, that could perhaps be early signs that age is catching up with the iconic striker.
Top three games so far
NorthEast United FC 3-3 Mumbai City FC
Odisha FC 6-4 SC East Bengal
ATK Mohun Bagan 4-2 Kerala Blasters
Surprise Package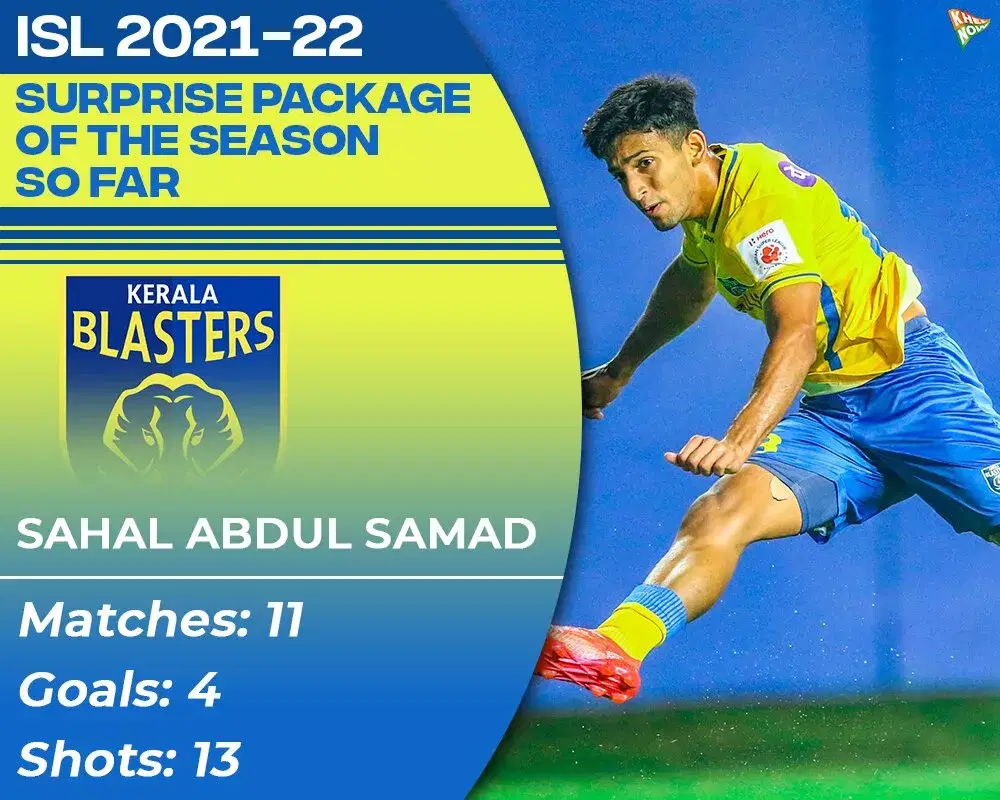 Sahal Abdul Samad
This 24-year-old has been a revelation in ISL 2021-22. With four goals in 11 matches, Sahal is the second-highest scorer among Indian players this season. He has flourished ever since being moved out wide on the flanks as a wide No. 10 or a winger, who preys on the gaps left behind by the two strikers upfront. Sahal has developed a great understanding with Alvaro Vazquez, Jorge Diaz and Luna as part of the quartet.
Moment of the Season
SC East Bengal All Indian XI
You are at the bottom of the points table without a win barely two months into the season. That winless run extends to 14 games overall. The bridge between you and the rest of the league is getting too far, fans are getting restless and a victory is only looking heavier and far, far away. What do you do? Go with an all Indian playing XI.
This is exactly what SC East Bengal's interim coach Renedy Singh did against Jamshedpur FC. Whether that was out of choice or forced remains a story for another day. The Red & Gold Brigade named an all Indian playing XI on the field and just one foreigner on the bench and they nearly pulled off a draw until Ishan Pandita came off the bench and scored the winner.
Until January 11, 2022, that would have remained a distant dream in the ISL. Singh and SC East Bengal created history although it did little to change their fortunes. Whether this is the future, time will tell us.
Best Foreign Signing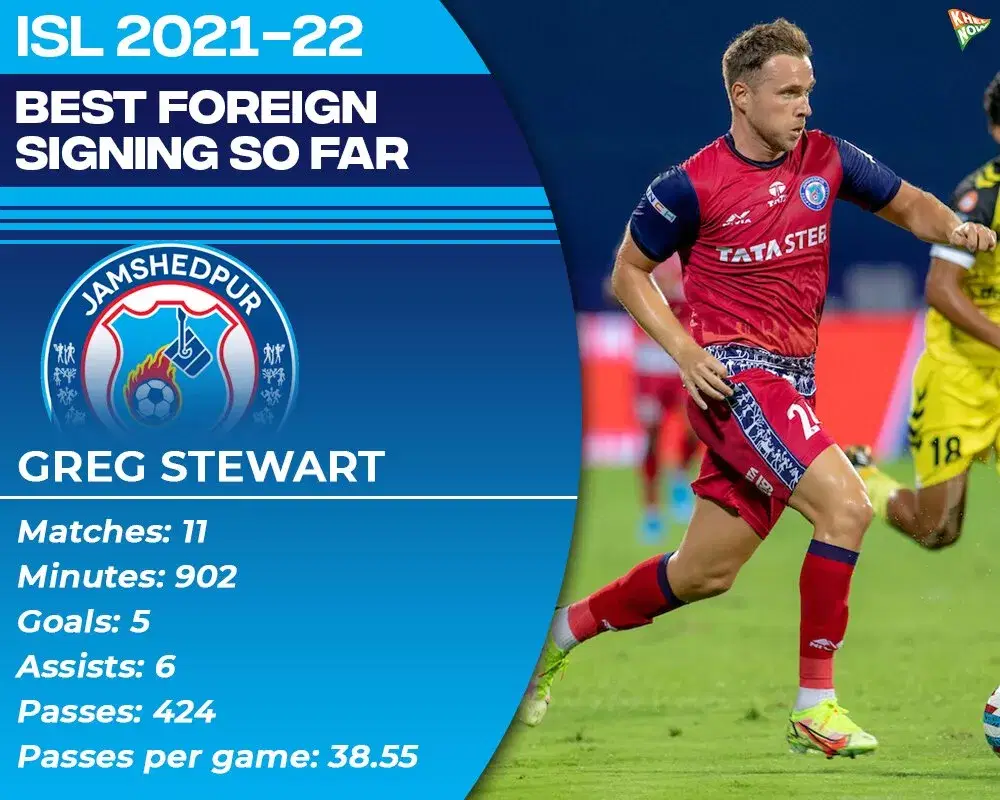 Greg Stewart
While Luna has been the most creative player in ISL 2021-22, Greg Stewart has piled on the goals and assists. The former Rangers star has scored five times and assisted five goals in 10 matches. Stewart has been involved in a goal in seven of those matches.
Best Manager
Manolo Marquez (Hyderabad FC)
Sometimes, it is tougher to build on the good work that has already been done, than to start something from scratch. We have examples from this season itself – FC Goa struggled under Juan Ferrando and ATK Mohun Bagan failed to create an impact under Antonio Habas. This is where Manolo Marquez stands out, as he not only continued his good work at Hyderabad FC but also built on it.
At the end of the first half of the ISL 2020-21 league season, Hyderabad FC were at third place in the standings. Fast-forward to their ongoing campaign, and the Nizams have continued to maintain their place in the playoffs positions consistently.
It hasn't been an easy task either, with the club forced to let go of some key players like Aridane Santana and Liston Colaco among other reasons. Intelligent recruitment in the off-season, coupled with the team playing to their strengths against different oppositions in the league, has helped them continue as one of the better teams, and the credit should go to Manolo Marquez.
It is said that the Spaniard played an important role in the arrivals of Bartholomew Ogbeche, Javier Siverio (he was the youngster's former coach at UD Las Palmas), Juanan Gonzalez and Edu Garcia, all of who have done well for the Nizams so far in this season. Similarly, some tweaks in their playing style saw them winning famously against star-studded teams like Mumbai City, Bengaluru FC and Odisha FC.
If Manolo Marquez continues to do so well with his resources at the club, it will not be surprising if Hyderabad FC goes on to lift the League Winners' Shield at the end of their ISL 2021-22 campaign.
Key stats
Mumbai City midfielder Ahmed Jahouh tops multiple key categories so far this season, including the most passes (790), tackles (69), recoveries (100) and assists (6).
Kerala Blasters goalkeeper Prabshukan Gill has kept the most clean-sheets (3) among all ISL goalkeepers this season.
Jamshedpur FC midfielder Greg Stewart has the most goal contributions in the ISL so far this season (11).
Top Three Contenders for Emerging Players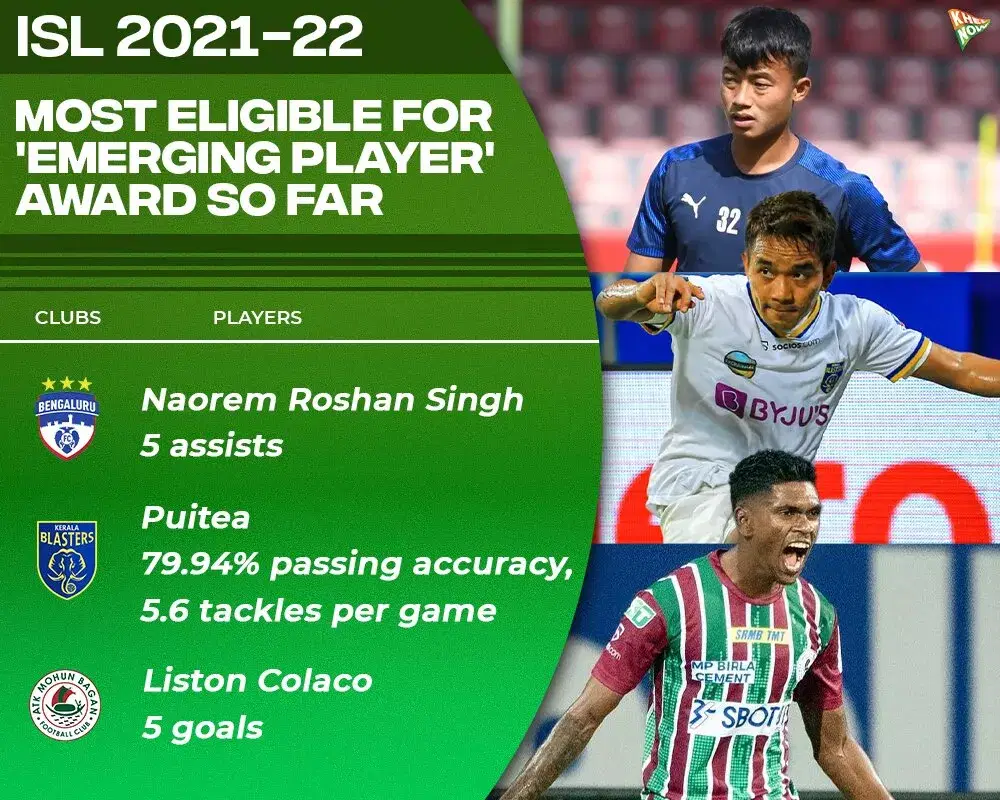 Naorem Roshan Singh
While the youngster has been a part of the Bengaluru FC setup for some time, he exceeded expectations this season. In ISL 2020-21, he got just two chances – but has been a regular in the playing XI since then.
So far in ISL 2021-22, the 22-year-old has clocked 758 minutes across nine matches, registering five assists as well. With 4.33 tackles, 1.67 interceptions, 2.56 clearances and 1.11 blocks per game, his defensive work has also been on point. That said, it also needs to be mentioned that in the case of the right-back, statistics do not tell the whole story.
Naorem Roshan Singh has been one of the biggest driving forces in Bengaluru FC's attacking runs so far this season. He is equally good with both feet and can pass and cross accurately, making him a big threat for opposition teams. If he continues on his rich vein of form, the Blues are easily going to score more goals and that could give them a much-needed boost after a disappointing campaign last season.
Liston Colaco
We have already spoken about Colaco once before in this article. If he was a rising star at Hyderabad FC last season, he has evolved into one of the brightest prospects in Indian football this season at ATK Mohun Bagan. His pace and dribbling ability makes him an excellent wide forward. Combine that with his ability to find the back of the net from insane positions on the outfield, thirty or forty yards out, and one can realise that the Mariners have a brilliant player in their ranks.
Lalthathanga 'Puitea' Khawlhring
Almost all the teams in the ISL this season rely on a foreign player – domestic player combination in their pivot at the middle of the pitch. They are well within reason to do so, given how they create a balance in the midfield, while also allowing their head coaches to use the remaining overseas options in defence and attack. The most balanced way of doing things, as far as ISL conventions go since the introduction of the 'four foreigners' rule.
But Kerala Blasters and Ivan Vukomanovic have not been conventional so far this season. The same can be spoken about their midfield, where two Indians – Jeakson Singh and Puitea – have lined up consistently since the start of the season, leaving Vukomanovic to have more options in attack and defence.
Between them, Puitea has been more consistent – which is important for a team like Kerala Blasters. The 23-year-old has clocked 784 minutes across 10 games so far in ISL 2021-22, and has completed an impressive 344 passes with an accuracy of 79.94%. With 56 tackles to his name, he is also really effective in stopping oppositions' attacks. Puitea's emergence means India now have one more defensive midfielder that they could possibly count on in the future.
*Stats in the article are updated as after Match 59 played on 13th January January 2021.
For more football updates, follow Khel Now on Twitter, Instagram and join our community on Telegram.