For all latest news, photos, video highlights, reviews, editorial, tactical analysis from Intercontinental Cup sign up for Khel Now.
5-0
India with the WIKING CLAP! DESERVEDLY! The men in spotlight acknowledges the cheers! Such a warm evening, such a successful evening for Indian football.
IT'S FULL TIME, and there are happy fans all around the Mumbai Arena! Sunil Chhetri hattrick, a Gurpreet Singh Sandhu clean sheet, an Anirudh Thapa strong outing and a dominant, attacking Blue Tigers saw India defeat Taiwan 5-0. The right curtain-raiser as India sets on to play Kenya on June 4. We'll be right here, with all the analysis, excitement and fun. Hope you had a nice evening. The match report and press conferences will be here in no time.
GO NOWHERE!
90+4′ Alen is wearing the No. 9 jersey. Any Robin Singh missers here?
Alen Deory comes in for Sunil Chhetri, as India continue to defend for a clean sheet.
90′ GSS will not let his clean sheet go tonight! What a save against a superb through ball. Comes out, collects it while diving. Strong, solid from the tall man.
89′ Borges tries to lay one in the path of Chhetri, who was running off the ball. Looks so determined, at the tail end of the game. What a player, what a captain!
88′ Borges on a corner from the right. Middle of the box, cleared out. Rebound sent in, but is cleared again.
86′ The captain of Taiwan goes out. Looks tired, chasing a lot of shades. Lalruatthara with a foul. Taiwan win a free kick close to their box.
85′ Taiwan connects three good passes, but cannot push the ball forward. India re-attempt one, but is collect by the goalie.
84′ Sunil Chhetri is at 59 goals internationally, at par with none other than David Villa. A sta to be proud of, every Indian.
83′ Subhashish' cross, from the left. Such right flow to it. Jeje heads it, can't direct it right. Easy collection for the goalkeeper.
82′ Offside as Ashique takes too long to play it to Subhashish. Throw in to Taiwan.
81′ Lalruatthara comes on for Pritam Kotal.
80′ Jhingan to Chhetri, Chhetri to Udanta, all in one touch. This is exploiting space at its best. Throw in to India down the right.
79′ Borges should've made it six, with Chhetri's brilliant pull down. Borges shoots wide. Jeje, again, finds Chhetri with a long ball. Rafique comes on for Pronay Halder.
78′ HALDER, WHAT WAS THAT? AN ABSOLUTE STUNNER! SUCH BRILLIANCE! THIS ONE IS FOR YOUTUBE! You'd not find one better than that. From outside left, sublime, into the second post corner. Beats the goalkeeper with power and precision.
77′ India attack, with comfort and calm. Halder is tripped, and Borges take the free kick.
75′ Taiwan plays a ball on the left. The first touch is heavy, but the passing succession is not that successful.
74′ Long ball, India regain possession. India play it out from the back. Anas, Sandesh and GSS continue to play it within space.
73′ Udanta's goal is a thing for replays. Calm on the ball with fast dribbling, he looks so much better as the Indian winger who's given the passport to fly up.
72′ Borges' free kick had hit the man on the chest. Must've been painful. Chants are loud enough for the cameras, but we can also see a few gaps in the stands.
71′ Borges standing over the ball. Hits the wall. Ball comes back, and an opposition is down.
70′ Chhetri and Jeje link up, but Jeje's pass is wayward. India regain possession and a cross comes in from the right. Free kick to India from the left.
69′ Thapa had two pre-assists, and found Chhetri with a pin-point pass for the last goal. What an evening for the boy. Blue suits him, what say, Chennaiyin fans?
68′ Borges comes in for Thapa. The pat from the manager says it all. He's happy with the boy who just turned man.
66′ Udanta helps out in defence and covers a long diagonal. Indian goalkick.
65′ Corner again! Chhetri finds Ashique with a delightful backheel, and the youngster runs on. The ball is cleared out. Good intent from the new lad.
63′ Chen comes in for Donkil for Taiwan.
62′ Another attack from the right. Pushed out to the right for a throw-in.
61′ CHHETRI'S HATTRICK. AFTER EIGHT YEARS! CAPTAIN! LEADER! LEGEND! What a training pitch play from the corner. Finds space from a Thapa ball, places it over the goalkeeper from inside the box.
60′ India attack from the left. Kuruniyan sends in a cross, and was finely placed. Defended well, eventually. Corner to India.
59′ Paartalu is praising Chhetri. Probably a comeback to the Bengaluru side? Jhingan, meanwhile, covers an attack well on the second attempt.
57′ Just look at the highlights of the game and you'd know what an important role Thapa has played. Chhetri hits a defender, wide right to the goal!!!!! Thapa's cross is an absolute beauty.
56′ Chhetri, be it 3-0 or 1-0 against India, is always composed. Professionalism at its best. Never takes it low.
55′ Corner to Taiwan as Anas blocks an attempt from the No. 10. To the second post, headed into Gurpreet's palms.
54′ Udanta and Thapa finding each other in the centre of the park, and Subhashish finds Jeje with a through. Offisde, but was close.
53′ Udanta misses another, but it should've been a fourth. In the box, the man is brought down with a clean tackle. The goal was sublime, and he's certainly matching his captain. Who'll get the fourth?
52′ Udanta crosses after a ball comes to him down the right, but is cleared out. Jeje and Jhingan clears it out. Counter comes in after a blocked shot, but it is defended easily.
51′ India with a corner, as Sunil winces in pain, after he's brought down. The No. 5 collides with him. Thapa on the ball.
50′ Ashique Kuruniyan comes on for Holicharan Narzary. Another Khel Now predictions turns right.
49′ 3-0 and India's future on the scoresheet. Udanta Singh it is. Collects a ball from Halder from the centre, dribbles past one and slots it in the bottom left corner. What an effort, what a goal. The confidence continues after the Hero Super Cup victory.
48′ Flown in, easily collected by GSS. Jeje cannot run on to the ball, and Udanta, scores a stunner.
47′ Taiwan have come in with the right intent, as poor cross deciphers the effort. Corner to Taiwan. Blocked, for another corner to Taiwan.
46′ Chinese Taipei will kick it off. No changes for India. No. 19 replaces No. 14 for Taiwan. Both teams get into huddles and decide on their last tactic. Long ball, cleared by Kotal for a throw-in.
2nd half begins, and the scene of Sunil Chhetri pulling up his socks is so beautiful for its fans!
FIRST HALF ANALYSIS:
India have looked confident, but should've made more of the opportunities. The more you ask from Sunil Chhetri, the more he delivers. Jeje, after his successful season, has certainly changed as a better player under John Gregory. Brilliant hold-up play, positive turns and through balls. Anirudh and Subhashish are lighting it up right. India looks set to win it big. Don't go anywhere, as India look set to win this win 4-0 or 5-0. What's your bet? Comment below.
45+2′ Narzary restricts a diagonal, as it is curtains for the first half. India happily walks out with a two goal lead. Jeje with two assists, and growing-in-confidence midfielder Anirudh Thapa with two pre-assists. Doesn't it look like a happy three lucky?
45+1′ Jhingan is pulled down and GSS sends it out rolling. Through in to India as it is headed out.
45′ Taiwan's goalkeeper collects a ball after Narzary fluffs an opportunity. Taiwan restart an attack, but the No. 10 fails to impact down the right. Halder controls his cut in and transitions the gameplay.
44′ Free kick to Taiwan. From the right. Cleared out again. Another chance for the visitors goes begging.
43′ Halder tries a powerful ball, but carries a lot more weight than in should have. Narzary acknowledges the attempt.
42′ A good cross field pass from Taiwan, but the left winger fails to control. Throw in to India. Thapa controlling the midfield well. Imagine him and Vinit in tow, as players who like to hold and pass the ball.
41′ Kotal plays a ball inside, Chhetri plays it down the right to Udanta, and Thapa gets it from the winger. Plays centrally, and is cleared. Good, sound attempt.
40′ Thapa is circulating the ball well, and when in the opposition box, is playing it forward. Just the right job from a midfielder.
When Sunil Chhetri came close to completing his hattrick!

Get the live updates here: https://t.co/eSVRRZzTZn#AndheriPeMilna #BackTheBlue #IndianFootball #IntercontinentalCup #INDvTPE pic.twitter.com/95eXa2kM8j

— Khel Now (@KhelNow) June 1, 2018
39′ Chhetri should've made it three, for him and the team! Jeje plays a brilliant through lob, and the opposition goalkeeper saves it. The smile on the captain's face says it all. He says, "I'll get there, man, I'll get it"
38′ A lob comes in the Indian box, but Jhingan covers well and clears it for a throw line. Taipei continue to attack and attempt to change wings, but the ball is heavy.
37′ Throw in as Kotal clears the ensuing attack. Halder recycles as India win back possession. Jhingan plays a ground ball to Thapa, who finds Udanta. That's right football, temperament, and calmness on the ball.
36′ Udanta made another run, and Chhetri, yet again, finds him easily. Corner, as his cut back is cleared behind the lines. No. 7 on the ball. Sends in, Jeje misses. Counter, and India track back.
Pics of the second goal of India and Sunil Chhetri!!

Get the live updates here: https://t.co/eSVRRZzTZn#AndheriPeMilna #BackTheBlue #IndianFootball #IntercontinentalCup #INDvTPE pic.twitter.com/fuUB3YOdyA

— Khel Now (@KhelNow) June 1, 2018
35′ GOAL and it had to be the man again! Jeje passes it again, to the man, who runs into smooth space. Anirudh Thapa plays a brilliant loop in the whole build up. That's attractive, that's good football. Sunil is the man for the moment.
34′ India playing one-touch, and it looks so refreshing. Thapa already syncing well with Chhetri.
33′ Anas clears one but is caught wrongly. Looks agitated, with Jhingan calms his down. Gurpreet plays it wrong, and India on the attack again.
32′ Anirudh needs to calm down. He's got to control the ball better and attack them better. Taiwan is circulating the ball strongly, but cannot find spaces to play ground balls.
30′ Corner wasted, as the ball flies way out of the far post. Gurpreet starts the game, with Jeje pressing the right back for the ball. Throw in to India.
29′ Another free kick, close to the central circle, to Taiwan. They play it back, and then launch a long ball. Through ball comes in, shot taken, but Sandesh blocks it out for a corner. Could've been trouble for Gurpreet.
28′ Subhashish absence is prevalent, as two attacks come in from the right. Sensible from the opposition, as they exploit a gap. Subhashish, meanwhile, continues to receive treatment on his lips/nose.
26′ Free kick to Taiwan, flown in the box. Headed out for a throw in. Taiwan come back with an attack, but is defended out again.
25′ Subhashish is receiving treatment. Head injuries are always critical, as referees do not take a lot of chances with them. They send the player out to get the right treatment, and bandages, if needed.
24′ A Taiwan attack comes in, but Kotal clears it calmly. Chhetri runs onto a ball, and gets into a collision with the opposition goalkeeper. The GK collects it well. Subhashish, meanwhile, is in a collision.
23′ Gurpreet, clean shaved, rolls back the years. Cute custodian? Kotal and Jhingan concede throws on the right?
22′ Jeje fouls an opposition, free kick to Taiwan. India were close, again, in the last minute. THe fans are jumping, happily looking at their team playing confident football.
21′ Three long balls, and GSS has created half-chances for Chhetri already. India's best pair? Another attack breaks down, with Kotal's cross being too heavy.
20′ Free kick to Taiwan as a player is brought down in their box. India recede, goalkeeper kicks it into the orbit and GSS's hands.
19′ Another goal, and it would've been a day for Chinese Taipei. Thapa plays a through, Chhetri runs onto it, Jeje tries, and Chhetri shoots, only to be saved for a corner.
18′ The team should not stop at this, and rightly so. India needs to score goals, and the more players who get on the scoresheet, the more they rise in confidence. Much-needed for players who're gonna face a lot of continental heavy-weights.
17′ Subhashish has looked calm, while Anirudh has been industrious. Certainly right choices from the manager. Anas with a poor long ball attempt. Ricochets from the feet of an opposition, calmly held by GSS.
16′ Will the Chinese Taipei make a comeback? Do the have the required confidence and attacking ability?
15′ India 1-0 Chinese Taipei. If the intent remains right, the score will continue to be rightly lopsided. Brilliant from Chhetri to hold on to one defender and place it smartly.
Here are the photos of the opening goal by Sunil Chhetri.#AndheriPeMilna #BackTheBlue #IndianFootball #IntercontinentalCup #INDvTPE pic.twitter.com/LhhBjtyzWD

— Khel Now (@KhelNow) June 1, 2018
14′ GOAL!!!!!!!!!!!!!!!!!!!!!! JEJE PLAYS PROVIDER AND SUNIL THE DEMOLISHER! What a pass from the No. 12. Picks out Chhetri's run, and plays it in his path. The captain finishes it low to the right.
13′ Chhetri on the ball. Subhashish, too, fancies one. Just wide. To the right, low, but wide. The man is coming close. Doesn't look rusty at all.
12′ Gurpreet finds Chhetri with a long ball, and Chhetri runs on. Free kick to India. 4-4-2, finally, as Chhetri runs off Jeje. Yellow card to Taipei's No. 3.
11′ The No. 10 of Taiwan looks creative. Plays a lobbed cross to the winger, was ruled offside. Needs to be curbed when in space.
10′ Jhingan concedes a free kick close to the central line. Ball flown in the box, as we see a cat on the touchline. No, a real one. Narzary heads it out for a throw in.
09′ Narzary outruns the right back, but is fluffed by a dummy. Jeje plays a rhythmic pass to Anirudh, who changes direction with ease. Sublime, if that has to be said.
08′ India are not keeping the ball enough. The hosts should be looking to dominate ties like this. Important ones, at home, and that too, when you're preparing for a Continental competition.
07′ Kotal tries to block one, but loses his balance. Throw in, a pass, and an attempted volley goes way over. Gurpreet to kick to restart the game.
06′ A shot comes in, Gurpreet collects it with a dive. Paartalu's voice is so calm. Sounds like he's set for a new role post his career. Meanwhile, Pronay breaks down another fluid attack with his positioning and body use.
05′ Throw in to Taiwan on the right. Anas clears it. No discount from the Kerala man, ever.
04′ Another attack, another one from the right. meanwhile, Narzary tries to cross one, but misses the connection. Subhashish replays it back to the left, but a failed attempt to beat the right back of Taiwan.
03′ Chhetri misses it by a whisker. Jeje runs on a blank ball, Udanta gets the ensuing ball and cuts back. Chhetri should've made it 1-0. Intent, bright intent.
03′ Cheers have already started. Subhashish looks calm, and Halder was confident in a protection duel. The Whites attack from the right, but Narzary defends one and clears one.
02′ First minute, first attack. Chhetri plays on the right, with Udanta and Jeje contributing. A Narzary volley was expected, but was a little far from the man.
01′ Jeje kicks off proceedings. White vs Blue. India vs Taipei. Can India bounce back and win this one after defeat against Kyrgyzstan?
7:59 PM: Chinese Taipei choose the side, and India will kick it off. The match will resume in a while after a short break. The players make a huddle and Chhetri is passing on last instructions on to players.
7:58 PM: The Mumbai Arena is warm, and is roaring. Such a good sight when numbers turn up to watch the National team.
7:57 PM: Subhashish looks a little calm and stressed. Not really a confident sight. Indian National anthem is on. Pronay, on the other hand, looks determined to prove that he's right to make the comeback.
7:56 PM: Hands on chest, we hope these players give the hosts a fight. The tougher, the better. AFC Asian Cup is the main goal, and challenges should be welcome.
7:55 PM: Taiwanese National anthem rings first. Respect to the opponents.
7:54 PM: The teams walk out, and I've never seen fans more happy than this. It's been a while, and Indian football is back. Thapa in the No. 7 jersey. The future looks bright and we hope it is. A lot rides on Udanta as well. He looks confident and calm. Good sight.
7:52 PM: If this team performs well attacking-wise, Chinese Taipei (or Taiwan hereafter) will have a lot of trouble dealing with the transition. Anirudh Thapa, evidently, will play the transitioner.
7:50 PM: 10 minutes to go, and the waves are already rising. The fans are back. Khel Now supports the Blue Pilgrims initiative, as it brings a lot of vagabonds and debate under the same roof. Blue is on the song, blue will be on song!
7:45 PM: Subhasish Bose and Anirudh Thapa have not jumped one rung, but two each. Bose over-stepped Jerry and Narayan, while Thapa was always a third choice after Rafique and Borges. Well, these two will surely try to make it big. The hunger, surely, will be visible.
7:44 PM: There was a delay, and we were amazed at the kind of line up our boss has announced. Future-oriented, attacking, and with a touch of excitement. This match is going to be fun. It's gonna be exciting as well.
7:34 PM: Sunil Chhetri warms up as he receives a loud cheer from the crowd.
7:23 PM: Exciting changes in India's playing as Subasish Bose and Anirudh Thapa awarded starts for strong performances in the previous season with their respective clubs.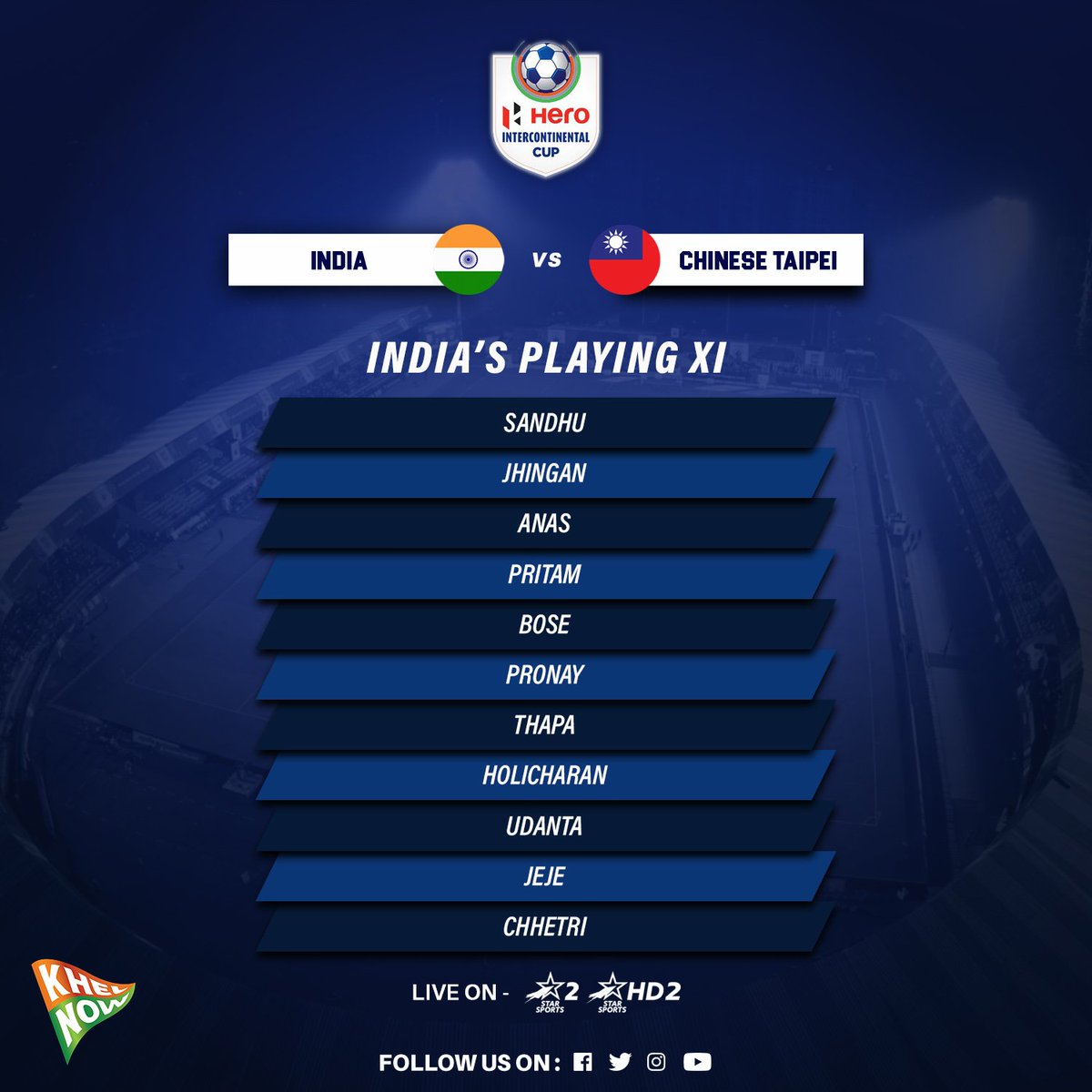 7:13 PM: In the pre-match conference Indian head coach Stephen Constantine and Sunil Chhetri spoke on various topics including AFC Asian Cup 2019 preparation. Watch it below
07:07 PM: Khel Now is providing detail coverage of the Hero Intercontinental Cup which includes Video coverage on our Youtube channel.
Indian Football Team training before the clash against Taiwan.
07:00 PM Hello everyone, it is a wonderful evening here in Mumbai and it is a delight to host the Intercontinental Cup opener here. Far from the expected gloomy, the weather here is just perfect for a high voltage football game between India and Chinese Taipei. This is your host Punit Tripathi, stay tuned and enjoy the commentary with Khel Now.
Pre Match Conference: Whoever they will bring will be tough competition- Stephen Constantine
Line Up Prediction: Revealed: How India could lineup at the Intercontinental Cup