The Kolkata outfit was one of the highest spenders in the summer transfer market ahead of the 2019-20 season.

It's like a whole new start in the Indian Super League(ISL) for ATK, who hope to find their glory days back after three long years. After reacquiring Jose Antonio Habas as their manager for the upcoming campaign, there's a sense of optimism from the two-time champions. The Spaniard has reconstructed them into a whole different unit, which is filled with a equal blend of experience and youth.
With effective foreign signings, a new look to their outfit and big ambition being displayed in a proactive summer, perhaps this is the year ATK gets back to where they belong.
Last Season's Performance: Sixth

Despite building a star-studded unit last season, ATK failed to impress when the competition started to heat up. They huffed and puffed trying to guarantee a playoffs spot, but just weren't up to the mark. Only six wins from eighteen league games underlined a major problem sparked by Steve Coppell's precautionary style.
The Kolkata side were poor going forward, lacking creativity or the lethal drive to send teams packing. They improved defensively later in the season, however, were caught in a vulnerable state against mobile attackers. A sixth place finish meant they missed the playoffs for the second consecutive season for the first time in their history.
Pre-Season
ATK had their pre-season training in Kolkata ahead of the 2019-20 season, rather than having a camp in Europe or anywhere else overseas. They faced local sides, defeating Southern Samity 6-0 in their first encounter thanks to braces from Roy Krishna and Michael Soosairaj.
However, Antonio Habas was handed a reality check when his side fell to a shocking 2-5 defeat to Mohammedan Sporting. They bounced back pretty well from the defeat with a 4-1 win over Calcutta Football League (CFL) champions Peerless, with Krishna and David Williams scoring a brace each.
Coaching Staff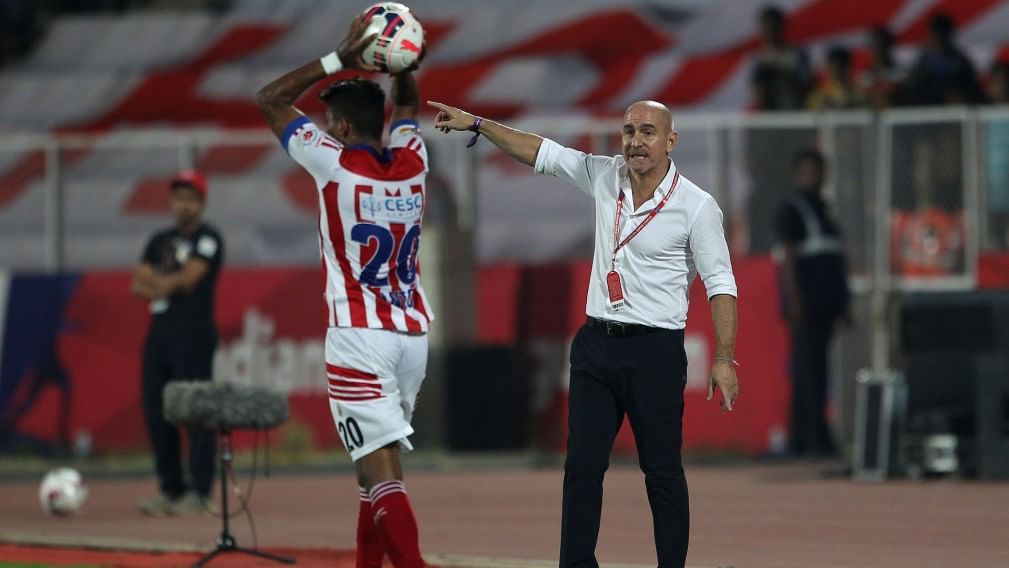 Habas has won the ISL with ATK in the inaugural season of the league
Last season's underachievement led to the sacking of Steve Coppell, vastly blamed for not being able to utilize his relatively strong squad. ATK have gone back to their roots by bringing back Antonio Habas, who hasn't been seen in the ISL since leaving the FC Pune City job in 2017.
Habas will be accompanied by his long-time partner Manuel Cascallana as the assistant coach of ATK, while Sanjoy Sen retains his position as an assistant coach as well. Angel Pindado has come in as their newest goalkeeping coach to help Arindam Bhattacharya and Dheeraj Singh Moirangthem improve under the bars.
Spaniard Alvaro Ros Bernal has come in as their new Physical Trainer, after last season's trainer Djair Miranda Garcia was also released and has since gone onto join I-League side Gokulam Kerala in a similar capacity.
Transfer Dealings
ATK decided to reshuffle their squad once again, having a busy summer window, in which many new faces were introduced for the upcoming season.
Ins
In an attempt to further boost their long-term aspirations, ATK roped in teenage sensation Dheeraj Singh Moirangthem to further boost their goalkeeping department and provide stiff competition for Arindam Bhattacharya.
While they maintained a strong defensive shape last season under Steve Coppell, some big names have been brought in to maintain that solidity. Anas Edathodika has been signed to bring more experience, while former East Bengal defender Salam Ranjan Singh also joined the outfit. Spaniard Agus Garcia is Habas' newest signing to provide that Spanish flair in defence.
After having loads of problems with their midfield in the 2018-19 season, ATK have restructured themselves by signing Real Madrid academy product Javi Hernandez. Sehnaj Singh has also been roped in, as was Michael Regin following his heroics in Chennai City's I-League winning campaign last season.
Dario Vidosic has been signed to provide further cover in midfield, as has been versatile Irish player Carl McHugh. However, Michael Soosairaj's signing has been aimed to glitter up their attack with something electric.  However, Vidosic has not been registered by the club in the ISL till now and is likely to act as a replacement, if any player gets injured.
ATK struggled for goals last season, but that has been solved with Roy Krishna's signing. The former A-League top scorer is their biggest grab this season along with his partner-in-crime David Williams to create a formidable strike-force.
Outs
Debjit Majumder and Sheikh Faiaz have been loaned out to Mohun Bagan. However, ATK have chopped many players from last season. Manuel Lanzarote, Kalu Uche, Gerson Vieira, Andre Bikey and Everton Santos have all moved on.
From the Indian contingency, Eugeneson Lyngodh have moved onto Bengaluru FC. Arnab Mondal, Aiborlang Khongjee and Malsawmzuala have also left the club.
Squad
Goalkeepers: Dheeraj Singh Moirangthem, Arindam Bhattacharya, Avilash Paul
Defenders: Pritam Kotal, Boris Singh Moirangthem, John Johnson, Agus Garcia, Anas Edathodika, Salam Ranjan Singh, Ankit Mukherjee, Ricky Lallawmawma, Prabir Das, Sena Ralte.
Midfielders: Javi Hernandez, Pronay Halder, Sehnaj Singh, Michael Regin, Dario Vidosic (not registered in ISL), Carl McHugh, Michael Soosairaj, Jayesh Rane, Edu Garcia, Komal Thatal.
Forwards: Roy Krishna, David Williams, Jobby Justin, Balwant Singh.
Formation & Tactics
Antonio Habas is known for being quite the pragmatic manager who loves discipline and compactness to his side. While he doesn't exactly believe the "tiki-taka" Spanish style, he's likened his side to retain a possesion based style to help control games. In goal, Dheeraj Singh is a favorite, but Arindam Bhattacharya should start initially because of his experience.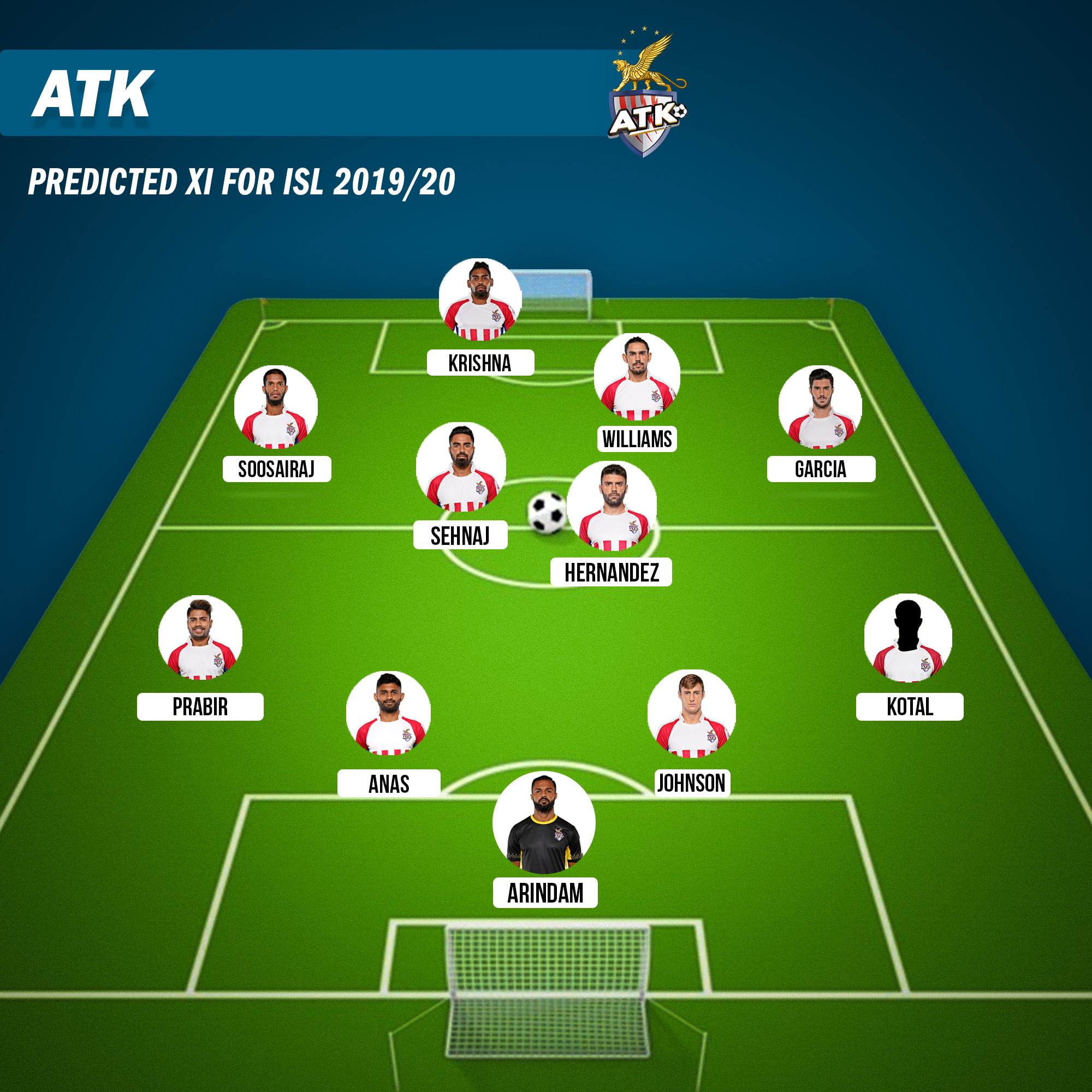 ATK Predicted Lineup in ISL 2019-20 season
In defence, Pritam Kotal is the right-back to rely upon, while the fit-again Prabir Das will be moved to the left. John Johnson and Anas Edathodika should hold down the fortress in the middle, while Sehnaj Singh will fight with Pronay Halder for the destroyer position ahead of them.
Javi Hernandez will be relied upon to work his magic , while Michael Soosairaj and Edu Garcia should hold down either wing to create chances. Roy Krishna will be their main man upfront and be supported by a dynamic David Williams.
When it comes to formation, ATK will probably go with a 4-4-2 formation with Williams playing just behind Krishna up front. They have talented wingers with the unpredictability of putting in inviting crosses or cut into take shots at goal or open up spaces through the middle.
The new ATK under Habas has so far shown the knack of trying to control possession, make the opposition work for the ball and tire them out. Of course, they have enough firepower to lodge lethal counter-attacks and two brilliant finishers to make sure the created chances aren't wasted.
In terms of compactness, ATK can defend deep thanks to their experienced defence. Sehnaj Singh will be appointed with trying to regain possession with his aggressive style, while Javi Hernandez will look to take the playmaker's role by trying to create from his central position. Krishna will hound in and around the penalty area, while Williams will support the midfielders, drop off and try dragging defenders out of position.
Strengths
ATK probably have the best striker's department in the ISL after picking up three quality centre-forwards in the summer. Roy Krishna and David Williams scored for fun in the A-League as part of Wellington Phoenix, while Jobby Justin proved his potential in the I-League for East Bengal last season. With Balwant Singh another option, goals shouldn't be a problem, with this unpredictable attacking force perhaps ATK's biggest asset.
They also have an experienced defensive shape which will help retain the solidity Habas expects from them. Moreover, dynamic wingers like Soosairaj, Rane and Garcia add another dimension to their attacking style and will make them a terror to defend against.
Weaknesses
While they have packed their squad with quality in-depth, ATK are still lacking a creative presence in the middle. Neither Halder nor Sehnaj have the creative genes in them, while Hernandez is still adapting to a new atmosphere. This could lead to problems in breaking through rigid oppositions. Moreover, this is again a completely a different side with a new philosophy, so ATK sit much lower in chemistry than other ISL sides.
Players To Watch
Roy Krishna
Having won the A-League Golden Boot last season, Roy Krishna is all set to take the ISL by storm this time around. The Fijian with Bengali roots is intent on making his presence felt and is the clinical striker ATK lacked last season. His positioning, timely movement and all-round finishing ability make him an exciting centre-forward who is guaranteed to torment defenders this time around.
Michael Soosairaj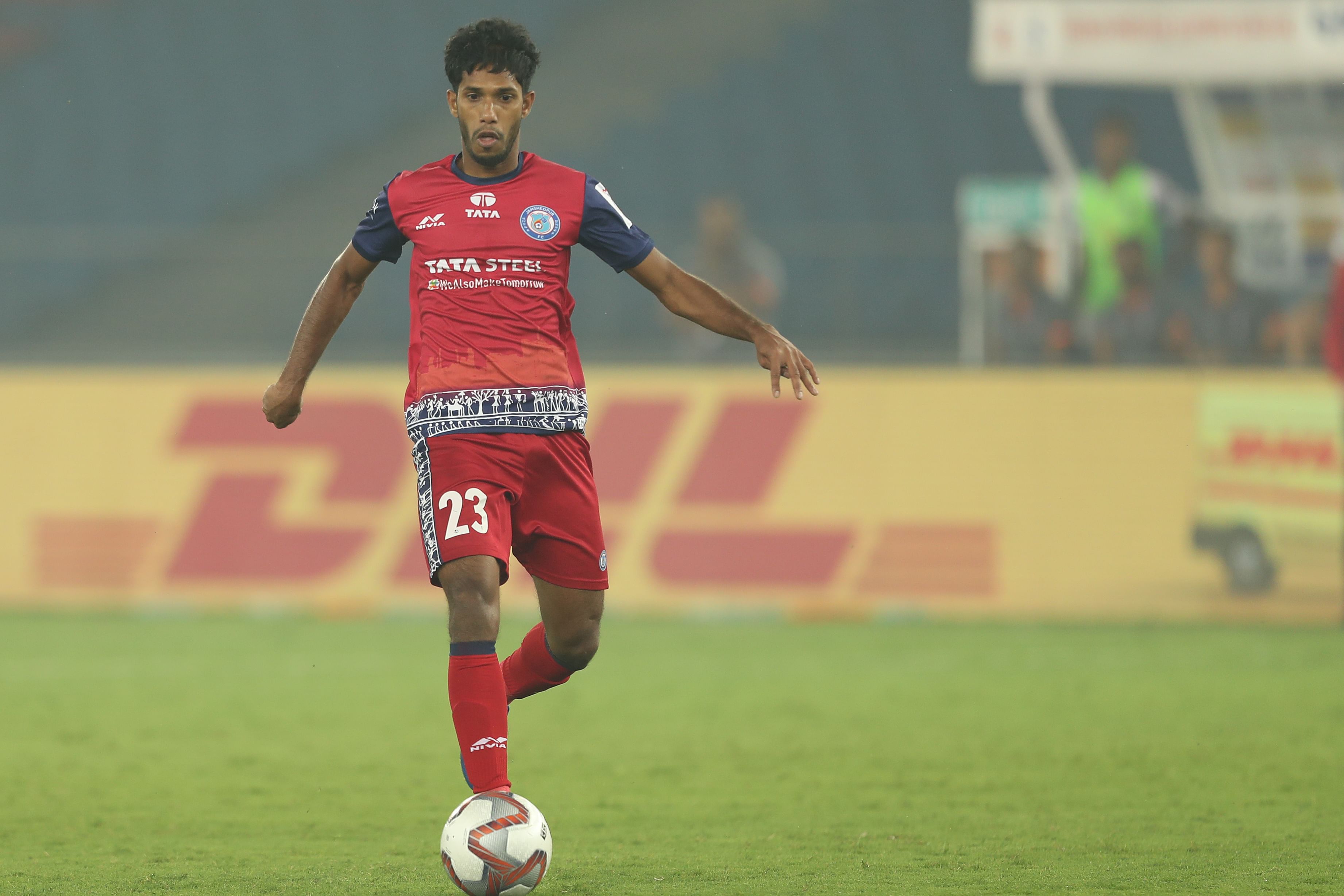 Soosairaj was one of the biggest domestic transfers in the ISL in the summer
One of the two star domestic signing for the Kolkata side, Soosairaj lit the ISL on fire with his brilliant work with Jamshedpur FC last season. A winger with an amazing dribbling ability to run past defenders at will, he's assured to light up the Salt Lake Stadium this season. Soosairaj's goal-scoring tendencies and ability to set up his teammates makes him a proactive winger, ideal for Habas' plans.
Javi Hernandez
Their midfield maestro for the new season, Javi Hernandez comes into the ISL with a lot of experience in his arsenal. The cousin of Real Madrid legend Guti, Hernandez is a clever midfielder who will dictate games for ATK. He'll be responsible for creating chances, holding the fort centrally and help his side to go forward. Habas will put a lot of faith in him to control games through the middle and knowing his repertoire, Hernandez could be among the more soothing players to watch for ATK.
Fixtures & Tickets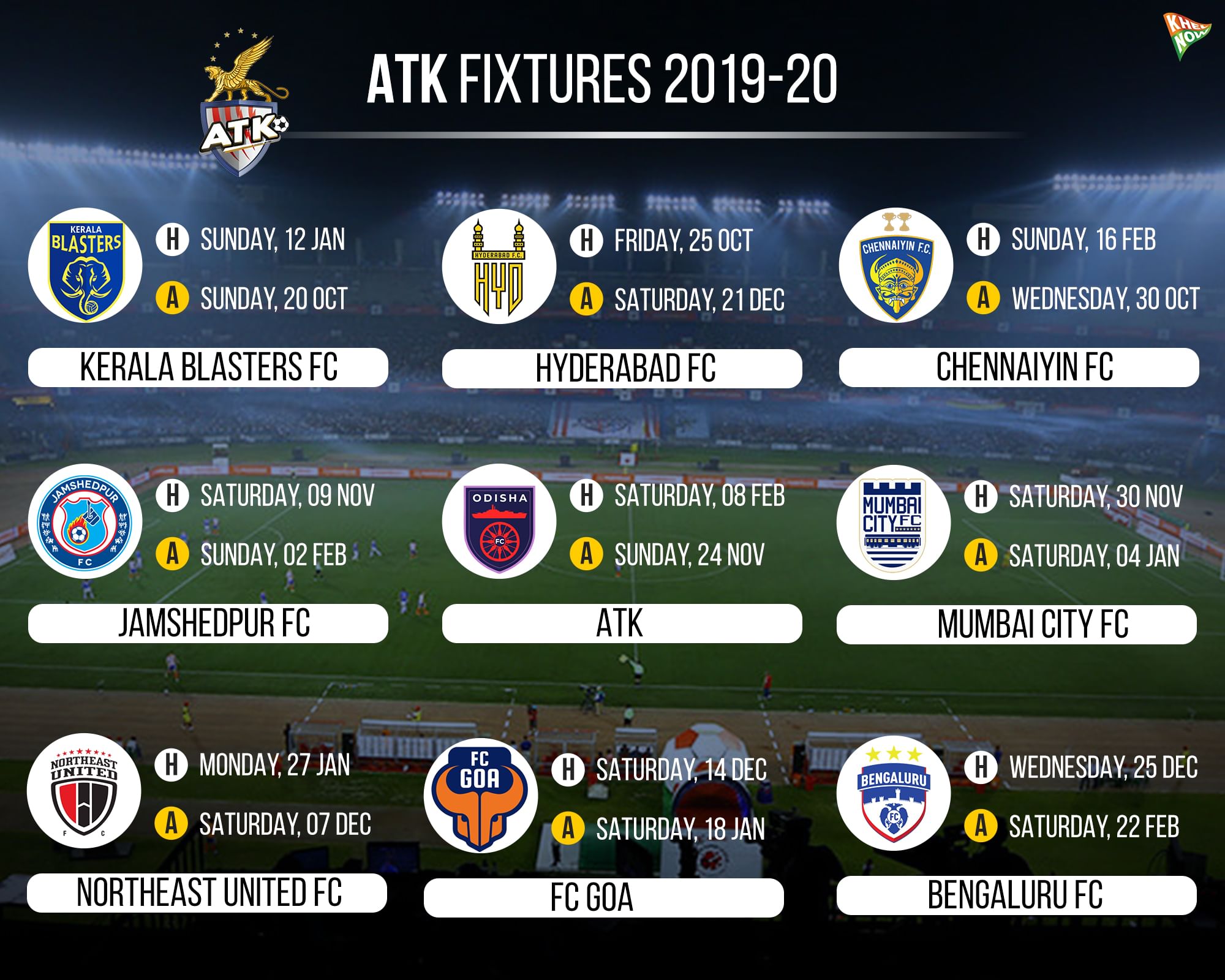 ISL 2019-20 ATK Fixtures
The tickets to ATK's home games are available on Paytm Insider.
What To Expect
Well after another disappointing outing last season, ATK have bulked up on talents and brought back an ISL winning head coach in an attempt to get back to the top. They should do better than last season, but their squad lacks chemistry and will take time adapting to each other's strengths.
That itself could cause problems into the season and deny them a place in the play-offs. A fifth-place finish looks a likelier outcome.