Some of these players had a simply forgettable season in Indian football.
The Indian Super League (ISL) 2019-20 season gave platform to many recognised and emerging talents to shine through at Indian football's biggest stage. While a number of newcomers shone through, a few 'recognised' stars weren't able to live up to their expectations.
Be it lack of fitness, being too error-prone or just not being as influential enough as their sides would've wanted. These players were underwhelming all season long. While some couldn't score or create enough goals, others couldn't work hard enough to keep their sides from conceding them.
With some disappointments coming to light from last season, Khel Now looks at players that were among the biggest under-performers in the league.
Goalkeeper: Kamaljit Singh (Hyderabad FC)
Kamaljit was given a big responsibility of becoming the first-ever captain of new franchise Hyderabad FC in their debut season in the ISL. However, in the first match itself, he ended up conceding five goals from ATK. The floodgates opened from there and he couldn't do anything to stop the embarrassments ahead.
Even though he made a few good saves here and there, Kamaljit conceded 26 goals in 12 appearances! His error-prone nature and lack of leadership skills also saw him benched for a few games towards the end. Not only did he have disappointing season as a captain, but his lacklustre performances rather tarnished his reputation as a shot-stopper.
Right-Back: Mohammed Rafique (Mumbai City FC)
The right-back position was one that troubled Jorge Costa's Mumbai City FC throughout the season. Souvik Chakrabarti couldn't fit into the equation and was shipped off, while Sarthak Golui looked much better in centre-back. Hence, Rafique was given an opportunity to prove his mettle in the position.
However, the former ISL winner couldn't cope with the intensity of the role, often being outwitted by wingers and making the Islanders vulnerable on his side. Despite his energetic demeanour, Rafique was just not able to solidify his role in the team and only made six appearances in a disappointing campaign for the Islanders.
Centre-Back: Matthew Kilgallon (Hyderabad FC)
The experienced Englishman arrived with a vast reputation of having played for sides like Sheffield United, Leeds United and Sunderland in his career. But the 36-year-old's age clearly played a part in him being unable to succeed in the ISL. He just couldn't cope with the intensity of his younger counter-parts, often getting outwitted in the final third.
Kilgallon wasn't able to solidify Hyderabad's back-line at all, while individually losing out key battles to strikers. His occasional errors didn't help either, as he wasn't able to become the defensive leader he was brought on to be. In his stint, the Nawabs had the worst defensive record in the league and Kilgallon's disappointments played a part in that as well.
Centre-Back: Kai Heerings (NorthEast United)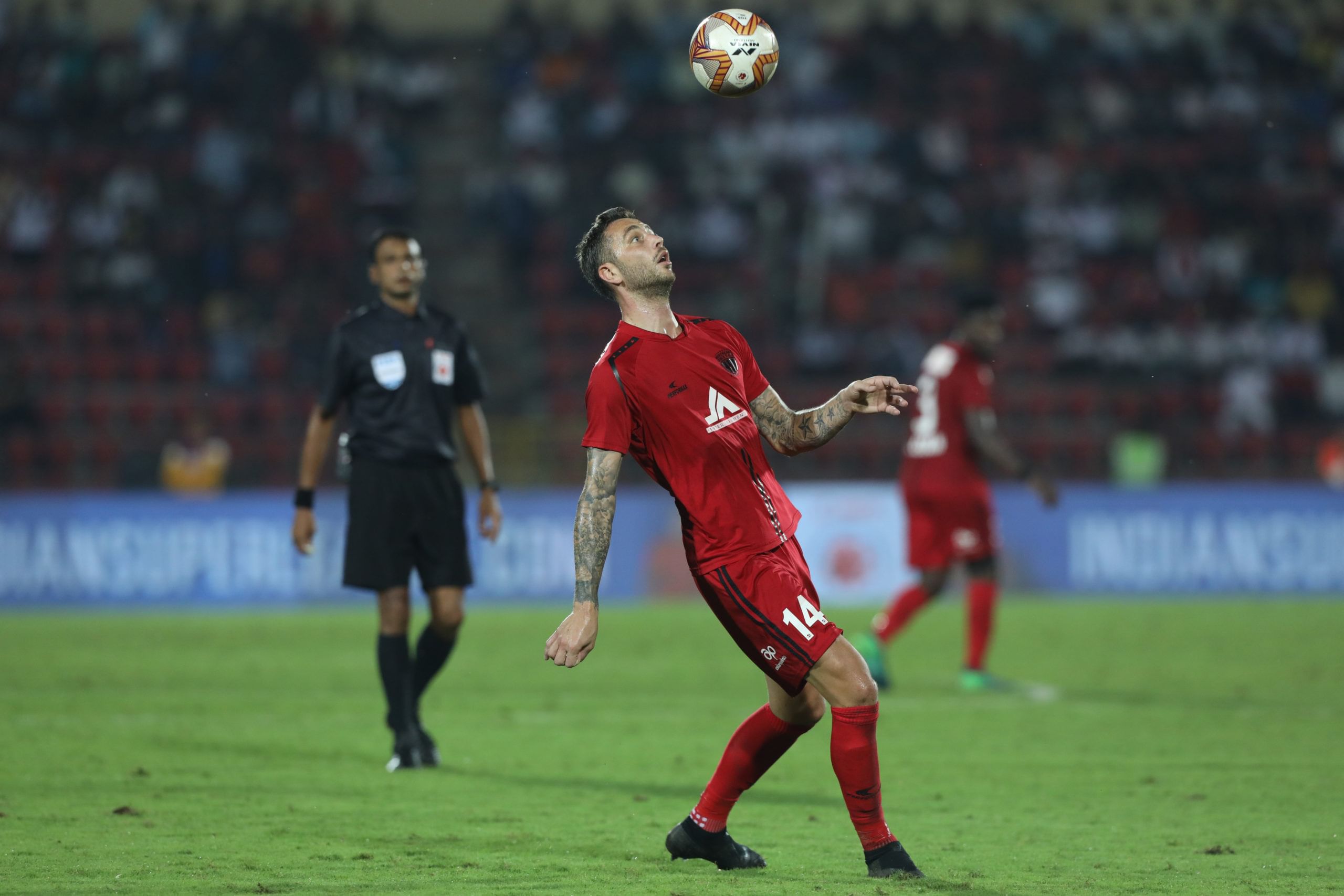 The Ajax youth academy product was roped in by NorthEast United with a lot of expectations to marshal their tight defence. However, the Dutch star couldn't really stamp his authority as much as he'd want to. He wasn't as vocal nor as inspirational as the Highlanders needed him to be, not being able to control his fellow defenders much.
Heerings also ended up making occasional mistakes causing to goal-scoring chances, which ended up costing NorthEast United a lot. The 30-year-old made 11 appearances for the Highlanders in which he couldn't maintain much consistency and under-performed throughout his stint.
Left-Back: Narender Gahlot (Jamshedpur FC)
After his impressive work for the Indian national team in the Intercontinental Cup last year, Narender was promoted to first-team status by Jamshedpur FC. Known for their confidence in promoting youth, the Men of Steel didn't hesitate slotting him into their back-line. But inexperience ultimately cost Narender in his debut season.
While he did give some bright performances, his lack of judgement often cost Jamshedpur. Gahlot's mistimed passes, erroneous challenges and tendency to switch-off play made him vulnerable against top opposition. He still has a long, encouraging future ahead, but received a reality check in an underwhelming debut campaign with the Men of Steel.
Centre-Midfield: Jose Leudo (NorthEast United)
Jose Leudo was one of the few remaining foreigners NorthEast United were able to retain after their impressive campaign under Eelco Schattorie in the ISL 2018-19 season. Unfortunately, instead of rising to the task and leading from the front, his performance-levels dipped a bit under pressure. Without his former teammates by his side, Leudo wasn't able to stand out as the midfield marshal he was in the previous season.
His passing accuracy dipped too and he started becoming more reckless with his challenges and couldn't protect his back-line well enough. While he scored a solitary goal, he couldn't create much. Leudo's efficiency dipped under the change in management, leading to an underwhelming season.
Centre-Midfield: Sehnaj Singh (ATK)
After standing out as this bullish defensive midfielder at Mumbai City FC, Sehnaj Singh was roped in by ATK to add more steel to their midfield. Instead, he couldn't contribute much to an excellent championship-winning side. Sehnaj was given a lot of opportunities initially by Antonio Habas, but he just wasn't able to match the high standards of his teammates.
Sehnaj just wasn't able to assert his authority in midfield, often getting overrun by opponent midfielders or caught out of position. His 65% passing accuracy didn't help, neither did his overly aggressive style. Moreover, he lost his place in the team as the season reached its endgame. Michael Regin getting the nod in the playoffs points at how badly Sehnaj had disappointed the coach.
Right-Wing: Udanta Singh (Bengaluru FC)
'The Flash' of Indian football completely lost his spark for Bengaluru FC as they attempted to defend their ISL title. Udanta just couldn't make the impact he was required too for Carles Cuadrat's men having run out of steam on the right-wing. Instead, Udanta's style became way too predictable which made it easier for defenders to intercept his movements.
He only scored a single goal and couldn't provide a single assist. Moreover, his poor 57.78% passing accuracy and constant underwhelming performances saw him benched by Cuadrat. He fell down from being a crucial pillar in their attack into becoming a bench-warmer in what was an extremely disappointing performance for the speedy winger.
Attacking-Midfield: Giles Barnes (Hyderabad FC)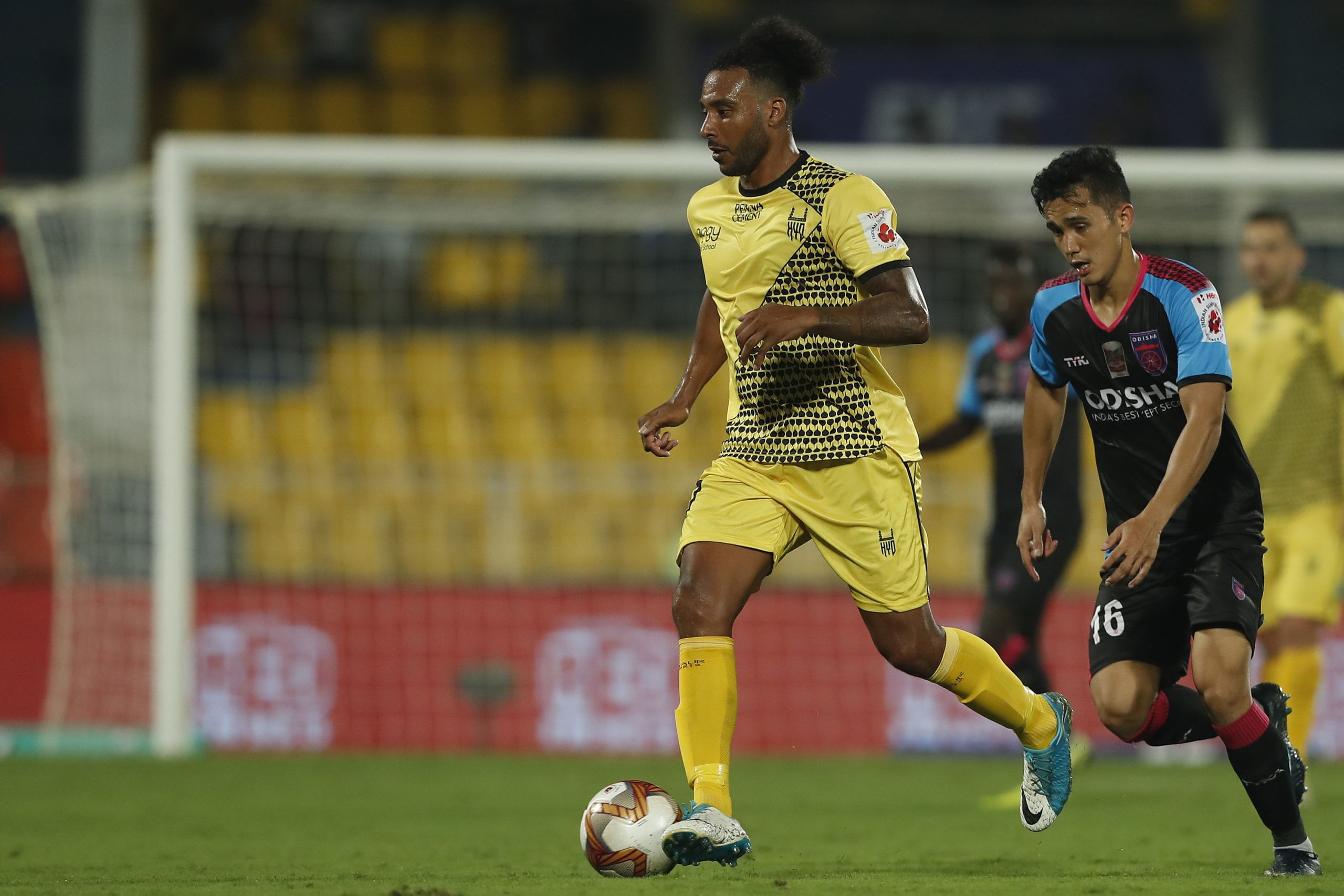 The Derby County youth academy graduate was one brought by Phil Brown to add more goals and creativity to his attack. Instead, he ended up contributing nothing at all in an extremely frustrating season. Barnes just couldn't find his rhythm in the ISL, failing to match the intensity of the games nor being able to prove his ability as much as he'd want to.
He couldn't score or assist a single goal in 12 appearances, contributing nothing worthwhile to the Nawabs' attack. Apart from that, his passing accuracy and chance creation ratio was poor as well. The Englishman completely failed to adapt to Indian conditions and ended up being a big failure in a forgettable debut season.
Left-Wing: CK Vineeth (Jamshedpur FC)
CK Vineeth sealed a move to Jamshedpur FC in the hope of reviving his career in the ISL after a disappointing 2018-19 season. However, even under the fast-paced attacking style of the Men of Steel, Vineeth failed to prove his goalscoring instincts. He was too wasteful in attack, often missing big chances and didn't prove to be a team player either.
Instead of working into creating for others, he went for glory himself, something that completely blew back on his face. Vineeth just scored one goal in 10 matches and was benched for repeated underwhelming performances. The once feisty striker had a very disappointing season, being unable to add the firepower Jamshedpur needed from him in their attack.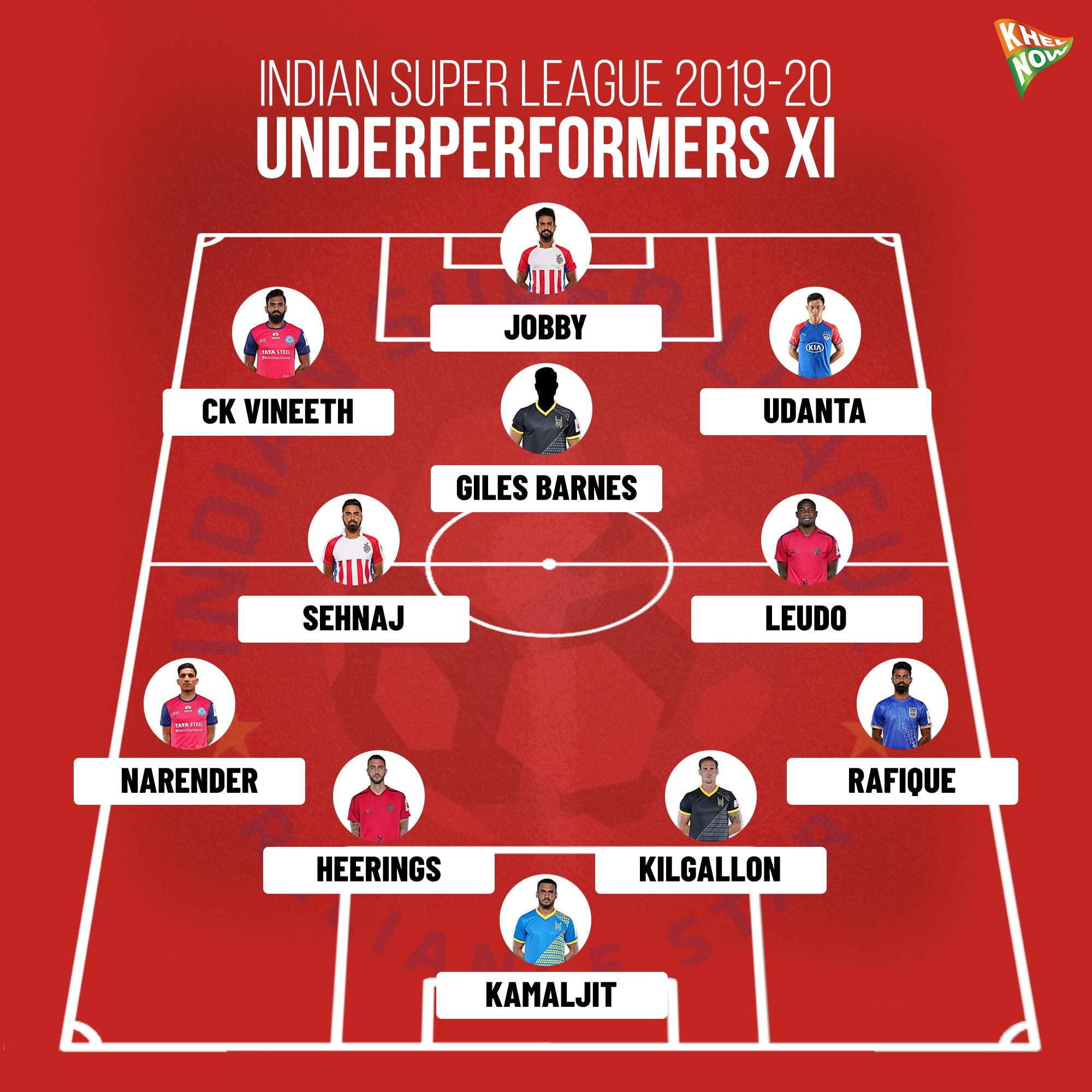 Striker: Jobby Justin (ATK)
Jobby Justin arrived at ATK with a lot of potential, having excelled for East Bengal in the 2018-19 season as the I-League top Indian goal-scorer with nine goals. However, the ISL turned out as a completely different ball-game for the striker. Unfortunately, he had to compete with the likes of Roy Krishna and David Williams for a spot on the front-line.
He was often moved to the wings, but still couldn't make the kind of impact to win over Habas' confidence. Justin just scored a single goal, that too a tap-in against FC Goa. When he did get an opportunity to spearhead ATK's attack during Williams' injury, he was underwhelming. He eventually ended the season with a championship medal around his neck, but had no actual impact to ATK's success in a disappointing season.
For more updates, follow Khel Now on Twitter, Instagram and join our community on Telegram.