The Mariners will be hoping to take the league by storm this time around.
A new dawn has set upon ATK Mohun Bagan, a virtually new entity in the Indian Super League (ISL). With the Green & Maroons tradition mixed with top level title-winning players, they're the newest powerhouse to take flight in the league.
After the two entities won the ISL and I-League respectively last season, there will be a lot of expectations on ATK Mohun Bagan to turn up big this time around. Antonio Habas has the kind of team he craves to win titles and smart recruitment over the summer has empowered an already impressive squad. With all the eyes of Indian football on them, it's now upon the new giants of the ISL to prove their mettle.
Last Season's Performance: Champions
After what felt like a long drought, ATK were able to clinch the ISL title under Antonio Habas. Of course, their brilliant foreign talent and extremely strong domestic core helped – but they went past every obstacle in their way and fought their way to the crown.
Pre-season
Like every other ISL side, ATK Mohun Bagan have been forced to spend the entirety of their pre-season in Goa. This is far removed from their tendency to spend pre-season in other countries. The Mariners are currently training at the Benaulim Ground in Goa and will continue their work there before the season begins.
They will also play a few friendly games before the season starts.
Coaching Staff
After last season's success at ATK, Antonio Habas has been kept as the head coach for this new side and been able to keep the majority of his players as well. The witty Spaniard will need to make good use of his tactics to keep a sturdy shape for ATKMB and ensure they keep winning games in the ISL.
The intelligent Manuel Cascallana remains as Habas' second-in-command, while Sanjoy Sen is the link to this new side having been Mohun Bagan coach a few years ago. Alvaro Ros Bernal is their physical trainer and will be responsible for the players' fitness once the games start coming at a rapid pace.
Transfer Dealings
Amid the merger, ATK Mohun Bagan were able to retain most of the players from ATK's ISL-winning squad last season, but had to sacrifice a number of talented players from the Mariners' I-League-winning campaign. They also signed some big-name stars to boost their squad for the AFC Cup.
Ins
Just as the season ended, the club signed up India international Subhasish Bose to bolster the left side of their defence. Manvir Singh was also roped in for a high transfer fee to add more depth to their frontline and competition for Roy Krishna and David Williams. They also signed midfielders Glan Martins and Sk Sahil – their only acquisition from last season's Mohun Bagan squad.
As the summer approached, the Green & Maroons started to flex their financial muscle. Tiri was brought back as a replacement to Agus Garcia and is well-accustomed to excelling in the ISL. After watching their A-League stars shine last season, ATKMB returned to the Australian market to sign Brad Inman, a dynamic midfielder. But, the best was kept for last, as they signed star defender Sandesh Jhingan in a bumper deal.
Outs
Among the foreign talents, the club letgo off Agus Garcia, Victor Mongil as well as Armando Sosa. Among the domestic talents, Balwant Singh, Anas Edathodika, Sena Ralte, Sehnaj Singh and Ricky Lallawmawma were all released. When it comes to the Mohun Bagan core, everyone apart from Sahil was let off.
Full Squad
Goalkeepers: Arindam Bhattacharya, Dheeraj Singh, Avilash Paul, Arsh Shaikh, Aryan Lamba
Defenders: Tiri, Pritam Kotal, Prabir Das, Sandesh Jhingan, Subashish Bose, Sumit Rathi
Midfielders: Pronay Halder, Brad Inman, Javi Hernandez, Edu Garcia, Carl McHugh, Glan Martins, Jayesh Rane, Michael Soosairaj, Boris Singh, Michael Regin, Sk Sahil, Ningombam Engson Singh
Forwards: David Williams, Roy Krishna, Manvir Singh, Md. Fardin Ali
*John Johnson is part of the club as an eighth foreigner but will not be registered in their ISL squad.
Formation & Tactics
3-5-2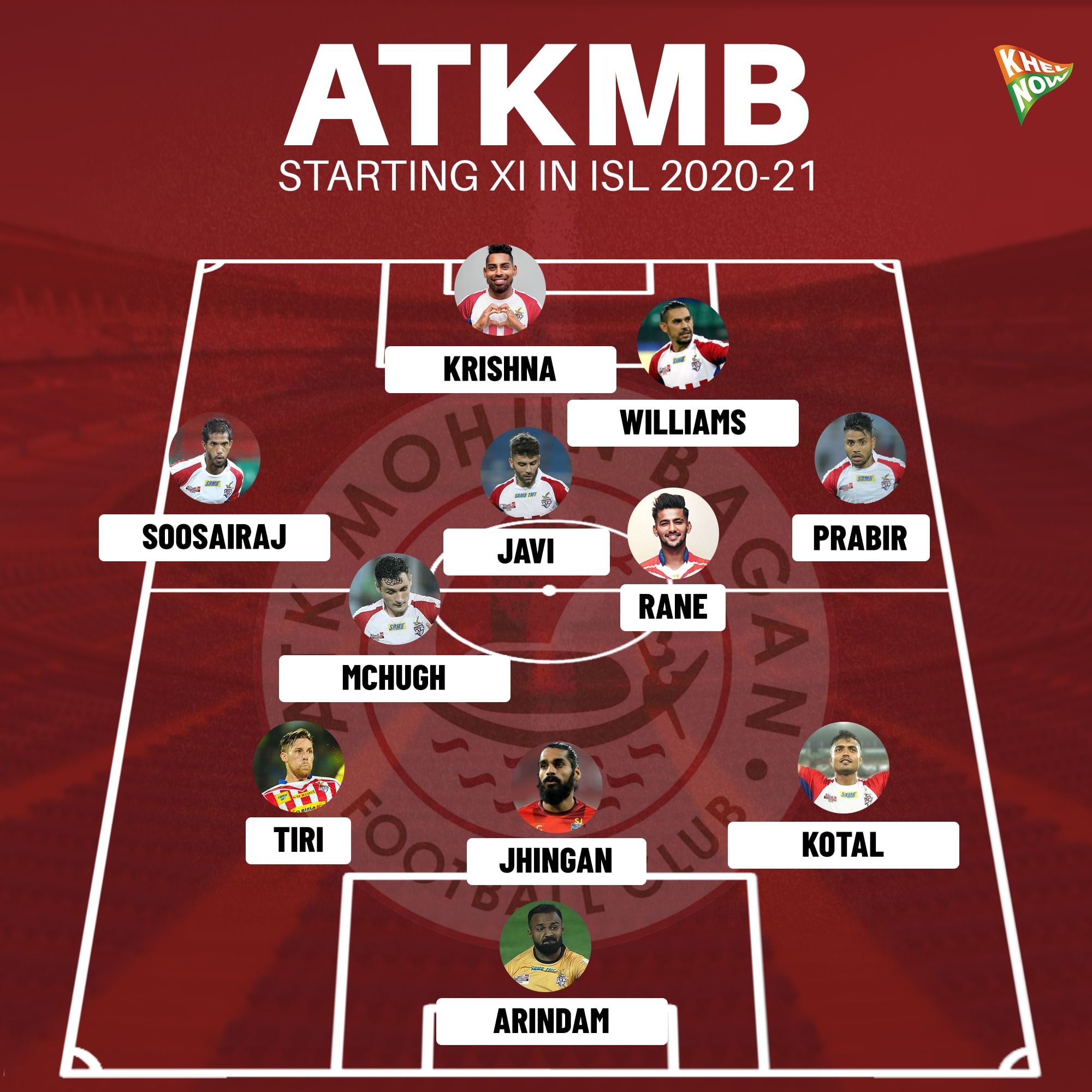 The go-to recipe for success which has helped Antonio Habas so much in the ISL, the 3-5-2 formation will mostly be on show this season as well. It's a really comfortable formation which suits the players and allows Habas some flexibility with his picks as well.
As they did under the Spaniard last season, ATK Mohun Bagan will mostly keep three centre-backs operating deep in defence, but competition for places means there will be plenty of rotation at the back. Sandesh Jhingan, Pritam Kotal and Tiri should be the regular starters. Keeping in mind that two U-23 players are necessary in the ISL matchday squad, Sumit Rathi will probably be rotated. Prabir Das will remain their engine on the right flank, while Michael Soosairaj will continue causing chaos as the tricky left wing-back.
Carl McHugh should slot in as the destroyer in midfield, finding competition in newcomer Brad Inman. He'll be accompanied by Jayesh Rane. Sk Sahil, Pronay Halder and Glan Martins will as options. Javi Hernandez will operate as the playmaker for ATK Mohun Bagan, while Edu Garcia's versatility allows him to play in that role as well in the frontline, if needed.
But, upfront David Williams and Roy Krishna will rule once again. The two were pivotal reasons behind ATK's success last season, so they should continue terrorizing opponents with their impressive chemistry and varied styles in the frontline. Thanks to their numerous squad options, Habas will be able to rotate his team throughout the season and ensure fatigue or injuries don't hamper the team.
4-4-2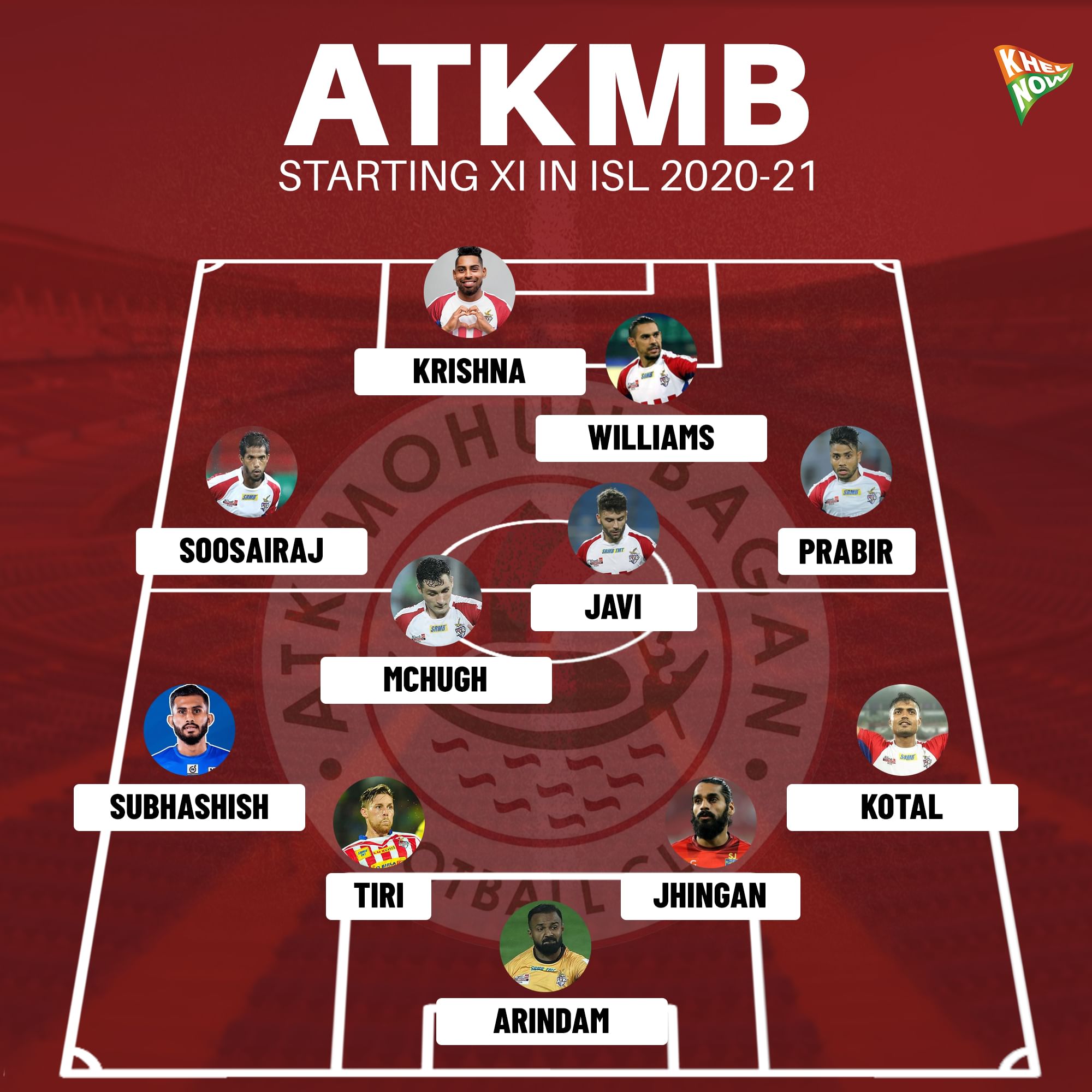 To keep opponents guessing, ATKMB could also revert to a four-man backline this season. Jhingan and Tiri will marshal centrally, with Kotal and Bose on the flanks. This allows Prabir and Soosairaj to play more freely as wingers and provide extra defensive cover when needed.
McHugh and Javi slot in as central midfielders, with the Spaniard playing as an advanced playmaker. With the duo of Krishna-Williams causing menace upfront, this formation will allow Habas to make full use of the exquisite options in his squad.
4-3-3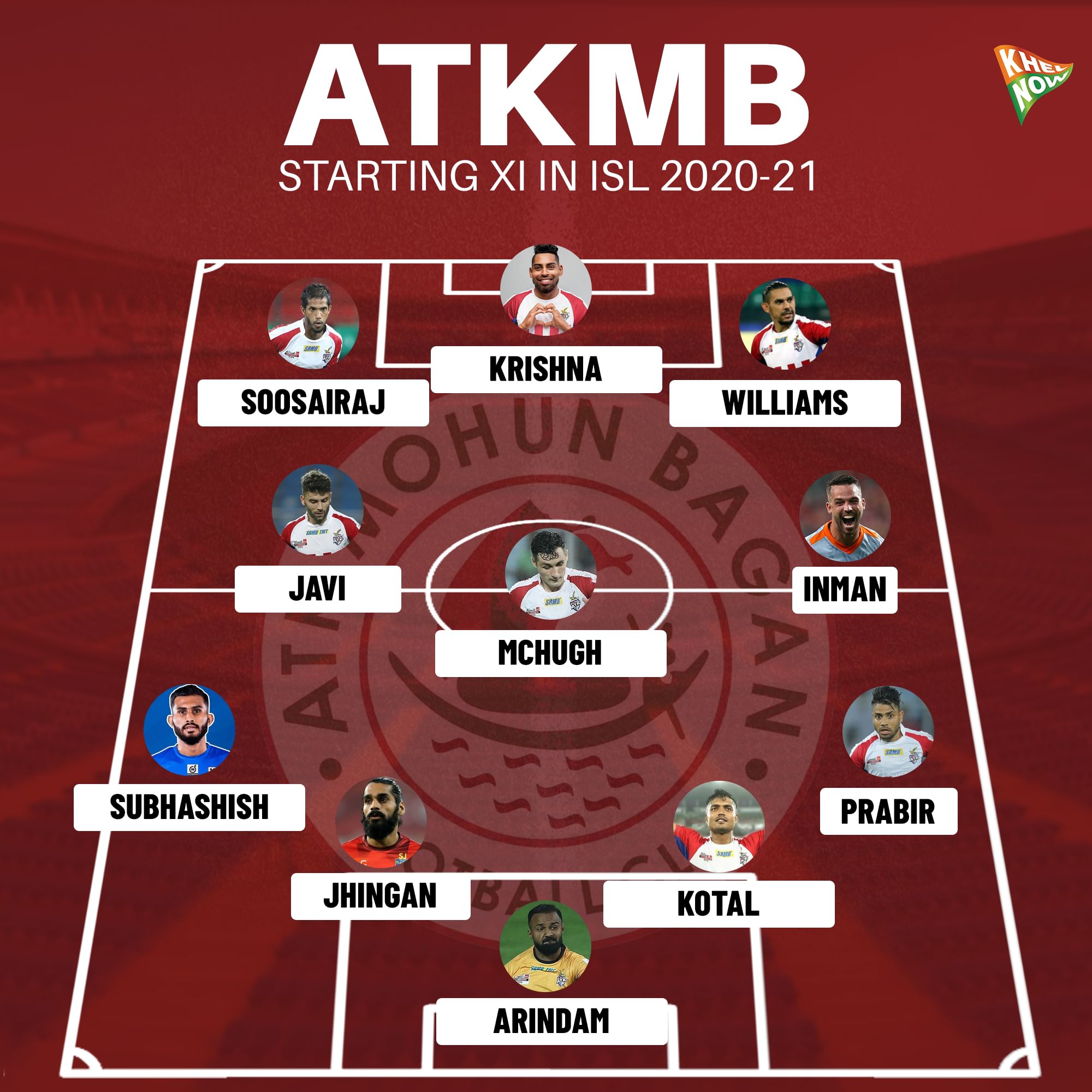 If Habas really needs to go into 'attack-mode' only in a game, he could decide to tweak his formation even more. Considering the number of options he has, the 4-3-3 is more than viable. Here, he'll probably have to drop Tiri and play an all-Indian backline consisting of Prabir, Kotal, Jhingan and Subhasish.
In midfield, the three foreigners McHugh, Javi and Brad Inman can keep a creative edge and also help dominate possession. David Williams is comfortable playing on the right wing and can move inward, with Prabir Das overlapping. Meanwhile, Soosairaj will thrive in a proper left wing role. Roy Krishna proved last season that he's more than comfortable playing as a solo striker. This formation has an unpredictability to it, as ATKMB can create chances from all around.
Strengths
Top-class attacking duo with impressive chemistry and hunger to score and create goals regularly.
Strong wing-backs who are big threats on both sides of the pitch.
Potentially the most complete side in the league.
Weaknesses
Question marks around strength of domestic players in midfield.
Too defensive-minded on a few occasions.
Players To Watch
Sandesh Jhingan
After missing the entirety of last season with Kerala Blasters due to injury, Sandesh Jhingan has a massive point to prove this time around. Bought for a huge fee and with a lot of expectations riding on his back, his responsibility will be to elevate ATKMB's defence to a whole new level. He'll have to use his leadership skills and dominant defensive skillset to bully forwards and save his side from disarray. After such a long time on the sidelines, it'll be interesting to see how the experienced centre-back copes in his new side.
ALSO READ: ATK Mohun Bagan: Profiling the foreign contingent for ISL 2020-21
Roy Krishna
Roy Krishna proved to be a game-changer last season, when he ended up as joint top-scorer in the ISL. The Fijian striker now returns with the hunger to better that effort and knowing his obsession for scoring goals, he will be a force to be reckoned with. With his ability to get past defenders, sniff out chances and clinical finishing in the final third, Krishna should continue being a nightmare for opposition defenders.
David Williams
Krishna's partner-in-crime is another one to keep an eye on. Last season, Williams was troubled with a few injury troubles, but he'll want to avoid that this time. The Australian possesses that unpredictable factor to his game, meaning he can make chances out of nothing. With his ability to create moves, drag defenders out of position and tendency to score on the big occasions, Williams will be someone opponents must keep an eye out for.
Fixtures
What To Expect
Expectations can be a bit of a double-edged sword for ATK Mohun Bagan. On one hand, they are expected to 'play like champions' and then need to play even more attractive football to impress the millions of fans of the Green & Maroons.
But of course, with the kind of stacked squad and quality players at their disposal, finishing in the top three will be the minimal thing for them. They should play more free-flowing attacking football than before and be even stronger defensively with the kind of reinforcements done.
For more updates, follow Khel Now on Twitter, and Instagram and join our community on Telegram.