ISL- Indian Super League
Indian Super League 2020-21 Season Review: Bengaluru FC
By

Kaushik
The Karnataka-based outfit had a rather underwhelming season by their standards.
When we talk about the top teams in Indian football, Bengaluru FC are sure to feature in the conversation. The club that started in the I-League in 2013 have come up leaps and bounds in their seven-year existence. Their stature has further grown since their entry into the Indian Super League in the 2017-18 season.
The side won the title in 2018-19 and made it to the playoffs every single season. But, as all good things come to an end, so did Bengaluru's playoffs streak. The Blues finished at a lowly seventh place, which indicates how bad their campaign was.
Bengaluru FC came into the 2020-21 season with lots of promise, having narrowly missed out on the final in 2019-20. Under then head coach Carles Cuadrat, the Blues boasted youth and experience in their squad. They were ready to once again take the league by storm, but their campaign never really took off.
Fact Sheet For Bengaluru FC in Indian Super League Season 2020-21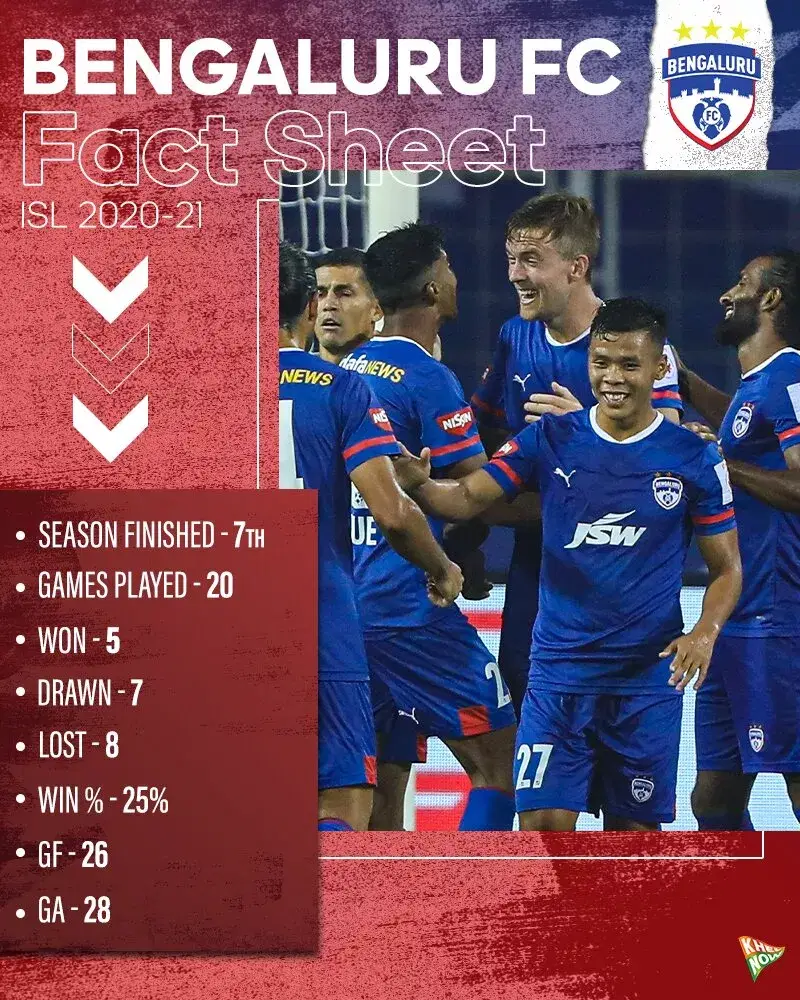 Top Performers
Cleiton Silva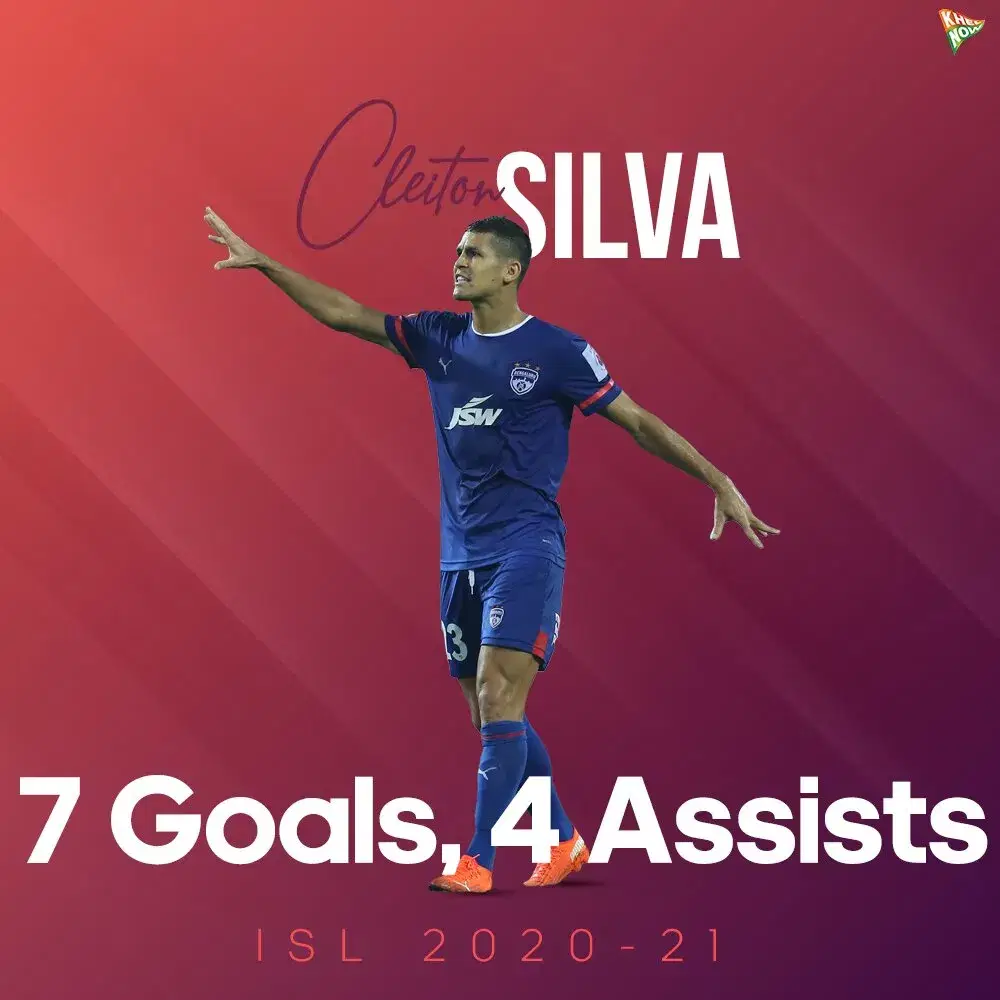 Cleiton Silva contributed to the most number of goals among Bengaluru players this season, with 11 contributions in total (7 goals, 4 assists). Silva offered great energy and his rate of 2.8 tackles/game offered Bengaluru the option of using his energy for pressing opponents high up the pitch.
Silva's overall ability proved him to be a gem amidst the rubble for the Blues, as he spurred their attack forward on most occasions. In a side that was dispirited with inconsistent results and changes in backroom personnel, Silva proved to be a player capable of making a difference more often than the rest.
Sunil Chhetri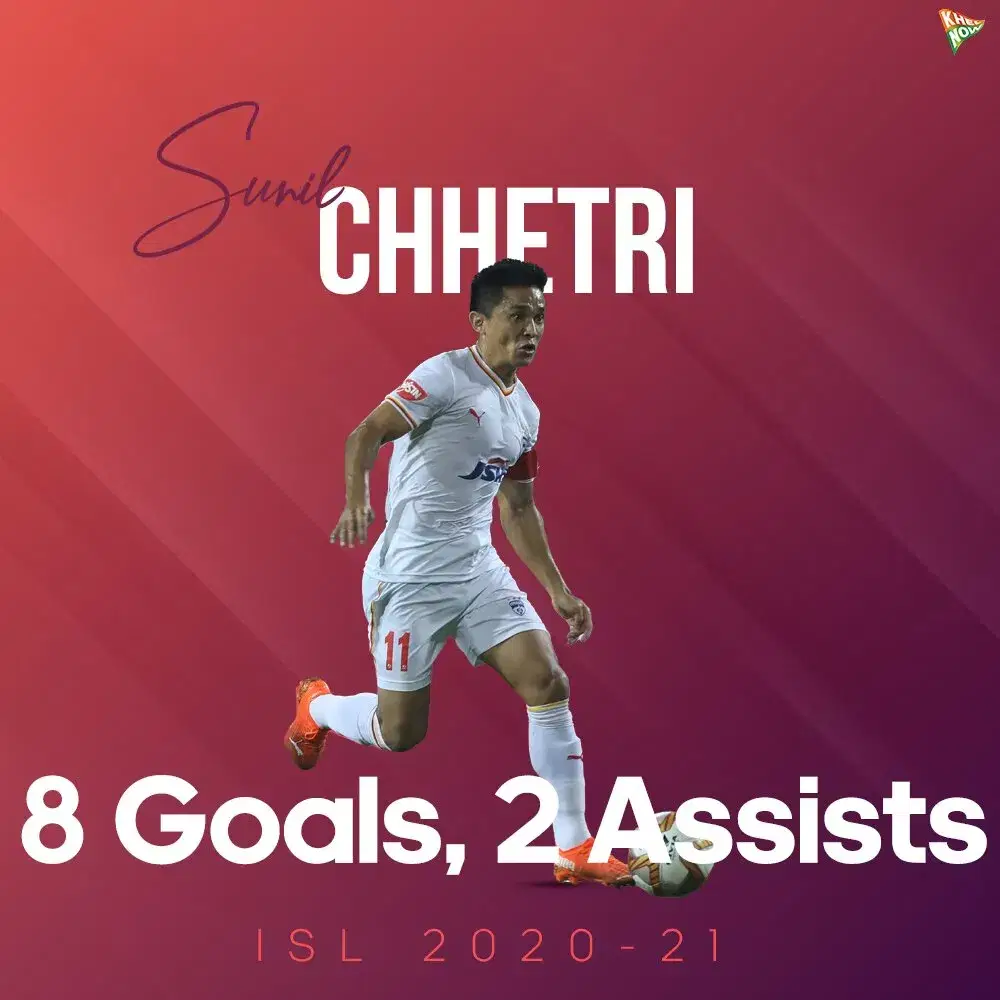 As ever, Sunil Chhetri was once again the top goalscorer for his side this season. His presence and goals were what kept Bengaluru in the hunt for the playoffs till the very end. The Indian Football Team skipper finished the season with eight goals and two assists in 20 games, a low return by his standards, but nonetheless effective for a side that struggled for form this season.
Erik Paartalu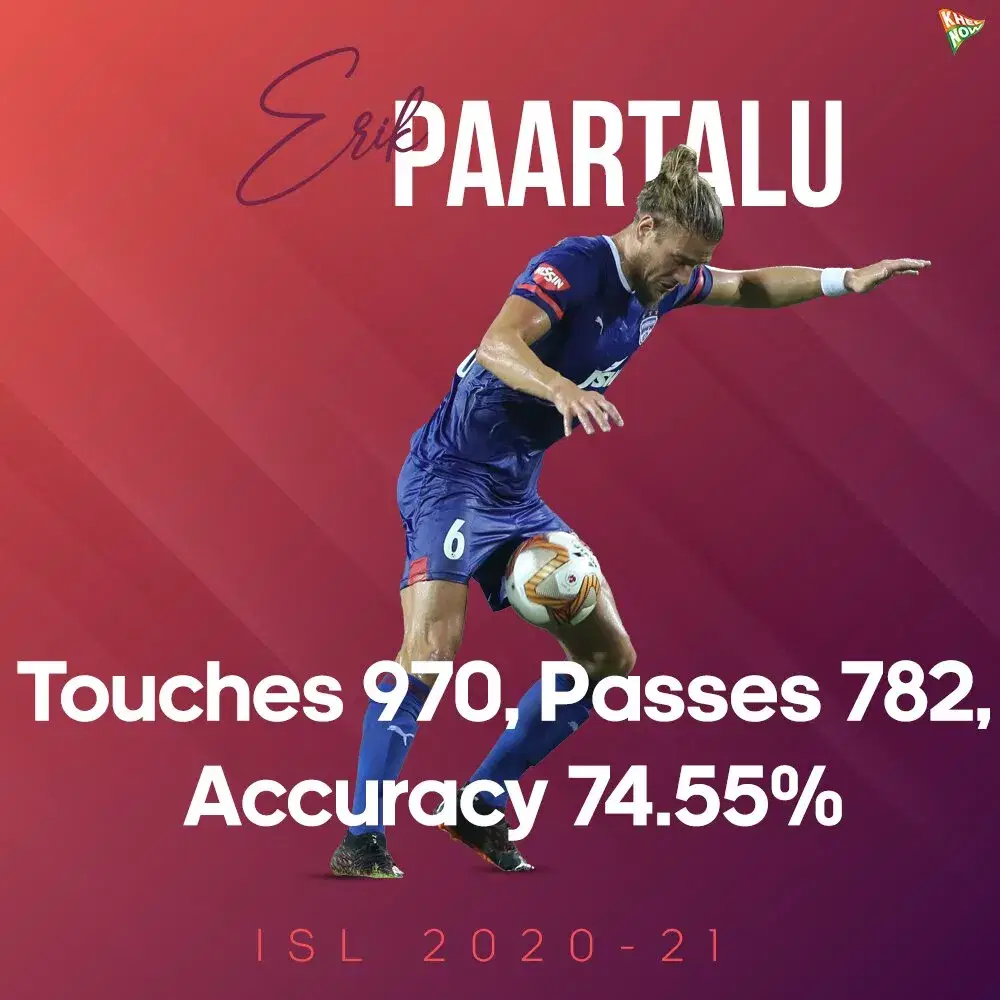 Erik Paartalu was Bengaluru's standout midfielder, as the Australian was the beating heart of their play this season. Paartalu's influence in Bengaluru's play is evident from his contribution to the side's cause. The 34-year-old veteran leads the charts among Bengaluru FC players in terms of touches (970) and passes completed (782) this season with an accuracy of 74.55%.
While sporting his burly frame, Paartalu showcased his all-round ability by averaging 2.1 tackles/game which is higher than Bengaluru's first-choice centre back Juanan. When needed, the midfielder also contributed to the attack with two goals and an assist in 18 games.
Underperformer of the Season
Kristian Opseth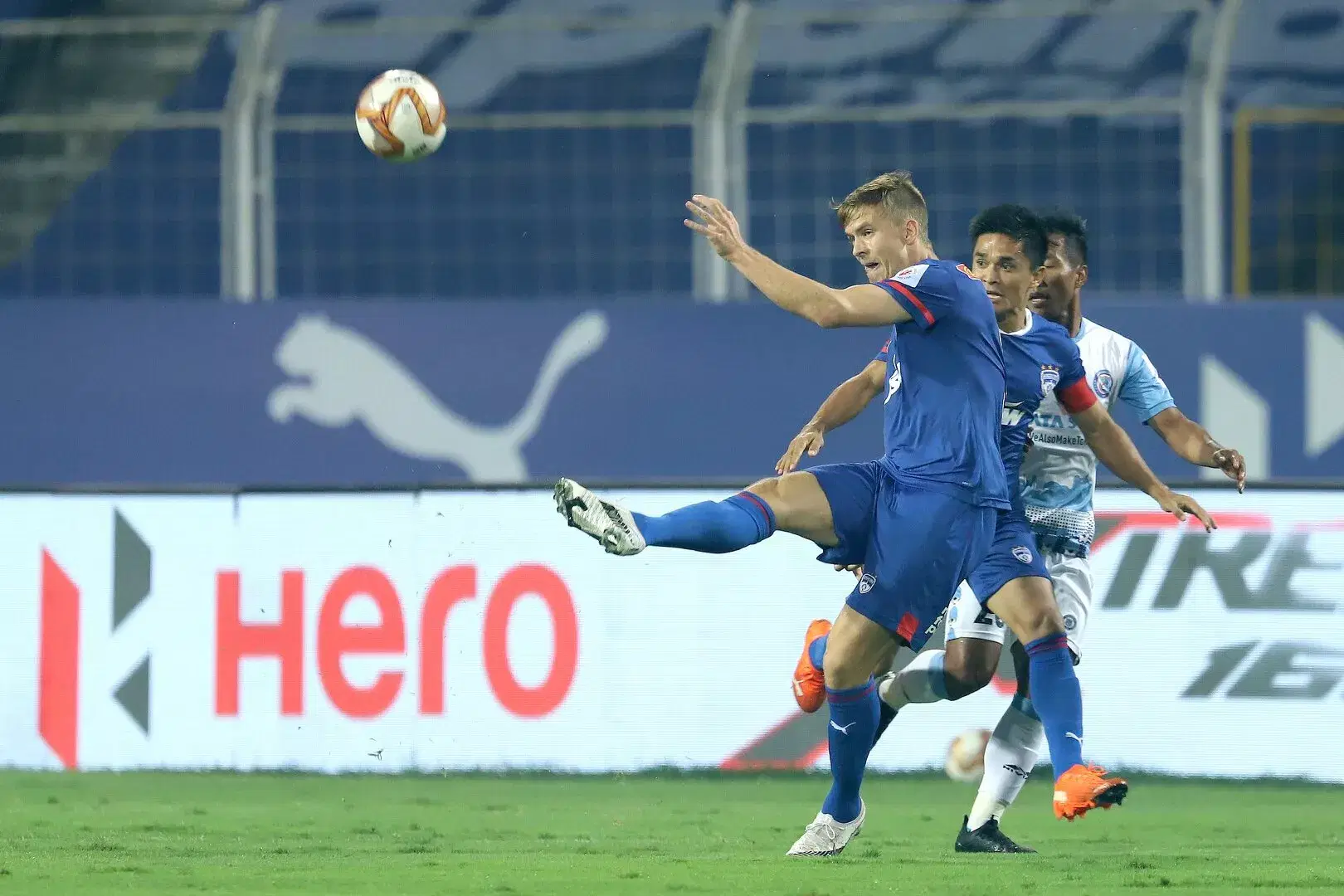 A lot was expected of Kristian Opseth when he signed for Bengaluru FC. The Norwegian was fresh from winning the FFA Cup with previous club Adelaide United, for whom he impressed with six goals in 24 games. But, the move to Bengaluru FC didn't quite materialize for him the way he or the club would've wanted.
Opseth featured in 15 games for the Blues with only 720 minutes of football action this season – a measly 48 minutes/game. In that time, he registered a solitary goal and an assist. He was often left alone with not much support being offered and was often played out of position on the wing, where he struggled with the physical nature of the game.
Opseth also had an abysmal tally of just 10.6 passes/game and accuracy of just over 52%, which is definitely not a good return for an attacker of his capability. He was often made the scapegoat for Bengaluru's failures in attack and his finishing left a lot to be desired, at just 1.3 shots/game.
Kristian Opseth's 2020-21 Season in Numbers
Appearances: 15
Goals: 1
Assists: 1
Goal Conversion Rate: 5%
Average Passes Per Game: 10.6
Passing Accuracy: 52.2%
Top Performances
1. Bengaluru FC 4-2 Kerala Blasters FC
2. Mumbai City FC 2-4 Bengaluru FC
3. Chennaiyin FC 0-1 Bengaluru FC
Manager's Report Card
Bengaluru FC's inconsistent season resulted in them bidding adieu to Carles Cuadrat, the man who led them to their maiden ISL title. The Spaniard's results and tactics didn't seem to serve Bengaluru's purpose, as his cautious approach stifled their focus on dominating possession and proceedings.
Cuadrat was sacked after his side's 1-3 defeat against Mumbai City FC, when the team were struggling in sixth position. He was replaced by Naushad Moosa who, despite his best efforts, couldn't inspire a turnaround. The Blues also struggled with injuries to key players like Juanan, Ashique Kuruniyan and Leon Augustine which didn't help their cause.
The Blues also played a very slow game at times, which was attributed to Cuadrat's safety-first tactics and were thereby unable to make their possession advantage count.
Lessons to be Learned
Bengaluru FC are a club that are now accustomed to the big time. They are a team capable of challenging the league's best and even bettering them. But, this season was rather poor by the lofty standards that the club and their fans have set for themselves.
Inconsistent performances and injury problems derailed their season, especially after the sacking of Carles Cuadrat. His exit was followed by a five-game winless run that put them out of the playoffs race as well. A fresh approach is now required if they are to make it back to the top.
The club management has already put in the steps towards the same by appointing Marco Pezzaiuoli as head coach. Pezzaiuoli possesses rich experience in management, having coached teams like TSG Hoffenheim and the youth sides of the German national team. He also worked as the director of youth development at Guangzhou Evergrande and most recently, was in-charge as the technical director for Bundesliga club Eintracht Frankfurt.
Fan View
Krishnan Govindraj
As a BFC fan, this season has been a very disappointing one for us. We have been so used to success since the club's inception. To see Carles leave the club was a bit disheartening, as he was a vital part of our success. It was difficult to see the Blues, toiling hard on the pitch, but not getting favourable results. We really wish we were there to push our team through the rough patches. With the new manager, we have renewed hope. AFC Cup is a special tournament and our team has all the strength to capture the title.
For more updates, follow Khel Now on Twitter, Instagram and join our community on Telegram.