Under new head coach Kibu Vicuna, the southerners are looking like an impressive side ahead of the next season.
With only a few days remaining for the upcoming edition of the Indian Super League (ISL), all teams are in the last stages of their preparations ahead of what promises to be an action-packed season. Kerala Blasters are no exception either, and they will also play in the opening fixture on November 20 against ATK Mohun Bagan.
The southerners began well in the ISL, reaching the finals twice across the first three years. However, it all went downhill from that point as they failed to qualify for the play-offs in the last three seasons that followed. The team have undergone a massive squad overhaul this summer, and it looks clear that they are very keen to put an end to their run of poor form.
Here, we comprehensively speak in detail regarding Kerala Blasters ahead of ISL 2020-21 season.
Last Season's Performance: Seventh
In the 2019-20 season, Kerala Blasters finished at the seventh place in the league, not qualifying for the play-offs once again. The Kochi outfit had brought in Eelco Schattorie as the new head coach, following his impressive stint with NorthEast United in the previous season, when he took them to the semi-finals. They also signed the likes of Bartholomew Ogbeche, Raphael Messi Bouli, Gianni Zuiverloon, Moustapha Gning and others – looking like a strong outfit on paper prior to the competition. However, poor pre-season planning, injuries and a host of other issues hindered their progress during the season.
Kerala Blasters played 18 league matches last season, and managed to win only four among them. They were handed defeats in seven games, and drawn in seven more. That said, it is their inability to close matches that proved to be costlier for the Yellow Army, as was observed by the games they had drawn.
At the end of the season, Schattorie was sacked and former Mohun Bagan head coach Kibu Vicuna replaced him at the helm. The club also hired a new Sporting Director in Karolis Skinkys, while CEO Viren D'Silva also left in the summer. Under a new management, Kerala Blasters is expected to look different this season, and promises great things.
Coaching Staff
Kibu Vicuna replaced Dutch tactician Eelco Schattorie at the helm of Kerala Blasters, after what was a disappointing season to say the least. The 48-year-old lifted the I-League trophy with Mohun Bagan last season with record numbers of matches left. Under him, the Mariners did exceedingly well in the 2019-20 I-League, as they went on to win it with four matches to spare – that too after suffering a draw and a loss in their first two matches. At Blasters, Vicuna's primary task will be to lead the club to a better finish than last season, and to qualify for the play-offs, if possible.
The full list of technical staff, including coaches and related personnel, is as follows:
Head Coach: Kibu Vicuna
Assistant Coaches: Tomasz Tchorz, Ishfaq Ahmed
Goalkeeping Coach: Yusuf Ansari
Tactical and Analytical Coach: David Ochoa
Physical Preparation Coach: Paulius Ragauskas
Physiotherapists: Santhosh Chacko, Askar PV
Goalkeeping Academy Coach & Goalkeeping Consultant: John Burridge
Pre-season
Like all the other teams, Kerala Blasters have also started their pre-season training in Goa, where the 2020-21 ISL will take place in a bio bubble behind closed-doors. While their Indian contingent arrived at Goa early in October, all of the foreign signings joined them only by late October. Most of them have completed their mandatory 14-day quarantine and the team even played a couple of pre-season friendlies so far.
In the first match against Hyderabad FC, the southerners won 2-0, courtesy of a brace from Rahul KP. The second friendly match of the season for the Blasters was against Mumbai City FC, which ended in a goalless stalemate. In both games, the Kochi-outfit fielded an all-Indian side. All in all, the club will be playing at least two more pre-season friendlies in November before the start of the season.
Transfer Dealings
As mentioned earlier, Kerala Blasters have undergone a massive squad overhaul in the summer. They parted ways with as many as 21 players, while 16 new players joined them. Only Sergio Cidoncha remains from last season's list of foreign signings, and he has been joined by six new overseas stars.
Among their Indian players, Kerala Blasters handed multi-year contract extensions to quite a few players, making it clear that they have already identified their core set of names to lead the team in the coming seasons. Some players have also been promoted from the reserves side, and we will be talking about all of them below.
Ins
This summer, Kerala Blasters signed two Indian goalkeepers in Prabsukhan Singh Gill and Albino Gomes. Defenders Sandeep Singh, Nishu Kumar, Denechandra Meitei also joined the southerners ahead of the season. They also signed talented midfielders like Rohit Kumar, Lalthathanga Khawlhring (Puitea), Ritwik Das and Givson Singh while former Shillong Lajong forward Naorem Mahesh Singh also signed for them.
Gary Hooper, Jordan Murray (forwards), Facundo Pereyra, Vicente Gomez (midfielders), Costa Nhamoinesu and Bakary Kone (defenders) are their six new foreign signings.
Apart from the above, the club also handed contract extensions to the likes of Abdul Hakku, Jessel Carneiro, Seityasen Singh, Sahal Abdul Samad, Prasanth Karuthadathkuni and Rahul KP. Shaiborlang Kharpan, Ayush Adhikari and Muheet Shabir are among those promoted from the reserves' team.
Outs
Pragyan Sundar Gogoi, Mohamad Rakip, Shibin Raj Kunniyil, TP Rehenesh, Sandesh Jhingan, Samuel Lalmuanpuia, Pritam Singh, Halicharan Narzary, Darren Caldeira, Raju Gaikwad and Mohammed Rafi are the Indian players who parted ways with the club. The club also let go of their foreign signings in Nikola Krcmarevic, Bartholomew Ogbeche, Vlatko Drobarov, Raphael Messi Bouli, Matej Poplatnik, Slavisa Stojanovic, Mario Arques, Moustapha Gning, Gianni Zuiverloon and Courage Pekuson.
The biggest departures were those of club captain Sandesh Jhingan, Samuel Lalmuanpuia, Halicharan Narzary, Bartholomew Ogbeche and Gianni Zuiverloon who now plays for ADO Den Haag in the Eredivisie.
Squad
Goalkeepers: Albino Gomes (32), Bilal Husain Khan (1), Muheet Shabir (77), Prabsukhan Gill (13).
Defenders: Abdul Hakku (24), Bakary Kone (4), Costa Nhamoinesu (26), Jessel Carneiro (14), Lalruatthara (39), Nishu Kumar (5), Sandeep Singh (3), Denechandra Meitei (12).
Midfielders: Arjun Jayaraj (30), Ayush Adhikari (20), Jeakson Singh (15), Vicente Gomez (25), Lalthathanga Khawlhring (47), Givson Singh (11), Nongdamba Naorem (16), Prasanth Karuthadathkuni (6), Rahul KP (17), Ritwik Das (27), Rohit Kumar (8), Sahal Abdul Samad (18), Seityasen Singh (7), Sergio Cidoncha (22).
Forwards: Facundo Pereyra (10), Gary Hooper (88), Jordan Murray (9), Naorem Mahesh Singh (23), Shaiborlang Kharpan (19).
Formation & Tactics
4-2-3-1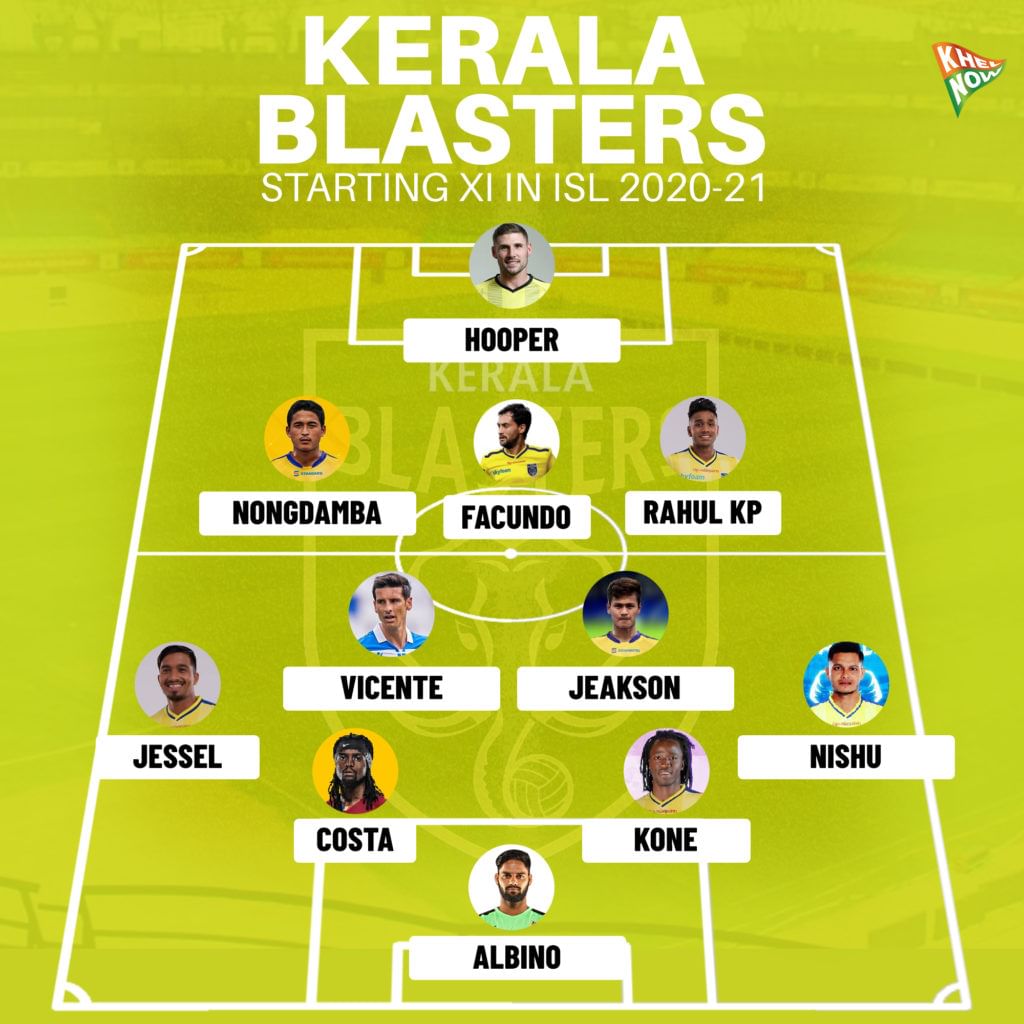 Kibu Vicuna might opt for 4-2-3-1 as his primary formation, just like at Mohun Bagan last season. Costa and Kone will lead their defence, while Jessel and Nishu will be the first-choice full-backs due to their pace, penchant to participate in attack and good defensive skills. Vicente Gomez and Jeakson Singh could be the first-choice defensive midfielders – with one of them breaking down the opposition's attacking runs, while the other dictates play from the midfield by holding the ball and playing forward passes as and when needed.
Nongdamba Naorem will start in the left midfield, while Rahul KP will start on the right side. Facundo Pereyra will take up the role of the central attacking midfielder and his primary responsibility would be to create chances for the sole striker, Gary Hooper to finish.
4-2-3-1 (Alternative)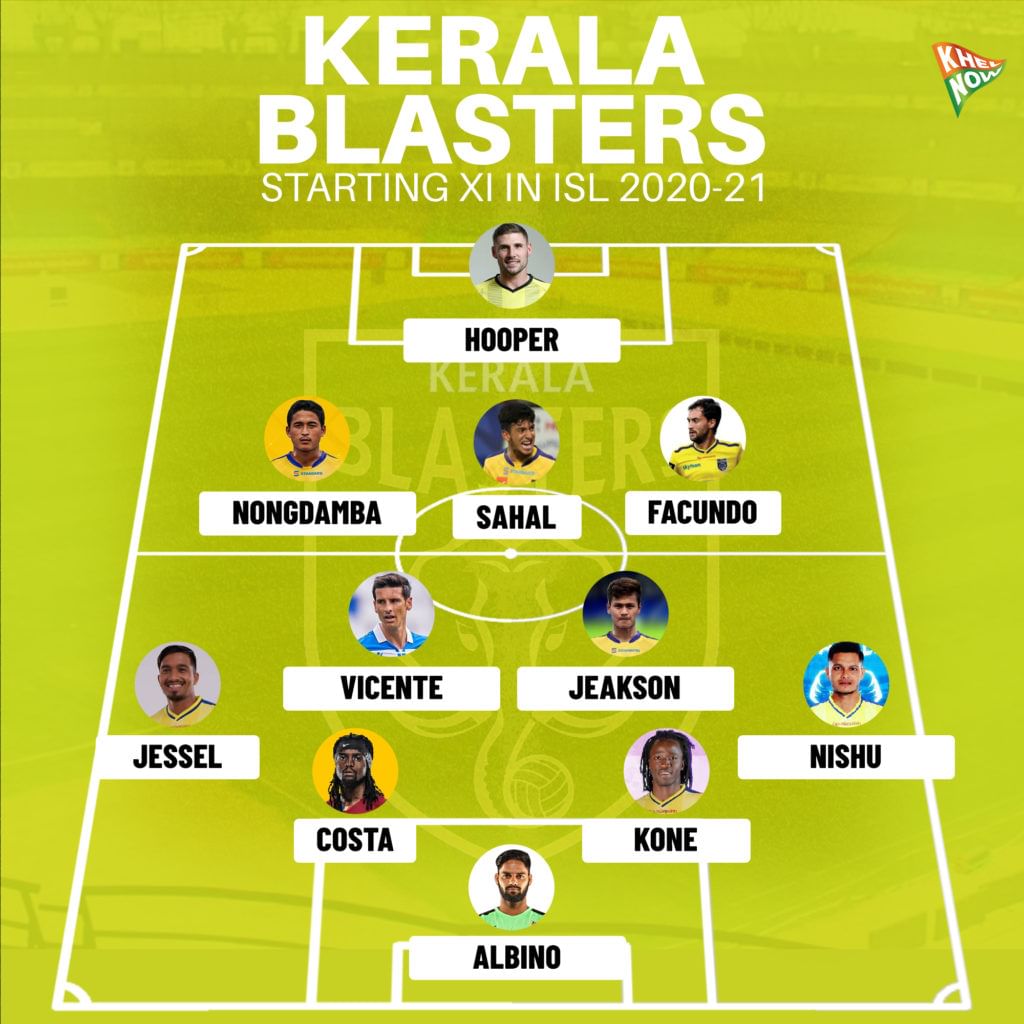 An alternative 4-2-3-1 option can be used to bring Sahal Abdul Samad into the starting XI. While all the others take the same positions as above, Sahal can start as the attacking midfielder by replacing Pereyra, who in turn can take the place of Rahul KP on the right midfield.
We feel that Sahal, however, may lack the physicality to play with his full intensity for a greater part of the game. Therefore, we recommend the first formation while using Samad as an impact substitute in the second half.
4-4-2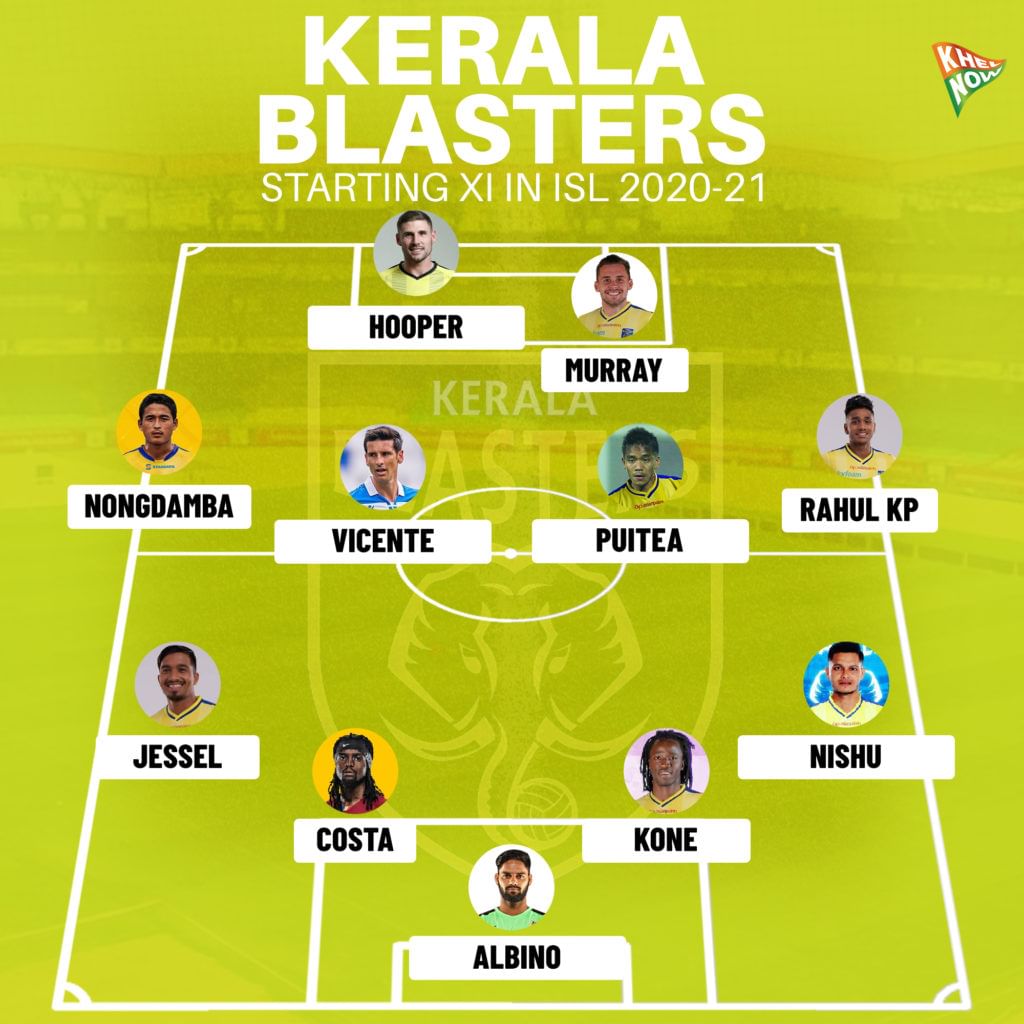 In case Vicuna needs another striker or forward player to combine with Gary Hooper up front, he can use the 4-4-2 formation.
Australian striker Jordan Murray will take up the responsibility of being Hooper's partner in attack, while Naorem and Rahul will retain their positions in the left and right midfield. Vicente Gomez and Lalthathanga Khawlhring would be the two first-choice central midfielders, with the latter assisting in forward play while the former drops back.
In the 4-4-2 formation, Kerala Blasters' defensive lineup will stay the same as before i.e. Jessel and Nishu as full-backs, with Kone and Costa taking up the role of the two centre-backs.
Strengths
Well planned defense comprising of two centre-backs with European experience.
A plethora of options in the midfield. All of them will collectively suit all of Kibu Vicuna's demands.
Full-backs that assist in attacks. Gives Blasters an additional advantage when playing against defensive sides.
Hooper is an experienced striker and a deadly finisher. When he combines with the likes of Naorem, Rahul, Sahal and Pereyra who can create chances on will, Kerala Blasters will have a formidable attacking department.
Weaknesses
A few players are returning from injury and prior to this summer, their fitness levels have remained doubtful.
Lost a leader in Sandesh Jhingan, it remains to be seen whether the current options can replace him in terms of leadership abilities.
Barring Sahal, the rest of the domestic midfield options are yet to prove themselves at the highest levels.
Players to Watch
Costa Nhamoinesu
Nhamoinesu is the oldest among Kerala Blasters' overseas options this season. The Zimbabwean defender joined the club on a season-long deal.
Nhamoinesu started his professional career in Zimbabwe, before shifting base to Europe and joining WSS Wisla, a Poland-based club in 2008. Six months later, he moved to Zaglebie Lubin, where he played for five seasons before signing with Czech First League side AC Sparta Prague. In the past seven years, he racked up over 200 appearances, including 40 matches across the UEFA Champions League and UEFA Europa League.
The former Zimbabwe international has played under Vicuna once before, during the latter's time as an assistant coach at Zaglebie Lubin. It is his physical attributes that set the 34-year-old apart from most other centre-backs in the ISL. Having captained his team almost every single time in Kerala Blasters' intra-squad training matches this pre-season, he is expected to be one of the contenders of the Yellow Army's captaincy in the upcoming 2020-21 season.
Gary Hooper
Like Nhamoinesu, English striker Gary Hooper has also joined Kerala Blasters on a season-long deal. He is one of the most experienced forwards in the Indian top flight this season, having made close to 500 club appearances and notching over 200 goals.
Hooper has played for clubs like Norwich City, Sheffield Wednesday, Celtic, Leyton Orient and Wellington Phoenix. He holds the unique distinction of being the first and only player so far to score in the Premier League, EFL Championship, EFL League One, EFL League Two, FA Cup, English League Cup, Football League Trophy, FA Cup, UEFA Champions League, UEFA Europa League, Scottish Cup, Scottish League Cup and the Scottish Premiership.
Under Vicuna, the 32-year-old will play as the first-choice striker. His penchant to position himself well in the opposition's box, coupled with his accurate finishing from close range makes him a formidable force. In the recently-concluded 2019-20 season, Hooper made 21 league appearances for Phoenix and also played a key role in the club's third-place finish, by netting eight goals and providing five assists.
Sahal Abdul Samad
Dubbed as the 'next big name in Indian football' by many legends including IM Vijayan, Sunil Chhetri and so on, the amount of expectations on Sahal Abdul Samad is huge. This summer, the club also showed how much they value and trust him, by handing him a new five-year deal with a pay rise that made him one of the highest paid Indian players as of right now.
A traditional No.10, Sahal played out of position in most of last season's games, as a result of which he could not make much impact for his team. This time around, we expect that to change as Vicuna has already made it clear that the youngster will play in his preferred position. An excellent passer of the ball, the 23-year-old is adept at creating chances, and is well on his way to becoming one of the best-ever footballers to hail from the country. This season, we hope that Sahal will finally be able to deliver performances that stay true to his potential.
Fixtures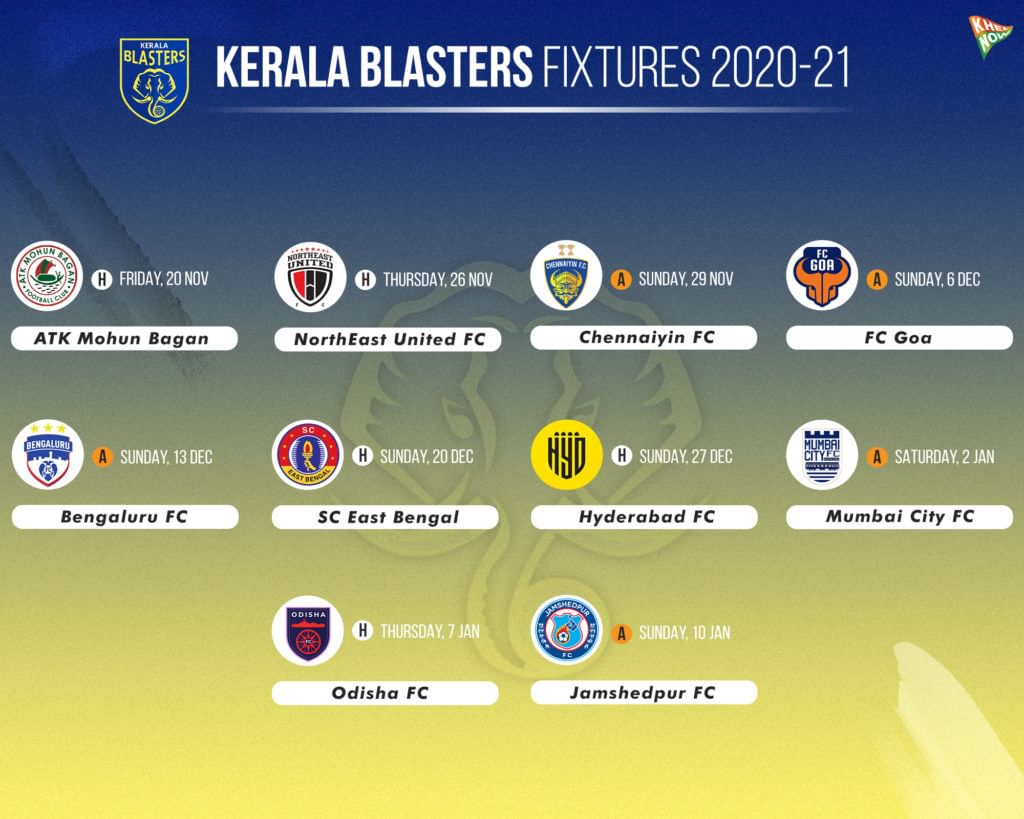 What to Expect
One of the main points that the new signings and changes in management indicate for Kerala Blasters that the club is willing to leave no stone unturned to change their previous seasons' performances. Those at the helm of the club are aware that their fans deserve much more than what they have given them over the past few years, and it would not be surprising if Kibu Vicuna and co lead them to a finish at the top half of the table.
Our opinion is that the team doesn't look as strong on paper as some other clubs, and while that might be a cause of disappointment for fans, we would also like to remind them that this will help the team play without the excessive burden of expectations on them.
For more updates, follow Khel Now on Twitter and join our community on Telegram.