The Juggernauts have made a flurry of changes to their squad ahead of the upcoming campaign.
Following the erstwhile Delhi Dynamos' change of base to Bhubaneswar ahead of the 2019-20 season and renaming the club Odisha FC, the Juggernauts finished sixth in the previous campaign. Fans were left disappointed as Josep Gombau's men played an eye-catching brand of football, but could not always get the necessary result at the end.
After appointing a new head coach in Stuart Baxter and possessing a revamped foreign contingent, expectations are again high from the Bhubaneswar-based side ahead of the ISL 2020-21 season.
Last Season's Performance
Odisha FC finished sixth last season, accumulating 25 points. The outfit had a shaky start to the campaign because they had to play the first few home fixtures in Pune due to the unavailability of Kalinga Stadium.
Even though the club played an eye-catching brand of football under Spanish tactician Gombau, the performances picked up too late and it was not enough to ensure a playoffs position. At the end of the season, Gombau had to leave the club due to personal reasons.
Pre-Season
Odisha FC started their pre-season training at different levels, with one group of players starting from early October. The Indian players started training early with assistant coach Steven Dias, as the foreign players arrived and stayed in quarantine. The team played and lost two friendlies, 2-1 against Chennaiyin FC and 3-2 against Mumbai City respectively.
Coaching Staff
Stuart Baxter has been appointed by the club hierarchy as head coach ahead of the new season. The 67-year-old has loads of experience under his belt, as he has managed clubs in Portugal, Norway, Sweden, China, Japan and was most recently the head coach of the South African national team.
Baxter will be joined by Gerry Peyton as his assistant coach, who was associated with Premier League giants Arsenal for a number of years. Steven Dias has been appointed as part of the backroom staff too and Rogério Ramos will be the goalkeeping coach.
Transfer Dealings
Odisha FC have almost completely overhauled their foreign contingent, with only Diawandou Diagne being retained for the upcoming season. Moreover, several Indian players have also been released in order to shake up things and turn the club's fortunes around.
Ins
With 18 additions and several new players being promoted to the senior setup from the development side, it is a new-look team all around. Some of the major recruits include the likes of Marcelinho, Diego Mauricio, Steven Taylor, Kamaljit Singh, Moirangthem Thoiba and others.
Outs
Overseas players like Marcos Tebar, Xisco Hernandes, Francisco Dorronsoro, Martin Perez Guedes have departed. Indian players like Narayan Das, Bikarmjit Singh, Romeo Fernandes, Rana Gharami, Albino Gomes, Seiminmang Manchong along with several others have also left Odisha FC.
Full Squad
Goalkeepers: Arshdeep Singh, Kamaljit Singh, Ravi Kumar, Ankit Bhuyan
Defenders: Steven Taylor, Saurabh Meher, Gaurav Bora, Kamalpreet Singh, Md. Sajid Dhot, George D'Souza, Shubham Sarangi, Jacob Tratt, Hendry Antonay
Midfielders: Baoringdao Bodo, Cole Alexander, Isak Vanlalruatfela, Jerry Mawihmingthanga, S Lalrezuala, Nandhakumar Sekar, Paul Ramfangzauva, Samuel Lalmuanpuia, Vinit Rai, Thoiba Singh, Diawandou Diagne, Nischay Adhikari, Rishabh Dobriyal, Akshunna Tyagi, Marcelinho, Premjit Singh
Forwards: Diego Maurício, Manuel Onwu, Daniel Lalhlimpuia, Samuel Lalmuanpuia
Formation & Tactics
4-2-3-1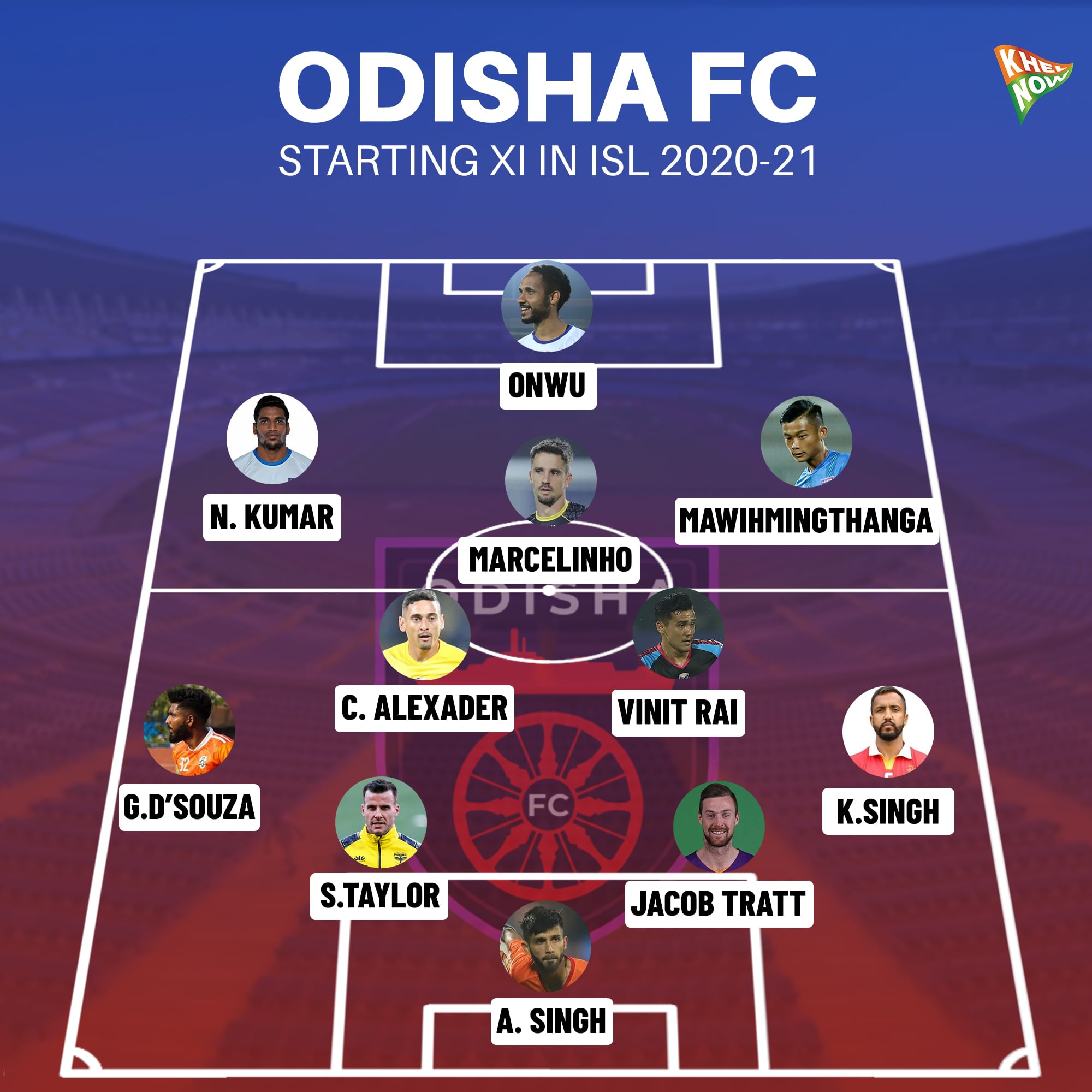 This formation is what Stuart Baxter has stuck with in the past and it fully utilizes the brilliant balanced squad that Odisha FC have. The dual cover of Vinit Rai and Cole Alexander could also make the side a tough nut to crack, as the midfielders compliment each other. One can expect Marcelinho to have a free role just behind the striker, to exploit spaces in and around the target man.
This system can easily be rotated into a 4-4-2 setup, with Marcelinho pushed forward along side Manuel Onwu as a second striker. Kamalpreet Singh, formerly of Punjab FC and the erstwhile East Bengal has been recruited into the side and might start over Shubham Sarangi, owing to him being more defensively astute.
4-4-2 (Alternative)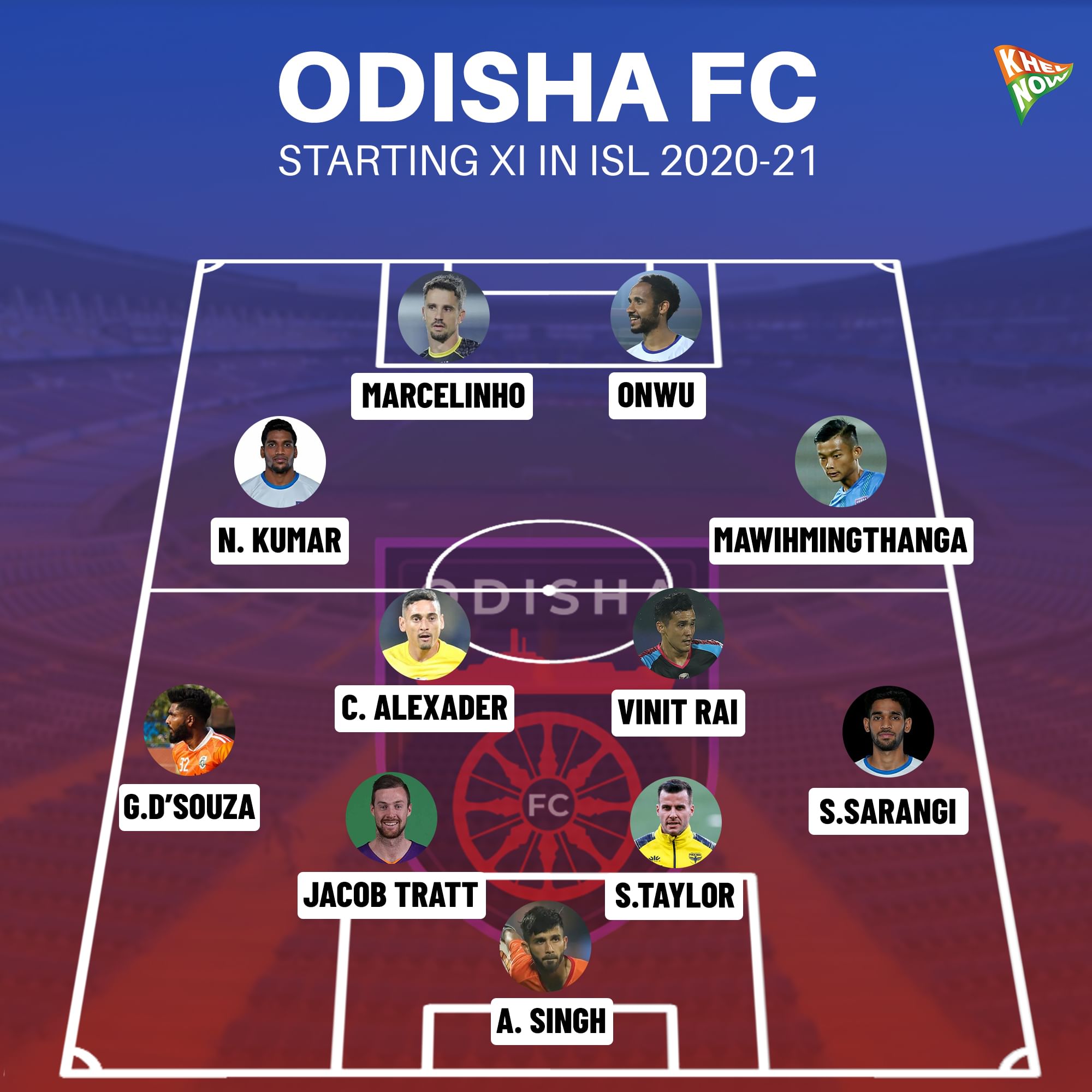 Stuart Baxter has trusted 4-2-3-1 and 4-4-2 most in his managerial career. The latter system provides stability and is the most common of all formations. With a settled defence and four midfielders to cover each position, Odisha FC will be setup to prevent goals from leaking and the strategy will be to win games by slim margins. One can also expect Diego Mauricio to come in from the bench for either of the striking options to provide more energy.
3-5-2 (Alternative)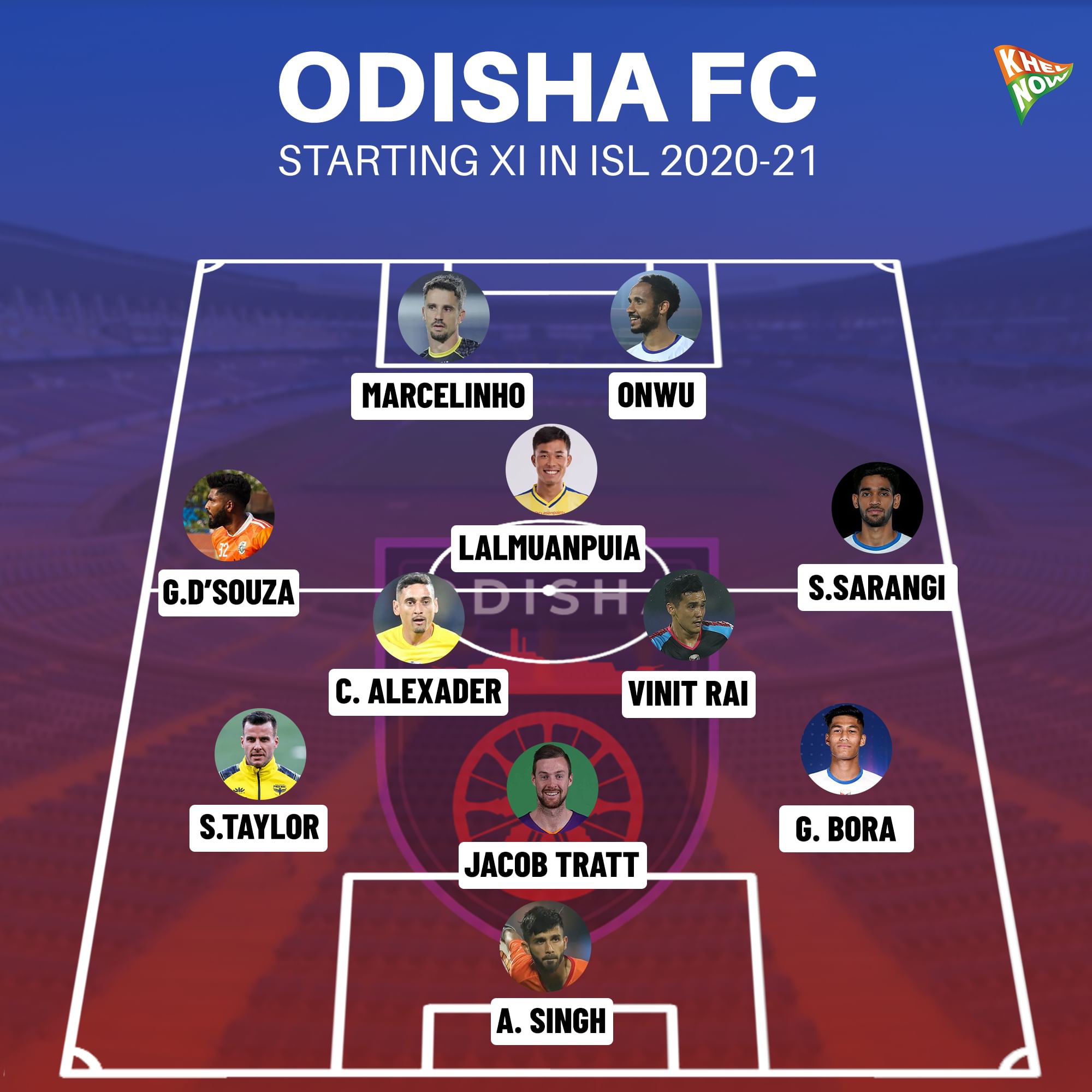 Yet another formation that we can expect Baxter to trust is the three-man defence . While Taylor and Tratt are obvious names, one could expect Gaurav Bora to play as the third center-back, with full-backs Shubham and D'Souza pushed forward to provide service to the attackers.
This system will easily transition into a five-man backline w as Baxter likes his defenders tight and compact. Moreover, we can also expect Hendry Antonay to start over D'Souza or even Shubham on either of the flanks. In this setup, one can expect Jerry to be sacrificed and replaced with Daniel Lalhlimpuia, who'll slot in right behind the two forward options.
Strengths
Odisha FC have some of the best attacking options in the league. Marcelinho is a proven star in the ISL and will definitely be central to their attacking moves.
The striking duo of Manuel Onwu and Diego Mauricio will definitely hurt opposition defences with their aerial prowess and an eye for space behind the backline.
Vinit Rai has matured into a good player over the last couple of seasons and will solidify the midfield.
The defensive core of Steven Taylor and Jacob Tratt will also be under the lens, as they look very solid on paper. The team has apt ammunition for Stuart Baxter, who does not like to concede goals and will aim to make Odisha one of the harder teams to score against.
Weaknesses
One of the most glaring weaknesses that could be exposed will be the whole host of new players that have been recruited. This might lead to a lack of team cohesion and the lack of proper pre-season, time together can also make it tougher for the head coach to get his players combined well on the pitch. Odisha FC will not like to replicate the start of last season again.
Moreover, while the defence looks solid on paper, it still remains to be seen how all these new players will work together. Lack of ISL experience amongst the foreign recruits might also become a headache as they will take time to adapt to the league.
Players To Watch
Marcelinho
Marcelinho is an ISL veteran and recruiting him into their side is definitely a statement signing by Odisha FC. His stats speak for him and he will be the man to watch out for, for every opposition that comes up against the Juggernauts.
His unmatched dribbling ability, free-kick accuracy and whole range of attacking ammunition make him one of the most feared attackers in the league.
Manuel Onwu
Manuel Onwu scored seven goals and provided three assists in four games last term. If he is able to pick up where he left off and replicates this form again, then opposition defences are in for a lot of trouble. The Spaniard will love to prove his critics wrong yet again and bag a lot of goals.
Steven Taylor
The new skipper of Odisha FC, Steven Taylor has Premier League experience under his belt, which sets him apart from many foreign players. He will be central to the team's defence and will use his leadership skills to motivate his teammates from the back. All eyes will be on Taylor's first taste of Indian football.
Fixtures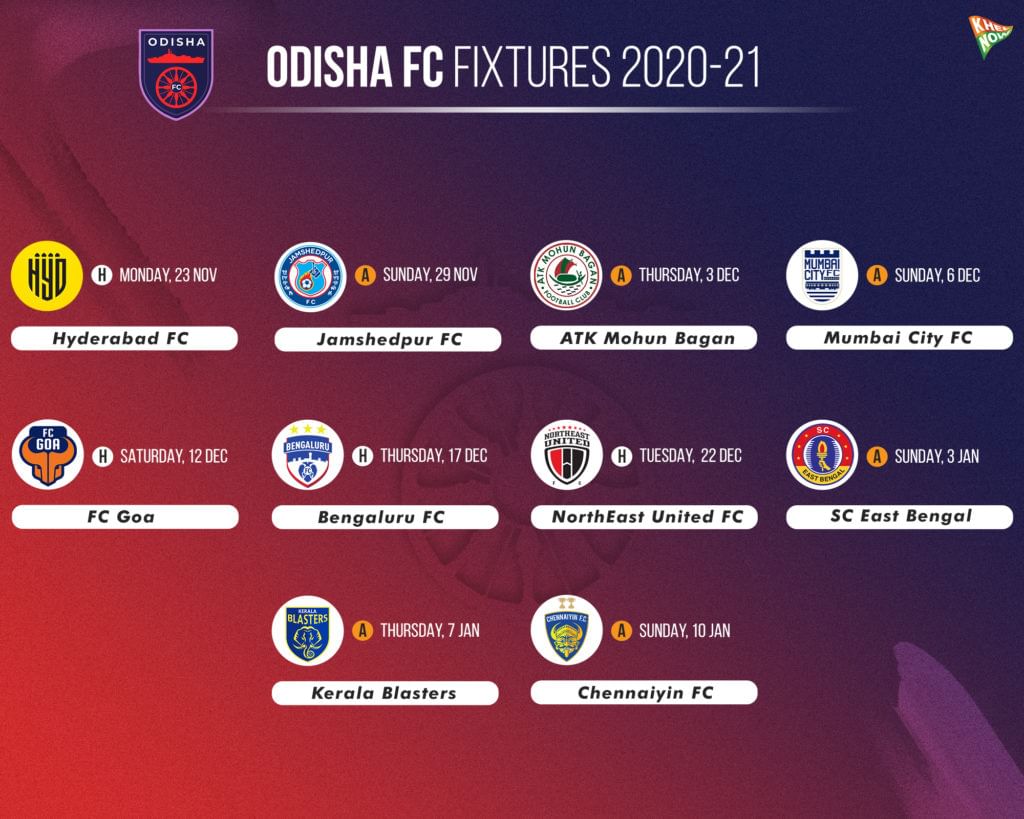 What to Expect
Improvement. Stuart Baxter is a seasoned manager and knows what needs to be done to make Odisha FC competent enough to qualify for the playoffs. He has recruited smartly and focused on fixing the leaky backline. If the system works how it should, Odisha will be a tough side to defeat.
For more updates, follow Khel Now on Twitter and join our community on Telegram.