The 24-year-old has scored four goals in eight appearances so far in the ongoing 2021-22 season.
Kerala Blasters are enjoying a good Indian Super League (ISL) 2021-22 campaign under head coach Ivan Vukomanovic. The Kochi-based outfit are not a part of the league's top-four as of now, but are only three points behind leaders Mumbai City. They are also on a seven-match unbeaten run, the longest-ever in their history and also the joint-best alongside Hyderabad FC this season.
The biggest credit for the Yellow Army's rise should go to Vukomanovic himself. The tactician did not boast of a great resume when he joined the club, but has delivered right when it mattered the most. One of his most important trump cards so far has been Sahal Abdul Samad, whose impressive performances is another cause of joy for the Kerala fans.
Since hogging the limelight following a breakout campaign in the ISL 2018-19 season when he also won the 'Emerging Player of the Season' award, Sahal had subdued outings in the 2019-20 and 2020-21 seasons. On that note, his performances so far in the ongoing campaign has been refreshing to say the least, and this article focuses particularly on the rise of the attacking midfielder and his influence in Kerala Blasters' recent performance.
Sahal's numbers from ISL 2021-22
Matches: 8
Minutes: 572
Goals: 4
Shots: 9

Touches: 251

Passes: 148
Passing Accuracy: 62.16%
Defensive Contributions (Tackles, Interceptions, Blocks, etc.): 48
What has changed?
Prior to the ongoing season, Sahal Abdul Samad had just one goal from 51 games. He has scored four more in the eight matches since then – and that is the biggest noticeable change in his numbers so far. So how did the 24-year-old brought about this change? Former footballer and analyst Paul Masefield seems to have an answer.
"Sahal is making much better runs, whether it is coming inside from a wide area or tucking in a little bit more when the ball is on the other side," he told the ISL website in a recent interview.
"His runs all round have contributed to him stepping up his levels this season. Now he just needs to combine the whole lot together to get the final end product correct," he further added. However, that is not the only reason for the attacking midfielder's improved showing in ISL 2021-22.
Dr. S Mukherjee, another analyst, recently pointed out that Sahal's footballing intelligence has improved, a case in point being the run that he made off the ball to score against Jamshedpur FC. Additionally, the Kerala Blasters players provide better service to him this season than in ISL 2020-21.
That brings us to Ivan Vukomanovic, who has apparently allowed Sahal more freedom on the pitch than what he received in the past few seasons.
The role of Vukomanovic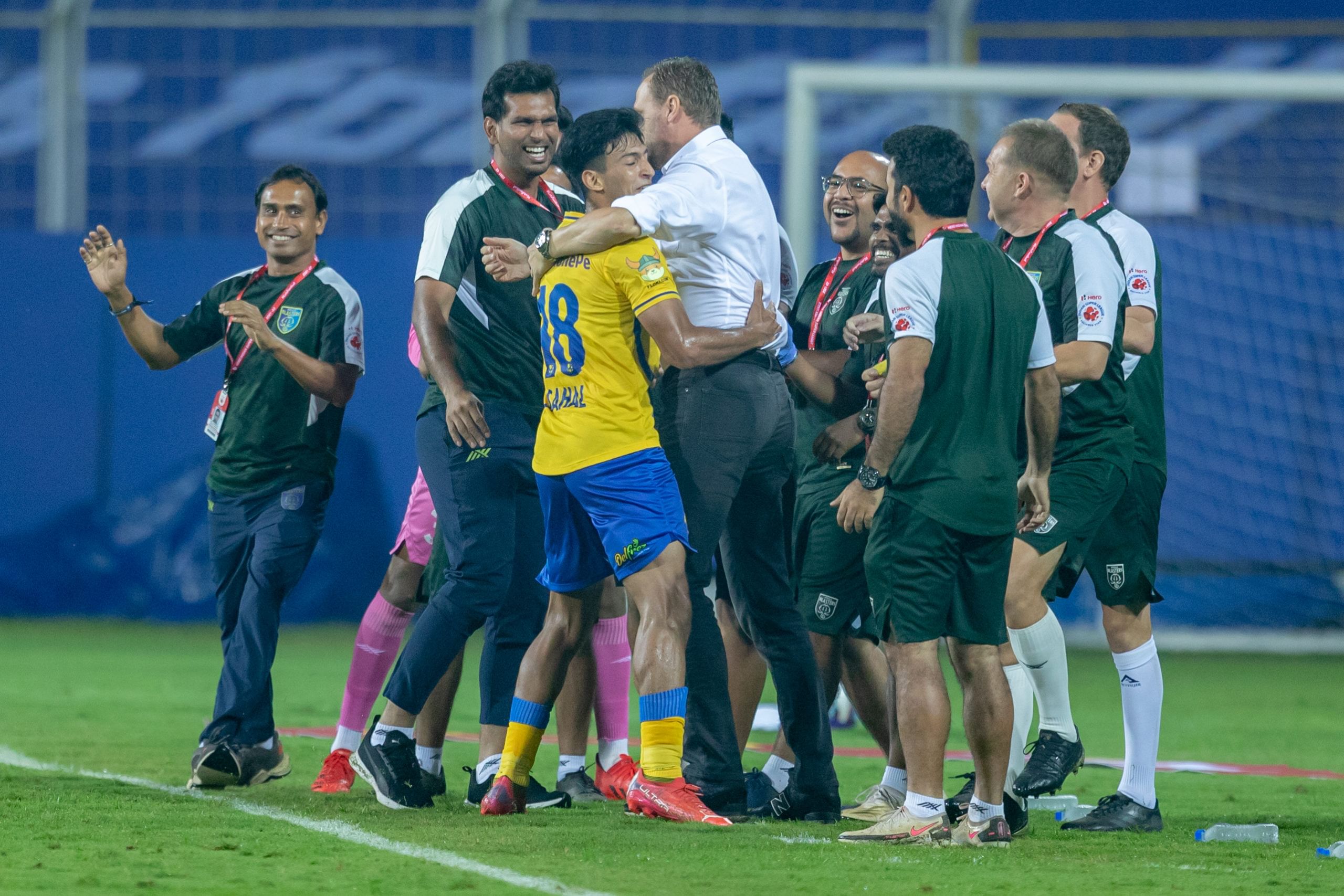 The 44-year-old head coach of Kerala Blasters is the biggest reason for the newfound success of Sahal Abdul Samad. One of the reasons is the freedom that he has given him.
Sahal, instead of being confined to the left side of the pitch like in the last season, has played in other parts of the pitch as well in the ongoing campaign. Playing Jeakson Singh and Puitea as the double-pivot in a 4-4-2 system has helped Vukomanovic use Sahal as one of the creative outlets of his side. In this role, he has all the freedom to make runs both on and off the ball – and that is one of the reasons why he has better numbers in ISL 2021-22.
Another reason why the Kerala Blasters head coach has influenced the midfielder, is his man-management abilities. Ivan Vukomanovic's interactions with players – both during games and at other times like press conferences, training sessions and so on – has shown that he shares a solid rapport with all of his players.
In a recent pre-match chat, questions were asked about Sahal's finishing and decision-making in the final third. Vukomanovic then spoke highly of him, explaining that he has done well in training. Sahal then proved it all by himself during the following clash against Mumbai City, when he buried the ball in the bottom corner of the net with a sweetly-timed volley.
A few days later, in another pre-match media interaction, Sahal appeared with Vukomanovic and the latter reminded everyone as to how the former impressed against the Islanders. This display of support and confidence means a lot to any player and it is hence very likely that his coach's support has helped him regain Sahal's confidence.
The support from teammates
Ultimately, football is a team game. Even Lionel Messi and Cristiano Ronaldo are often helpless, when their teammates do not rise up to the occasion.
It can be said that Kerala Blasters have done a better job in players' recruitment this season. They brought in the likes of Adrian Luna, Alvaro Vazquez and Jorge Pereyra Diaz, all of who have combined well with Sahal in attack. Despite the volumes of experience that they brought into the club, they are not shy to work with the India international.
In what has been a common sighting so far in KBFC's ISL 2021-22 campaign, Vazquez and Luna (and Diaz, whenever he is on the pitch) was spotted supporting Sahal with off-the-ball runs, thereby expanding his range of options whenever he has the ball with him. The variety in attack, along with a decent defence speaks of overall team improvement, which, in turn has improved Sahal too.
In October, Sahal Abdul Samad scored his first-ever goal for the Indian national team in the SAFF Championship 2021 final. The goal surely seems to have sparked his revival which is currently being worked upon at Kerala Blasters. Still young, he has plenty of time left and it is surely a positive sign that he has started to impress.
For more football updates, follow Khel Now on Twitter, Instagram and join our community on Telegram.