The Blues suffered the second defeat of their 2021-22 Indian Super League campaign on Saturday night.
Bengaluru FC and Mumbai City FC locked horns on Saturday night in the Indian Super League, with the Islanders sealing a 3-1 victory. While Marco Pezzaiuoli's men enjoyed one of their best starts early on, it didn't last long as Igor Angulo converted a shot from the spot in the ninth minute.
However, after some deliberation in attack, the Blues got their chance to score from a set-piece — which Cleiton Silva spectacularly converted in the 20th minute. They had another opportunity to take the lead, but skipper Sunil Chhetri missed a penalty, thereby failing to put Bengaluru FC ahead in the 44th minute and Mumbai City came roaring after the break. For the Blues, things only went downhill with Mourtada Fall and Ygor Catatau scoring in the 54th minute and 85th minute respectively to seal the victory.
Let's find out how did the players from both sides perform on Saturday night.
Bengaluru FC (by Ujyant Ramesh)
Gurpreet Singh Sandhu (GK) – 4.5
Poor positioning and coordination with his defenders — much like the last few games. Should've caught the ball leading to the penalty. Although he redeemed himself initially by saving an own goal from Cleiton Silva, he conceded two more, courtesy of Mourtada Fall and Ygor Catatau.
Naorem Roshan Singh – 6.0
Was good with set-pieces as usual. Delivered a good free-kick in the third minute, but Chhetri's shot was saved. He delivered 19 accurate passes — the highest for his side and looked bright on the flanks.
Alan Costa – 5.0
Conceded the penalty leading to Igor Angulo's goal. Wasn't his fault entirely as it was an act of hesitation and miscommunication between himself and Gurpreet.
Pratik Chaudhari – 5.0
Sloppy defending in the sixth minute, but somehow recovered and neutralised Angulo's chance early on. Apart from this, he had the least touches (25) amongst all outfield players in the game.
Ashique Kuruniyan – 6.5
Had a decent performance against Mumbai City FC, running back and forth on the left flank. Made some good runs towards the far post and tried his luck with passes towards the Blues' attack. However, no concrete results from them. Also completed the most dribbles (2) in the match.
Jayesh Rane – 6.0
Was smart and clean with his distribution, impressive with his close touches and set up many fast-breaks. Tried his luck with some sprints in both halves. Felt like the Blues' best man in midfield on Saturday night.
Bruno Ramires – 5.0
Had a better performance in the previous game against Kerala Blasters where he fulfilled his role as a defensive midfielder. Against Mumbai City, he made some good passes to his attack and defence. Should've done better alongside Alan Costa for the second goal.
Suresh Singh Wangjam – 5.0
Not the best of his performance. Couldn't keep the ball well and he lost possession the most times (3) in the game.
Cleiton Silva – 7.5
Once again, he was his side's best player in attack as the Brazilian was a major threat to the Islanders' defence with his pressing. Hit the crossbar in the very first minute. Scored a brilliant free-kick in the 20th minute.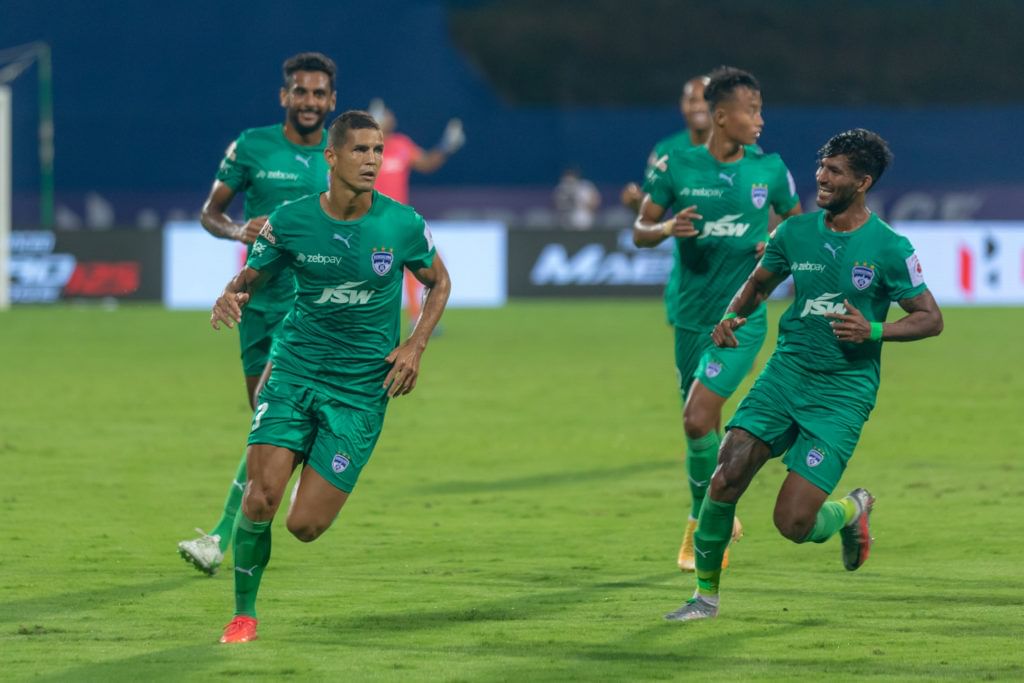 Prince Ibara – 6.0
Made some good runs into the box. However, he picked up an injury early into the game and was replaced by Edmund Larindika in the 28th minute.
Sunil Chhetri – 5.0
The Blues' skipper looked better in the initial few minutes than his previous games. However, he missed a penalty in the 44th minute. Apart from this, he also largely looked like the side's weakest link in attack. Overall, he's still not been his usual self in the league. Chhetri also lost eight duels, the highest in the game.
Substitutes
Edmund Lalrindika – 6.0
Came on to replace Prince Ibara after the latter's injury in the 28th minute. Attempted some dribbles and tried his effort in setting up some attacks. He also won the penalty that Chhetri squandered.
Sivasakthi Narayanan – 5.5
Made his second ISL appearance. Tried his luck in the 86th minute, but the shot went wide.
Sarthak Golui – 5.5
Came on in the 79th minute in place of Ashique Kuruniyan. Not assessable considering his game time.
Danish Farooq – N/A
Only came on in the 88th minute as a late substitution. Failed to have any sort of impact in the game.
Bidyashagar Singh – N/A
Once again a late substitution. Did not have much time to impact the game.
Mumbai City FC (by Shivam Tiwari)
Mohammad Nawaz (GK) – 7.0
Nawaz saved a penalty against Sunil Chhetri. However, he could have done more to prevent the goal from the free-kick from finding the back of the nets.
Amey Ranawade – 6.0
Amey had an uneventful game. However, he kept his wing quiet through efficient defending. The right-back won most of his duels and also returned with an 80% passing accuracy.
Rahul Bheke – 6.0
Rahul was crucial for Mumbai with his distribution. However, he didn't have much defending to do otherwise in the game. Made two clearances.
Mourtada Fall – 7.0
While Fall was crucial in the two goals that Mumbai scored, he fouled a Bengaluru FC player to give away a free-kick, which resulted in Cleiton's goal. However, he scored the goal that gave Mumbai City the lead and made some crucial clearances in the match.
Mandar Rao Dessai – 5.0
Dessai had little impact on the game. He gave away a penalty, which was fortunately saved by Nawaz. The former FC Goa fullback also struggled with Bengaluru's pressing at times. However, he was good with his ball distribution and created two chances. More was expected from the experienced defender.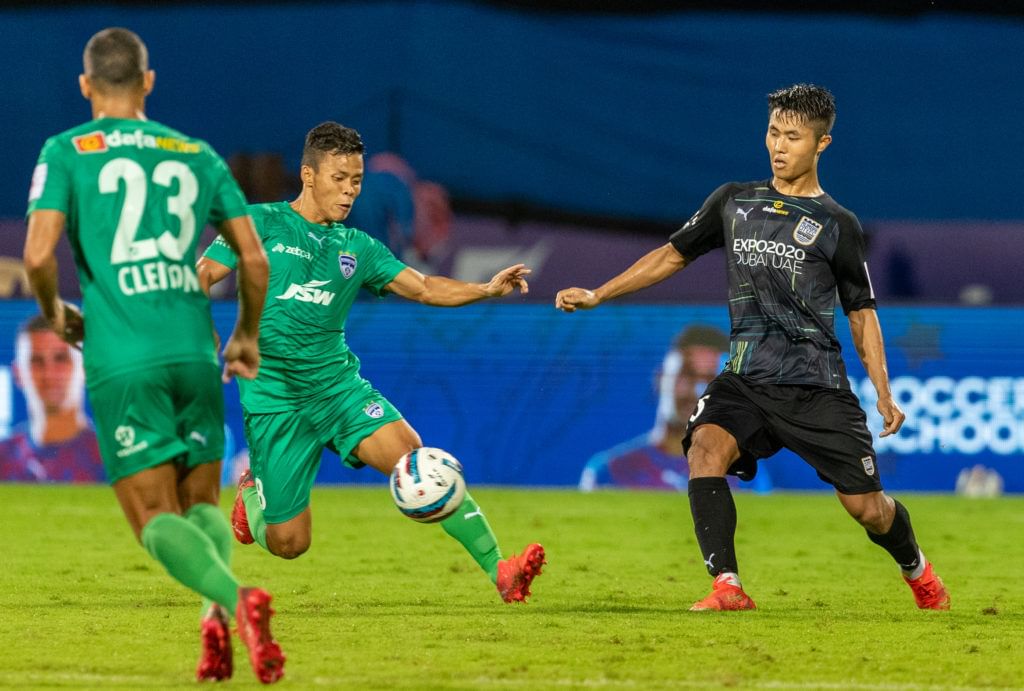 Lalengmawia – 8.0
Apuia played an important role in the midfield for Mumbai City as he kept easing off the pressure from Bengaluru FC. He was fouled six times in the first 45 minutes and ended the game with two more. Apuia ran riot the midfield alongside Jahouh and won 11 of the 13 duels he attempted. He was also exceptional with his interceptions (3) and tackles (3).
Ahmed Jahouh – 7.0
Was the most creative player for Mumbai City against Bengaluru FC and played three key passes. Jahouh returned with an assist. His ability to find Mourtada Fall from set-pieces is crucial to Mumbai's game. Had great accuracy with crosses and long balls.
Bipin Singh – 6.0
Bipin had to work a lot in his defensive third. His work rate compensated for the lack of creativity from him in the game. Contributed very little going forward, apart from a shot deep in the second half. Came close to scoring. He helped Dessai man the left flank and ran tirelessly through the evening.
Cassinho – 6.0
Cassinho was deployed in the playmaker's role. However, he failed to create good chances for his team. He completed 15 passes and had 0 shots on target. Gave away the possession eight times before being withdrawn following the hour mark.
Vikram Pratap Singh – 6.0
Vikram started the match brightly and nearly opened the scoring. However, gradually drifted out of the game and failed to make any attempt at goal. He was subbed off for Raynier Fernandes at half-time.
Igor Angulo – 8.0
The Spaniard scored early from the penalty spot and also hit the woodwork. Last season's Golden Boot winner, Angulo once again showed why he is rated so highly with another sublime performance in the attacking third. He won each of his four ground duels and should have had an assist to his name.
Substitutes
Raynier Fernandes – 7.0
Raynier was continuously involved and kept causing troubles to Bengaluru's backline. He was definitely an upgrade over Vikram Pratap on the right-wing. He made two crosses and one shot on target.
Ygor Catatau – 7.5
Ygor was influential after coming on in the second half. He linked up well with the fellow forwards to find outlets while pressing deep in their defensive half. The Brazilian scored Mumbai's third goal of the game to seal the victory for the Islanders. He also won 100% of his duels (5).
Rowlin Borges – N/A
The midfielder played just 10 minutes and had very little to do other than blocking everything that came towards him. Returned with a 100% passing and long-ball accuracy.
Bradden Inman – N/A
Came on during the injury time and made one touch on the ball.
Gurkirat Singh – N/A
Played too little to be assessed.
For more football updates, follow Khel Now on Twitter, Instagram and join our community on Telegram.