ISL- Indian Super League
Ratings: Koman, Ariel impress as Chennaiyin FC pip NorthEast United
By

Kaushik
The pair scored in quick succession to help the Marina Machans come from behind to register a victory over the Highlanders.
Chennaiyin FC held on for another gritty 2-1 win against NorthEast United to reach playoffs spots on Saturday. NorthEast United took the lead on the night through Laldanmawia Ralte, but Chennaiyin FC fought back with goals from Ariel Borysiuk and Vladimir Koman to register the victory.
NorthEast United received plenty of chances towards the end of the game to force a draw or even a win. But their profligacy in front of the goal cost them points. As a result, NorthEast United stay rooted to the bottom of the table, while Chennaiyin FC moved to third place in the table with their win.
Let's find out how did players from both sides performed on Saturday night.
Chennaiyin FC (by Kaushik G Viswanath)
Debjit Majumder (GK) – 8.5
The goalkeeper went through a roller-coaster ride. It was his error that led to NorthEast United's goal. However, he made a spectacular double save late in the game to get redemption and three points for his side. He made four saves and three punches to help his side win the game.
Sajid Dhot – 8.5
Had a bit of a tough time marking VP Suhair, but displayed a solid performance. He finished 86% of his passes, won a tackle and made eight clearances and one interception. Sajid was also clocked at a speed of 33.2 kmph against NorthEast United, the highest among all players.
Slavko Damjanovic – 8.0
Led his defence astutely once again. He finished 82% of his passes and had the most touches among all Chennaiyin FC players. He made six clearances, three interceptions and won his only attempted tackle on Saturday night.
Narayan Das – 8.0
Consistently delivering for his side in the ongoing 2021-22 season and didn't disappoint against the Highlanders as well. Made seven clearances and three interceptions along with one tackle to match the durability and sturdiness of his fellow centre-backs.
Ariel Borysiuk – 8.0
Showed his quality on his comeback. Managed the transition from defence to attack well in the game. He scored the equalizer for Chennaiyin FC. Ariel won one tackle and made two interceptions as well as registered an 84% passing accuracy.
Ninthoinganba Meetei – 6.5
Struggled against Imran Khan's quality on the right flank, but did enough to keep him at bay. Made two clearances and four interceptions and completed 70% of his passes.
Anirudh Thapa – 8.5
The skipper once again ran himself to the ground. Another impressive performance from the midfielder who won two tackles, made one clearance and two interceptions. Thapa finished 69% of his passes and was once again the driving force for his side with his dribbling and pace. He was taken off in the 92nd minute to run down the clock.
Vladimir Koman – 9.0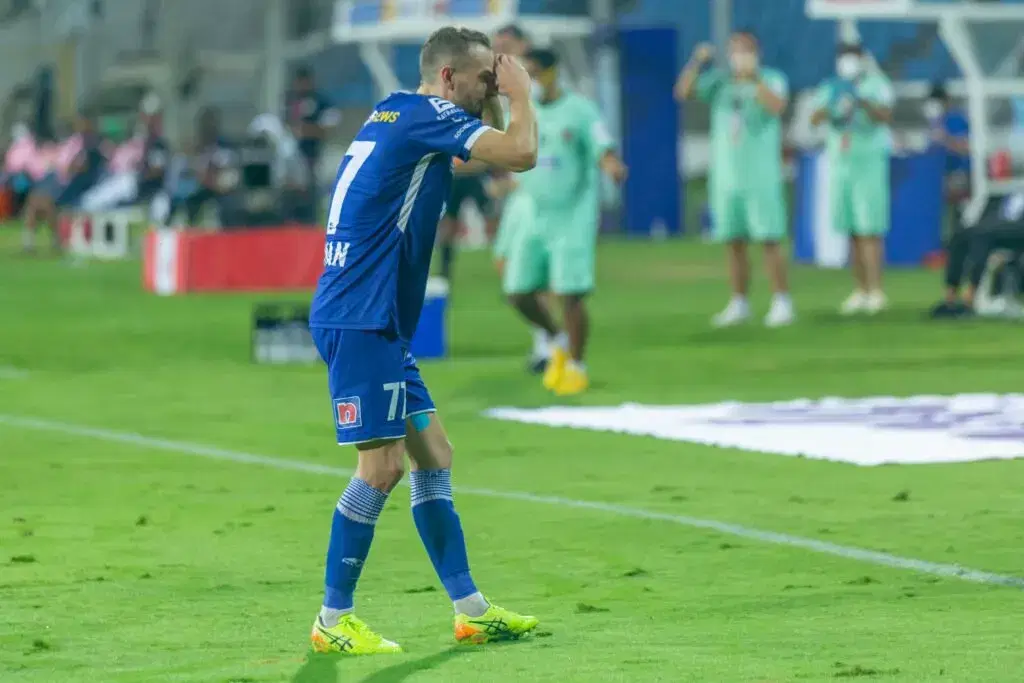 Once again showed why he has been Chennaiyin FC's best player this season. Koman finished 81% of his passes and created one chance. He scored the winner with a delightful freekick and also won one tackle and made one interception. He was taken off in the 78th minute to make way for Mirlan Murzaev.
Rahim Ali – 5.5
Disappointed in the attacking end, despite getting into good positions. His only shot on target was a fluffed shot which he should've converted. Ali won his only attempted tackle and was taken off in the 70th minute.
Nerijus Valskis – 6.0
Another very underwhelming night for the Lithuanian. He was taken off in the 78th minute along with Vladimir Koman. In these 78 minutes, the Lithuanian attempted one shot (which was on target), created a brilliant chance for Rahim Ali and made two clearances.
Substitutes
Edwin Vanspaul – 6.0
Came on in the 70th minute and registered two tackles and five passes.
Mirlan Murzaev – 6.0
Came on in the 78th minute as part of a double change. Didn't do much to influence his side's attacking fortunes. Ended up overcooking most of his dribbles but helped in Chennaiyin FC running down the clock.
Lukasz Gikiewicz – 6.0
Came on in the 78th minute along with Mirlan. Did most of his work on the defensive end, making two clearances. Almost sabotaged his side after one of his headers hit his own crossbar.
Germanpreet Singh – N/A
Came on late in the game and had nothing much to contribute other than missing a good chance late in the game.
Northeast United (by Yash Pratap Singh)
Mirshad Michu (GK) – 5.5
Mirshad's shift was cut short following an injury in the second half. He conceded two goals and made two saves.
Provat Lakra – 7.0
Completed two dribbles, three interceptions and an important clearance. He put in an important last-ditch interception to deny Valskis an opening. Lakra timed most of his defensive moves to perfection and hit the woodwork once,
Mashoor Shereef – 6.5
Made two clearances, three interceptions and a block and a tackle each. He even won most of his ground duels and was decent with his passing as well.
Patrick Flottmann – 7.0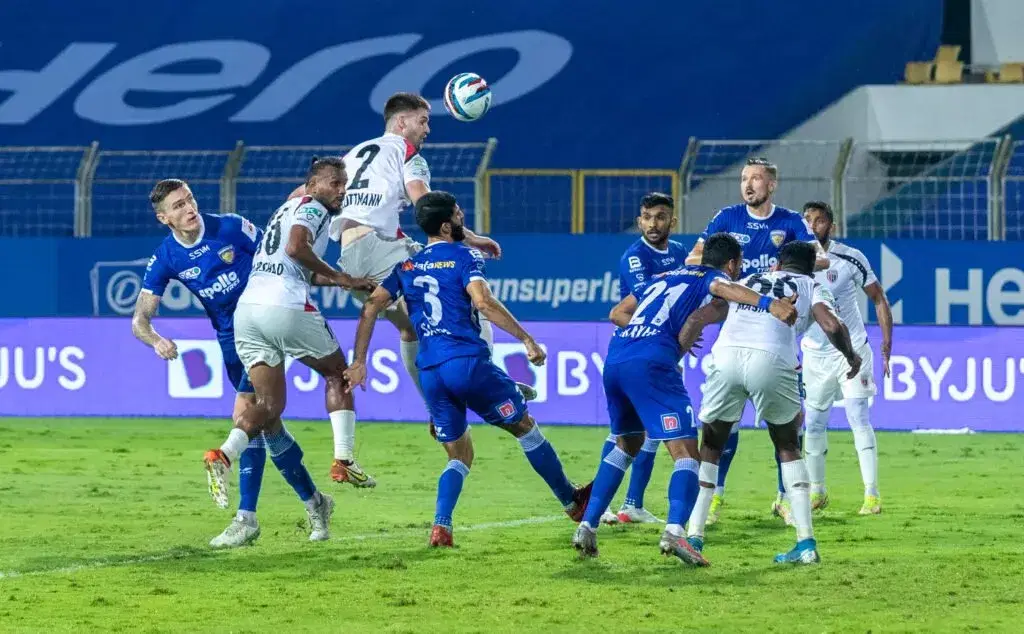 Missed three chances to score a goal, but assisted Danmawia for the opener. Defensively, he made seven clearances, two tackles and won all his duels while maintaining a passing accuracy of more than 87%.
Gurjinder Kumar – 6.5
Made two interceptions, one tackle and won 50% of his duels. He played 32 accurate passes while maintaining an accuracy of 86%.
Mohamed Irshad – 6.0
Covered more than nine kilometers in 90 minutes. He played two key passes, but was poor with his passing precision. Two of his shots were blocked while the other one went off target.
Sehnaj Singh – 6.0
Sehnaj had a decent outing in the middle of the park. He committed two fouls, made two interceptions and won 50% of his aerial duels.
Hernan Santana – 6.5
Santana recorded a top speed of 32.7 kmph. He missed a crucial chance as his header went wide while two of his shots went off target. Hernan completed 42 passes with an accuracy of around 81%.
Imran Khan – 7.0
Played a through ball to Danmawia, who hit it wide and was involved in many threatening moves for his side. He had a shot on target, three off-target and missed a big chance. Imran completed 15 passes with a brilliant accuracy of 88%.
Suhair VP – 6.5
Suhair has been NorthEast United's best player all season and was busy across all three positions in the frontline against Chennaiyin. He made over 25 sprints across the pitch and recorded a top speed of 30.7 kmph, while covering more than 8.5 km of the ground.
Laldanmawia Ralte – 6.5
He missed a big chance as he hit the ball wide, but soon made up for his mistake with his second goal of the season.
Substitutes
Subhasish Roy Chowdhury (GK) – 6.0
The veteran keeper returned to action from a long-term injury following an injury to Mirshad. He wasn't involved much and had just 11 touches on the ball in 33 minutes.
Marcelinho – 7.5
The Brazilian playmaker made his debut for the Highlanders by replacing Sehnaj Singh in the second half. Marcelinho created a chance and missed the target by the finest of margins twice and was crucial in his side's attacking moves.
Marco Sahanek – 7.5
The Austrian came on to replace Danmawia in the second half. Sahanek tested the keeper twice and looked dangerous with the ball. He completed two key passes and won 100% of his ground duels.
Lalkhawpuimawia – N/A
Came on late to replace Mohamed Irshad. Did not have enough time to change the outcome of the match.
For more football updates, follow Khel Now on Twitter, Instagram and join our community on Telegram.