This was only the Gaurs' third win this season and first in five games.
FC Goa locked horns with Chennaiyin FC at the Athletic Stadium in Bambolim. A fixture that has previously provided so many goals ended in a 1-0 victory for the Gaurs, courtesy a long-ranger from Jorge Ortiz Mendoza. The match saw FC Goa bossing the ball around. Simultaneously, Chennaiyin FC remained composed in their defensive third, a feat which they've maintained ever since the inception of this edition of the Indian Super League, until Ortiz flicked one over Debjit Majumder and took Goa to all three points.
The victory takes FC Goa to the eighth position with 12 points from 10 matches, while Chennaiyin are two places above with 14 points. Here are the player ratings of both teams from the match:
FC Goa (by Sattyik Sarkar)
Naveen Kumar- 7.0
Hardly received a positive attempt from the opposition. Made one crucial save in the 74th minute.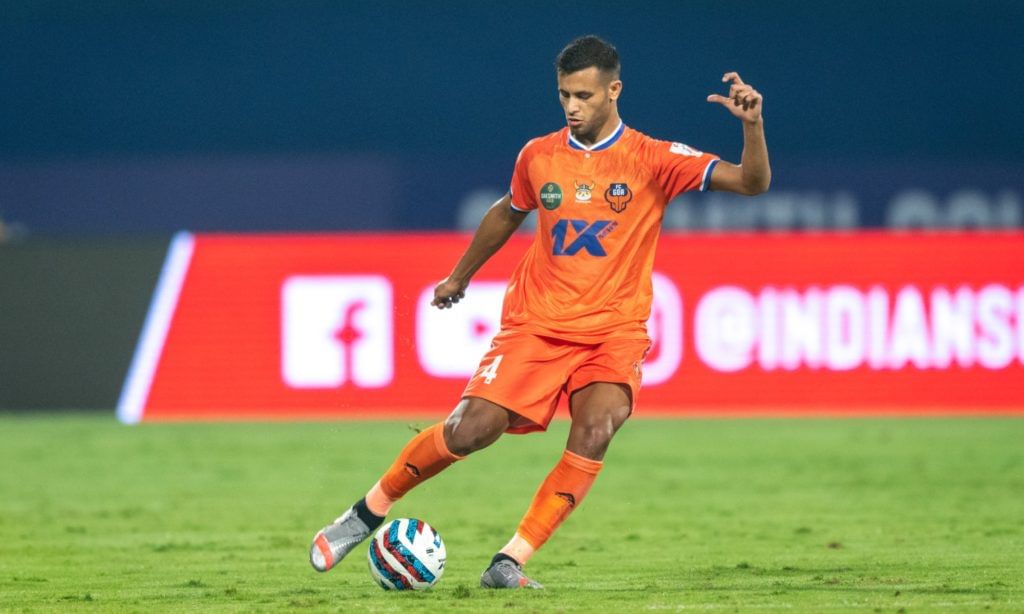 Anwar Ali- 7.5
Impressive debut for the youngster. Anwar Ali was named the Man of the Match. He committed one tackle, apart from a clearance and an interception.
Ali also won one out of two ground duels, three out of five aerial duels and enjoyed a passing accuracy of 81%. He was also accurate with his long passing.
Ivan Gonzalez- 7.5
Gonzalez made two clearances and committed two tackles, apart from an interception. He also won two out of three ground duels and enjoyed a passing accuracy of 94%.
Aibanbha Dohling- 7.0
Dohling should have scored from a corner in the first half. He was strong on the ground, as he won six out of seven ground duels. However, could have done better in the aerial ones, was successful twice out of seven.
Seriton Fernandes- 6.0
The right wing-back won four out of six ground duels. He also completed one successful dribbling attempt and won the only aerial duel he contested. Was fouled thrice.
Edu Bedia- 7.0
Bedia attempted two long-rangers and played brilliantly in the middle of the park. He made three interceptions and one successful tackle. He also enjoyed 123 touches on the ball and returned with a passing accuracy of 81%. Earned a booking in the second half.
Alberto Noguera- 6.0
A bit off-coloured night for Noguera. Two out of his three dribbling attempts were successful and he enjoyed a passing accuracy of 92%. Noguera delivered four key passes.
Glan Martins- 6.5
His long-ranger was spilled by Debjit Majumder and almost resulted in the opener for FC Goa. However, Ortiz couldn't make the most of the return ball. Martins won three out of seven ground duels and each of the two aerial duels he contested.
Saviour Gama- 6.5
Gama lost possession 14 times and failed to deliver one accurate cross on the night.
Muhammed Nemil- 6.0
Was substituted at half-time. Similar to Alberto Noguera, Nemil too, enjoyed a passing accuracy of 92%. He won just one out of four ground duels and lost possession four times.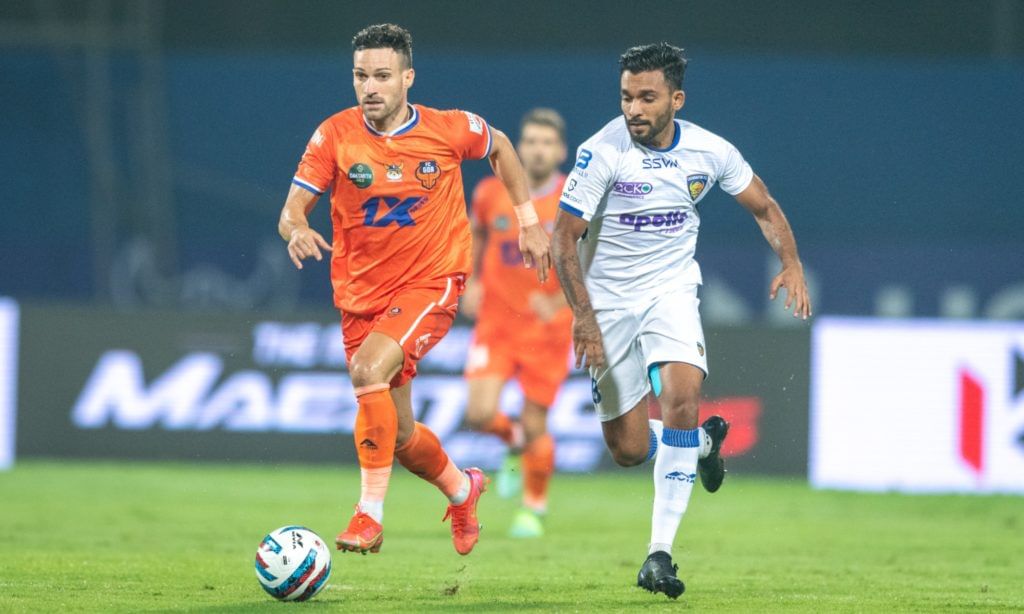 Jorge Ortiz- 8.0
Ortiz scored the solitary goal of the game and ended with four shots on target. He enjoyed a passing accuracy of 78% and delivered two key passes. Was fouled thrice.
Substitutes
Devendra Murgaonkar- 6.5
Murgaonkar came on in the second half after replacing Nemil. He attempted two shots, both off target. Was fouled twice.
Airam Cabrera- 6.5
Made the only assist of the game. Didn't have anything else to show as he came on very late.
Makan Winkle Chothe- 6.5
Came on late in the second half. He tried to make some runs from the left channel.
Chennaiyin FC (by Rajdeep Saha)
Debjit Majumder- 7.5
The goalkeeper was Chennaiyin's best man on the pitch, but couldn't do much against Ortiz's brilliant strike. He made four saves, including two from inside the box. Majumder was also clinical in his high claims (2).
Reagan Singh- 6.5
The right wing-back produced some brilliant numbers. He made an interception and three tackles. Going forward, he had a 70% passing accuracy and two successful long balls.
Mohammad Sajid Dhot- 6.5
Dhot was impressive at the heart of the defence with four clearances and winning both of his aerial duels.
Slavko Damjanovic- 6.5
He had a good outing. Damjanovic made five clearances and registered four successful long balls.
Narayan Das- 6.0
The seasoned centre-back stood his ground against the constant onslaught of the FC Goa attackers. He made two clearances and won two of his ground duels.
Jerry Lalrinzuala- 6.5
Jerry had a decent performance. Apart from a 73% accuracy in passing, he won four out of six ground duels.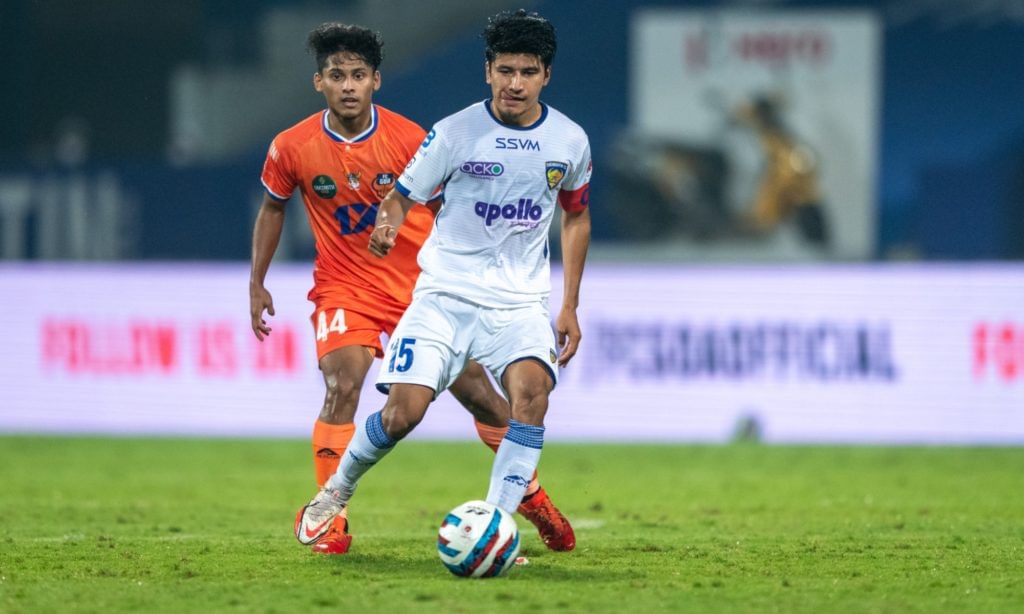 Anirudh Thapa- 6.5
The captain tried his best to contribute in any way possible. Going forward, Thapa completed four of his six balls, including one in the last few minutes of the game. Defensively, he helped with three interceptions and two tackles.
Edwin Sydney Vanspaul- 5.5
Vanspaul, who played down the left channel put in a poor shift. Despite having two tackles and an interception, he gave away four fouls and could only complete two long balls.
Vladimir Koman- 6.0
Koman couldn't leave his mark on the game as he was forced off with an injury after 56 minutes. He had poor passing accuracy (67%), but won four of his five ground duels.
Mirlan Murzaev- 5.0
The performance was uncharacteristic of the forward. He only completed five of his 11 passes, amounting to a shocking 45% passing accuracy. Murzaev helped the team defend on some occasions, as he made two clearances.
Nerijus Valskis- 6.0
This was his first appearance for the Marina Machans this season. Valskis couldn't score, but was strong in his aerial duels (six out of nine). With a decent passing accuracy of 70%, he tried to make things work upfront, but came up short.
Substitutes:
Germanpreet Singh- 6.0
He came on for Koman and was impressive in the 35 minutes he played. Germanpreet had 75% accuracy in his passing and completed both his long balls.
Lukas Gikiewicz- 6.0
The forward couldn't impact the game, but was pivotal in improving the team's passing (83% accuracy).
Lallianzuala Chhangte- 5.5
Chhangte was poor in his short appearance, and had a tackle and a ground duel under his belt.
For more football updates, follow Khel Now on Twitter, Instagram and join our community on Telegram.