The Spaniard is looking forward to the new season where he will represent the Nizams.
Edu Garcia is one of the new signings at Hyderabad FC ahead of the upcoming eighth season of the Indian Super League (ISL). The attacking midfielder's arrival has sent waves of excitement among the fans, who are expecting big things from the club next season. HFC are a entertaining team to watch and have also given a platform to brilliant young players. Garcia, meanwhile, has joined the club from ATK Mohun Bagan and will hope to achieve big things with his new employers.
In a recent interview with Khel Now, he about several important talking points. The 31-year-old presented his opinions on topics ranging from expectations ahead of ISL 2021-22, preparations, role at the new club, playing under a Spanish coach and more.
Fourth season in the Indian Super League
The forthcoming season will be Edu Garcia's fourth in India. While talking about what he expects from it, he said, "I always start every season with good enthusiasm. This new season with Hyderabad we have a great challenge and it motivates me. So, I hope for a nice season in which we achieve our goals.
"We are working on being 100% for the start of the league. The 8-day quarantine makes it difficult to keep ourselves ready, but we are working the best we can and at the end of the quarantine we will return to the field with enough time to reach 100%," he further added in this regard.
Thinking behind joining Hyderabad FC and & role in squad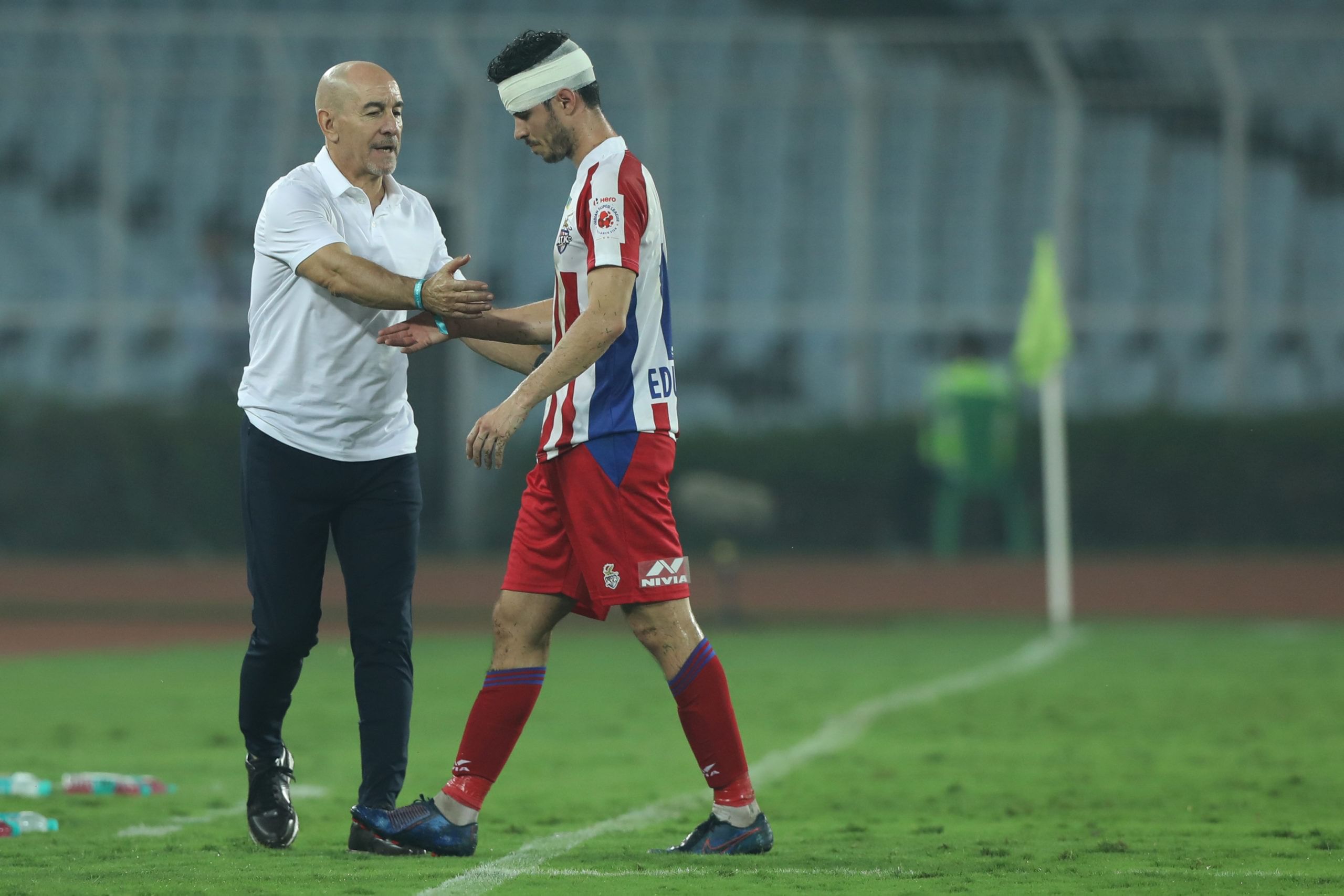 Hyderabad FC are an ambitious team who narrowly missed out on playoffs qualification last term. With Edu Garcia's arrival, the club will hope to breach the top-four positions. Talking about why he chose to sign for HFC, Garcia said, "I spoke with Manolo (Marquez), he conveyed his idea to me for the team this year and I liked it. I also think that with him as a coach, I can enjoy football more. In addition to the great challenge of playing for a club that is growing year-by-year."
The Spaniard also gave an insight into what role he is looking to play within the lineup and said, "My role is to help the team. From my experience and my qualities, I want to help the team to grow and achieve the objectives. Obviously, for young boys it is important to have experienced players who can guide them at certain times, but they are very good players and will help just like the more experienced ones."
Working with Manolo Marquez
Manolo Marquez earned a lot of plaudits last season for delivering success with a relatively young squad and promoting Indian talent. The former ATKMB player has worked under another Spanish coach in Antonio Lopes Habas before. Garcia will definitely help Marquez achieve better things next season and the player expressed excitement at the prospect of working under another coach from Spain.
"They are both Spanish, but they are very different coaches. They have different styles. One of the reasons I chose Hyderabad FC is that Manolo knows that I am a versatile player and he can use me in different positions, depending on the opponent's game or the needs of the team," the one-time ISL winner explained.
Playing in Goa in bio-bubble & new foreigners' rule
The 2021/22 season of the ISL will be hosted in Goa in a bio-bubble, just like last season, owing to the COVIID-19 pandemic. Speaking on the challenges that come with this and playing a second season in such conditions, Garcia said, "Obviously, I think it will be a little easier than last season. It is already the second season in Goa, we know the stadiums, the weather and what it is like to live in a bubble. Anyway, I hope that next season can be played normally. It is important for Indian football that the fans can go to their stadium to support their team. without fans football is less football."
On top of that, Edu Garcia also gave his opinion on the new rule which restricts any team to field only four foreigners at a time on the pitch. "I think it is good for the Indian footballers to grow. Now there will be at least seven Indian players playing all the games. They are going to make the difference between some teams and others. We have good Indian players that we trust a lot," he reiterated while expressing faith in the local talent.
Wealth of young talent at HFC
Edu Garcia praised the depth of talented youngsters at Hyderabad FC. Figures like Akash Mishra, Asish Rai, Mohammad Yasir and more attracted a lot of attention thanks to their impressive performance last season.
Speaking in regard to which player has impressed him the most, Garcia stated, "The truth is that all of them. There are very young players who are already very important in the team and we all saw them last season. But, there are others who have not yet appeared and are very good footballers. I think Hyderabad FC has several young talents who are going to be top players in the ISL."
A word on referees
The performance of the officials is always under the scanner in the ISL. Some controversial decisions last term continued the trend, where referees came under a lot of criticism from many corners. Speaking in this regard, Garcia added, "Referees are criticized all over the world. They are the judges, it is a very difficult profession. It is true that the level must improve and they will surely improve. But, we must help them to do it, or at least not make it more difficult for them. They do their job the best they can, just like us. So ,I think they should keep trying to improve and we allow them to do so."
The Spanish influence in ISL
Indian Super League clubs love to put their faith in Spanish coaches and players. HFC is one of the teams that has a Spanish coach and plenty of foreign players from the country. Talking about the apparent Spanish influence, Garcia said, "Spain is a country of football, with many years of experience and growth. The Spanish players and coaches who have come to the ISL have had a lot of success.
"I believe that India can learn a lot from Spanish football, especially from work in academies. In Spain, we work with children in a very professional way and that allows young people to come to professional football very prepared," the Spaniard concluded.
For more football updates, follow Khel Now on Twitter, Instagram and join our community on Telegram.