The Men of Steel rallied together to get past the Highlanders in a dramatic fashion on Thursday.
Jamshedpur FC returned to the winning ways after a hard-fought victory against an unpredictable NorthEast United. The two teams played out a captivating game at the GMC Athletic Stadium in Bambolim on Thursday evening.
The game ebbed and flowed as both teams looked to overcome the other. It was Deshorn Brown who broke the deadlock within just five minutes. The Jamaican timed his run to perfection to get in behind Peter Hartley to slot home the opener. However, NorthEast United slacked off soon, giving Jamshedpur FC room to attack.
The Men of Steel finally found the goal when Jordan Murray scored just before half-time. The Men of Steel stepped on the accelerator and eventually got in the lead through Boris Singh. Just when it seemed Jamshedpur would be running away with the win, Deshorn Brown latched onto a loose ball to get NorthEast back into the game.
But the Men of Steel did not lose nerves and wrestled three points off in the see-saw game. Ishan Pandita was the hero from the bench as he smashed home the winner from point-blank range in injury time. The win helped Jamshedpur FC to climb back inside the top four and ties them on points with table-toppers Hyderabad FC.
Let's find out how did both sets of players performed on Thursday evening.
Jamshedpur FC (by JN Balraj)
Pawan Kumar (GK) – 6.0
Pawan had nothing much to do in his first start, apart from a save in the second-half. The second goal would've been avoided if he didn't commit early.
Laldinliana Renthlei – 6.5
Dinliana's shift was appreciable as usual. He made one clearance with four tackles and won four of five ground duels.
Eli Sabia – 6.5
The Brazilian defender stood tall in Jamshedpur's defence and made two interceptions and one clearance. The defender also completed 34 passes.
Peter Hartley – 6.0
The defender was constantly hassled by Deshorn Brown. He struggled to keep the Jamaican away from goal and managed only one clearance with a tackle.
Ricky Lallawmawma – 6.5
Not as effective as he has usually been defensively but helped Jitendra and Mobashir control the game with his 73% accurate passes.
Jitendra Singh – 6.5
The youngster played his part nicely as he registered 46 touches and 26 passes with 84% accuracy. He also played four direct balls and surprisingly won all his aerial duels.
Mobashir Rahman – 6.5
Mobashir played the role of a box-to-box midfielder in absence of Alex Lima. He made 25 passes and created two chances.
Seiminlen Doungel – 6.5
The former NorthEast United star did well enough in attack with his two key passes and crosses, but didn't track back much and was eventually subbed.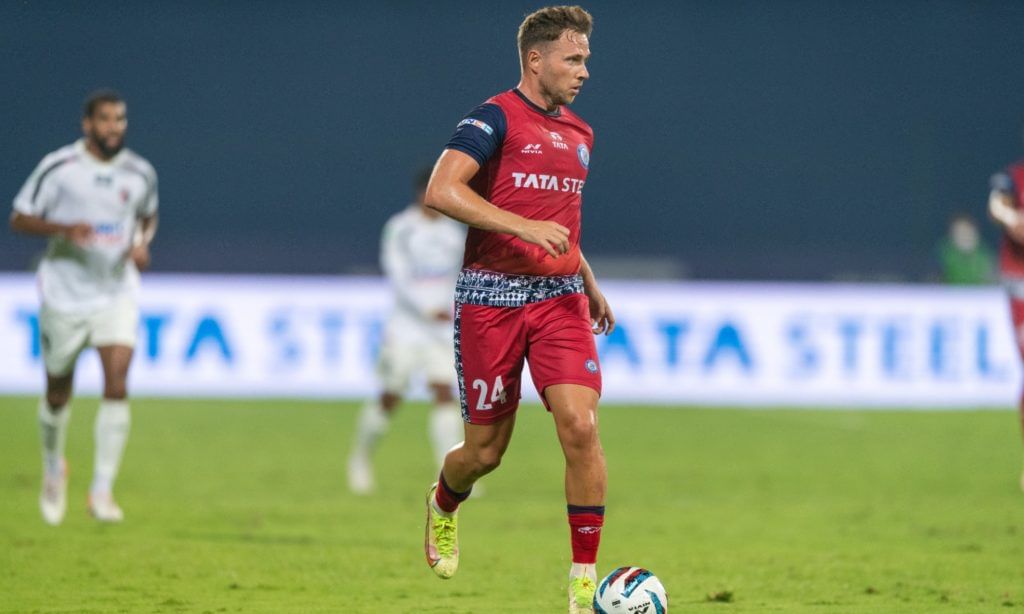 Greg Stewart – 7.5
The Scottish playmaker ran the show and assisted Murray's goal. He took two shots on target and made five key passes. He also completed two dribbles with 76 touches in the game.
Boris Singh – 6.5
The young colt scored his first goal of the season and was a constant threat with his blistering pace. He won five duels and made a tackle and interception each.
Jordan Murray – 7.5
The Australian pulled his side back with a towering header. He registered three shots on target and played as many key passes, should've killed the game if didn't miss two big chances.
Substitutes
Ritwik Das – 5.5
Ritwik had half an hour, but his eight passes and two interceptions didn't make any significant impact in the game.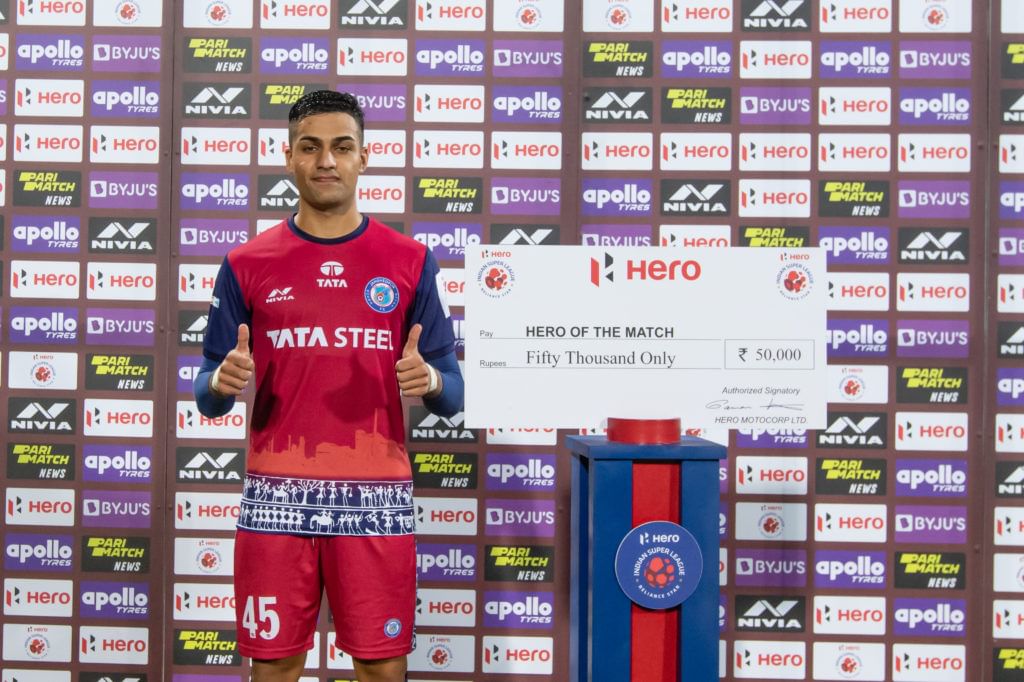 Ishan Pandita – 7.0
Super-sub Ishan finally did what he is known for, scoring the winner in injury time from Alex Lima's pass.
Alex Lima – 6.5
He had merely five touches in the 10 minutes he got, but his only pass of the game to Ishan Pandita was enough to make a mark.
Karan Amin – N/A
Karan was brought in injury time and had nothing much to do.
NorthEast United (by Kaushik G Viswanath)
Mirshad Michu (GK) – 6.0
The goalkeeper bailed his side out on plenty of occasions. But the quality of Jamshedpur's attack was too good for him to handle. Nonetheless, Mirshad made five saves on Thursday night to deny Jamshedpur FC any further fruits of their labour on the night.
Provat Lakra – 6.0
Was good with his movement on and off the ball but couldn't provide any telling contributions in the game. He found his match in Boris Singh whose intensity troubled Provat all night.
The right-back had the third most touches by a NorthEast United player (59) but managed to complete only 52% of his passes. He contributed well in the defensive end though winning three tackles and making four clearances and two interceptions.
Mashoor Shereef – 6.0
Did well in the first half but tapered off in intensity as the game wore on and Jamshedpur's attacking quality caught up with him. Patrick Flottman's positional instability caused him problems in defence. Eventually, he was part of their collective defeat at the end.
Mashoor completed 69% of his passes. He won one tackle, made eight clearances and blocked three shots to cap a decent performance. But it didn't produce any reward at the end unfortunately.
Patrick Flottmann – 5.0
He was good in patches, but was often caught out of position leaving Jamshedpur the chance to attack NorthEast United's soft underbelly in defence. An example was that of the Men of Steel's second goal where he failed to clear his lines after leaving his defence exposed in Jamshedpur's buildup. He was also caught napping for Jamshedpur's winner in the final moments of the game.
Otherwise, Flottmann finished 67% of his passes and won one tackle. He made four interceptions and made eight clearances including one on the goal-line which could've been a potential goal.
Tondonba Singh – 6.0
The left-back had a decent performance. Completed 71% of his 31 attempted passes as he contributed decently to the buildup in the attack. Defensively, he chipped in with two clearances and one interception but he was not as his busiest as is expected of left-backs.
Pragyan Gogoi – 6.0
Did a good job in midfield along with Hernan Santana. Won three tackles and made one clearance and interception respectively. He also blocked one shot. But he was also often pulled out of position by good midfield play from Jamshedpur FC. He was taken off in the 67th minute for Mohamed Irshad.
Hernan Santana – 6.5
The skipper covered the most ground by a NorthEast United player on the night (8.8 km). But he couldn't inspire his side ahead despite his best efforts.
Was often left in physical battles with the Jamshedpur midfield and attack, who pressed well. He had the most touches of any player on the night (95) and completed the most passes (60) at an accuracy of 86%. He also won three tackles, made one clearance and four interceptions.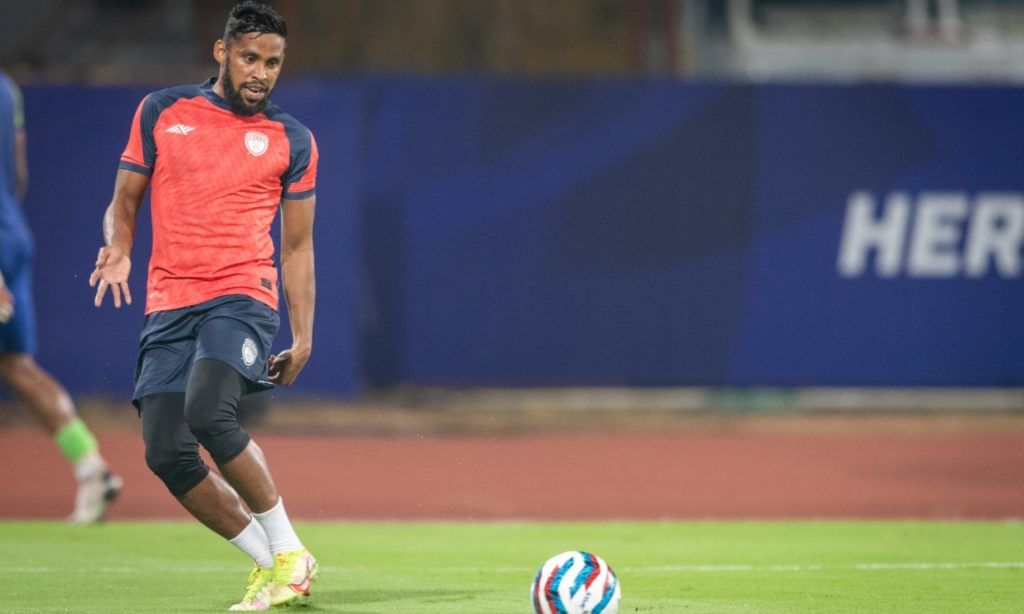 Suhair VP – 7.0
It was his driving run and through ball that set up Deshorn Brown for the opener. Suhair was once again among the most influential players for NorthEast United.
He had the second-most touches of any NorthEast United player (61), completed 77% of his passes. He also won two tackles and made two interceptions and one clearance. Showed his versatility all around the park.
Matheus Coureur – 5.0
Struggled to impose himself on the game against Jamshedpur FC. Finished 78% of his passes, created one chance and won one tackle. Was taken off at the 78th minute.
Imran Khan – 5.0
Like Coureur, Imran also struggled to get himself going. One completed tackle and 67% pass completion was all he could show for his 78-minute appearance. He was taken off for William Lalnunfela.
Deshorn Brown – 8.0
The Jamaican marksman was once again the best player for the Highlanders as he scored both goals for Northeast United. Did splendid work in hassling Peter Hartley and Eli Sabia with his pace and physicality. But unfortunately, he had to end up on the losing side in the dying moments of the game.
Had three shots on the night and both his shots on target resulted in goals.
Substitutes
Mohamed Irshad – 6.0
Was called upon in the 67th minute. Wasn't too effective as the defence failed to keep out the Jamshedpur FC attack. Completed 87% of his passes and won his only attempted tackle to add gloss to his lacklustre defensive performance on the night.
William Lalnunfela – 5.0
Came on in the 78th minute along with Rochharzela to give more energy to NorthEast United's gameplay. But only had four touches and three passes to show for his time on the pitch.
Rochharzela – 5.0
Was brought on in the 78th minute along with William and he also didn't perform any better. Just had three stray touches and completed his only attempted pass if that gives some solace.
Lalkhawpuimawia – N/A
Came on in the final minute of the game for VP Suhair. Didn't have time to do anything significant.
For more football updates, follow Khel Now on Twitter, Instagram and join our community on Telegram.