The 43-year-old is not highly-experienced, yet has shown potential while working with young players.
On Thursday, Indian Super League (ISL) outfit Kerala Blasters announced that they have appointed Ivan Vukomanovic as their new head coach. Hailing from Serbia, the 43-year-old replaces Kibu Vicuna who parted ways with the club mid-way through the 2020-21 ISL season. The UEFA Pro license holder has coached at Standard Liege (Belgian Pro League), Slovan Bratislava (Slovak Super Liga) and Apollon Limassol (Cypriot First Division).
The news of Vukomanovic's appointment at the Kochi-based club first broke in the early days of June. Countless discussions surrounding him have happened since then. This was after the club were linked with big names like Luis Felipe Scolari, Peter Bosz and Jens Gustafsson. Compared to them, Vukomanovic is a lower-profile coach with much less experience too.
So, why did Kerala Blasters choose him as the head coach? Will the Yellow Army make history or shoot themselves in the foot with this decision?
The hopes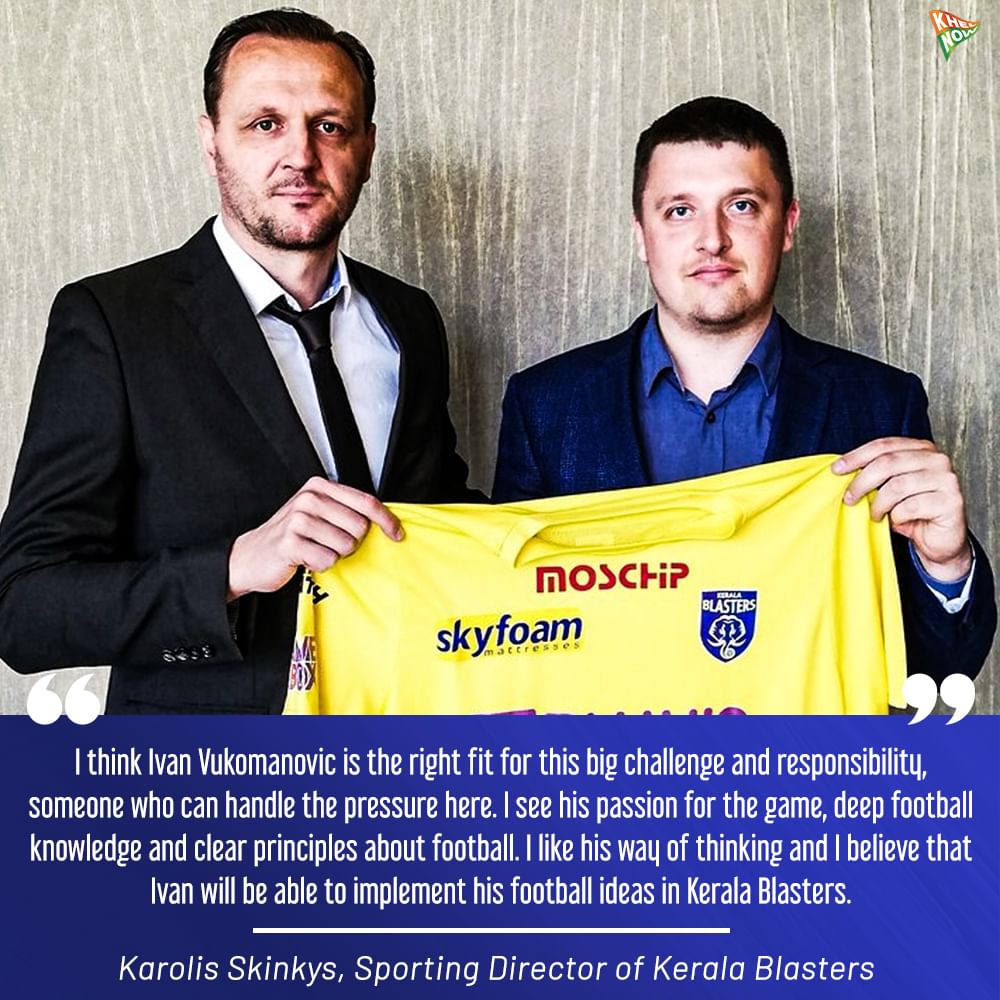 We'll begin with the points in support of Vukomanovic's appointment.
While looking through the tactician's profile and coaching history, we see that he has a good deal of experience working with youngsters. Ivan Vukomanovic began his coaching career as the assistant coach of Standard Liege, under Guy Luzon. He worked as Luzon's deputy for over a year. During this time, he played a role in the development of players such as Michy Batshuayi and Laurent Cimon, who were relatively unknown figures in world football back then.
At Kerala Blasters, who have a relatively young squad, the Serbian may be able to help similarly – in the development of some of their starlets. The likes of Rahul KP, Jeakson Singh, Givson Singh, Sanjeev Stalin and more could benefit from the 43-year-old's appointment, given his positive history with younger players.
The next thought is regarding his playing style.
Last season, Kerala Blasters' players proved that they are very much alien to a possession and passing-based style of football. The team also lacked defensive organization,. They ended up not only scoring very seldom, but also conceding the second-highest number of goals among all ISL sides. The lack of positive results is partly the head coach's fault, for failing to identify an ideal playing style for the team. Vukomanovic's track record shows that he is a good choice in that context.
From match videos that are available online, its clear that the Serbian organizes his teams based on opponents. He has shown flexibility in terms of formations and tactics and that has helped his team more often than not. He also seems to be an advocate of rotating players, such that most of them get ample playing time and can execute what he wants on the pitch.
The worries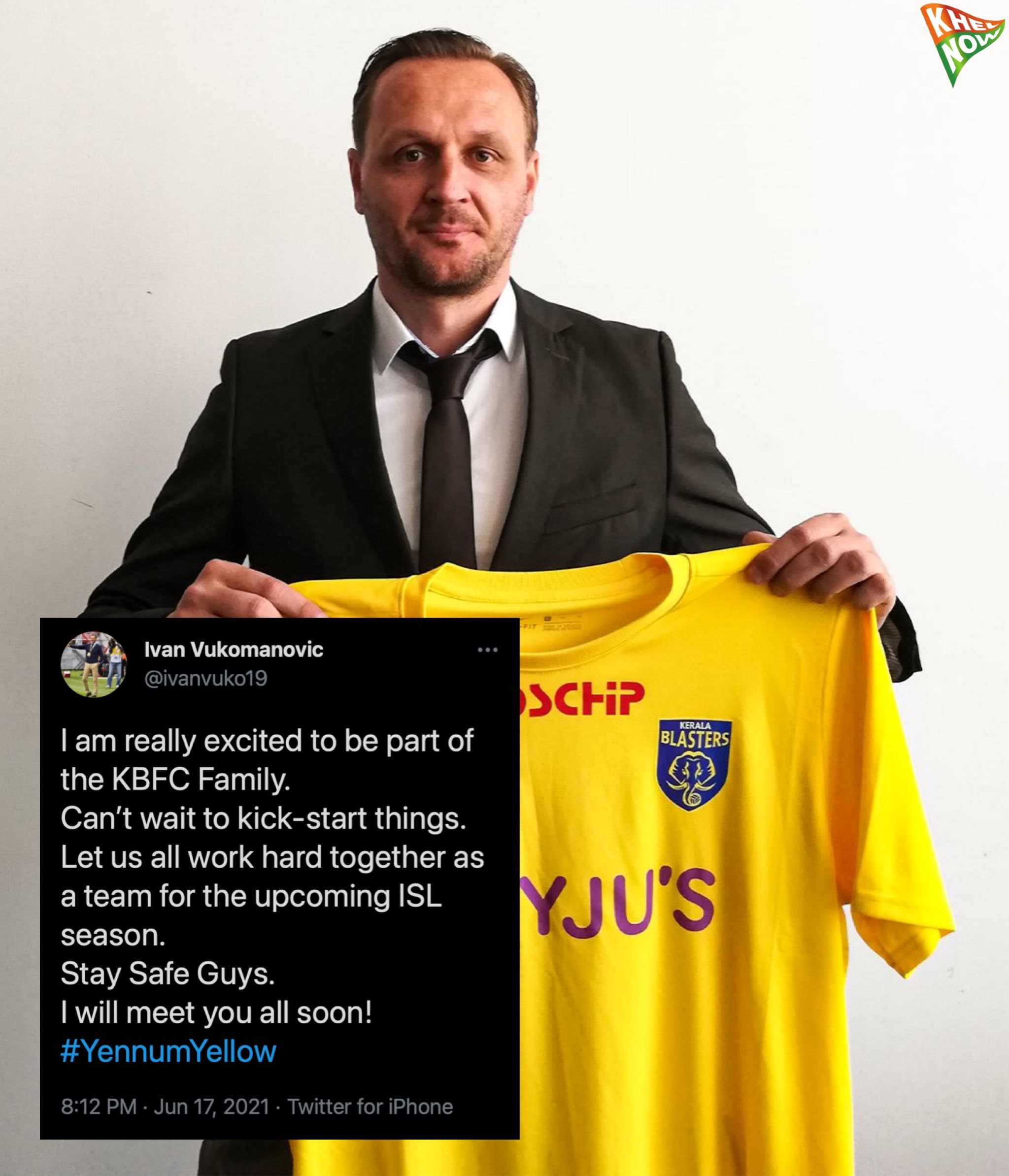 Every coin has two sides and Ivan Vukomanovic is no different. As mentioned earlier, many big names were on Kerala Blasters' radar for the head coach role. Khel Now understands that the club received hundreds of CV's during their hunt for the new tactician.
Based on his limited coaching experience that includes just three other stints, one can't help but wonder what makes the 43-year-old a better option compared to all the others. Does he have enough experience to withstand pressure and turn things around? Vukomanovic led Standard Liege in just 19 games and Apollon Limassol in four. His longest stint lasted 56 games, at Slovan Bratislava. He's yet to cross the 100 games-mark, something which he will hopefully do at Kerala Blasters in ISL 2021-22.
Additionally, there are also doubts regarding his 'breaks' after every coaching job so far. He took an 18-month holiday after parting ways with Standard Liege and there was a gap of 23 months between his exit at Slovan Bratislava and appointment at Apollon Limassol. The 43-year-old left the Cyprus outfit in October 2019 and hadn't coached anywhere else till Kerala Blasters roped him in.
While there are multiple theories regarding this, its unclear what caused these long intervals. The fact that he hasn't managed a team in the last 20 months is also a bit concerning.
Finally comes the financial aspect. Khel Now understands that Kerala Blasters were willing to spend more money than last season to hire a new coach. The club also made substantial offers to a few tacticians, before they zeroed in on the final name. But, its still a mystery as to how the Yellow Army couldn't choose coaches with a higher profile and more experience, given their budget. They also had plenty of time since February, which is when Vicuna left. Hence, it remains to be seen as to whether the club tried hard enough to find a better replacement.
Conclusion
In conclusion, Kerala Blasters may not have chosen the best option. However, Ivan Vukomanovic is not the worst option out there either. This would not be the first time that not-so-famous names have come to Indian football. And as evident from Ashley Westwood's example at Bengaluru FC, who knows – maybe he would be the one to usher in an era of change at Kochi.
For more updates, follow Khel Now on Twitter, Instagram and join our community on Telegram.