The Highlanders' midfielder expressed his thoughts on his time at NorthEast United, head coach Khalid Jamil and a lot more.
The Indian Super League has been witness to the rise of many Indian football stars. Over the years, we've seen a lot of players make their mark in the league after plying their trade from the I-league. VP Suhair of NorthEast United is one of those exceptional players who've earned applauds from pundits across the circuit for his individual brilliance.
Suhair has been NorthEast's best Indian player so far this season and has contributed massively at both ends of the pitch. He spoke to Khel Now in an exclusive interview from the bio-bubble in Goa and here's what he had to say:
Time at NorthEast United so far
The forward joined the Highlanders in 2020 and has gone on to become one of their key players ever since. Sharing his experience about his time at the club so far, Suhair said, "I signed for NorthEast United last year.
"I played many matches and it my dream to play in the ISL. We made it to the semi-final and I scored three goals. So, this time I'm a lot more confident to play and now I know how the coach wants me to play."
Shift from I-League to the ISL
It was just last season when VP Suhair tasted top flight football for the first time. While describing the difference between the ISL and the I-league, Suhair said that both leagues are very different from each other.
"Both leagues are very different. The facilities and level are very different. The telecast is also much better and the ground, quality of players is also better. So, it's good to play here and I've a lot to learn from them," he explained.
Shift from right wing to left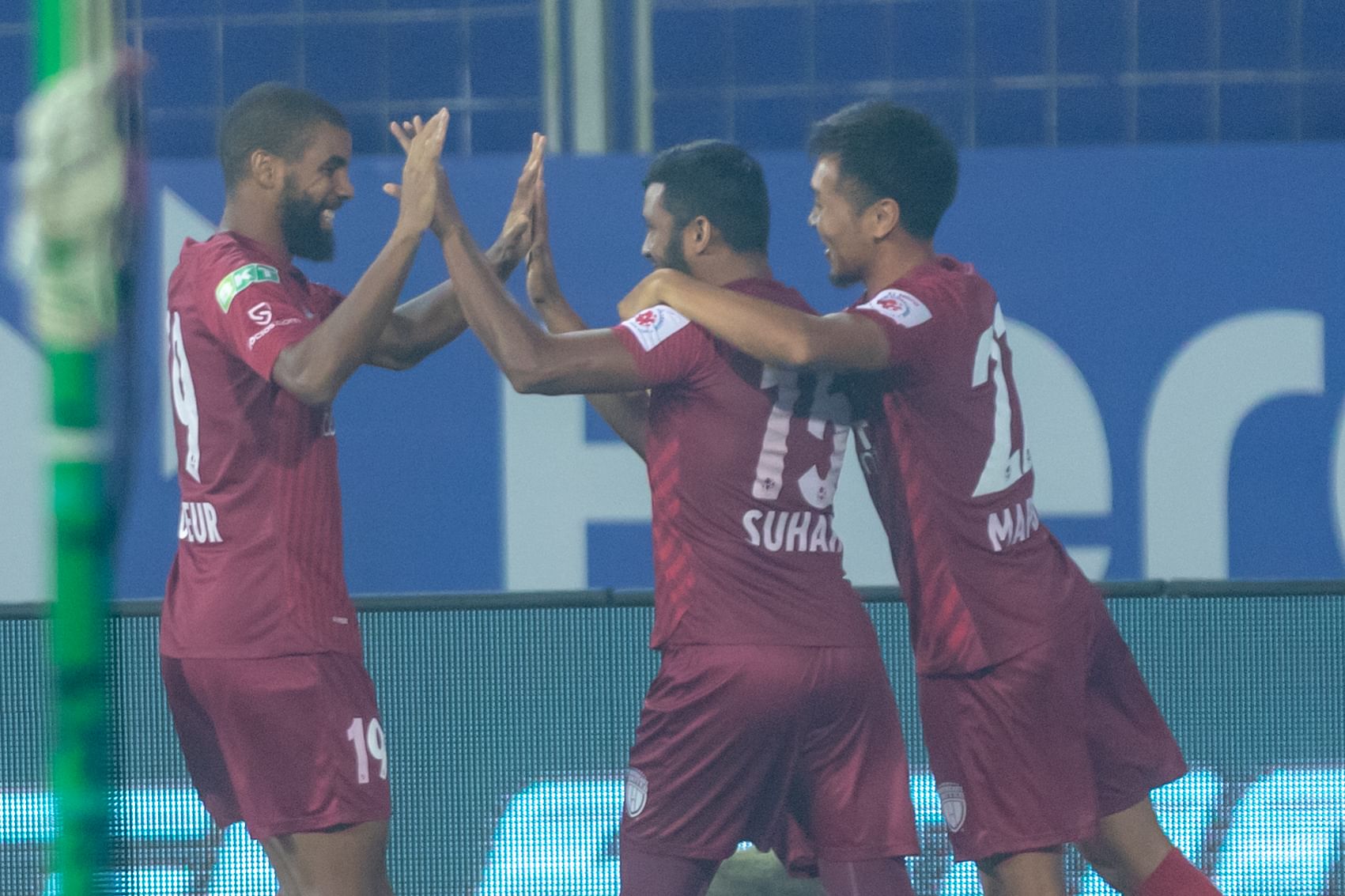 Last season, VP Suhair mostly operated on the right wing and looked very good. But, this season he has been shifted to the left and has continued to deliver. He said it wasn't tough to adapt to this change, as he is used to playing on the left wing.
"Last year also I used to change the wing with (Luis) Machado. I played more on the right side, but this season coach used me more as a left winger. I used to play on the left wing at Mohun Bagan, so it was easy for me to adapt," Suhair answered.
National team aspirations
Suhair has already proved his mettle and is knocking at the national team door. He shared his aspirations and told us about how he's preparing himself to get into the national team.
"It's my ambition to wear the Indian jersey. Just like every year, I'm working hard this year as well. If I continue to score and assist the team, Inshallah I'll get the chance and I'm waiting," he said with a bright smile on his face.
Fellow Keralites at NorthEast United
Six players from Kerala call NorthEast United their second home and Suhair is one of them. The 29-year-old was asked if the presence of fellow Keralites makes it more easy to live inside a bio-bubble. He nodded and replied, "It's a good feeling to live with them, as it is not easy to live in a bio-bubble. We have the same routine everyday. Now, we have six players from Kerala and it's good to interact and spend time with them."
Reflections on season so far
It hasn't been an ideal season so far for NorthEast United. Things have gone from bad to worse for them, but Suhair is still hopeful that they can turn this around.
"We just have one problem, that we don't have a full squad available due to injuries. We play with just three foreigners in most of the matches. Our main player was (Federico) Gallego and his injury has affected us. Khassa (Camara) has left due to his national team duties.
"Deshorn) Brown was also injured, but he came back and scored three goals. We are looking at foreign replacements for the remaining matches and they can help us. Last season also we didn't have a lot of points in the first half of the season, but we gathered points. We won't give up and Inshallah we'll try to finish in a good position," he further added.
Influence of Khalid Jamil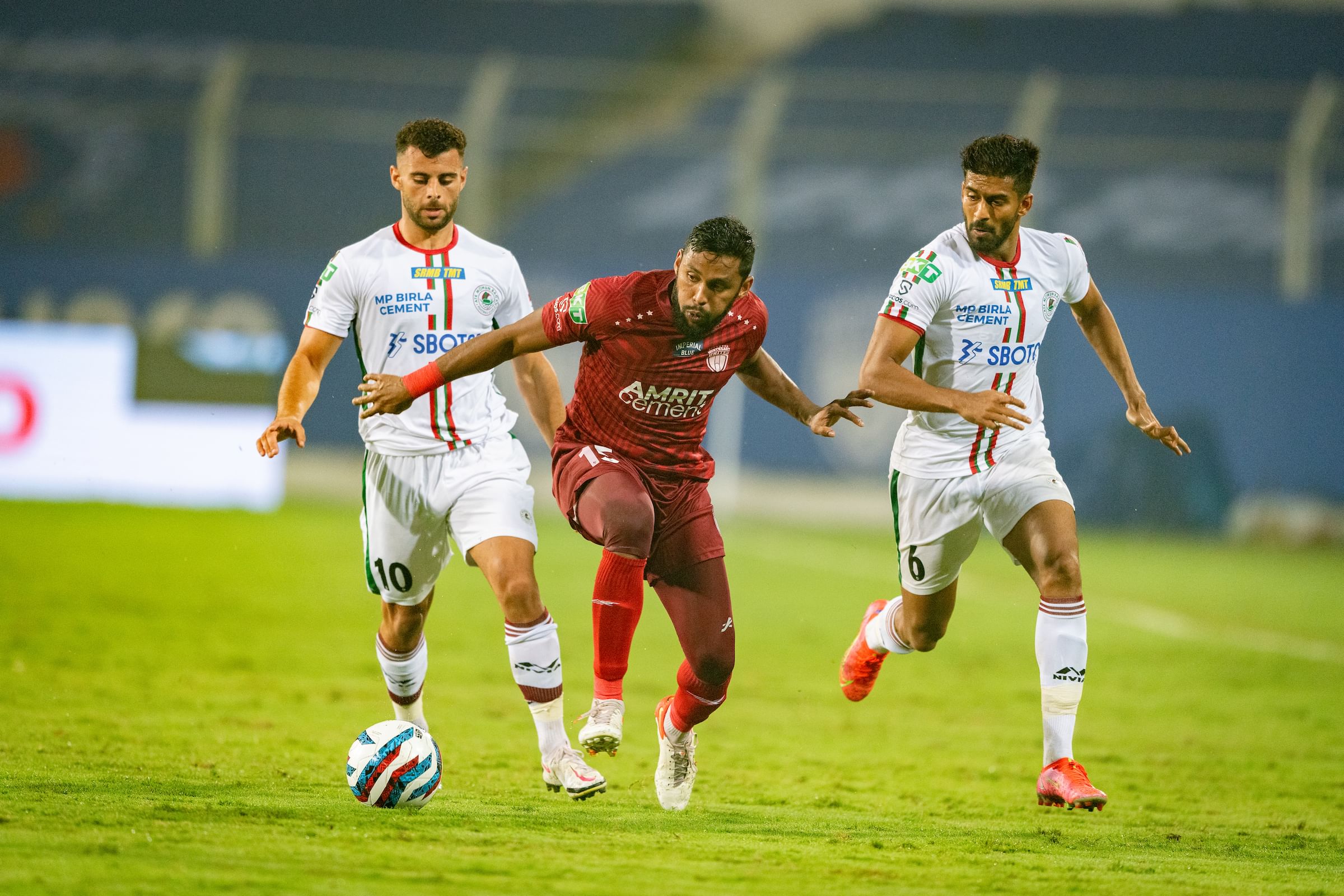 VP Suhair has turned on his herculean mode her since Khalid Jamil has taken over. He has gone on to scored six goals under Khalid Jamil. He said that the coach trusts him and he's trying his best to repay his trust.
"I've played under Khalid coach at East Bengal. So, I know him well and he trusts me and that's why he gives me chances. I try to repay his trust," he opined.
Partnership with Deshorn Brown & Mathia Coureur
The former Mohun Bagan forward shared his opinion on his partnership with Deshorn Brown and Mathias Coureur in the forward line. He described them to be good players and also said that he's trying to learn from them.
"Both of them are good. I played with Brown last season and we both know about each other. He tells me how to improve my game during matches and I try to improve. Mathias is also a very quality player and I enjoy playing with him," he quipped.
Balance between attack & defence
Suhair is a hardworking player and gives his all on the pitch. He contributes massively in attack as well as defence for the Highlanders. Suhair said he loves to defend and help his defenders. "If I'm fit, I don't have any problem to run around. I love to defend as much as I love to attack. Coach has told me to attack and defend as well," he nicely explained.
Favourite moment in NEUFC shirt
VP Suhair described his debut match against SC East Bengal as his favourite moment in the colours of NorthEast United. "My debut match against East Bengal where I assisted the second goal is my favourite memory," Suhair recalled.
Message to fans
The Palakkad-born player thanked NorthEast United fans for their support and said, "The Highlanders are very good fans. Even though the results are not good, they're motivating us and not abusing us.
"They tell us to play well and we need their support because they're our 12th man. These are tough times for the club, but good times and results will surely come," he concluded.
For more football updates, follow Khel Now on Twitter, Instagram and join our community on Telegram.