The youngster praised and thanked his teammates for being supportive of his development.
20-year-old Akshunna Tyagi is adapting to his new life as a first-team player for Odisha FC. It has been quite some journey for the forward so far. A believer in constant hard work and perseverance, he is certainly one of the most exciting young prospects to grace the Indian Super League (ISL) ahead of the 2021-22 season.
Tyagi's footballing experiences span across a couple of youth teams, starting from Meerut DFC. In 2018, he moved to Kolkata to join Mohun Bagan's youth academy. Under the guidance of former Indian player Jo Paul Ancheri, the youngster developed his trade further. The UP-born striker attributes a lot of his learnings to Ancheri, who surely knew a thing or two about being a prolific attacker. The following year, Odisha FC scouted him and added him amongst their youth ranks.
2019-20 was the breakthrough season for Tyagi as he scored 20 goals in only 14 matches in the Elite League. This was reason enough for the club to offer him a senior contract, thereby including him in this year's ISL squad. In an exclusive interview with Khel Now, the ecstatic youngster talks about his teammates and expectations from the impending season.
A smooth & overwhelming transition
Ahead of his first season in the country's top flight, the young forward is still adapting to the pleasant change in his life that was his promotion to the senior team. A transition like this can be a smooth as well as an overwhelming experience and the Odisha striker agrees.
"At times, I feel like I have still a lot to learn. You see the competition at a U-18 level and then you move to the senior level. Although the competition now is tougher than any other level I've played in, the team has been very supportive of us juniors. We all try to give our best every time we put on the jersey," Akshunna Tyagi said.
On Kiko Ramirez
Tyagi was all praise for his head coach Kiko Ramirez. The Spaniard has a big task ahead of him, as he would have to try and erase the club's memories of the past, especially the 2020-21 season.
"He is a top-notch coach. Being from Spain, he knows the mentality of the Spanish players very well. He is someone who believes in playing with the ball and prefers players who can rescue their team from a tough spot with the ball. Whatever drills and circulations we do is based around keeping the ball in possession," the 19-year-old revealed.
Teammates who push him to be better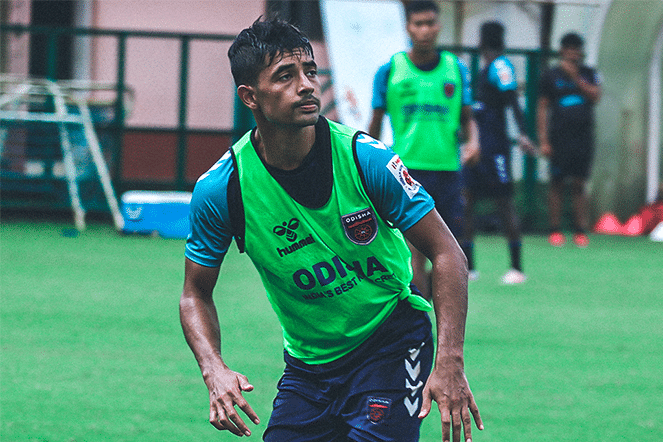 The youngster did not hold back when talking about the support he has received from teammates and coaches. Reiterating the fact that he still has a lot to learn, Tyagi stressed on the sense of unity and togetherness at Odisha FC. When asked to name a few players in the dressing room who act as a guiding force to him, he answered, "All the players, and I'm not saying it just for the sake of saying it. Even senior teammates like Hector (Rodas), Victor (Mongil) and Liridon (Krasniqi) are very supportive.
"They point out my mistakes, and suggest things to work on."
Ready to seize opportunities
Being one of the youngest players in the squad, it is likely that Akshunna Tyagi will have to fight for his place in the starting XI against more experienced players. He, however, is ready to turn up on any given day and try to help his team in any way possible. Not particularly a fan of just being a poacher, the forward likes to be involved in the game as much as he can. But, for a young player who wants to prove his mettle, game-time is something that is not always promised.
"I see players like Jonathas (de Jesus), Hector, Victor and I learn a lot from them. My expectations from the season would be to get whatever playing time I can get and try to help my team in whichever little way I can. If I get a chance, maybe even score a goal," the optimistic teenager said.
Snubbing doubters & trusting team
Last campaign was something that Odisha fans would want to forget as soon as possible. With a new coach and fresh set of players, the expectations are quite low, while critics have already counted them out as playoffs contenders.
But, the striker feels otherwise. "I don't know about others, but as a player and a fan who followed the side last year, I have a lot of expectations from Odisha FC. I am aware of the people who feel we did not play particularly well last season, but there were a number of positives to take. Be it the young players or the whole team coming up as a united force, I believe that we will give a tough fight to everyone this season," he said.
Preparing ahead of new season
Being a part of the senior squad is a different ball game altogether. While the youngster is quite excited for a new beginning, he points out the importance of being prepared as a player well before the commencement of the season.
"As a player, you have to be prepared for the amount of competition in the first-team. Almost 60-70% of your game is played mentally. It is important to be mentally prepared and give your best every time you step on the field," Akshunna Tyagi said. The ISL, with its huge investments and focus on youth development, has given a lot of other youngsters the platform to pursue their passion for the sport and the Odisha FC player is grateful for that.
For more football updates, follow Khel Now on Twitter, Instagram and join our community on Telegram.