The Spanish playmaker spoke about the move to Odisha FC, head coach Kiko Ramirez and more.
The Indian Super League (ISL) has been a beholder of a large pool of highly-rated overseas players and coaches from every corner of the globe. But, Spaniards have always taken the front seat for their contributions to Indian football. The ISL is literally a home away from home for Spanish nationals, as they make up the majority of the league's entire foreign contingent. One such player is Odisha FC's talisman Javi Hernandez.
The former Real Madrid "B" player arrived in India for the erstwhile ATK in the 2019-20 season. Hernandez helped ATK win the their third ISL title with a brace in the final against Chennaiyin FC, in what was the beginning of a closed-door affair in India's top flight.
After a decent campaign with ATK Mohun Bagan last season, Javi has shifted sides to Odisha FC. The Salamanca-born playmaker has shown a different version of himself for the Juggernauts. He inspired them to a thumping start to the 2021-22 season with two back-to-back victories.
Recently, Khel Now caught up with Javi Hernandez for an exclusive interview. Here are the excerpts from our interaction with him:
On move to Odisha FC
The Spaniard signed for the Juggernauts after successful stints with ATK and ATK Mohun Bagan. He said that he found Odisha's project very serious and did not think twice to accept their offer.
"It was a new challenge and I know the coach Kiko (Ramirez) since his time in Poland when I was playing there. I think it's a very serious project, the team wants to be in a good position in a few years in the league. I was talking with him (Kiko) and finally I didn't think much and accepted to offer to come here," he began.
Learnings from season so far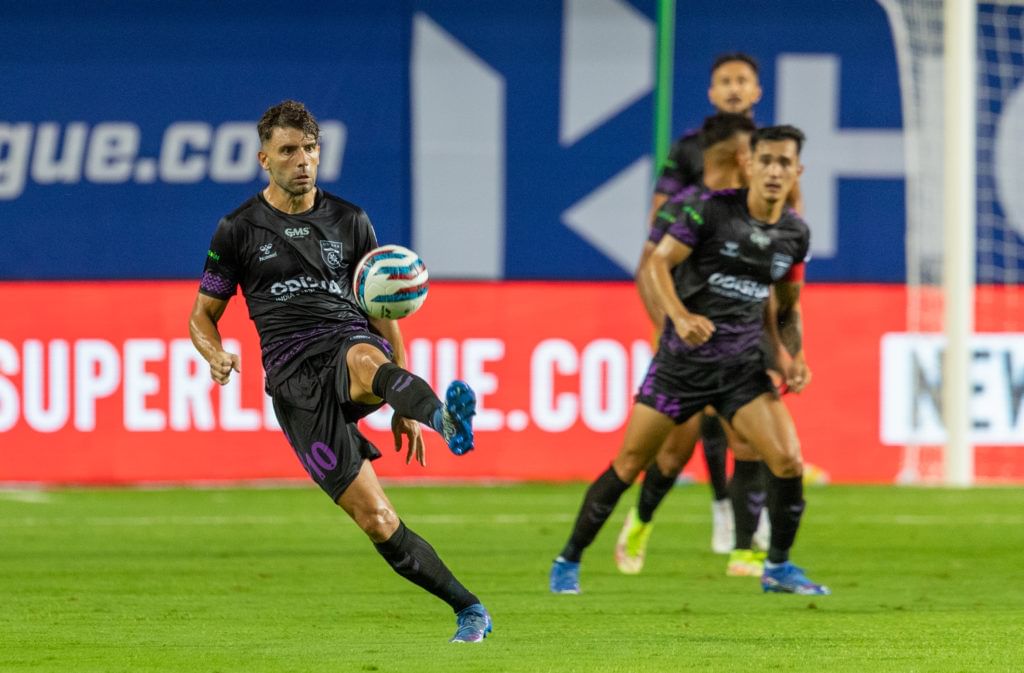 Odisha FC started their season on a dream note with two wins in two matches. The lost their third match to Kerala Blasters and do have a few aspects to improve upon. "The start was amazing for us. Six points in two games is really difficult in all competitions.
"We're now aware that more or less all teams are equal. All matches are going to be difficult. We're very happy. But, as I always say, it's a long way with 17 games to go, so we've to keep up with our performance," he explained.
Overall impressions of squad
Odisha possess a great squad, but things didn't turn out the way they wanted last season.However, with a few major changes, they're up and running this campaign. The Spaniard feels that the players lacked confidence last season, but that this season they're performing well.
"When I came here I saw many good players. The only problem was their confidence. I don't know what happened last season because they're really good players. And in these two games you can see their performance. As I say, we've to keep working even harder now," Javi Hernandez quipped.
Goalscoring
Hernandez scored a total of just three goals in his first two seasons in India's top flight. But, this term, he's already equalled that tally just three games into the season. When quizzed about whether it is a conscious effort from him to get on the scoresheet more often, he said, "Every season is different and all players are different. But, I feel confidence helps and I'm playing more attack this season. Last season, I was in the midfield department. I try to help the team as much as I can irrespective of the position I play."
"But, it's true that in these two games and in the pre-season games I played as a striker or behind the striker. And I think it's easier to score if you're closer to the box," added the 32-year-old.
Influence of coach's philosophy on player's playing style
We've seen many players perform differently under different coaches. To get a better insight on why players perform differently under different coaches, we asked Javi Hernandez about the influence of a coach's philosophy on a player's playing style. He said that every coach has a different style and plan for different players.
"Every coach has a different style and different things for players. Coaches usually sign players who they think can help in their style of play. So, all the players who come under a coach are required to play according to his style. And that's most important for the coach and the player," he answered.
Thoughts on new foreign players policy
The Indian Super League announced a big change in their foreign players policy ahead of the 2021-22 season. This decision came in while keeping in mind the development of Indian players in key positions. Javi Hernandez believes that this move is good for the development of Indian football, as domestic players will now have more minutes.
"For us it's not that good because we have a foreigner less. But, I think it could be good for improving Indian football because one more local player can play, learn and have more minutes. As I always say, I see my career here, this is my third season and I see better players because they've more minutes and a lot of players are delivering with good performances." he opined.
Thoughts on Odisha FC's Indian players
The Juggernauts possess a huge pool of highly talented Indian players from all parts of the country. The Spaniard shared his thoughts on his Indian teammates and said that the Indian players have a bright future, if they keep working hard.
"We have very good Indian players, they've a big future. They've to keep working and give it all and for sure some of them will surely make it to the national team," he asserted.
Thoughts on wonderful goal against SC East Bengal
Javi Hernandez produced a strike straight from the heavens against East Bengal, in only his second game of the season. He scored an Olympic goal direct from the corner, which took the Indian football circuit by storm.
While sharing his thoughts on that wonder goal, Javi said, "We usually try this action with set-pieces during training and this was an action that we trained, come in and swing. I tried to put it close to the goal and was lucky to score and helped the team get the win, that is more important." Kiko Ramirez and co will face NorthEast United next, on Friday.
For more football updates, follow Khel Now on Twitter, Instagram and join our community on Telegram.