Interestingly the Mumbai City shot-stopper started off his career as a striker.
Amrinder Singh made an appearance on a live interaction with Anant Tyagi on Indian Super League's Instagram, where he opened up on a host of topics ranging from his origins in football, sharing leadership with Paulo Machado at the club and his thoughts on the Mumbai City takeover.
The 26-year-old goalkeeper started his journey in football as a striker in Punjab. Taking his coach's advice, he switched positions in search of more time on the pitch and since then he has never looked back. He talked in detail about his role at erstwhile Pune FC and how that stint aided him to achieve greater feats in the future.
He said, "After two years, I got a call-up to the national team and I hadn't played for any of the junior national teams. This was the first time I received a call (for the national team). Wim sir (Wim Koevermans) had called me. Initially, I thought someone was joking with me. When he was talking to me, he told me that the next camp is in Goa, my name is on the list and that I need to come."
Amrinder continued, "But, I was very shocked because I had never played for the junior team and here I was getting a chance to straightaway play for the senior team."
Following his promising performances for Pune FC, the shot-stopper made a loan move to ATK in the second season of the ISL. He regards it as his best season, as he helped his side to a playoffs finish. In the following campaign, he moved to Mumbai City and made an instant impact at his new franchise. The Islanders had finished atop the points table in the league stages but an away loss to eventual winners ATK in the semis spelled the end of their impressive campaign.
He stated, "When I joined them, in the first few days, I mixed up quite well with my teammates. Goian (Lucian Goian) was in defence, Diego Forlan was there and there were other really good players. To mix up so quickly with everyone was not a normal thing, but they helped me so much. I bonded well with Goian. When I started, I kept five clean-sheets in six games. That season was very good for me."
The keeper quickly forged a special bond with Lucian Goian and the two were key figures for the Islanders, as the collective defensive resilience of the team stemmed from the rock-solid displays of this pairing at the back. Speaking about his close relationship with the Romanian, Amrinder remarked, "We were always close. We both used to like to plan in advance on what we would do in certain situations and I believe all the players – right-back, left-back, central defenders and the goalkeeper should share a good bond. We should know how to react based on eye-contact."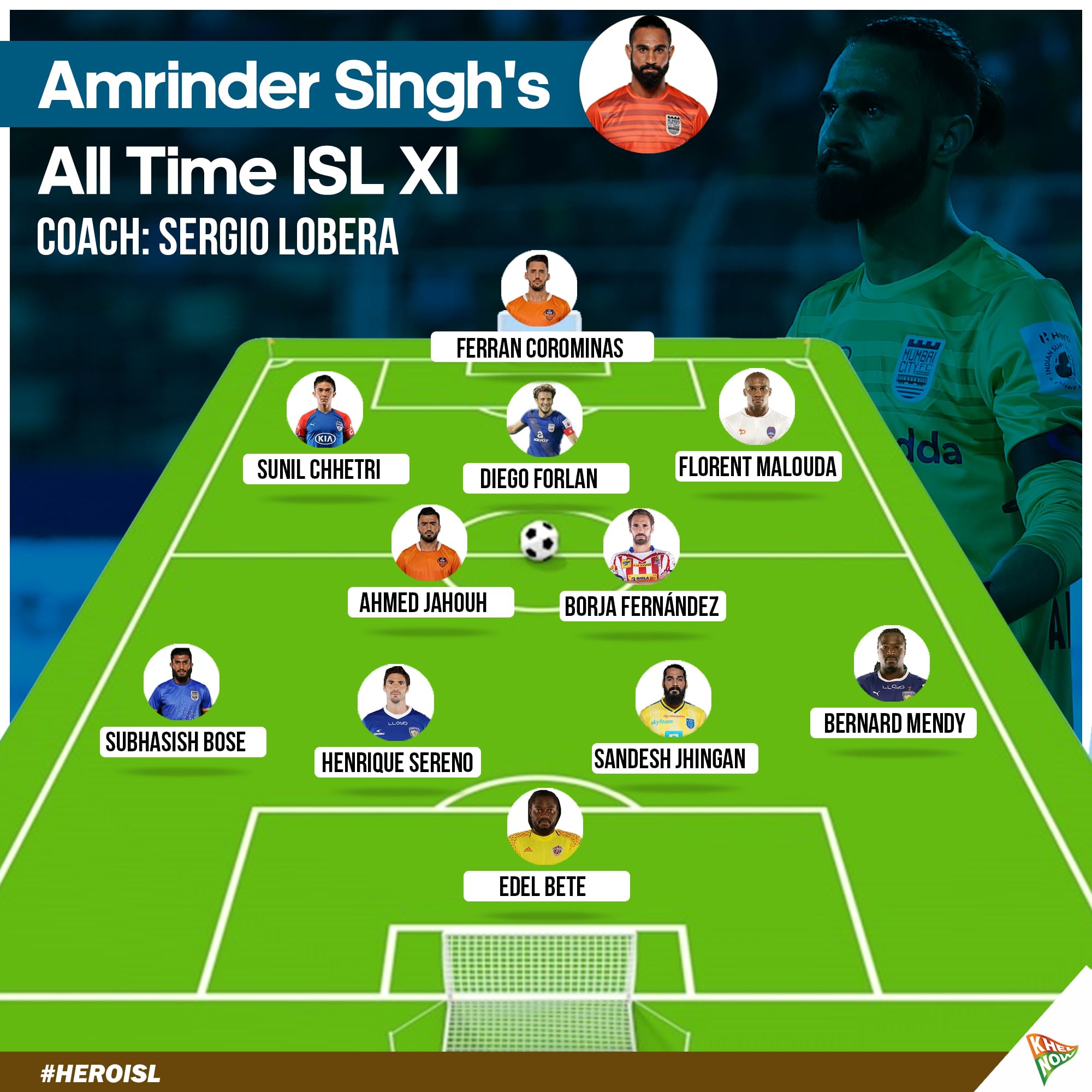 Some bold picks by the Islanders' keeper
The Indian national team is very fortunate that they possess two top-notch shot-stoppers in Amrinder and Gurpreet Singh Sidhu competing for a single spot in goal. Amrinder insists that such competitiveness has improved both of them and that the two are "like brothers".
"In the dressing room, we push each other and try to give each other the confidence to be free and play our games without pressure. I think that both of us have a good relationship and that is why we are both improving. Even during the ISL season, we stay in touch, try to work on the smaller details and not run away from problems, but rather try to fix them. This is the reason why we both are improving each other."
Last season, the Islanders finished fifth on the table and narrowly missed out on a spot in the playoffs. Mumbai's most capped player shared some of his thoughts on the topsy-turvy term. He said, "I think we started the season well. I kept clean-sheets against Chennaiyin FC and Kerala Blasters. After that, we suffered some injuries. Sougou (Modou Sougou), Machado (Paulo Machado) and later Borges (Rowllin Borges) were injured. I think I am proud of my team that despite so many injuries, we never gave up and stayed in and around the top four.
"Until the last moment, we fought for the spot in the semi-finals. In the home game against Jamshedpur, we scored at the end and if we would have given up at that moment then I think our semi-final hopes would have been over. Likewise, in the game against Chennaiyin, after Lucian Goian scored we created a chance, but we did not give up even for a second."
A number of youngsters have made their mark at Mumbai City in the past couple of seasons. Amrinder has been left impressed by the demeanor of the young lads in training. He opined, "If you look at the squad, most of our players are young. I think they carry themselves really well in training and I haven't seen anyone that has given up when they are not given a chance. I have seen players that remain motivated. Raynier (Fernandes), Sarthak (Golui), Pranjal (Bhumij), Bipin (Singh), Bidya (Bidyananda Singh) are few youngsters at the club," he pointed out.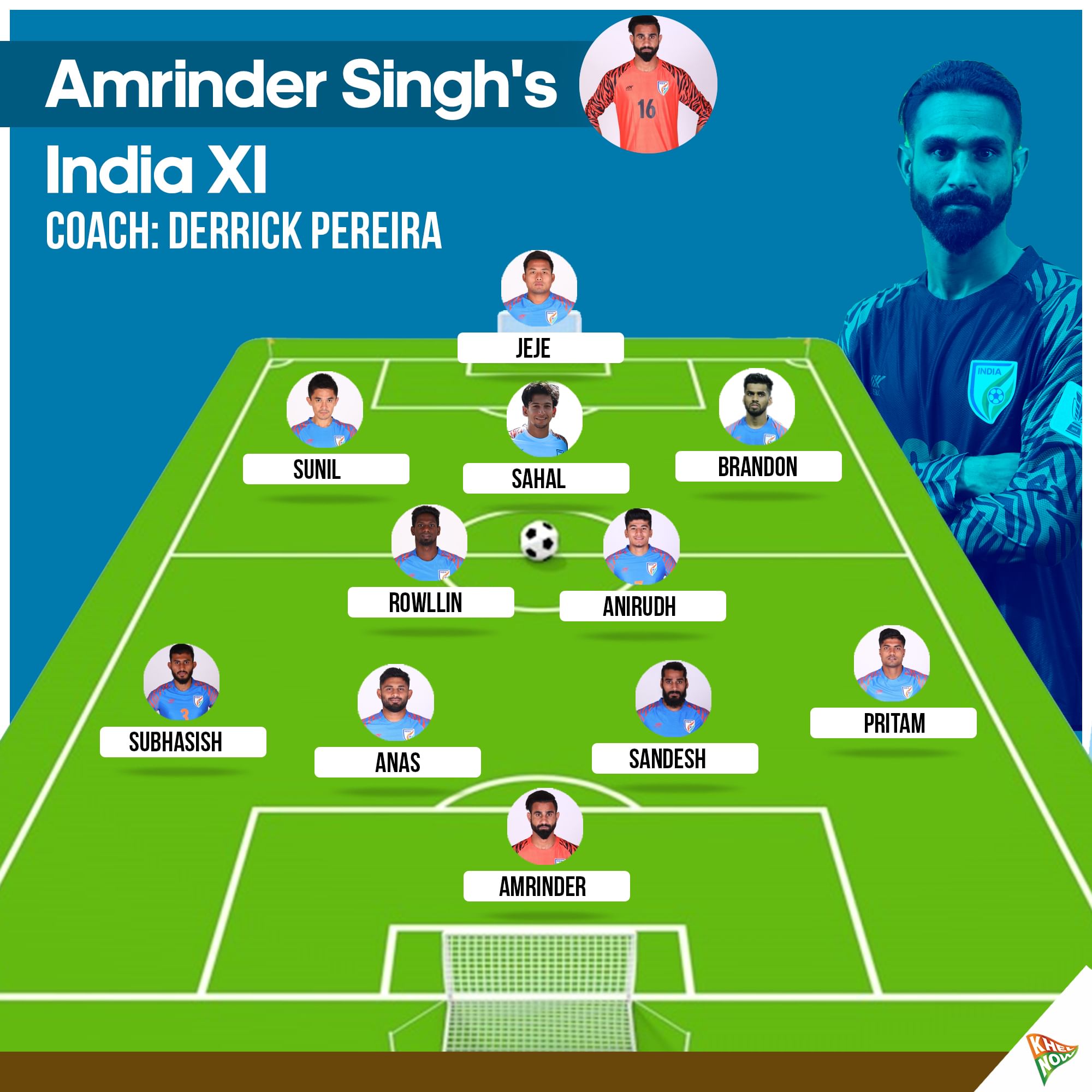 The team set-up seems interesting
Rowlin Borges grabbed plenty of plaudits this year with his tireless performances and has established himself as a lynchpin in central midfield for both club and country. When asked if there is any specific reason behind the incredible all-round improvement of his teammate, Amrinder replied, "I have watched him for a while and this season he has been in the best form of his life. He is following his diet plan properly too and that could be one of the reasons why he is doing well.
"I see him in training and he is always smiling. He never leaves his work incomplete. Whatever work you give him, he does it with proper discipline and seriousness.That is the reason I think he is in the best form of his life and I think he is a good boy who does his work with a smile on his face." The 26-year-old also seemed to agree with Eelco Schattorie's assessment of Borges having the ability to score and assist goals regularly.
Like Borges, Paulo Machado too has been a vital cog in Mumbai's midfield and his injury towards the business end of last season hurt their chances of making it to the semi-finals. The keeper stressed that the shared leadership didn't create any complications in their relationship and relayed the message that being a leader by performance was more important.
He observed, "His presence in our team was very important. When he was injured and came back, he would be a part of the group and used to tell us not to give up. I think he was a very good leader, always used to guide the team and I could say that he is one of the best players in our team. We have a good bond too and even his behavior is great."
Following the end of their disappointing campaign, Mumbai City parted ways with Jorge Costa after two seasons under the Portuguese tactician. Amrinder lauded the coach's handling of the team and praised his winning mentality. "One of the main things that I learned under him is how he formed a family-like atmosphere. He always had a winning mentality and again that could be one of the reasons why we never gave up."
"He played at a higher level, won the Champions League, played under big coaches, so he knew how to handle the team. In the last two years, I have learned a lot on and off the field. He was never a coach but more of a friend to us off the field and gave us solutions if we had any problems. On the field, he wanted us to give our 110% and didn't want anyone to be lazy. We had a good coach, he had experience and we learned plenty of things from him."
Last November, Mumbai City became the eight club to be acquired by the City Football Group (CFG) as they attained a majority 65% stake in the outfit. The keeper described it as "one of the biggest deals for Indian football" and is very excited by the massive takeover. Amrinder mentioned, "I think this is a very good deal that Mumbai has got with City. The young players and the Indian players have a new platform and we could learn plenty of things. Personally, the next season will be good, as we have a new beginning with City.
"Many players will dream of coming to Mumbai City and getting a contract with the City Group. Many good coaches and staff will come in the future and this would be a great platform for us as well as young Indian players," he concluded.
For more updates, follow Khel Now on Twitter and join our community on Telegram.