The Spaniard repaid the faith shown in him by the Kolkata outfit with his second ISL crown.
'My journey at ATK has been like a love story', Antonio Habas indicated after guiding them to their first playoff finish in three years. It was also the third consecutive time they've managed a playoffs finish under his helm. On two of those occasions, they've reigned supreme as the champions of the Indian Super League (ISL).
While a rather polarizing character, Habas' ability to build title-winning teams is unprecedented in the ISL's history. He knows exactly which kind of players will prevail under pressure and how to use the full potential of his squad to strike gold.
Of course, his formula has worked wonders on two occasions, with ATK winning the ISL title in the inaugural edition and in the recently concluded campaign. In both seasons, the Spaniard had two heavily stacked squads. It's difficult to compare the quality of both, but here we'll look at which title-winning season was actually better.
2014
Soon after sealing their partnership with Spanish giants Atletico Madrid, ATK started flexing their financial muscles to rope in a number of talented, well-known foreign players to boost their charge. Among the most high-profile of these was former UEFA Champions League winning attacker Luis Garcia, who was the shining light of the Kolkata side as their "marquee" player.
However, thanks to their understanding with Atletico, ATK were able to make some other shrewd signings as well. They roped in former Real Madrid midfielder Borja Fernandez, former Villarreal man Josemi as well as striker Fikru Teferra, who all proved to be valuable assets to ensure their consistent form throughout the campaign.
As the inaugural season took place in just over two months, ATK had little time to start gelling as a unit. But, Habas' tactics worked wonders into building them as an unbreakable unit, with the Kolkata side grinding out results by the slightest of margins.
With Garcia facing injury issues, Fikru stepped up with timely goals at regular intervals. Borja marshalled the midfield with an iron fist, while Josemi stood strong with the experienced defenders by his side. Indeed, it was ATK's defensive strength and solid shape which kept them moving in the season.
They kept eight clean-sheets in 17 games in the season, only conceding more than three goals on a single occasion. With Arnab Mondal, Kinshuk Debnath, Denzil Franco and Baljit Sahni all being well-versed with Indian football, they quickly formed an intuitive connection with the foreigners to maintain a gritty shape.
Infact, it was their defensive fortitude which eventually won them the trophy. Although, ATK experienced some disappointments towards the end of the campaign, they managed to pip a menacing FC Goa side in the semi-finals (on penalties) before the last-gasp win in the finale.
While Antonio Habas was questioned for his tactics being overly cautious, the way he made the best of a dodgy situation by focusing on his side's defensive strength allowed ATK to reign supreme. Maybe a bit lucky, but the Kolkata side's gritty style saw them through.
2019-20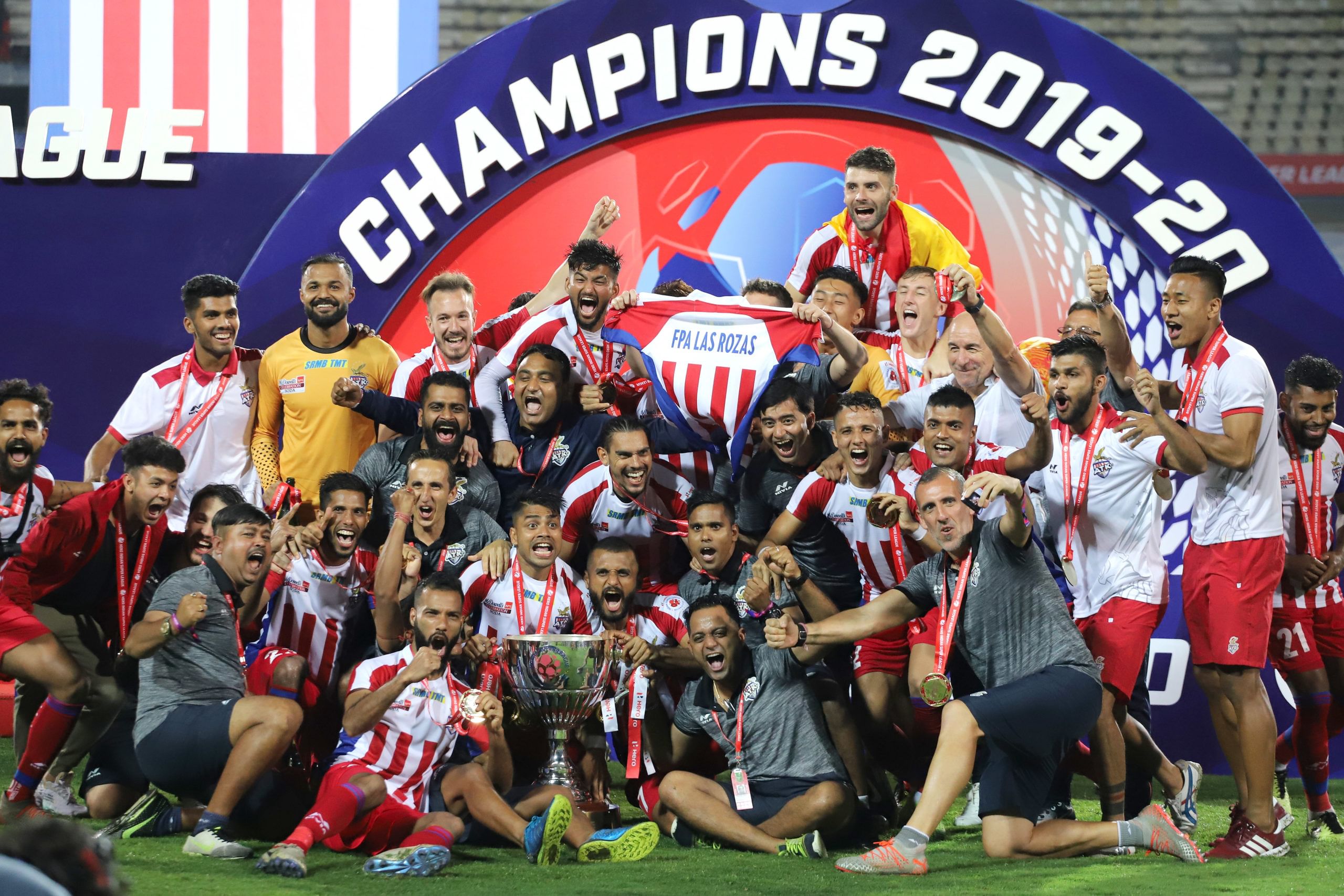 ATK might've had to grind their way to winning the title in the inaugural season, but Antonio Habas was intent on proving his doubters wrong in labelling him a "defensive coach" in his initial stint. Struggling ever since their separation from Atletico, ATK decided to bring back the winning formula with the Spaniard.
Not just that, but he was backed up big time with lavish signings and a lot of finances being put into building the squad. Now detached from their obsession of signing "marquee players," ATK put their scouting system to good use to snap up proven players with their coach's guidance.
With Roy Krishna, David Williams and Mandi Sosa, they trusted their chemistry for A-League side Wellington Phoenix to re-energize the Kolkata side. Habas also brought along some experienced Spaniards like Agus Garcia, Javi Hernandez and retained Edu Garcia.
The season started on a dismal losing note, but after that night in Kochi, ATK didn't look back. They turned around their coach's reputation by playing some lethal counter-attacking football and dazzled fans all around. Krishna and Williams formed a deadly partnership, playing a role in nearly 80% of their goals scored in the season.
Krishna netted 15 strikes, while Williams got seven goals and they both assisted a combined 11 throughout. Hernandez's creativity and dead-ball prowess worked the magic in connecting with them, while Edu Garcia was the ace in the hole with his unpredictability.
With the proven foreign contingent, ATK also built up a strong domestic core. Bengali boys Arindam Bhattacharya, Pritam Kotal and Prabir Das played with their heart on their sleeves, being a pivotal reason for the team's success.
On the other hand, Michael Soosairaj's trickery bamboozled many, while Sumit Rathi's breakthrough season was like the cherry on top. With a perfect balance to their system, ATK outsmarted oppositions despite en route to their third title.
So which one was better?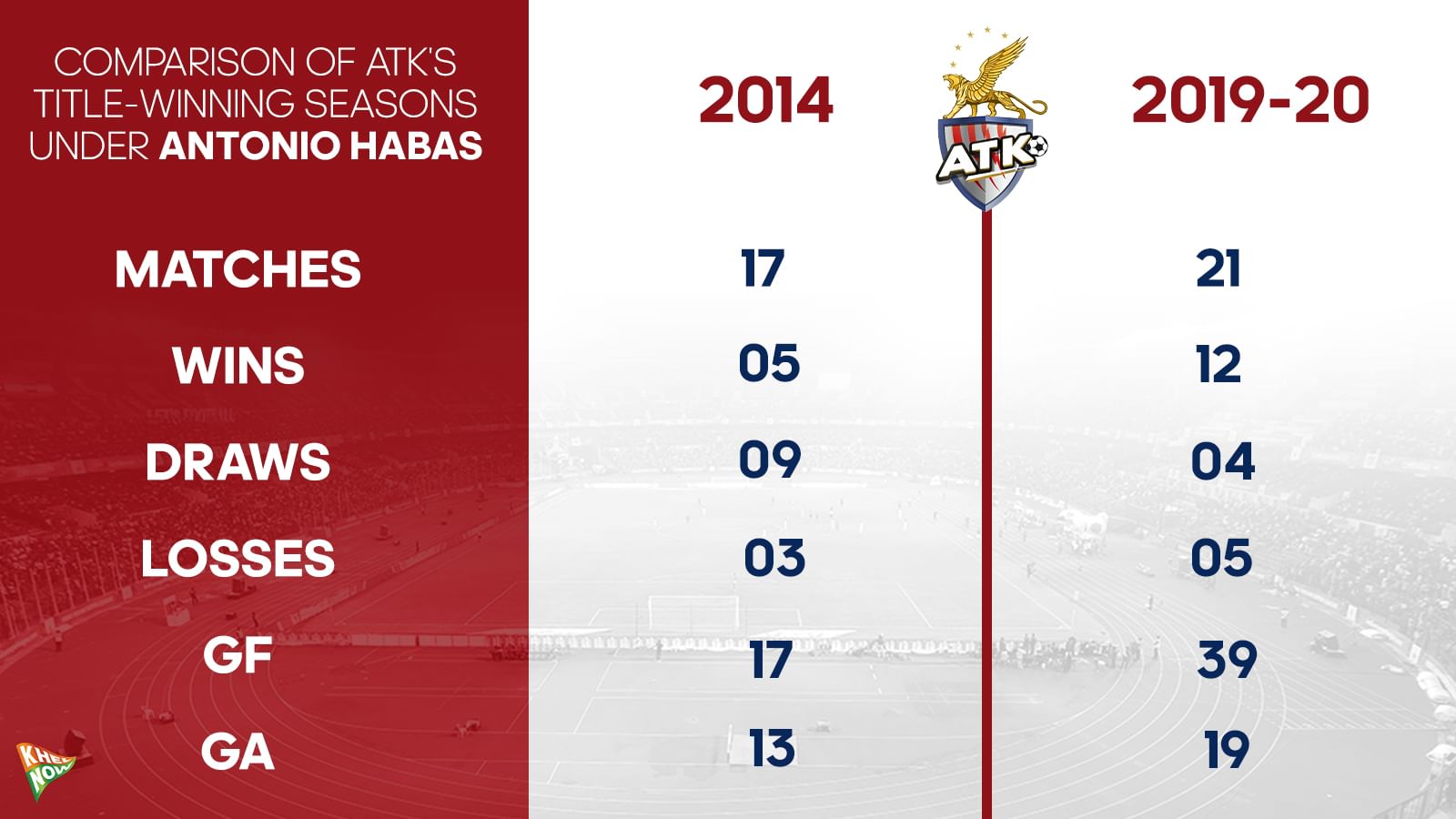 As Antonio Habas had himself stated, the circumstances in which his side won in 2014 and 2020 are extremely different. The ISL was still a new, shorter version of a league in its inaugural season but has seen huge leaps in terms of competitiveness and fixture congestion as the years moved on.
This season was physically perhaps the most exhausting for ATK, with games often coming at a fierce rate. It's because of the added competitiveness, professionalism and games that the Spaniard himself admitted that the win this year transcends the one that came six years ago.
Moreover, the ATK side this season have outperformed the first one on many fronts. This season, they scored 39 goals (including the playoffs) which is more than double of what they did in the inaugural campaign (17).
Granted, they conceded five more goals this season than the 2014 winning team did (14), but their brand of football was much more exciting this time around. In terms of performances, the previous team had many renowned 'superstars' who couldn't do much, while the relatively unknown foreign core shone throughout this season.
Moreover, this ATK team also came through at a period when the competitive level of Indian football was higher than in 2014, which proves they played better football against considerably more difficult opposition this season.
Hence, there's little doubt that the Kolkata giants' title-winning class of 2019-20 definitely beats their 2014 version, as they showcased an encouraging brand of football, which indicates that a bright future is on the horizon for Antonio Habas and Co.
For more updates, follow Khel Now on Facebook, Twitter, Instagram, Youtube and join our community on Telegram.