The ISL club have had a rocky path of form with international goalscorers.
Bengaluru FC are a club that have achieved meteoric success in their seven years of existence. Having accumulated multiple important trophies in addition to carving an impact across the two most high-profile leagues in the country, they have hardly put a foot wrong so far.
Hence, it was interesting when club owner Parth Jindal admitted that they suffered last season because they got their 'recruitment wrong in attack.' Indeed, they had, as promising forward Ashique Kuruniyan was played in a left wing-back role, whereas Sunil Chhetri had missed a few games due to injury issues.
Did he hint towards the other chink in the armour?
However, Jindal might have been indicating towards the forwards that the team had inducted from overseas. Manuel Onwu underwent a forgettable half-season stint, as he ended up goalless in six games. Surprisingly, he shifted base to Odisha FC in a loan move and netted seven goals in four appearances with the Juggernauts.
Deshorn Brown scored thrice in seven league matches for Bengaluru, but never really induced the dynamism that the team would have liked him to. Kevaughn Frater played four league matches and notched one goal, but a costly miss in the dying minutes of the second leg of the semi-final quite possibly robbed his team of the chance to qualify for the final.
Another point that Jindal reiterated was, "We didn't have the quality of Miku." Certainly, they didn't. The Venezuelan striker had bagged 20 goals and notched four assists in 32 league appearances across two campaigns in the ISL. He assumed responsibilities very firmly and delivered on the pitch on a regular basis. It is difficult to come across a more skillful and creative forward who has lent his services to Bengaluru FC than him. However, one has to wonder if the club's illusion of having acquired formidable foreign forwards begins and ends with Miku?
Over the last seven years, the Blues have at some point in time lured in 12 foreign players who could be classified as forwards. These are -: Sean Rooney, Kim Song-yong, Cornell Glenn, Marjan Jugovic, Roby Norales, Miku, Braulio Nogreba Rodriguez, Daniel Lucas Segovia, Chencho Gyeltshen, Manuel Onwu, Deshorn Brown and Kevaughn Frater.
Strikingly, only Sean Rooney, Kim and Miku among these players have made more than 15 league appearances for Bengaluru FC. Even more glaring is the fact that only Rooney and Miku have notched more than 10 goals in the league for the outfit. This paints a very curious picture, something that could be looked at more elaborately as we move ahead.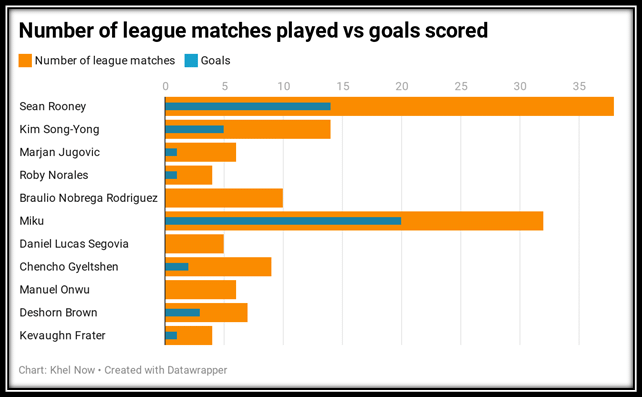 Here, a clear disparity could be seen between the duo of Sean Rooney and Miku Vs the rest of the strikers. Kim Song-yong had a relatively decent season, in which he scored five goals in 14 appearances in the 2015/16 I-League. Except these individuals, there is a cluster in the table that includes the likes of Brown, Onwu, Norales, Frater, Gyeltshen, Segovia and Rodriguez, who have produced nothing of note.
It needs to be noted that Sunil Chhetri has been the top goalscorer of the club in every season that they have played so far. However, the lack of an equally capable international forward to share the responsibility of putting the ball into the back of the net has troubled Bengaluru in the seasons that they have played in the absence of Rooney and Miku. CK Vineeth had taken up the secondary goalscoring mantle after Rooney's departure, while Brown attempted to do so in the 2019-20 campaign.
Multiple short stints reek of attempted quick fixes
However, the relatively underwhelming performance of a whole lot of foreign forwards needs to be pondered upon. Take for instance the case of Kevaughn Frater. When merely a month was remaining for the season to conclude, the club roped Frater in from the other side of the world. The striker joined Bengaluru from USL Championship side New Mexico United and was somehow expected to get in the groove at such a crucial juncture of the season.
Or, take into consideration the Honduran forward Roby Norales. He joined the club on January 7th, 2017 for the remainder of the I-League season. However, Norales was loaned out to second-division club Ozone FC within a month. Mustafa Ghouse, the COO of the club had remarked, "After a month of working closely with Roby, the staff felt that he doesn't fit into the team's plans."
Ghouse had further said that Norales was a thorough professional during his time with the club and it was mutually decided to loan him out. Norales barely played for Ozone FC and returned to Honduran club Platenese FC shortly after the conclusion of the campaign. However, the question must be asked, why did he come to Bengaluru FC if there were so many apprehensions about him in the first place?
Now to replace Norales and fill up the fourth foreigner slot, they inducted in Serbian striker Marjan Jugovic. The immensely experienced Jugovic had played professional football in seven different countries before coming to Bengaluru and was being expected to provide a sudden stimulus to the faltering defence of their I-League title.
Albert Roca, under quite a lot of pressure at that point in time had stated, "We have been creating so many chances, but have struggled to put them away and Marjan's got his task cut out. I'm sure he will help get our season back on track." What transpired eventually was that Bengaluru finished fourth in the I-League table, their worst finish in a domestic campaign to date.
More importantly, Jugovic played five league encounters and scored a solitary goal before sitting out for the entirety of the Federation Cup, in which the team actually emerged victorious. Three months after his arrival, Marjan departed from the club and hasn't played professionally ever since. Yet another curious signing of an international forward…
Now, because Jugovic was ruled out of the Federation Cup, Bengaluru signed Cornell Glenn in a loan move from Ozone FC for only a two-week long tournament. Glenn played merely 105 minutes for Bengaluru across four matches. He neither scored a goal nor assisted any and was released at the end of that month.
This pattern of short-lived stints of strikers roped in from abroad has continued ever since. Whether it has been due to a lack of adequate game-time, unsuitability to the demands of the competition or just the age factor, very few international strikers have managed to set the ball rolling at Bengaluru FC. Someone like a Braulio Nobrega Rodriguez played 271 minutes across 10 league matches in the 2017-18 season, but failed to put the ball into the net even once.
He was replaced by Daniel Lucas Segovia who competed for 98 minutes in five ISL matches and similarly returned goalless. To be fair to Segovia though, he scored four goals in five AFC Cup encounters, which indicates that he could have been more efficient if given a longer stretch of games. Yet, he left the club in June 2018 after spending only three and a half months with them.
Chencho Gyeltshen, the Bhutanese forward joined Bengaluru after a highly successful 2017/18 I-League season with Punjab FC (then Minerva Punjab), in which he had finished the season as the third highest goalscorer in the I-League. However, due to relative lack of playing time and opportunities in the presence of Miku and Chhetri, Gyeltshen joined NEROCA FC in January 2019.
These half-season long insipid tenures of foreigner forwards at Bengaluru FC have happened too many times to be brushed aside as an aberration. There is enough sample space to make a case that the club haven't arguably been too successful in most of their recruits in this aspect of the game and have at times made rather bizarre calls, which have been ignored due to the massive success that Miku attained from 2017-2019.
Hence, maybe, the arrival of Cleiton Silva needs to be taken with a pinch of salt. The Brazilian has been a stalwart in the Thai League but the way in which he adapts to the ISL, Bengaluru FC and fits into the system of the head coach would go a long way to determining the length of his tenure with the club. Surely, he would have to get in the groove and start delivering at the earliest to compel the club towards activating the option of extending his contract by another year.
For more updates, follow Khel Now on Twitter and join our community on Telegram.