The versatile player spoke about his journey so far, the ISL final and more.
Chennaiyin FC star Edwin Sydney Vanspaul took to social media to answer questions from fans in a live session on Instagram.
Speaking to Anant Tyagi in the latest episode of #LetsFootballLive, Vanspaul was direct with his answers, akin to his surging runs on the wing for Chennaiyin FC.
The lad from Neyveli, like many other players, didn't have it all his way during his formative years. He recounted his days of struggle in great detail by mentioning, "There were days when my mother was out working and I and my sister used to wash my boots and clothes and she really helped me in those days."
"In school, there was permission to play in school matches but not for local matches. So, I used to tell my father that I'm going to school, but ended up playing in a local match. Of course, people told him about this and I got it nicely from him. But, once he saw that I was playing well, he told me to go ahead and play," he reminisced.
Edwin Vanspaul paid homage to his childhood coaches and teammates, who helped shape his career and instilled the dogged sense of determination that is a characteristic of his gameplay. Some of them are recognized names within Indian football circles like coaches Sabir Pasha, Raman Vijayan as well as fellow Tamil Nadu and current ATK players Michael Soosairaj and Michael Regin.
He also spoke at length about his current teammates Anirudh Thapa and Dhanpal Ganesh – the latter also hailing from Tamil Nadu. Speaking of Thapa he said, "He is such a mature person and has helped me a lot. Initially, I was not very comfortable in my new role (wing-back), but he always motivated me by saying 'no problem, Anna. You keep playing, I will support you.' He is a great player."
"He (Dhanpal Ganesh) and I have been friends since 7th grade and have been playing together since sports hostel. I have some great memories playing with him as well," said Vanspaul.
Vanspaul then talked about the time when he was given the news of interest from Chennaiyin FC, which made his dream of playing at the Marina Arena come true.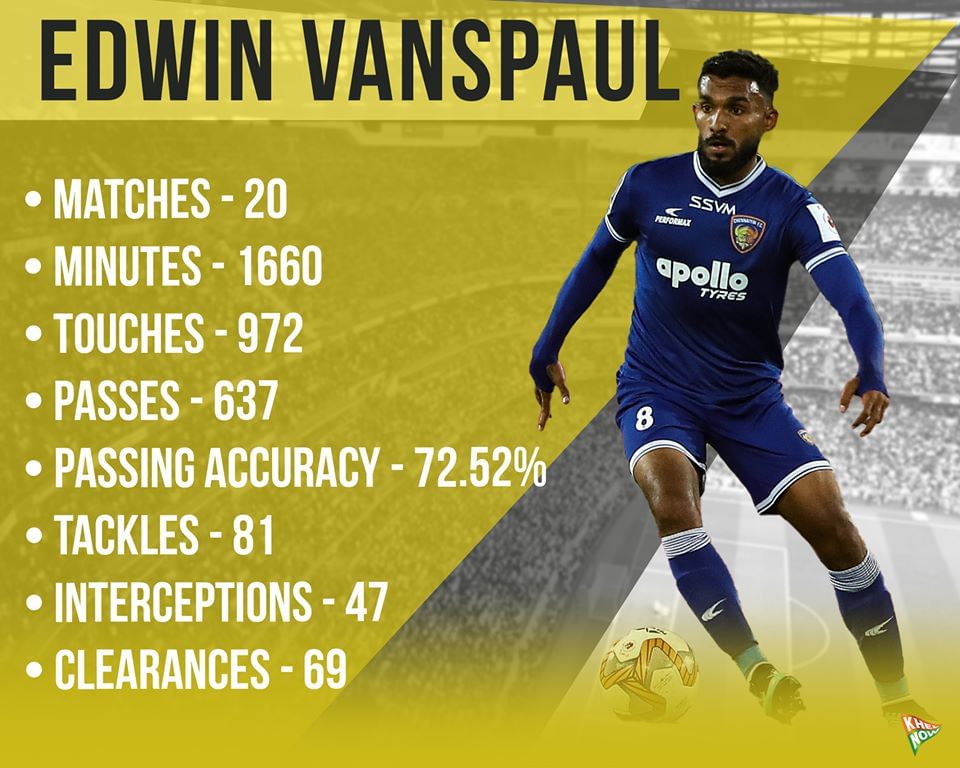 Speaking about the moment, Vanspaul said "It was a very emotional feeling (signing for Chennaiyin FC). I also remember getting a call from Chennai City FC owner (Rohit Ramesh) who called me to his office to talk about it. When he mentioned it, I asked him if he was actually telling the truth."
"It was a special feeling. A big moment for me playing at home and I was waiting for the ISL to start and for the home game to come up. I didn't even read the contract, as I didn't want to waste time reading through it and just gave the signed papers."
Although the 27-year-old had realized his dream of playing at the Marina Arena, it wasn't the beginning that he would've imagined, as the two-time champions struggled to get into second gear going goalless in their first four games.
Speaking about the start, Edwin Vanspaul recalled, "It was a tough time for everyone, including the management because we were training and working very hard, but didn't get the results. All the players were mentally upset, but the foreign players were confident of us and were pushing us to do better every day."
The turnaround came in the form of new coach Owen Coyle, who took charge of a team in disarray and led them to play inspirational football. Vanspaul particularly had a resurgence in form under the new coach starting all games under him and spoke very highly of the former Bolton Wanderers manager.
"He made an impact like no other. He always believed in us saying 'we still have games so let's go and give everything on the pitch and come out with no regrets.' We were down at the time (when John Gregory left) but Owen came in and gave a boost. The coach made me play in midfield and when I asked him whether I am fit for this role, he believed in me and pushed the team to get this far. All credit must go to him," said Vanspaul.
Vanspaul has played in a wide array of positions right from his school days, as a striker, winger, in deep midfield and currently as a wing-back. When asked about the secret to his versatility, he said, "I always prefer what the coach needs and like to do what he wants. After coming to a professional setting I learned from the players in that particular position. Like I ask Thapa and German (Germanpreet Singh) when I played in midfield and learn from how they are playing. It is about learning and I want to learn and improve wherever I play."
Speaking about the final, Edwin Vanspaul encapsulated the feeling in the Chennaiyin camp saying, "We were feeling bad that we lost because we played so well and worked hard. But, the owners, the coach and the fans encouraged us a lot and everyone was very sportive with their gestures, praising us for playing so well in the season. There are no words that can describe the gratitude that we have towards our support staff."
When asked about his aspirations for the future, he mentioned his desire to inspire the next generation of budding players and encourage them to go on to achieve more in their career.
"I just want to continue enjoying football and hopefully inspire the next generation of footballers to achieve more than what I did. In our country, a sports career is seen as something where survival isn't possible but I tell young players that it is a big world and if you have a strong heart, you can definitely achieve more."
For more updates, follow Khel Now on Twitter, Instagram and join our community on Telegram.