The 24-year-old opened up on his time in the ISL, young Indian players and more.
There have been few young international players who have carved an impact in the Indian Super League like Hugo Boumous, over the past two years. The Player of the Season last time around, Boumous was an integral part of the FC Goa setup that secured direct qualification to the AFC Champions League group stage. He recently joined Anant Tyagi for an interaction on the league's official Instagram handle.
Among several issues that were discussed, Boumous named Sergio Lobera as his most favourite coach and admitted that Mumbai City FC is his favourite opposition team in the ISL; with a cheeky smile, of course. "I began my professional career in France and then went to Morocco," began Hugo Boumous.
"There, Sergio Lobera was my coach for a year. Later, it was difficult with the new coach. The team was not doing so well. I was still in touch with Sergio," the midfielder mentioned.
"I didn't hesitate to tell him yes," said Boumous about when Lobera contacted him to join FC Goa. He claimed to have followed the league right from its inception as it was broadcast in France. The 24-year-old had a rather subdued first complete season in the ISL. He had scored thrice and assisted on five occasions in the 2018-19 campaign. However, the French-Moroccan bettered it with a significant margin next time around, when he bagged 11 goals and assisted 10 others.
He remarked, "This year, I was more focused about the efficiency. I knew that I had a lot of chances and I make chances, but I didn't have efficiency. Football is only about efficiency." With an impressive goal conversion rate of 31%, one can assume that Boumous managed to create a new benchmark of productivity.
His partnership and on-field chemistry with Ferran Corominas was lauded immensely too. "He (Coro) is an amazing player, no doubt about that," Boumous observed. "We understood each other. When you have to play on the field, it makes it easy if you understand each other, to find each other on the run, the pass and that makes it easier." Boumous also had fine words for the other international stars of FC Goa; even going to the extent of proclaiming Ahmed Jahouh as the best midfielder in the league.
However, it was Brandon Fernandes who significantly caught his attention. "He is a player with lot of quality, passing, technicality and intelligence on the pitch," he said of the midfielder.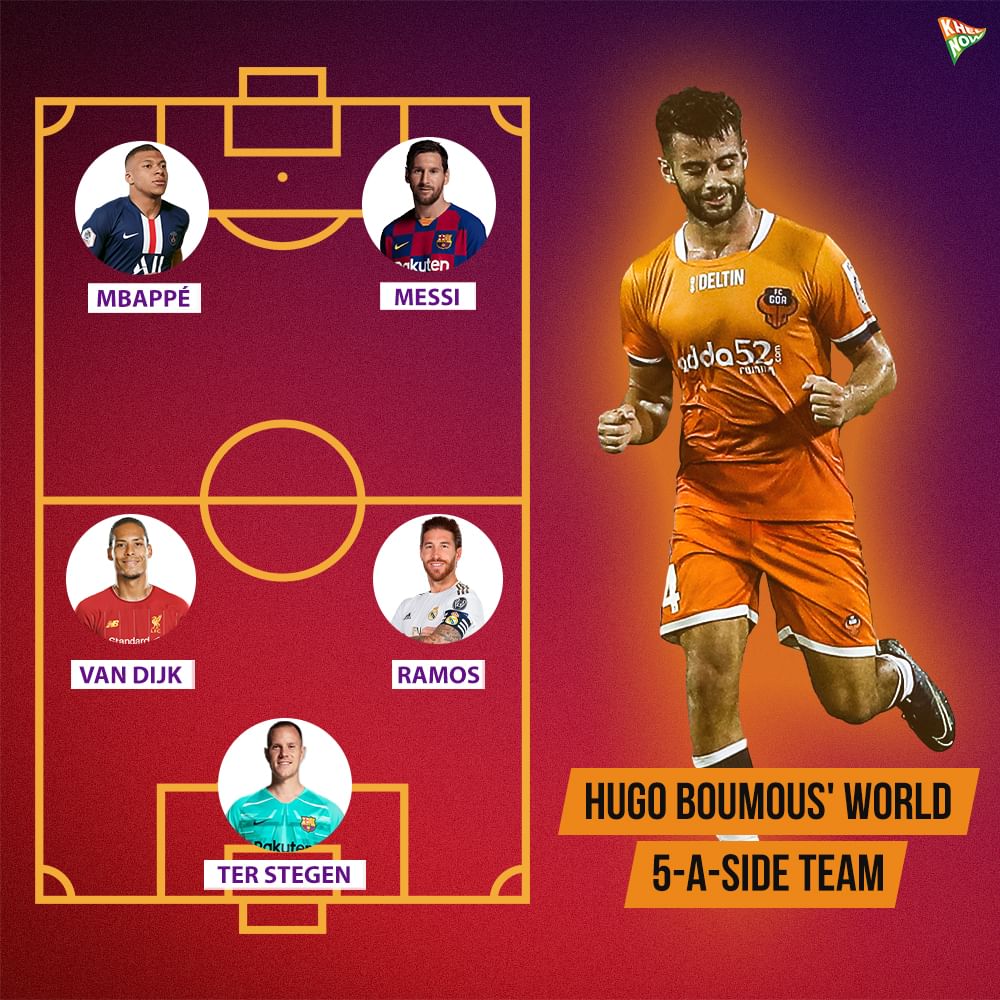 He even said, "He (Brandon) is still young. I have seen him, in the next two years he will take the level of the national team up and make it well and other players will follow him. The way he understands football and the way he plays, the way our team was playing was excellent."
It is interesting to note that the former Moghreb Tetouan player had kept a keen eye on his Indian counterparts across the various teams in the league. "Some of them have great quality, great future," he quipped. "One who impressed me was from NorthEast United…Lalengmawia. I think he will become one of the best in the future. The right-back of Odisha FC, Shubham Sarangi is a great player. The right-back of Kerala, Mohammed Rakip played amazingly this season. Most importantly, they are young, so it's great for the future of Indian football."
Moreover, Mohammad Nawaz is someone who has stood apart among the other Indian goalkeepers in the league. That is owing to the fact that he has adapted brilliantly to Goa's free-flowing, expansive and attacking style of football. The key to that is building coherent offensive moves from the back and Nawaz carries out an essential role in the same.
Accordingly, the forwards from Nawaz's team acknowledge his brilliance too. "He is still a very young goalkeeper. But, he has a lot of quality with his feet, for a goalkeeper to have that kind of quality is rare. Short passes, long passes, everything," Hugo Boumous asserted. He continued, "Nawaz has a great mentality. He is a hard worker. I am sure he is going to improve and become one of the best goalkeepers in India In the next two years."
FC Goa have turned a new chapter in their existence with their entry into the AFC Champions League and the appointment of Juan Ferrando as the new head coach. Whilst the midfielder talked about how integral the Champions League would be for the club, he also had some words for the newly-appointed boss.
"I think he is a good coach and that's why Goa decided to bring him. He has European experience, was in Greece and he took the team in third division and brought them to first division. He's from Barcelona. They have a great academy of coaches. I think he will propose a great style of football, as Sergio Lobera did in the past."
FC Goa have undergone a flurry of changes in recent times. With the likes of Sergio Lobera possibly switching sides to Mumbai City FC, several players from Goa's camp are expected to follow in their former coach's footsteps. Some of them include the likes of Ahmed Jahouh, Mandar Rao Dessai and Mourtada Fall. Thankfully for the Gaurs though, Hugo Boumous has a contract that ties him to the club until 2022.
Yet, his words would surely cause some curiosity to a layman. "I signed a three-year contract. Right now I am an FC Goa player. But, anything can happen in football. Everything is happening so quickly in Goa. So, I don't know, let's see," he replied when asked if he will continue to don the Orange jersey next season. Regardless of the occurrences in the transfer market, Goa will have to keep a firm hold of the stars that they possess currently.
For more updates, follow Khel Now on Twitter and join our community on Telegram.