The 19-year-old asserted that Kerala Blasters fans deserve much better in terms of performances from the club.
Fans are aware of how underwhelming Kerala Blasters' Indian Super League (ISL) 2020-21 season was. Let's face it, three wins from 20 matches is simply not a justifiable outcome. Additionally, apart from the team's collective performances, only a few individuals did well for the team last season. Jeakson Singh was one of them.
Hailing from Manipur, Jeakson's earliest claim to fame happened in 2017, when he represented India in the FIFA U-17 World Cup. He created history by scoring the country's first-ever FIFA World Cup goal. After stints at Minerva Punjab and Indian Arrows, Kerala Blasters roped him in ahead of the 2018-19 season.
The following year he made his ISL debut. Jeakson Singh is currently one of the most important players for the Yellow Army, despite being aged just 19. In an exclusive interview with Khel Now, the youngster spoke on a host of topics, including his club career so far, memories of the U-17 World Cup, plans for the future and more.
The start of his career
After picking up the sport as a young kid, Jeakson said that the first turning point in his career happened post joining Minerva Punjab.
"I started playing football very early. The turning point later happened after I joined Minerva Punjab. I played for their youth teams, got promoted to the senior side and did well. It was from there that I got selected for India's U-17 World Cup squad. That was a big achievement. Later I joined Indian Arrows and here I am now, at Kerala Blasters," he said.
Memories of the FIFA U-17 World Cup 2017
The U-17 World Cup is still fresh in the midfielder's mind. Not surprising at all, given that he is India's only goalscorer in any FIFA World Cup event till date. Regardless, Jeakson chose to spoke on the team's performance as a whole, saying, "I think we could have done much better."
"We did compete well against each of the three teams that we played. But, the truth is that we could have worked harder. After the event, we were all left wanting more. Each of us wanted to play at bigger levels, like the senior World Cup. All of us started having bigger dreams, which is probably why most of us have done well since," he further added.
Joining Kerala Blasters
Jeakson Singh joined the Yellow Army in 2018, but had to wait for a whole year to make his ISL debut.
He revealed the chain of events that led to his signing with the Kochi outfit. "I played the 2017-18 I-League season with Indian Arrows, signed with Kerala Blasters and then returned to the Arrows on loan for one more season. As I've already mentioned in previous interviews, whenever I watched the ISL, I always paid attention to the Kerala Blasters fans. They loved their club and the players. Additionally, they are a team that have always promoted youngsters. In seven seasons, three 'Emerging Players' – Sandesh Jhingan, Lalruatthara and Sahal Abdul Samad – are from KBFC.
"These are the two main reasons why I signed for them. In my first season with the Blasters, I played in the Second Division League with their Reserves team, before making my ISL debut the following year," he recalled.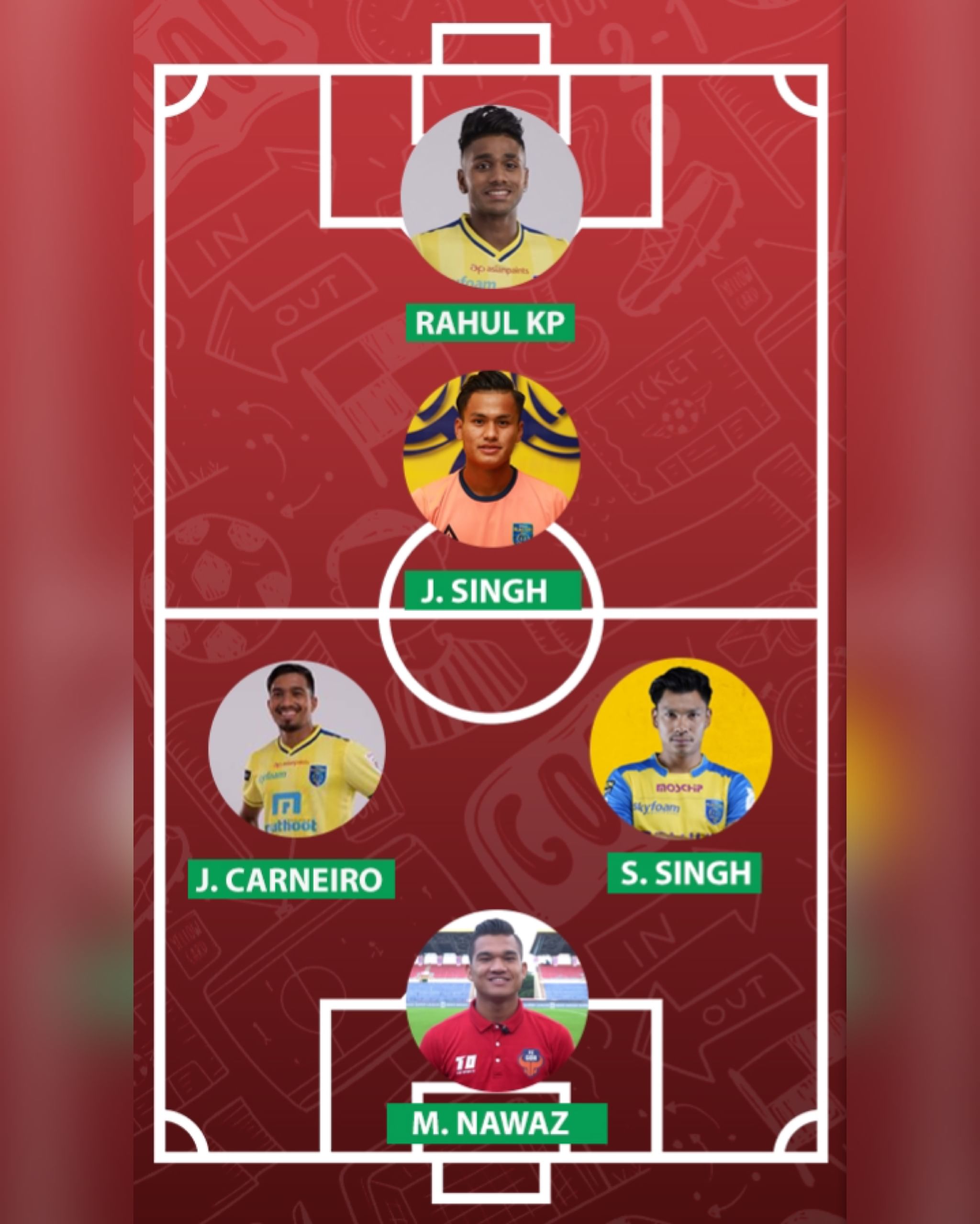 ISL debut
October 20, 2019 would be an important day in the 19-year-old's life, as on that day he played his first-ever game in the Indian Super League. He started against ATK and played a prominent role for 81 minutes, as the Blasters began their season with a 2-1 win.
"The first few ISL matches that I played was a nervous experience for me," Jeakson Singh said. "Looking back, I was worried about how fans will take it if I perform poorly. I ended up thinking too much about it. But, once it started taking a toll on my mentality, I realized the need to get back to the right state of mind. Things were much better afterwards." But, the same cannot be said about the team's campaign, which went from bad to worse before they ended at seventh place.
"I think in both seasons (2019-20 and 2020-21), we did not get the results that we expected. But, that was the only problem according to me. In my first season at the club, we had many injuries too. Both years so far have been pretty good in terms of performances," he stressed.
"Personally, we got too many draws. We should've aimed at winning every match and that will be our objective going forward."
Maiden ISL goal
The Manipuri star had to wait another year since his debut to register his first goal in the league. But, it came at an excellent time, with Kerala Blasters staring at the jaws of defeat against SC East Bengal on December 20, 2020.
"It was a great goal. Luckily, I was at the right place in the right time. I got a chance to perform only in the second half and I am happy that I could make the most of my opportunity. We didn't win and wins are important than whether or not you score. Regardless, I feel happy to have helped the team get an important point by scoring and forcing a draw," he recollected moments from that night at the GMC Stadium in Bambolim, Goa.
Despite being known primarily as a midfielder, Jeakson has stood out from others like him thanks to his versatility. The youngster has played as a central midfielder, defensive midfielder and as a centre-back so far in the ISL. However, he does not see much difference between these positions and expressed his willingness to play as per his coach's demands.
He said, "I like both positions (midfielder and defender). There are not many differences between a defensive midfielder and a centre-back. The only difference is – as a CB I just have the goalkeeper behind me, while as a CDM I have four defenders also. I don't have a set preference and I feel that it's good for me too. I go where the coach wants me to."
Teammates at Kerala Blasters
A very jovial and energetic person, Jeakson Singh gels with everyone in the squad very easily, a fact that has been verified by his teammates at Kerala Blasters.
Speaking to Khel Now, he said, "I don't have any single person who is my best friend, I try to be close with everyone. In terms of the game, I have benefitted a lot from them, especially the foreign players who have been with us. I'm sure that I'm not the only person who will say this – being with them was a great experience."
Contract extension
During the ISL 2020-21 season, the Manipuri starlet also extended his term with the Yellow Army. If all goes to plan, he will play for them till the end of the 2022-23 season. "The reason why I extended is, I would love to do something for the fans. They deserve much more than what they have been getting from us. I really want to give something back for the love and support they've given us over the years," he said.
"I know that we will be starting fresh in the 2021-22 season. But, our focus is only on the trophy and we will be trying solely to bring it to Kochi next summer."
Special message for the fans
Jeakson Singh wrapped up his interaction with us, with a special message for Kerala Blasters fans.
"All of you have been really positive and very supportive throughout last season and before. We will try our level best next season, to make you proud. Keep supporting us and stay safe as these are tough times," he concluded.
For more updates, follow Khel Now on Twitter, Instagram and join our community on Telegram.