ISL/Instagram/@nejraibric
The former Kerala Blasters defender and his wife found the name very special.
Former Kerala Blasters centre-back Enes Sipovic and his wife Nejra Ibric have named their newborn boy 'Imran' after the NorthEast United player Imran Khan. Blessed with a baby boy on May 27, the couple decided to name their newborn after the Highlanders' midfielder, having watched him play on television during the recently-concluded ISL 2021-22 season.
"I and my wife watched almost every ISL game together in Goa last season," Sipovic told Khel Now. During one such game involving NorthEast United, Nejra heard the name 'Imran' and was instantly moved by it. She found the name very special. "It is such a beautiful name. If God gifts us with a baby boy, we will name him Imran." They had decided then and there.
Sipovic, who scored once for Kerala Blasters last season and made 13 appearances, noted that the match which will always be special for the family was perhaps at the Fatorda Stadium exactly four months before their child was born. "It was before the new year, maybe against Mumbai City," he recollected.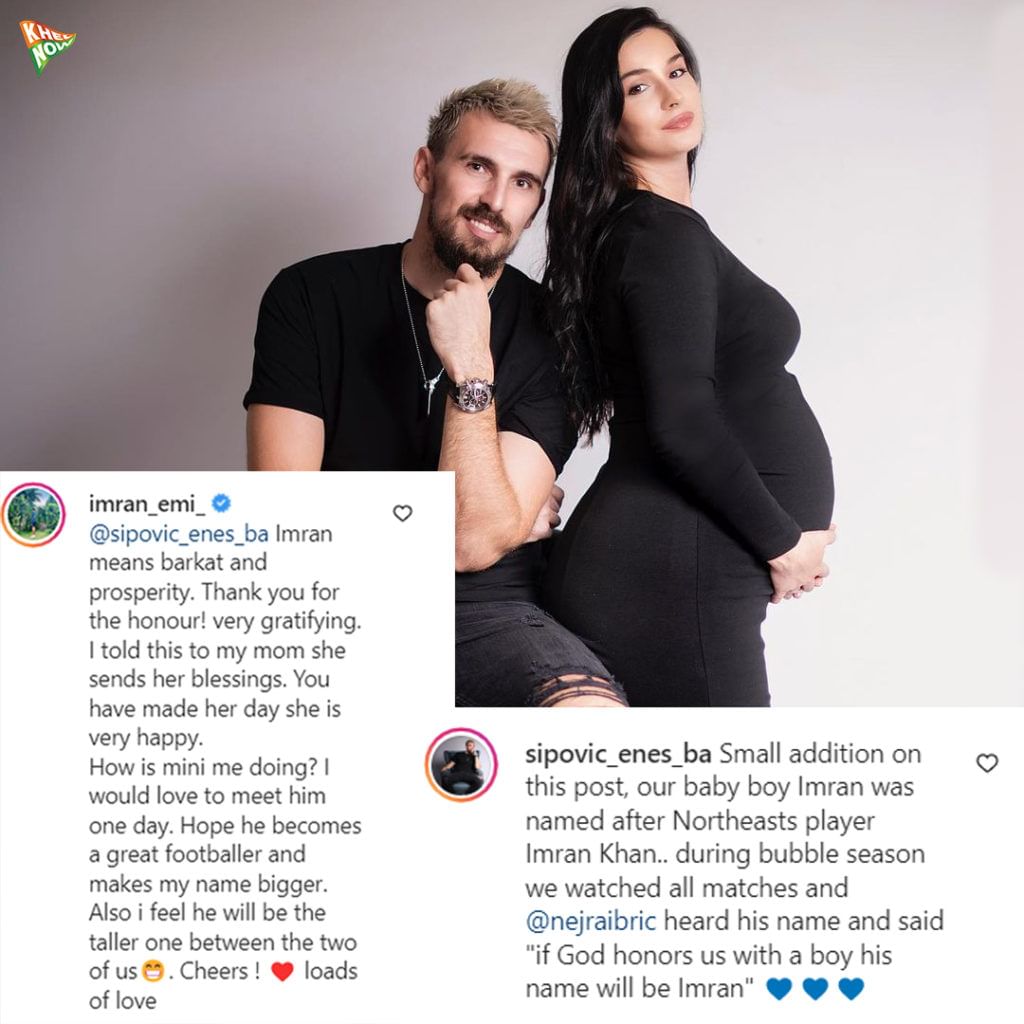 Deshorn Brown scored a special hat-trick that night as NorthEast United mounted a comeback from two goals down to script a fairy-tale result and hold the then defending champions to a 3-3 draw. Somewhere else in Goa, it was going to be special as well. Imran Khan assisted twice and was among the best players in that game.
"The commentators mentioned Imran's name quite a number of times and my wife heard it," Sipovic, 31, recalls. "It was a special name. We decided that if it was a boy, we will name him Imran." They searched for its meaning and learned it meant 'prosperity'. The Bosnian further revealed that the name holds a 'special significance in Islam'. In Arabic "it is regarded as the father of Mary."
Special birth date for Imran Sipovic
As special as the name is, Enes Sipovic also makes a point to bring your attention to the birth date of his little boy. "Again a special date," he says. Imran (Sipovic) was born on May 27, 2022, also the birth anniversary of his former club Kerala Blasters. The Kochi-based club celebrated its eighth year of existence this year on the same day that little Imran saw life.
NorthEast United player Imran Khan reacts
Reacting to Sipovic's post, wherein he revealed how the couple named their newborn after him, NorthEast United midfielder Imran said he was honoured.
"Imran means Barkat and Prosperity. Thank you for the honour! very gratifying," said the 27-year-old. He also revealed that he shared the news with his mother and she sends her blessings. Imran also hopes that the little boy becomes "a great footballer and makes his name bigger."
For more football updates, follow Khel Now on Twitter, Instagram and join our community on Telegram.