The 20-year-old opened up on his journey as a professional player so far and future.
The recent episode of 'Lets Football Live' on Instagram featured Odisa FC defender Shubham Sarangi, who opened up on his ambitions and experiences in Indian football so far.
Fondly called 'Lokal Toka' or the local lad by the fan groups of Odisha FC, Shubham Sarangi started his journey as a footballer at the tender age of 4. Back then, he had moved with his parents from Visakhapatnam to Delhi. Sarangi would watch children playing football from his balcony and fancy himself as one of them. "When I tried to approach them and they refused me as I was too small, my mother would pat my back and play with me."
"I was part of the school team where I used to lead the side. One day the PE teacher asked me to go for the state team trials and fortunately I got selected. Then I started playing, completely unaware of the fact that I was being scouted," he said talking about the initial days. "I got a call for the U-13 national squad for the AFC Qualifiers and played some games in Goa and Iran as well," he further added.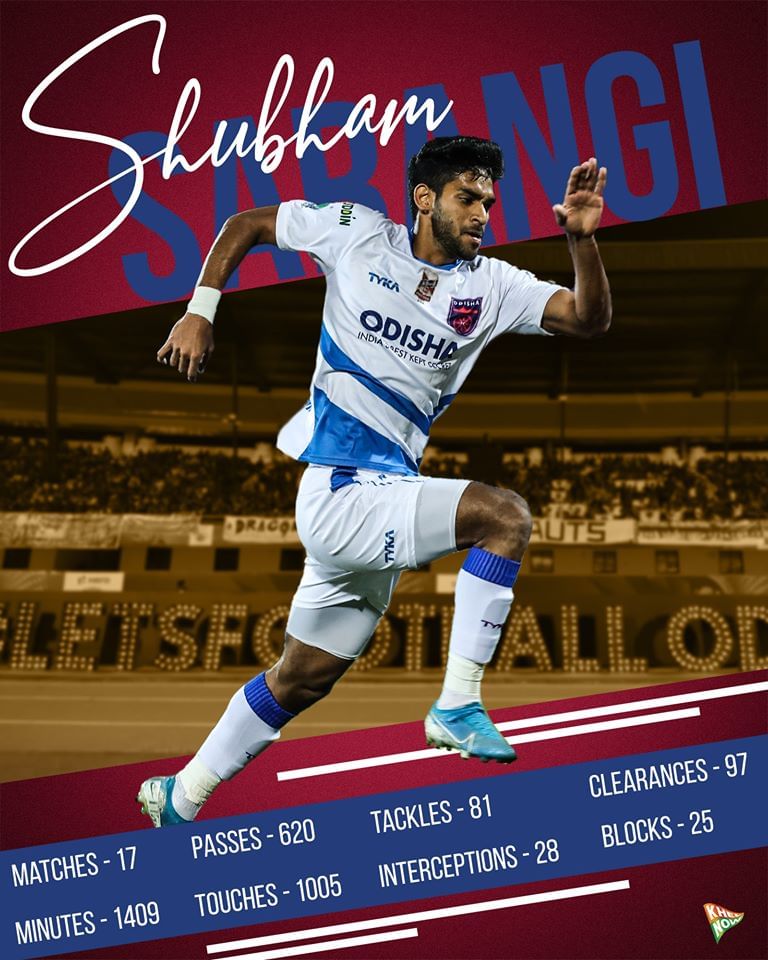 Sarangi also emphasized on keeping focus on the game and being passionate as some key factors to be successful. He thanked his parents for being supportive throughout. During the chat, he revealed that his grandfather was a footballer in his younger days. "He is old, but still continues to visit Kalinga (stadium) whenever I have a game."
"When I was selected for the AFC U-14 Championship in Iran, I was just 12. That feeling of representing my country drove me with a desire to choose football as my profession." Shubham Sarangi recalled his father's advice that had further inspired him. "Whenever we get a chance, we must deliver something to the country," he quoted.
The defender is one of the very few players in the country who have come up from the famous Aspire Academy. Upon being asked about the four-month stay in Doha, Sarangi said, "It is one of the biggest and finest academies in the world. Almost every learner at the academy would've represented his nation at some level. They possess a great youth system and their sessions are very technical. The coaches over there, focus on basics and push you to be the best."
The 20-year-old defender also shared a sad memory of his life when he failed to make it to the final 23-man squad for the FIFA U-17 World Cup in 2017. "I came back home, prayed and told myself that I won't stop until I become part of the national squad. The next day I was at training."
After that, Sarangi was picked up by Delhi Dynamos and started frequently visiting Abhijit Bharali, their technical and performance analyst (now at Odisha FC).
"I ask him for a detailed analysis of my game. I go through the clips and statistics just to make sure I never repeat those mistakes. That is the first thing I do to make myself better day-by-day."
"Whether it is Delhi or Bhubaneswar, the environment inside the dressing room has always been inspiring. From great players like Marcos Tebar and Xisco Hernandez to the club management and the owner himself, everyone is concerned about my performance," he said.
During his time with the U-13 and U-14 national teams, Shubham Sarangi played as a striker and after joining Delhi Dynamos, he shifted into midfield. However, in the recent season he was slotted in at right-back by Josep Gombau. Speaking about his versatility, he said, "At this age, if I am able to play in different positions, I must be happy with myself."
He revealed how Gombau showed great confidence in him as a full-back and put him in the defence during pre-season friendlies in Spain and Qatar. Ever since, he emerged to become the first-choice right-back for the Juggernauts and appeared in 17 out of 18 games during ISL 2019-20 – the most appearances by any Indian teenager.
Revealing his favourite right-back in the game, he said, "I have always admired Dani Alves for his skills and confidence. But, among young players, I follow Trent Alexander-Arnold."
Moving on, Anant Tyagi asked him 'What will be your reaction if (Sandesh) Jhingan joins Odisha FC amidst all the rumours?' to which he replied, "It would be a dream come true moment for me to share the dressing room with him."
"In terms of passion and respect towards the game, I compare Jhingan bhai with Sergio Ramos," he added.
Stating the major changes in him within the last couple of years, Sarangi said, "I have been able to develop a professional mindset. I have realized the fact that we have to maintain a personal sophistication, as we are being watched by a huge public everyday. I cannot be silly on social media or as a person." Answering another question, he pointed to Anirudh Thapa, Rowllin Borges and Vinit Rai as top Indian midfielders of his generation. He said Diego Carlos was the toughest opponent he's faced because of his ambidextrous footwork.
Answering another fan question about his plans of playing abroad, Shubham Sarangi said, "No matter whichever country I play in, I will choose a club where I can develop myself; be it in Europe, America or even Asia."
Moreover, he also mentioned Jerry Mawihmingthanga and Vinit Rai as some of the talented prospects at the club, while he expressed his admiration towards the latter for being the most hardworking player.
Talking about Manuel Onwu's heroic cameo in the latter part of last season, Sarangi exclaimed, "He came in like he was part of the team since years. He connected to us very quickly. That was the secret behind his performance." At the same time, he also urged the club management to bring Onwu and Aridane Santana back to the squad.
Lastly, Shubham Sarangi sounded very positive, as he expressed his thoughts about newly-appointed gaffer, Stuart Baxter. "Baxter's philosophy is mostly similar to the previous coach. So, it would be better to understand and adapt."
For more updates, follow Khel Now on Facebook, Twitter, Instagram, Youtube and join our community on Telegram.