Our selection is a healthy blend of youthful exuberance and proven experience.
The Indian Super League has revolutionized the ecosystem of Indian football ever since it's inception in 2014, bringing a big surge in interest for the beautiful game. By implementing more professionalism which stays in line with that followed by European clubs, the ISL has given football a more productive platform.
As a result, it gave exposure to some of the best talents in the country to prove their talent against formidable opponents. By integrating a balanced mixed of Indian players with some well-known foreigners, the competitive level of footballers in India has taken a big step forward.
While the ISL has its' negative and positive factors, there is little doubt it gave the spotlight to some excellent talents to have participated in it. As a result, certain players have risen above the others to win matches and influence title-winning campaigns for their respective sides. The ISL has seen some brilliant players across its six seasons, but here we'll pick out the eleven best in our Team of the Decade.
Goalkeeper: Subrata Paul
Much before Gurpreet Singh Sandhu, Subrata Paul was the one coming up with match-winning performances for club & country. The Tata Football Academy product has been excellent for Jamshedpur FC, but impressed for Mumbai City FC and NorthEast United in the early seasons of ISL as well. His peak came in the 2017/18 campaign, when he won the Golden Glove award keeping seven clean-sheets from 18 games.
Paul's been a rock in between the posts throughout his ISL career, keeping 26 clean sheets from 79 games. In that, he's averaged more than three saves per game, having a commendable 70% saving percentage as well. Regardless of whoever he played for, Subrata has remained a wonder in pulling off clutch saves, winning numerous points for his sides and proving why he's held in such high regard in Indian football.
Right-Back: Seriton Fernandes
A player to have tapped into his utmost potential under Sergio Lobera, Seriton Fernandes has been a reason for the Gaurs' dominance under the Spaniard. A robust figure down the right flank, the full-back's relentless nature has taken him to newer heights ever since making his ISL debut. A mainstay for the Gaurs over the last few seasons, Fernandes remained an absolute work-horse in pressing down wingers, making crucial tackles and fending off danger.
In 48 games, he's averaged more than four tackles and two clearances per game, putting in some defensive clinics in recent years. Even venturing forward, the former Churchill Brothers' man has been efficient, coming up with the occasional assist and always being an option in the final third. Fernandes' reliable presence has made him crucial first team player for Goa, who turned him into among ISL's underappreciated gems since roping him in.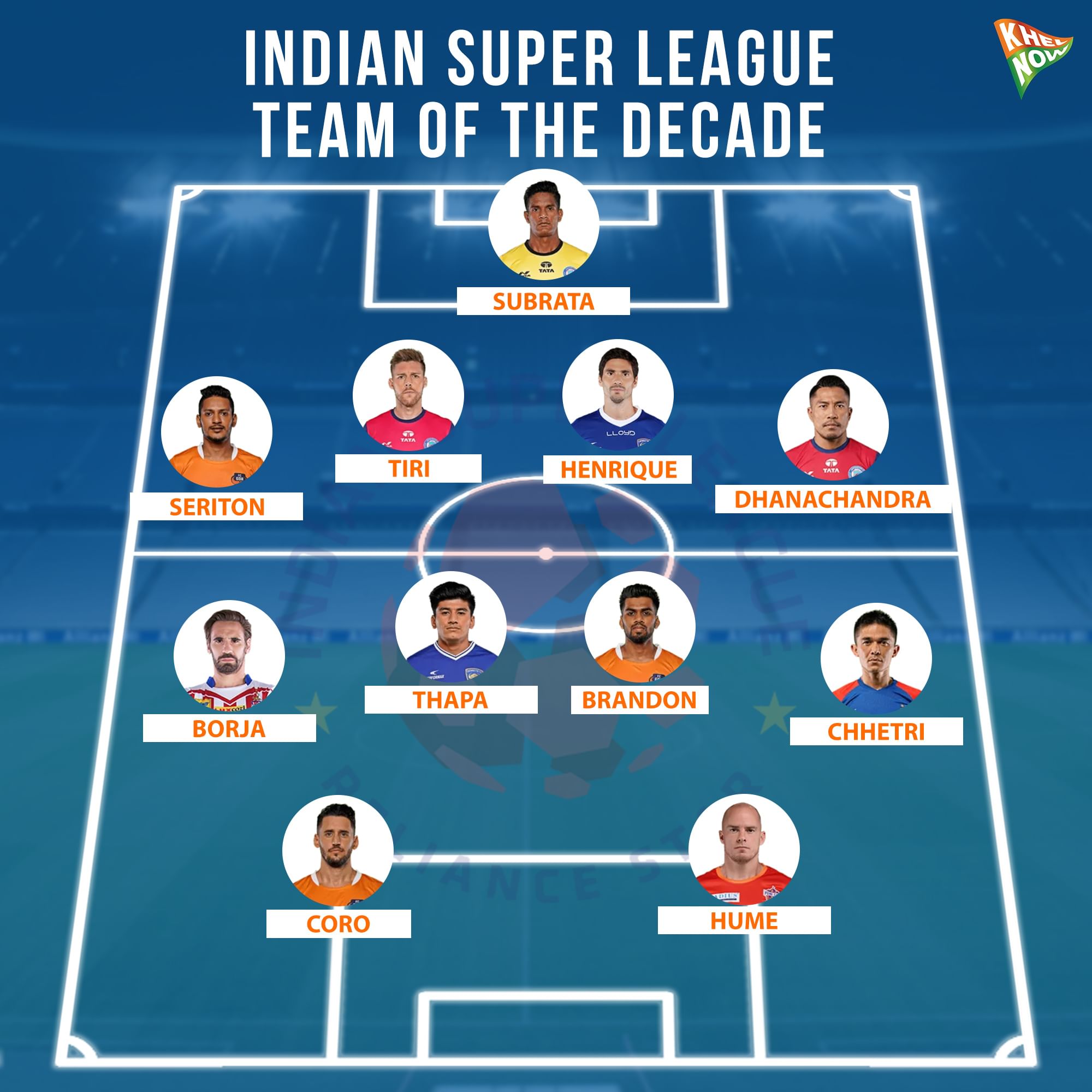 ISL: Best XI of the decade
Centre-Back: Tiri
Tiri arrived in India just about to hit his absolute peak and turned out to be a marvel for ATK. Slotting into the heart of defence effortlessly,  he has put on some brilliant defensive performances. The Spaniard reached the playoffs twice with ATK, playing a big part in their 2016 ISL win. Even after moving to the young Jamshedpur FC, he's helped a strong stance in their defence and inspired them to many narrow wins.
Tiri has averaged two tackles, almost two interceptions and more than eight clearances per game in his 69 appearances in the ISL. Astonishingly, the Spaniard's never been sent off, proving how controlled his aggressive style is. He's been amongst ISL's standout defenders in this decade, churning out many clean-sheets for both ATK as well as Jamshedpur FC and guaranteed to inspire his side to even more heading in the next decade.
Center-Back: Henrique Sereno
The former FC Porto defender arrived in India with a stark reputation and had an immediate effect on restructuring the defences of two champion sides he played with. Sereno was quite excellent for ATK in their second title-winning season, giving some big performances from centre-back to fortify their backline. He was then picked up by Chennaiyin FC in the season after that, bringing steel and a never-say-die attitude for John Gregory's side.
In his two seasons in the ISL, Sereno made 28 appearances in which he averaged more than two tackles, five clearances and an interception per game to bring a protective layer to his side's defence. The Portuguese left as the only consecutive ISL winner, leaving a big gap in Chennaiyin's backline.
Left-Back: Dhanachandra Singh
Dhanachandra Singh was a versatile cog for Chennaiyin FC in their inspired initial ISL success. The Manipuri defender put in some efficient work in their first two seasons. Dhanachandra's reliability and defensive prowess helped fortify the Marina Machans, as he played a part of their 2015 title victory and aided them into reaching the semi-finals in the inaugural season. Injuries dented his career afterwards, but he put in some solid performances for Jamshedpur FC last season too.
Dhanachandra might not have appeared that often, but in just under 40 appearances, he averaged more than two tackles, four clearances and two crosses per game. This signifies how prolific he was on both ends of the field. Singh might not play in the league anymore, but his brilliant work earlier in this decade cannot be undermined.
Right Wing: Borja Fernandez
ATK's initial success in the ISL was bound to their expert recruitment before season one, signing some excellent Spanish talents to fit in with their philosophy. The best of the lot, probably, was Borja Fernandez who led them to a lot of joy in the first three seasons. The former Getafe player was an absolute rock-solid figure in midfield, creating quite a lot of chances with his expert distribution skills and also aiding his defence by being a robust figure defensively.
Borja won two ISL titles with ATK, inspiring them to three playoffs qualifications and excelling under both Antonio Habas as well as Jose Molina. His dynamic presence, efficient work-rate and never-say-die spirit added that unbreakable aura around the Kolkata giants.
Centre-Midfielder: Anirudh Thapa
Anirudh Thapa arrived in the ISL still an inexperienced teenager, but his fighting spirit and creativity in midfield compelled John Gregory to give him a shining spot in his Chennaiyin FC side. The 21-year-old played as an impact substitute in Chennaiyin's title-winning season, being a spark with his instinctive movement and compelling work on the ball.
He's since grown into among their pillars and ultimately earned his national team spotlight as well. In 44 ISL matches, Thapa has two goals and four assists but has been a hard-working cog for the Marina Machans. He's been a tenacious figure with his tireless pressing, composed distribution and adding that cutting-edge to their game. Still only in his young years, he's guaranteed to only get better to pull the strings in Chennaiyin's midfield.
Centre-Midfield: Brandon Fernandes
Brandon Fernandes has experienced new highs ever since he joined up with FC Goa in the ISL. Sergio Lobera has transformed him into his creative weapon by giving freedom to express his wondrous talent. The 24-year-old has been the Gaurs' x-factor in attack with his cutting-edge passes, impressive vision and lively figure in the final third. In 45 ISL matches, Brandon has recorded an admirable five goals and 13 assists to inspire his side.
Moreover, he averages more than two tackles a game, proving him to be a real workhorse in churning out wins for his side. Brandon has made the second-highest number of assists in ISL history, only behind Marcelinho who has played more games than him. As he keeps waving his magic for the Gaurs, it's assured that his terrific numbers will only get better.
Left-Wing: Sunil Chhetri
Age is just a number for Sunil Chhetri, who transitioned from the I-League to ISL amazingly well ever since its inception. He felt a bit out of place when playing for Mumbai City FC, but truly hit his peak once Bengaluru FC entered the fray in 2017. Be it playing as a left-winger or centre-forward, he's tormented ISL defenders with his undented willpower and brilliant work in the final third.
Chhetri is the highest scoring Indian player in ISL history with 35 goals from 66 matches! He was granted the "Hero of the League" title in the 2017/18 season, in which he also scored 14 goals, the most achieved by any Indian in a single campaign. With five goals already this season, he's still going strong to consolidate himself as the greatest Indian ever to play in the competition.
Centre-Forward: Iain Hume
The Canadian hitman was an ever-bearing terror for ISL defenders in his years playing at the league, where he loved to show off his goal-scoring prowess. Hume excelled in the initial seasons with Kerala Blasters and ATK, enjoying his utmost success with the latter. He won the ISL with the Kolkata-giants in 2016 and scored 18 goals for them in his two seasons with them.
He also helped Kerala to some success, especially leading them to the final in the inaugural season. Hume was like a sly fox in the final third, utilizing his expert finishing techniques to score clutch goals and being a feared striker. Despite injury troubles, he still scored 28 goals and is the third-highest goal-scorer in ISL history. The Canadian's put-bull mentality and fighting spirit drove him into scoring many, also inspiring crucial wins for his sides.
Centre-Forward: Ferran Corominas
Being the highest-scorer in ISL history, the impact Ferran Corominas has made since joining FC Goa has been extraordinary. He's been the backbone of the Gaurs success of recent, embodying Sergio Lobera's unrelenting attacking philosophy with his brilliant work leading their line. Coro has maintained amazing consistency since coming on, having scored 40 goals in 46 appearances for FC Goa.
Not only that, but he has also recorded 13 assists and proven to be their creative beacon whenever they've landed up in trouble. A two-time Golden Boot winner has topped the scoring charts in the 2017/18 and 2018/19 seasons but is extremely unlucky not to have won the ISL title. Yet, as long as he continues his goal-scoring phenomenon, it's only a matter of time before he lifts the trophy with Goa heading into the next decade.