We have two teams – ATK Mohun Bagan and SC East Bengal – representing the state in the top flight of the country.
Ever since football gained prominence in India, West Bengal has been at the forefront of its development. There's a reason why Kolkata is called 'The Mecca of Indian football.' The oldest football clubs in India originate from the City of Joy and the state of West Bengal – ISL outfits ATK Mohun Bagan and SC East Bengal and I-League side Mohammedan Sporting being among the most prominent names.
Over the years – there might've been a drop in the quality of West Bengal football, but the craze hasn't gone away. Among all Indian states, West Bengal still ranks No.1 in terms of the following for the sport. As a result, hundreds of aspiring local talents try their hand at the sport every year.
In the last few years, a number of prominent Indian players have come from Bengal. ATK Mohun Bagan and SC East Bengal have given opportunities to many, while others have risen from elsewhere. With so many players from the state playing in various ISL clubs, Khel Now looks at the best XI of players from the state:
Goalkeeper: Arindam Bhattacharya
West Bengal has produced some top-quality goalkeepers over the decades. Subrata Paul is the most prominent name named as 'The Spider' for his heroics for the Indian national team. However, currently, Arindam Bhattacharya reigns over everyone.
The ATK Mohun Bagan goalkeeper has been among the most consistent custodians in the Indian Super League in the last few years. He won the Golden Glove award last season, keeping 10 clean-sheets and the best defensive record in ISL.
The 31-year-old's brilliant reflexes, shot-stopping ability and dominance inside the box make him a stellar goalkeeper. There are many quality goalkeepers hailing from West Bengal currently – but nobody has outperformed the brilliant Arindam in recent times.
Right-Back: Prabir Das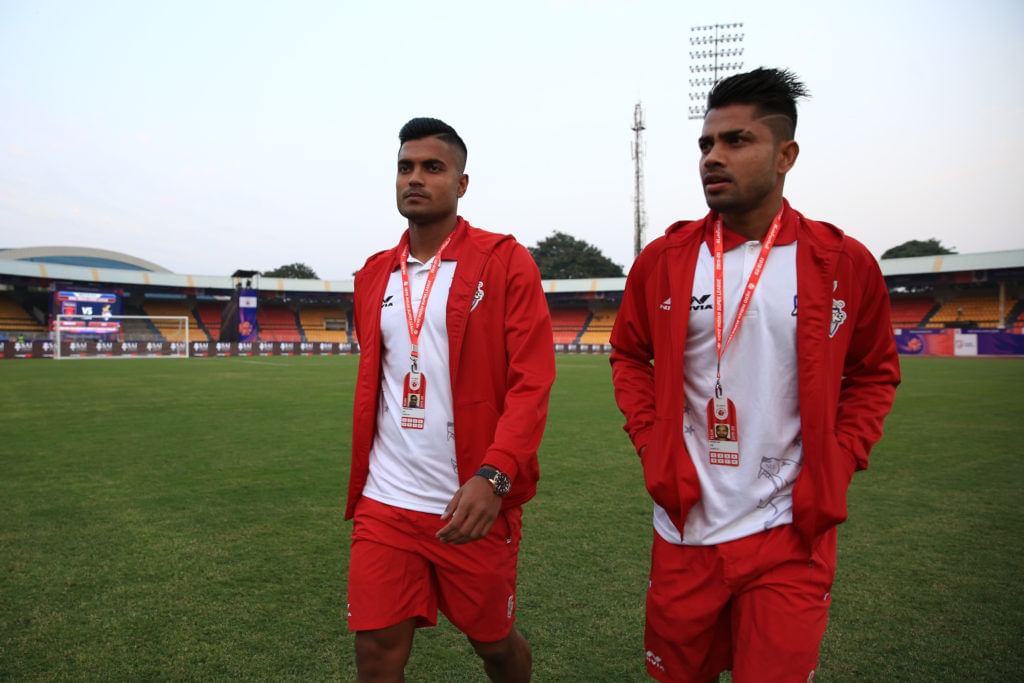 He's won two ISL titles and is now in line to play in the AFC Cup with the Mariners too. An electric, proactive figure on the right, Das' forward movement and crossing ability are his biggest assets.
Prabir Das has come a long way since making his professional debut for Pailan Arrows in 2012. The 27-year-old has worked hard to cement a place for himself at ATK Mohun Bagan with his consistent performances in recent seasons. In their title-winning 2019-20 season, Das was one of their best performers with five assists.
He showed great character to recover from a nasty injury and come back strongly for ATKMB in the 2019-20 season. Das has since been among the best-performing full-backs in the country and is definitely the best right-back among players from Bengal.
Centre-Back: Pritam Kotal
While Pritam Kotal has played as a right-back for many years, Antonio Habas has transitioned him into a centre-back recently. At ATK Mohun Bagan, Kotal has played as a centre-back in a 3-man backline without any issues.
Infact, he's actually been really good at it. With his decisive tackles, aerial ability, and intelligence to cut out attacking chances, he's helped the Mariners maintain a stubborn defensive line. Kotal definitely ranks as one of the best centre-backs from West Bengal right now with his impressive work in recent times.
In the 2020-21 season itself, he helped ATKMB keep 10 clean-sheets, making 75 tackles, 81 clearances and 46 interceptions in 22 ISL games. Even as a makeshift CB, Kotal performs better than many in Indian football.
Centre-Back: Sarthak Golui
Recognized as one of the best young defenders in India, Sarthak Golui has a bright future ahead. But, right now, he is still one of the best young centre-backs in the country.
The 23-year-old enjoyed a great spell at Mumbai City FC – for whom he regularly played. He operated as a centre-back and a right-back for them, but excels in the central role. While injuries held him back last season, Golui still looks set to achieve big things in the near future.
An aggressive, proactive defender who loves to clear danger in clutch areas – Golui has shown signs of a future India international. He is currently among the best defenders from West Bengal.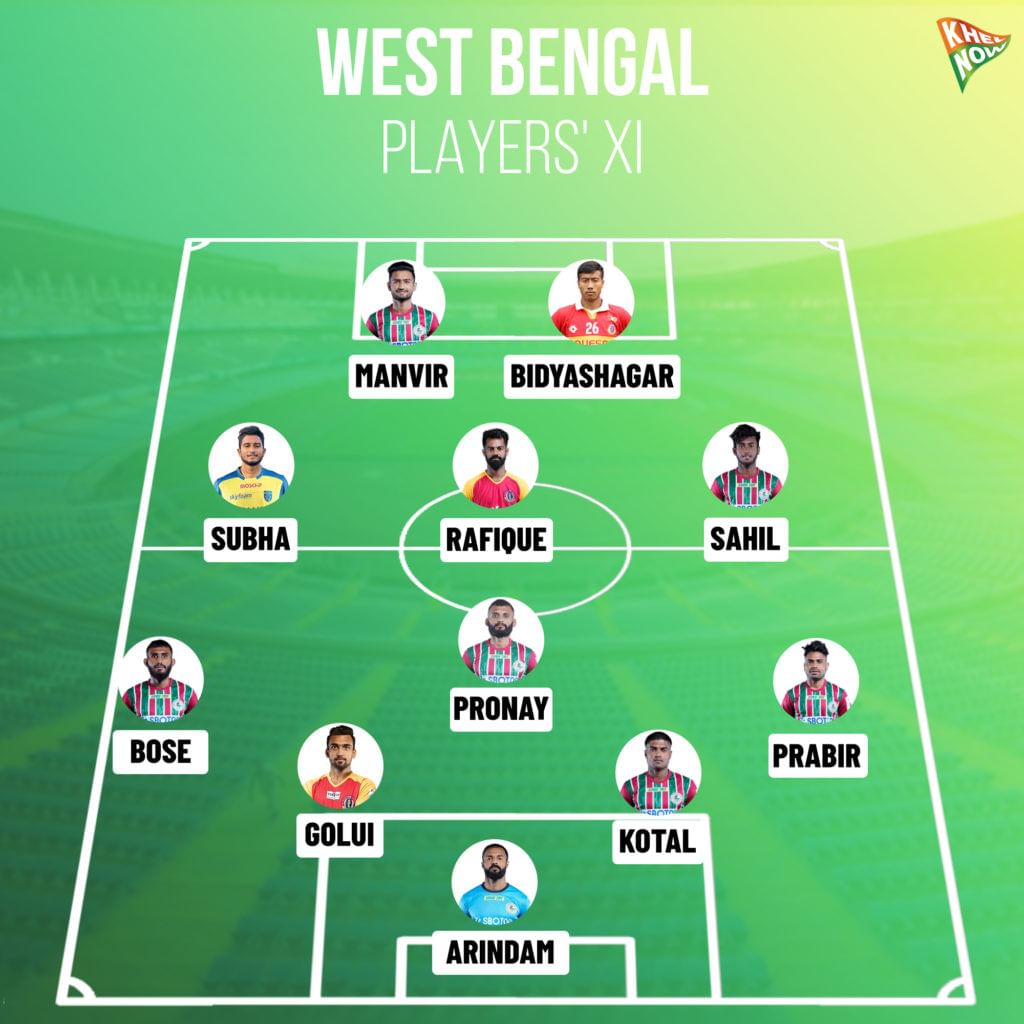 Left-Back: Subhasish Bose
Subhasish Bose has maintained his impressive development over the years to become one of the best left-backs in India. From impressing at Bengaluru FC to having his best years at Mumbai City to featuring for ATKMB, the left-back has done it all.
He's already made 72 appearances in the ISL. But, Bose still has a long way to go in his career and much to improve upon. He had a decent debut season with the Mariners, featuring heavily and providing some sturdy defensive performances.
Bose's versatility, strong defensive skill-set, and hard-working ability make him an asset for any side. He's definitely the most efficient left-back to come out from West Bengal in recent times and will look to work hard to become India's first-choice LB soon.
Defensive Midfielder: Pronay Halder
Pronay Halder can be a really polarizing figure to watch. While the gritty midfielder tends to produce compelling performances, his overzealous nature often costs him. In the 2020-21 season, Halder picked up eight yellow cards – the most for any player in the ATK Mohun Bagan squad.
But, the experienced midfielder has proven to be a great squad player for Antonio Habas' side over the years. With his ability to cut out attacks and start counter-attacks with his impressive through balls, Halder can be a real surprise package.
He's definitely among the best midfielders to have risen from Bengal.
Right Central Midfielder: SK Sahil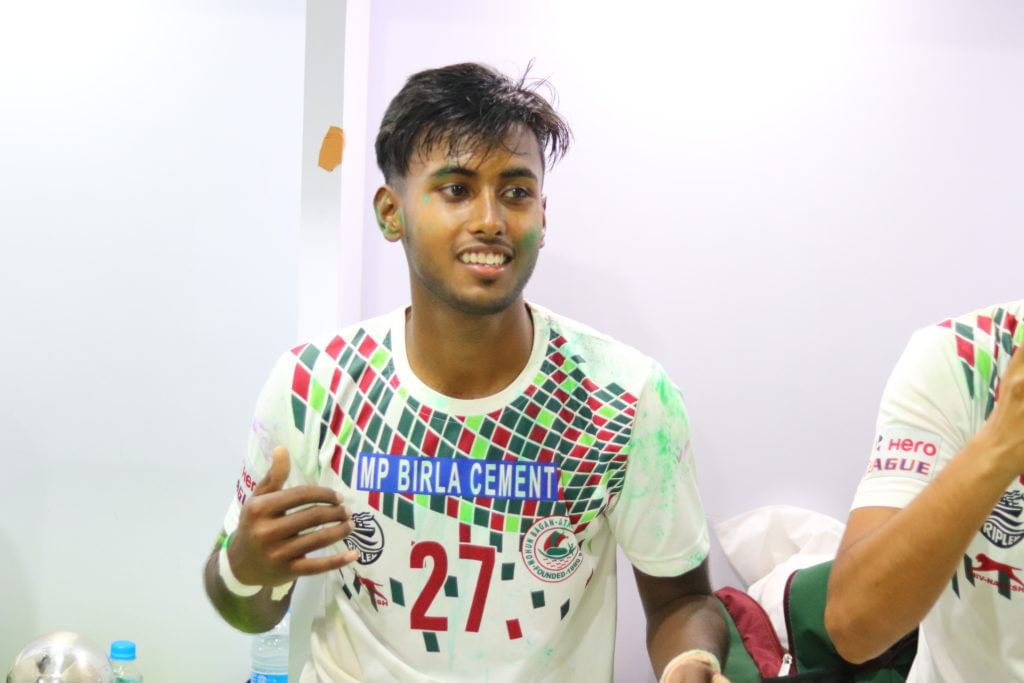 Sheikh Sahil's rise to the top of Indian football has been an inspiring story. Coming from a disadvantaged background in Barrackpore, the young midfielder's hard-work helped him to the top. He had his breakthrough season for Mohun Bagan in their 2019-20 I-League winning season.
Sahil made 16 appearances for Kibu Vicuna's side, being one of the pillars of their success. He then earned a move to ATK Mohun Bagan last season and made a few appearances in the ISL in a competitive setup.
The hard-working midfielder is one of the real success stories to come out of West Bengal football in recent years. With his grit and dedication to succeed, he's definitely a future star to watch out for at ATKMB.
Central Midfielder: Mohamed Rafique
Mohammed Rafique has had quite a history in the ISL over the years. He scored the famous winner for Atletico de Kolkata in their first-ever ISL final win to make a name for himself.
Since then, he's played for the likes of Mumbai City, Kerala Blasters, and SC East Bengal in the competition. The 28-year-old's versatility, never-say-die attitude and street-fighting nature make him an asset for any side.
Rafique was one of East Bengal's better-performing players in their debut ISL season and played in various roles. He's played in every single ISL season barring the 2017-18 one and maintained decent consistency with his performances too.
Left Central Midfielder: Subha Ghosh
Another bright product of the Mohun Bagan academy, Subha Ghosh had his breakthrough season in their 2019/20 campaign. Kibu Vicuna saw a lot of potential in him and gave him many appearances, with Ghosh scoring three goals in their I-League title win.
The youngster was caught in a transfer battle between Kerala Blasters and ATK Mohun Bagan last season. After a lot of back-and-forth, he was finally able to join the Blasters. The 20-year-old still has his best years ahead of him and will look to break through the ranks at the Kochi outfit.
A speedy, clinical individual with an eye for goal, he is guaranteed to torment defenders going forward. But, considering what he's already achieved and how he performed for the Mariners, Ghosh already ranks among the best young talents to come out of Bengal.
Striker: Bidyashagar Singh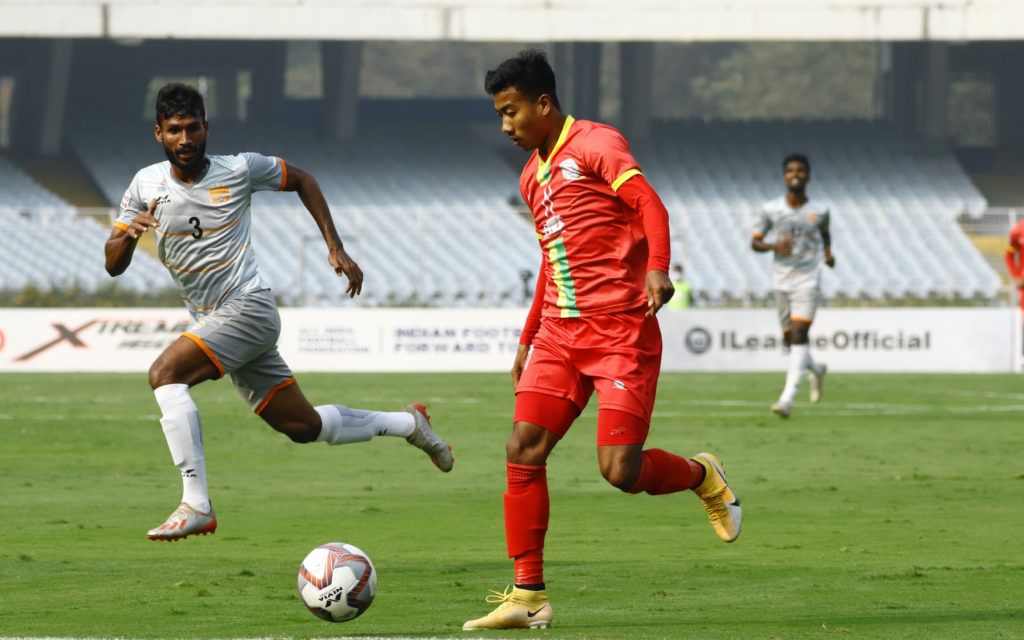 Bidyashagar Singh had to bide his time to gain prominence in Indian Football – but did just that last season in the I-League. The Sikkim-born forward is not originally from West Bengal, but has represented the state in the Santosh Trophy after staying there for years.
For the Red & Gold Brigade, he scored nine goals in 29 appearances. He then joined TRAU FC, for whom he scored 12 goals last season, winning the I-League Golden Boot.
Bidyashagar's pace, goalscoring ability and trickery makes him one of the most exciting talents in Indian football. Guaranteed to play in the ISL soon, he's definitely among the most talented stars to come out from West Bengal in recent years and enjoyed a lot of success in the state.
Striker: Manvir Singh
Another player not born in West Bengal, but Manvir Singh has also represented them in the Santosh Trophy. After his youth career at Minerva Punjab, Manvir played in Kolkata for a few years, representing Mohammedan Sporting and Southern Samity.
He's since come a long way, starring for ATK Mohun Bagan last season. After a few prolific years at FC Goa, Manvir had a great debut campaign with the Mariners. He scored six goals and registered three assists – despite often playing out of position on the right wing.
Touted as India's next big No. 9, Singh still has a lot of big things to do in the future. But, whatever he does, the 25-year-old will always be indebted to West Bengal football for his evolution.
For more updates, follow Khel Now on Twitter, Instagram and join our community on Telegram.