Both teams had contrasting fortunes in the 2020-21 season.
The 2020-21 domestic season concluded in March, following the wrapping up of the Indian Super League (ISL) and I-League. Kerala had equal representation in both leagues, with Kerala Blasters participating in the ISL and Gokulam Kerala plying their trade in the I-League.
Both teams had contrasting fortunes in the 2020-21 season. While Kerala Blasters settled for a humiliating tenth-place finish in ISL 2020-21, Gokulam Kerala were crowned champions of I-League 2020-21. Regardless, both teams had more than a few good individual performers, prompting us to think of something interesting.
On that note, let's take a look at how a combined team of Gokulam Kerala and Kerala Blasters players would line up based on the performances from the 2020-21 season. We have also used the bare minimum of foreign signings because of how good both teams' domestic talents were throughout the course of their respective campaigns.
Goalkeeper: Albino Gomes (Kerala Blasters)
Albino Gomes was one of the few positives that the Yellow Army took home after a disappointing season. The Goan featured the entirety of the league stage. The team conceded 36 times across their campaign, but that number could have been even higher had it not been for Gomes' efforts.
The 27-year-old made 58 saves including two penalties and also kept three clean sheets. He also made an assist – the only one registered by a shot-stopper this season – when Jordan Murray scored off his long-ball against East Bengal in January.
Right-back: Sandeep Singh (Kerala Blasters)
It took six matches and some disappointing performances from Costa Nhamoinesu and Bakary Kone, for Kibu Vicuna to hand Sandeep Singh his first start of the season against Hyderabad FC in December. On that day, the 26-year-old excelled and KBFC won. Since then, he started in most games of the Yellow Army and later even switched to right-back from centre-back, following an injury to Nishu Kumar.
We felt that Sandeep's performances as a right-back were noteworthy. He played as a defensive full-back, often staying behind when his partners in defence bombed forward. The former ATK star's versatility is another key factor that makes him an unavoidable presence in this XI.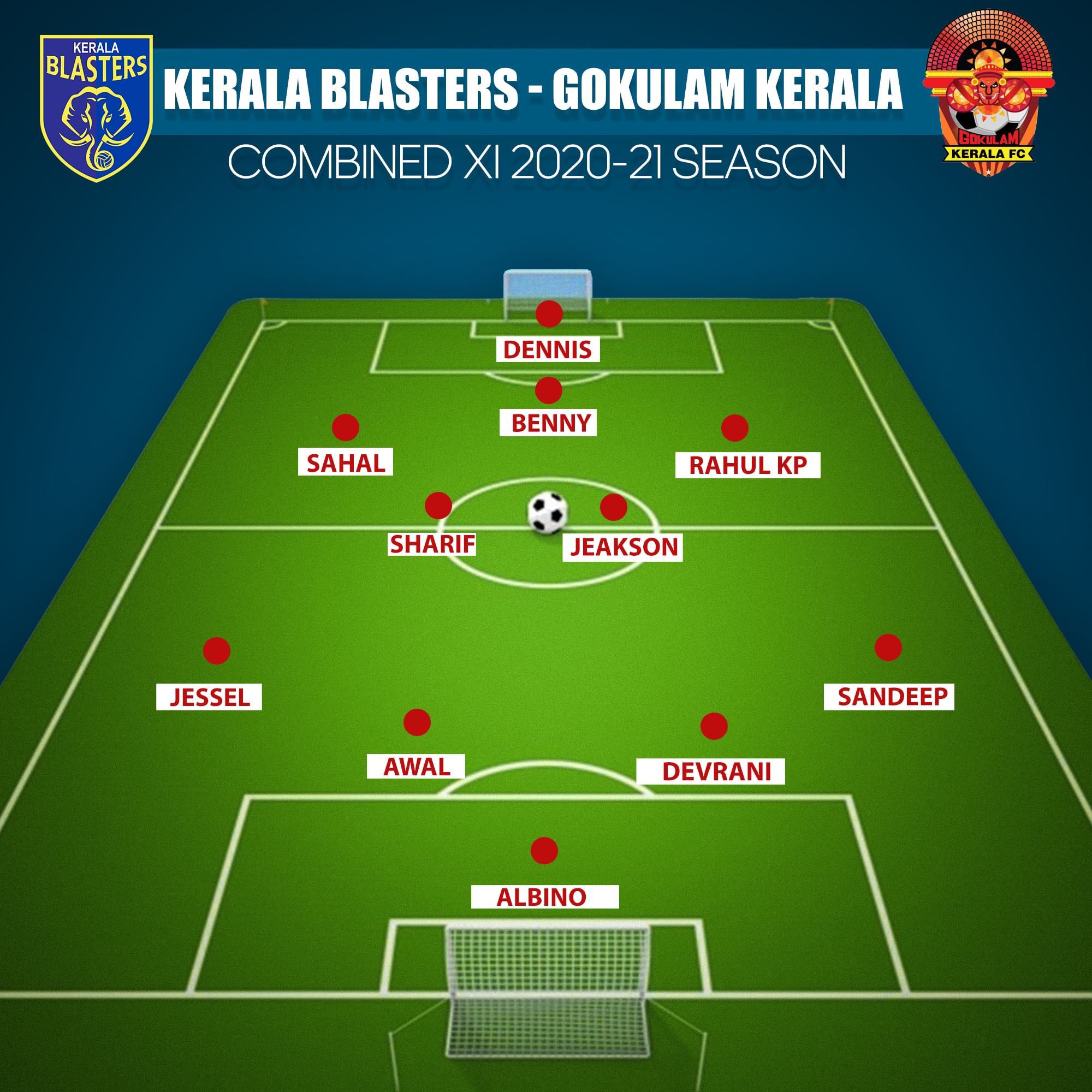 Centre-back: Deepak Devrani (Gokulam Kerala)
Deepak Devrani seems to be the lucky charm of his teams. At Gokulam Kerala, he lifted his third I-League trophy, having won it once each with Mohun Bagan and Minerva Punjab.
Initially, Devrani struggled to adapt to the conditions at his new club, but we guess that can be attributed to the pandemic, bio-bubble and related issues that most players find hard to cope with. But once he fount his rhythm, the 28-year-old was unstoppable. Gokulam Kerala conceded only 17 goals throughout the season and some of the credits must go to the defender.
Centre-back: Mohamed Awal (Gokulam Kerala)
Similar to Devrani, Awal also found it hard to adapt at first. But, it did not take long for the Gokulam Kerala captain to show what he is capable of, as he led the team to their maiden I-League trophy.
The Ghanaian centre-back forged a strong partnership with Devrani in defence. The duo's collective performances were crucial, especially in the final stages of the league. While the latter often bombed forward in attack, it was Awal who stayed behind to carry out defensive duties and that was also very important for the side.
Left-back: Jessel Carneiro (Kerala Blasters)
One of KBFC's best performers over the last two seasons, Jessel Carneiro's selection to this XI is a no-brainer. He is one of the best offensive full-backs in the league and played a good role in many of the Blasters' attacks this season.
Although Carneiro was not as good in 2020-21 as he was in the season before, he remains one the Yellow Army's first-choice starters. His pace and crossing abilities make him a threat along the flanks, while his ability to track back and close down opposition attackers make him a good defender too.
Central-defensive midfielder: Jeakson Singh (Kerala Blasters)
Although just 19-year-old, Jeakson Singh was one of the first-choice starters at Kerala Blasters. It will not be surprising for those who have seen him play, especially in the previous ISL season.
The youngster scored a last-minute equalizer against East Bengal in December, apart from playing in multiple positions. Kibu Vicuna used Jeakson as a central defensive midfielder and central defender and he showed his abilities in both positions. In 16 appearances, he also attempted 423 passes, while maintaining an accuracy of nearly 75%.
Central-defensive midfielder: Sharif Mukhammad (Gokulam Kerala)
Another player who was important to Gokulam Kerala's success, midfielder Sharif Mukhammad controlled the strings for the Malabarians from their midfield. He arrived in India with the experience of having played against Bengaluru FC in the AFC Cup and soon proved his abilities on the pitch for the Malabarians.
Throughout the season, Sharif maintained a passing accuracy of 82%. He also registered 2.7 tackles, 1.1 interceptions and 0.3 clearances per game this season.
Right-midfielder : Rahul KP (Kerala Blasters)
After showing glimpses of his attacking prowess in ISL 2019-20, Rahul KP exceeded expectations in the season that followed. He could not play in the first two matches due to an injury and was also rested due to fatigue in another game. The fact that he made an appearance in all the remaining 17 matches prove how important he has been to the Kerala Blasters squad.
The 21-year-old scored three goals, including the last-minute winner against Bengaluru FC in January. The club has tied him to a five-year deal that will see him remain with them till 2025. It his hence safe to say that he is a part of their long-term plans.
Central-attacking midfielder: Emil Benny (Gokulam Kerala)
Emil Benny showed a lot of promise with his display for Gokulam Kerala. The 20-year-old was crucial in guiding the team to the league title and impressed everyone with his mature display from the flanks.
In the 2020-21 I-League, Emil made 14 appearances for the Malabarians. He also scored thrice and notched two assists. The youngster has one more year left on his contract with the club, but will still be on the radar of several ISL clubs who are looking to add young blood to their attack.
Left-midfielder: Sahal Abdul Samad (Kerala Blasters)
Not long ago, Sahal Abdul Samad was named the 'Emerging Talent of the Season' in the ISL. But what followed was far from pleasing, as the midfielder suffered a fall from grace. For long, he played out of position and that cost him his form. This was followed by a phase where he lacked confidence, and that affected him further.
But in the 2020-21 season, the 24-year-old showed signs of returning to the good old days. His passing accuracy is still low at 57.24%, but he was able to affect the results of matches in multiple occasions. The Kannur-based player also registered three assists, including the one to Jeakson Singh against East Bengal that saved Kerala Blasters from the cusp of defeat in the very last minute.
Centre-forward: Dennis Antwi (Gokulam Kerala)
Dennis Antwi wrapped up his I-League campaign with 11 goals, just one behind top-scorer Bidyashagar Singh of TRAU. This should be enough to prove how effective the 28-year-old was for Gokulam Kerala in attack.
The Ghanaian forward showed exceptional skill in being at the right place at the right time and his good finishing skills made him a constant threat for opponents. He was also able to forge a good partnership with Philip Adjah, and the pair's exploits were key to Gokulam's positive results.
For more updates, follow Khel Now on Twitter, Instagram and join our community on Telegram.