Each of these players did well for their respective teams in the recently-concluded campaign.
The 2020-21 edition of the Kerala Premier League (KPL) kicked-off on March 6. It was the seventh iteration of the state league and the matches were held every weekend till April 21. Two different venues – the Maharaja's College Stadium in Kochi and the Municipal Corporation Stadium in Thrissur – hosted the games. The final was played between Gokulam Kerala and Kerala State Electricity Board (KSEB).
On that day, GKFC lifted the KPL title for the second time in history, after beating KSEB 2-1. Overall, a total of 12 different teams played in the league this season. Group A comprised of Basco, Kerala Police, Luca SC, FC Kerala and SAT Tirur apart from GKFC. Meanwhile, KSEB joined Mar Athanasius FA, Kerala Blasters, Kerala United, Kovalam FC and Golden Threads FC in Group B. As always, each of these teams produced plenty of good performances on the pitch throughout the league. Additionally, many individual displays also captured the attention of fans and pundits alike.
On that note, today Khel Now names our 'Team of the Season' from Kerala Premier League 2020-21. Without a doubt, each of the players that we have selected did well for their respective teams in the league:
Goalkeeper: Shain Khan (KSEB)
Shain Khan was not only one of KSEB's best players, but was also among the biggest finds across all teams in KPL 2020-21. The talented shot-stopper played a massive role in his team's run to the final of the league, making several brilliant saves along the way. KSEB conceded just three goals in the league stage and a portion of the credit will definitely go to this 23-year-old, who has previously played for Pune FC and Bengaluru FC Reserves.
Right-Back: Bibin Ajayan (Golden Threads)
Golden Threads did not have a good outing overall in Kerala Premier League 2020-21. Despite showing lots of promise before the start of their campaign, the team had to settle for fifth place in Group A. However, the performances of right-back Bibin Ajayan should give them some hope.
The youngster locked horns with some of the best forwards in the league and came out victorious on multiple occasions. He also played a crucial role in build-up play as most of GTFC's attacks started from the back.
Centre-Back: Muhammad Asif (Gokulam Kerala)
One of the reasons why Gokulam Kerala were able to lift the title is their strong defence. Led by Muhammad Asif, GKFC's backline did an excellent job throughout the season. One of his best games was the final itself, where he successfully kept the likes of Nijo Gilbert and Muhammed Parakkottil at bay.
The 24-year-old's physicality along with his aerial prowess makes him one of the two first-choice centre-backs for Khel Now's KPL 2020-21 Team of the Season.
Centre-Back: Muhammed Uvais (KSEB)
One of KSEB's standout performers this season, Uvais was a rock at the back for the department side. The 22-year-old who has previously played for FC Kerala, Ozone FC and Bengaluru United did exceedingly well at the back. He also troubled oppositions multiple times with his marauding long balls.
An aerial threat as well, Uvais's physical attributes are also supreme – and it will not be surprising if he has already attracted interest from I-League or ISL sides.
Left-Back: Muhammed Rafi (Mar Athanasius FA)
Although they were not able to make it to the KPL semi-finals, Mar Athanasius Football Academy (MAFA) gave their Group B opponents a very tough time. With the limited resources that they had, MAFA did well to finish third in the group, above professional clubs like Kerala Blasters and Kovalam FC.
The performances of Muhammed Rafi is worth a mention here. With his quick runs and resolute defending, the India U-19 and former Bengaluru FC Reserves starlet emerged as one of the best players in the league this season.
Central Defensive Midfielder: Hrishidhath (Kerala United)
After leaving Kerala Blasters, this was Hrishidhath's first-ever league season at Kerala United, his new club. Having arrived at the Malappuram-based side as one of the best defensive midfielders in India, he got to work soon after and led his team to the semi-finals.
Hrishidhath has a bright future ahead of him and with KUFC looking to execute long-term development plans, he can grow into one of the leaders in the side.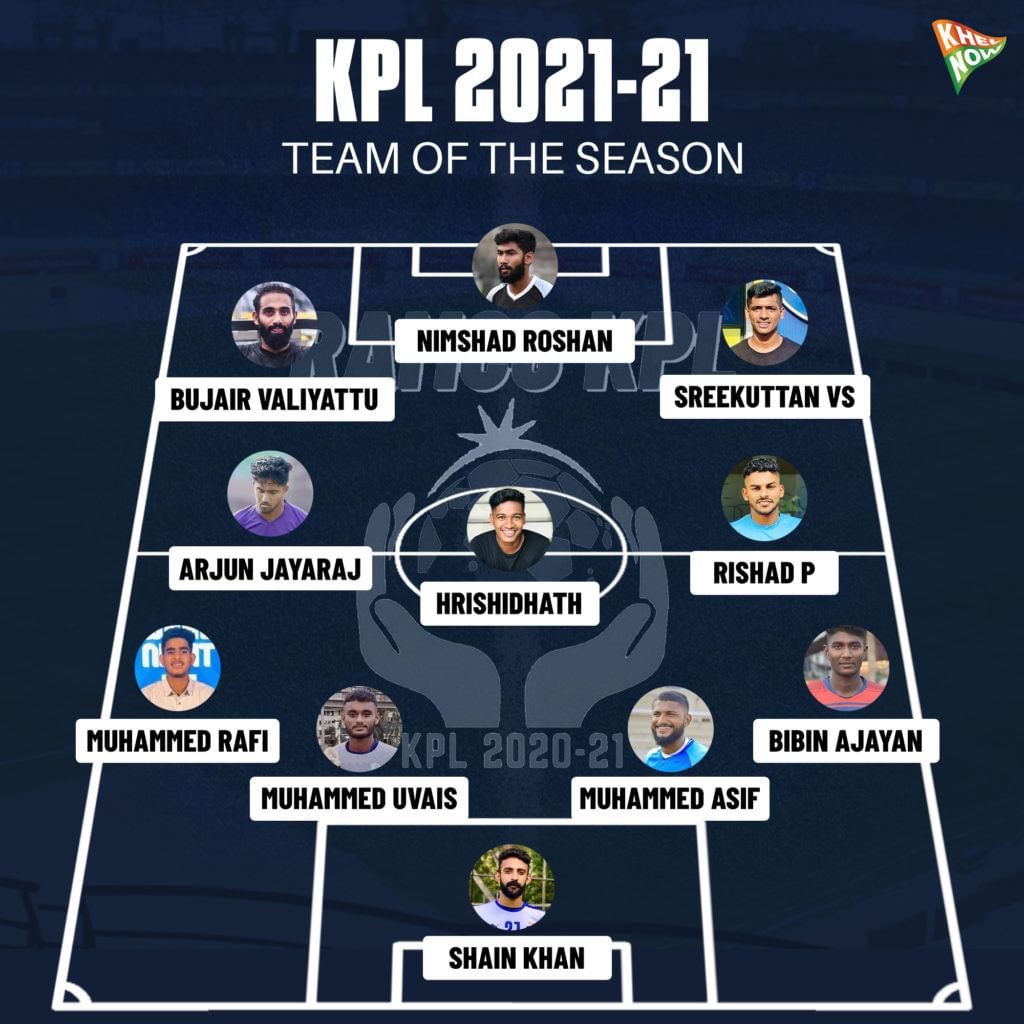 Right Central Midfielder: Rishad P (Gokulam Kerala)
The captain of Gokulam Kerala, Rishad played a much-appreciated role in his club's success this season. The 25-year-old midfielder pulled the strings in his club's attacking runs and also played a box-to-box role on some occasions.
One of his best performances came in the final where he contributed to both of GKFC's goals. His never-say-die attitude and leadership skills helped them score twice and lift the title, after KSEB took the lead earlier.
Left Central Midfielder: Arjun Jayaraj (Kerala United)
This XI would not have made sense if we had failed to include the former Gokulam Kerala and Kerala Blasters star, who debuted for Kerala United in the Kerala Premier League.
Arjun Jayaraj's partnership in midfield with Hrishidhath was the focal point of KUFC's successes as they finished second in Group B. The 24-year-old is among those who created the most goalscoring chances for the club this season.
Right Winger : Sreekuttan VS (Kerala Blasters)
Kerala Blasters did not have a good campaign in Kerala Premier League 2020-21. The Yellow Army finished fourth in Group B, after managing just one win in five matches. However, some of their key players turned heads, the most important among them being Sreekuttan VS.
The pacy winger created and finished chances at will for his team. Currently training with the first-team stars, it will not be surprising if he earns entry into their senior side soon.
Left Winger : Bujair Valiyattu (Kerala United)
The third Kerala United star in this XI, Bujair was signed by the club ahead of the KPL season. The pacy winger created an impact soon afterwards, with his goals in the league stages.
He scored off his maiden attempt itself in their first game against Kovalam FC, and followed it up with a brace against Kerala Blasters. Overall, he found the back of the net four times and became one of the top scorers among domestic players this season.
Striker: Nimshad Roshan (Gokulam Kerala)
Nimshad Roshan was one of the finest attackers that the Kerala Premier League witnessed this season. The Gokulam Kerala ace scored three goals in the league, including the all-important equalizer in the final.
As evident from that wonder strike, the 23-year-old has excellent finishing skills and also a knack of being in the right place at the right time. Attributes like these make him one to watch for in the future, with the Malabarians looking to build a side that can defend their I-League title next season.
Bench: Sachin (KBFC), Kanesh (Kovalam), Ambadi (Kerala Police), Ganesan (GKFC), Parokkottil (KSEB), Rabeeh (Luca), Nijo (KSEB), Adersh (KUFC), Bipin (Kerala Police).
For more updates, follow Khel Now on Twitter, Instagram and join our community on Telegram.