The Dutchman is expected to add several layers to the attack of the Blaugrana in the upcoming season.
Few relationships in sport go deeper than the one between Dutch football and FC Barcelona. One can read off a star cast of players and managers that have graced the haloed turf at the Camp Nou from the legendary Johan Cruyff, Louis van Gaal, Ronald Koeman and more recently Memphis Depay, Barcelona have turned to the Netherlands due to the shared ideologies in terms of style of play, entertainment and willingness to innovate with the game.
While not all these signings have paid off for the La Liga giants, their relentless faith in the Dutch system has barely wavered. Former midfielder Koeman has stabilized a clearly rocking boat at the club after their 2-8 humiliation against Bayern Munich in 2020, the issue of Lionel Messi wanting to leave and the European Super League debacle.
The current squad
The team has a good mix of youth and experience now, after being accused of having one of the oldest squads in Europe. Pedri, Sergino Dest, Ansu Fati, Frenkie de Jong add a youthful presence to the experience of Sergio Busquets, Jordi Alba and Messi, to form a very impressive side on-paper. Their off-field problems on the financial front are well-documented. Financial mismanagement has led them to go down the free transfer route in the form of Sergio Aguero, Eric Garcia and a red-hot Memphis Depay. This is clearly a sign of intent that Barcelona want to refresh the team and prove to Messi that the club wants to challenge for European honours.
27-year-old Depay is someone who Koeman knows from his stint at the Netherlands national team. After the winger had a failed outing at Manchester United, he blossomed at Lyon, scoring 63 goals in 139 appearances and prompted Barcelona to take advantage of his contract situation.
How he's different
One could be forgiven for asking what Memphis Depay brings to a club where the number of attacking options are in surplus in the form of Philippe Coutinho, Antoine Griezmann and Ousmane Dembele already on inflated wages and high transfer fees. All of these attackers have been inconsistent, injured or have been affected by changing coaches and tactical systems. All of them were threatening goalscorers for their previous clubs, before they arrived at Camp Nou and were expected to ease the burden on Messi.
After the departures of Ernesto Valverde and Quique Setien, Koeman's presence has brought order and stability in terms of playing style, evolution in the team and a calming presence in the dressing room. So, the burning question is whether Barca are acquiring yet another wheel in the failed wagon or will he finally be a catalyst for the club?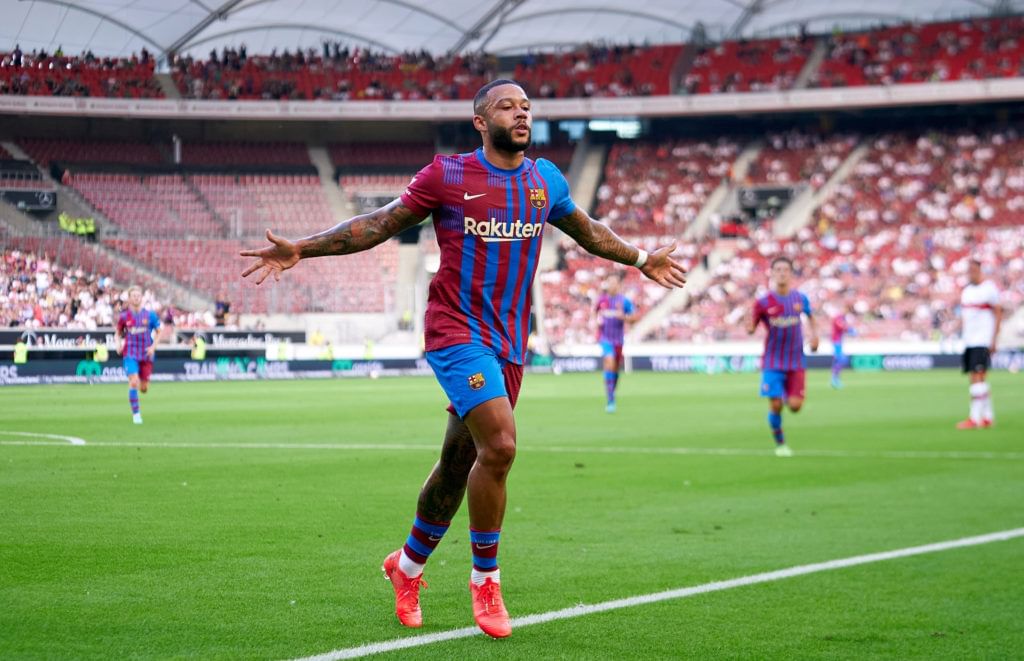 The key to functioning in a fluid system like the one at Barcelona, is for the forward line to be able to interchange positions at will, to allow Messi to drift wider or play as a False 9 to escape man-marking. This is something that Koeman has looked to integrate into his 4-3-3 system at the club. Coutinho and Griezmann are both at their best when they play more centrally rather than in a wider role, something Dembele could have done had he not been so frequently injured. Depay offers this ability, which can add an extra dimension to the forward line.
The stats
As a conventional forward in the recently concluded season, he averaged 1.3 shots on target every 90 minutes, which ranks in the 83rd percentile across the top five European leagues. This is an improvement to Griezmann, who averaged one shot on target per 90 minutes. Messi, as expected, is the benchmark for the club as he averaged 2.5 shots on target per 90, which is no surprise given how much of the play is funnelled through him. This is particularly useful when the opposition decides to mark Messi out of the game and Barcelona need options to work the goalkeeper.
In addition, he brings more creativity to the frontline, that has often relied far too often on Messi dropping deep and supplying the forwards. Memphis Depay averaged 167 Shot Creating Actions (SCAs), which are the offensive actions such as dribbles, passes and drawing fouls, that lead to the creation of a shot. This is a definite improvement when you compare it with the numbers for this metric that Coutinho and Griezmann averaged in the previous season, with 24 and 88. Coutinho could also be forgiven in this regard, given he only played 14 league matches in the whole season.
In terms of Goal Creating Actions (GCAs), which are like SCAs except that they lead to a goal, Depay averages 38 in this metric as compared to the 4 and 10 from Coutinho and Griezmann respectively. Of course, one must factor in the quality of the French and Spanish leagues when these numbers are compared, but it does not take away the threat that Memphis Depay brings to the table.
Where he fits?
However, his role in the team would also see him dropping into a False 9 role to link up the highly creative midfield of De Jong and Pedri. Given that Aguero and Messi would no doubt be the focus of attention for the opposition centre-halves, this position is pivotal. Pedri benefited from having someone like Dani Olmo dropping deep and playing short, intricate passes past the opposition midfield. While his passing completion rates are lower compared to Griezmann, the focus would be to get the ball into threatening areas as much as possible, which is where Depay scores better. He averages 3.6 progressive passes, as compared to the 2.3 of the Frenchman.
What he brings additionally is being able to pick out passes with quick switches to the flanks, with the attacking threats of Alba and Dest to cause overloads on a particular wing. He averages 2.1 switches per 90, a metric in which he beats even Messi. An area where Koeman would look to add to his game is the defensive side, where he is expected to be the first line of defence when the team loses the ball.
By sheer numbers, Barcelona look to have gained a value-for-money signing in Depay, given the astronomical fees paid for Griezmann, Coutinho and Dembele. His link-up play with Griezmann was seen in the 3-0 victory against Stuttgart in a pre-season game, where he assisted the Frenchman and scored. But, fans should treat this signing with cautious optimism, given how their previous attacking acquisitions have fared so far at the club.
For more updates, follow Khel Now on Twitter, Instagram and Facebook.