The Spanish premier division has a lot of glittering players and expensive rosters.
It goes without saying that LaLiga, which is the topmost division of the Spanish league system, is one of the most popular football league competitions in the world. Like almost all other top division leagues in Europe, LaLiga also sees 20 different teams locking horns with each other on a home-and-away basis to contest for the title every single season.
LaLiga is also home to some of the most popular football clubs in the world. Lionel Messi's Barcelona, Sergio Ramos' Real Madrid and their local rivals Atletico Madrid are three of the most consistent performers in the league, while the likes of Sevilla, Athletic Bilbao, Villarreal and so on give them tough competition in the race for the trophy. While Real Madrid have won the most number of titles (34) till date, it is Barcelona who lead in terms of the trophy count since the turn of the Millenium.
Here, we take a look a look at the squad values, available at Transfermarkt, of all of the 20 clubs involved in the ongoing 2020-21 season of LaLiga.
20. Elche CF – €34.90m
Valued at a mere €34.90m, newly-promoted Elche is the least valuable team in La Liga this season. They have a 24-man squad, meaning their average player value is just a little less than €1.46m. Priced at €5m, their 23-year-old central midfielder Raul Guti – who recently arrived from Real Zaragoza – is their most valued player.
19. Cadiz CF – €37.40m
Newly-promoted Cadiz is the second least valuable club in the 2020-21 La Liga, at €37.40m. The attacking midfielder Alex Fernandez is the most valued name in their roster, as the 28-year-old is worth €7.50m.
18. SD Huesca – €47.90m
SD Huesca got promoted to LaLiga this season after finishing the 2019-20 Segunda Division at the first place. At just €2.10m short of the €50m-mark, Huesca are at 18th place in this list. Three of their most valuable players – Javi Ontiveros (€7m), Rafa Mir (€5m) and Idrissa Doumbia (€4m) – are with the club on loan deals, from Villarreal, Wolves and Sporting CP respectively.
17. Real Valladolid CF – €66.30m
Transfermarkt reports that Real Valladolid's overall market value is €66.30m, making them the next name in this list. They have a 26-man squad, and their most valuable players are Ruben Alcaraz and Joao Filipe(on loan from Benfica), both valued at €8m each.
16. SD Eibar – €68.30m
The club from the Municipality of Eibar in Spain have a market value of €68.30m. Their first-choice goalkeeper Marko Dmitrovic from Serbia, who has a market value of €10m, is the most valuable player among their squad that comprises 25 men.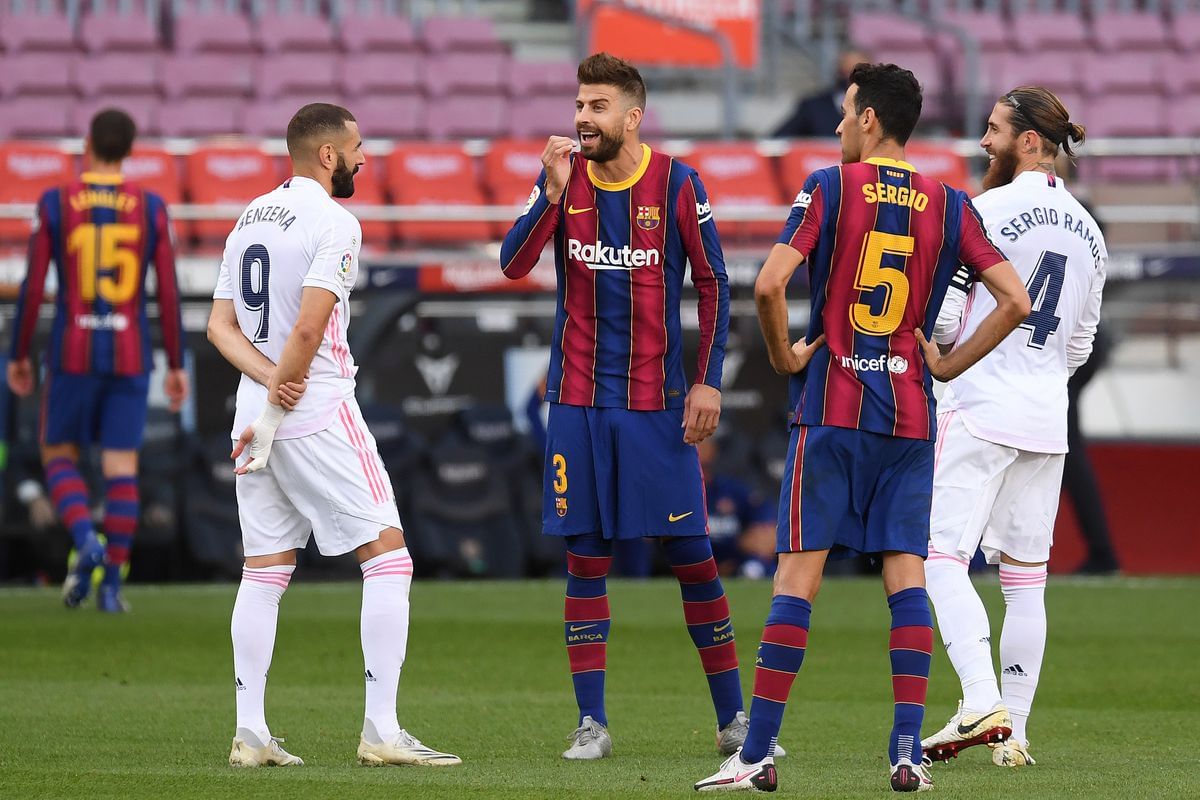 15. CA Osasuna – €74.50m
According to Transfermarkt, Osasuna have a market value of €74.50m. €10m of this involves the value of attacking midfielder Ruben Garcia, who is their most valuable player alongside the currently injured centre-forward Chimy Avila.
14. Deportivo Alaves – €84.10m
Goalkeeper Fernando Pacheco takes up roughly one-sixth of Deportivo Alaves' market value at €14m. The overall value of the 27-man side managed by former footballer Pablo Machin is €84.10m.
13. Levante UD – €107.90m
The first team in this list to cross the €100m-mark, Levante finish 13th overall in terms of squad market value in LaLiga, at €107.90m. Central midfielders Jose Campana and Enis Bardhi (€25m and €20m respectively) are two of their most valuable footballers in the ongoing 2020-21 season.
12. Granada CF – €113.30m
Granada are currently at fifth place in the 2020-21 LaLiga table. However, in terms of market value, they can be found only in the bottom half of the table at €113.30m. As many as six different players – Darwin Machis, Rui Silva, Domingos Duarte, Kenedy, Yangel Herrera and Luis Suarez (on loan from Watford) – are tied to the top spot in terms of individual value, at €10m each.
11. Celta de Vigo – €120.90m
With Celta de Vigo at €120.90m, we complete the bottom half of the LaLiga market values' table. Centre-forward Santi Mina (€15m), midfielder Fran Beltran (€14m) and winger Brais Mendez (€11m) are their three most valuable stars, while Iago Aspas and former Barcelona midfielder Denis Suarez share the fourth place at €10m each.
10. Getafe CF – €161.70m
While no team in the bottom half of this table managed to cross the €125m mark, all teams in the top half are valued at over €160m – starting with Getafe at the tenth place (€161.70m). Djene, Nemanja Maksimovic, Barcelona loanee Marc Cucurella and Mauro Arambarri are their only four players who are valued at over €20m.
9. Real Betis Balompie – €213.50m
By all means, a surprise entry in the top ten, Real Betis has an overall squad market value of €213.50m, as per Transfermarkt. The talented quartet of Nabil Fekir, Emerson (on loan from Barcelona), Sergio Canales and William Carvalho is the principal driving force behind this unexpectedly high market value, as each of these players have made themselves a good name by means of the consistent performances that they have produced over the past few seasons.
8. Athletic Bilbao – €222.90m
It has only been a couple or so years since Athletic Bilbao have lost their place among the best five teams in La Liga. Regardless, they have occasionally shown that they are not a group to be trifled with, thanks to stars like Inaki Williams, Unai Simon and Inigo Martinez. Overall, their 27-man squad is worth a total of €222.90m.
7. Valencia CF – €227.20m
Founded in 1919, Valencia is currently on its 101st year of existence in history. However, the past few months have spelt nothing but trouble for the club, with several key players being forced to leave to maximize profits amidst the financial crisis caused by COVID-19. They have still managed to finish in the top seven in terms of overall squad value, at €227.20 million. Maxi Gomez (€35m) and Jose Luis Gaya (€30m) are their most valuable players.
6. Villarreal CF – €266.30m
A former Spanish superpower, Villarreal is currently on the path of resurgence after going through a lean patch in terms of results for several years. Transfermarkt reports that they have an overall market value of €266.30m – with Gerard Moreno, Pau Torres and Real Madrid loanee Takefusa Kubo sharing the honours as the most valuable players at €30m each.
5. Real Sociedad – €309.60m
Once considered a minnow in the Spanish top-flight league, Real Sociedad are no longer a small team as proven by their market value of €309.60m. Two of their most important players – Mikel Oyarzabal and Mikel Merino – are also their most valuable players, at €60m and €35m respectively.
4. Sevilla FC – €348.90m
Reigning Europa League champions Sevilla have an overall market value of €348.90m, making them the fourth team in this list. Lucas Ocampos – who was rumoured to be a target for Manchester United this summer – is their most valuable player at €50m.
3. Atletico Madrid – €753.25m
Just like in the title race every single year, Diego Simeone's Atletico Madrid are hot on the heels of Real Madrid and Barcelona in terms of squad value also. According to Transfermarkt, Los Rojiblancos is collectively valued at €753.25m – and their star goalkeeper Jan Oblak(€90m) is the most valuable among their players.
2. Real Madrid – €855m
Defending champions Real Madrid are at second place in this list, with an overall squad value of €855m. With an average player value of €35.63m which is even greater than the entire squad value of bottom-placed Elche, Los Blancos will look to win the trophy for the second year in a row under manager Zinedine Zidane this season.
Thibaut Courtois is their most valued player at €75m.
1. FC Barcelona – €878.70m
With a difference of €23.70m over arch-rivals Real Madrid, it is FC Barcelona who takes the cake as the most valuable team in Spain. With an average value of €30.30m per player, the Catalans are also one of the clubs with the biggest wage budgets in the world. In the past couple of years, they have gone down in terms of results and will be hoping to put up an improved display in the ongoing season.
Also, no points for guessing their most valuable player – it's Lionel Messi, with a value of €100m.
For more updates, follow Khel Now on Twitter and join our community on Telegram.