Under their Argentine manager, The Whites have shown uncompromising quality on the pitch in recent seasons.
One thing has been cleared. Marcelo Bielsa's Leeds United are returning back to the Premier League, bringing an end to their 16-year absence from the top flight of English football. Ever since their relegation in 2004, Leeds have tried hard to get back into the first division, but have failed repeatedly. Thus, turned to one of the most influential coaches in modern football – Marcelo Bielsa, to get them back on the right path.
Prior to his appointment in 2018, the club had finished in 13th place and looked nowhere near challenging for promotion. However, to the delight of the decision-makers at Elland Road, the football-obsessive, eccentric genius didn't take time to spark a dramatic upturn in results and bring about a massive improvement in the overall quality of football.
Instilling his values in the players, the side played exciting, attractive, high-octane football that bore the hallmarks of all prototypical Bielsa teams. Crowds in the Championship had rarely witnessed such an intricate and mesmerizing brand of play as Leeds blew their opponents away with their unwavering movement, ferocious pressing, and well-rehearsed attacking moves.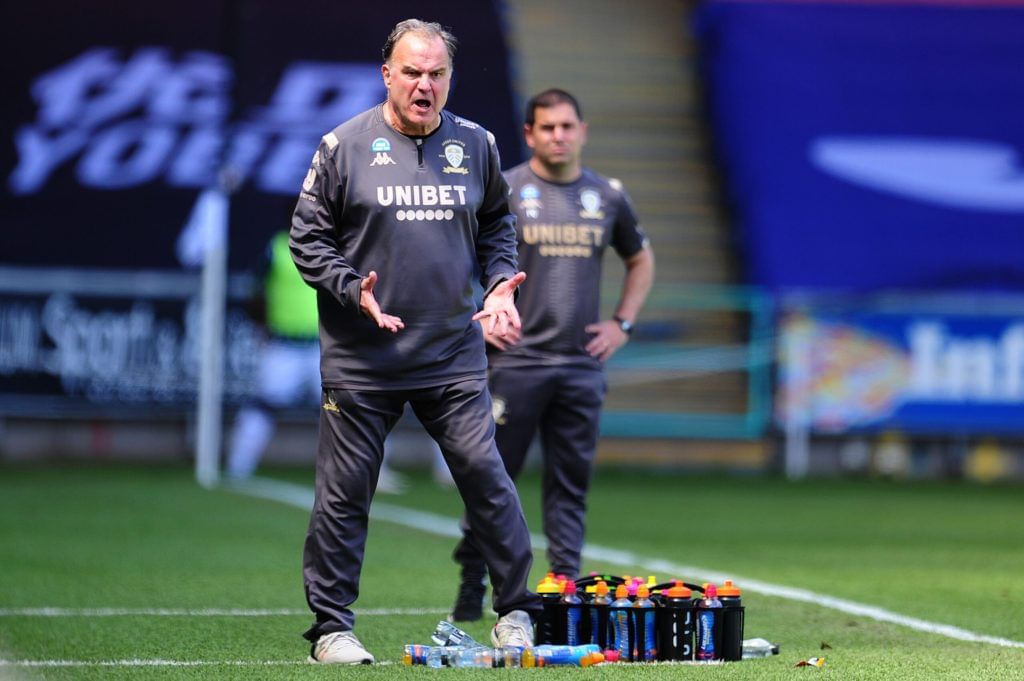 However, Bielsa's debut term ultimately ended in disheartening fashion as his team couldn't sustain the ruthless intensity and their form subsequently dipped in the second half of the campaign. They finished third despite occupying the top two places for the majority of the season. Later, they suffered a defeat at the hands of Frank Lampard's Derby County in the playoffs, which was brought an end to their promotion hopes.
Nonetheless, their excellent performances this year are proof that the players have fully bought into the challenging demands and methods of their gaffer. They are playing some breathtaking football, are crucially aware of their roles in the team, and appear like perfect components in a piece of well-oiled machinery.
The Argentine has predominantly used a 4-1-4-1 formation on paper that can also change into a 4-3-3 system or his highly famed and extremely unorthodox 3-3-1-3 system depending upon the situation in the game and the opposition. The term "formation" often becomes irrelevant when analyzing his teams because they are constantly rotating and exchanging positions to disrupt the organization of their opponents.
Hence, it is wise to turn your focus towards a few of his sacred principles that help bring about some of the sumptuous football played by his teams. Bielsa places an emphasis on playing attacking possession-based football by creating numerical superiority and moving across on the field together as a close compact unit.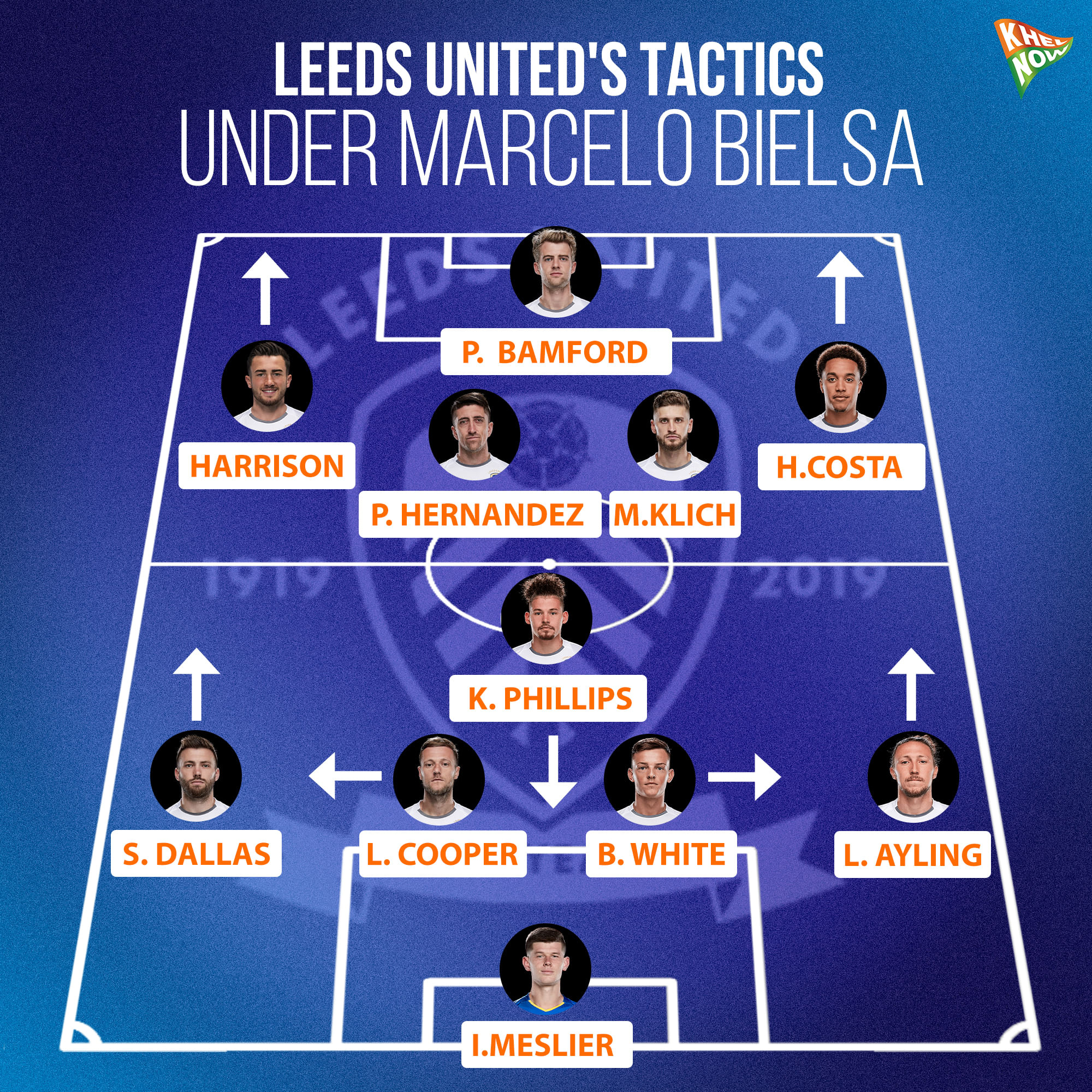 Now, let's understand how Leeds United function under 'El Loco.' During the attacking phase, they shift from the 4-1-4-1 system into a 3-3-1-3 system with Kalvin Phillips, their defensive midfielder slotting in-between the two center backs, thus pushing them wider and in turn, forces the full-backs to take up an advanced position on the field, turning them effectively into wing-backs.
This is done to facilitate the smooth progression of the ball from defence. Phillips' fantastic passing range and excellent reading of the game ensures he is the fulcrum of the side and plays such an integral role in making this approach work. Moreover, the central defenders too have to be technically proficient on the ball and intelligent to operate reliably in the provided structure.
Accordingly, Ben White and Liam Cooper have done an admirable job in the heart of defence. Bielsa also prefers having a spare man in defence as a passing option to retain the ball and maintain dominance, which explains Kalvin's tendency to drop deep and offer himself as an outlet to advance possession.
Going further ahead, as aforementioned, the wing-backs are pushed forward to create overload in wider areas. If a wing-back drifts inside, the other has to maintain width on the far side so to provide a passing alternative for a switch on that wing. This helps to open up different dimensions in attack when a certain zone might get crowded and congested.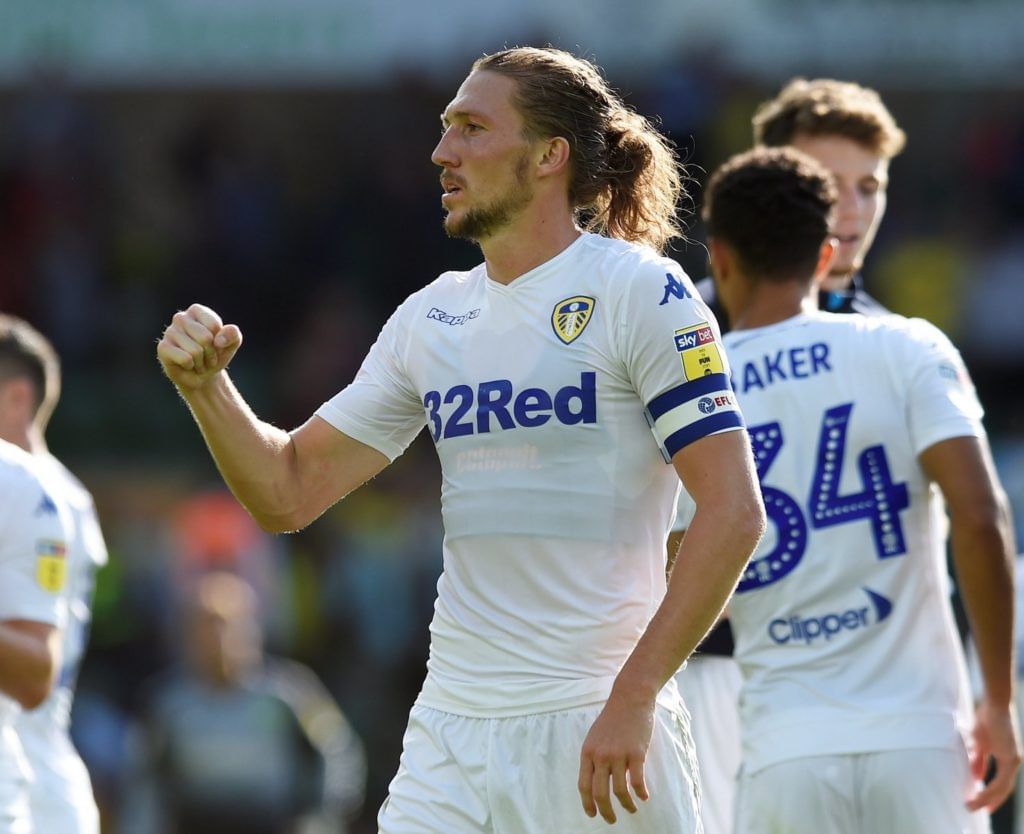 Both wing-backs have been impressive but Luke Ayling deserves special appreciation for the influence he exerts on the pitch. His passing, clever movement, and industry helps him to control the right flank. One of this team's trademark moves heavily involves the contribution of Ayling. In this simple yet effective planned attack, Ayling drifts wide with an opponent moving towards him to stop him from running to the byline, which opens up vacant space in the area that his adversary left behind unattended.
Now this space is attacked by a central midfielder or a winger who will be expecting to find himself on the receiving end of a pass by Ayling. This gives the said attacker the chance to conjure a goalscoring opportunity by either drilling the ball across goal or cutting it back for an easy finish. This particular move might sound quite basic in theory but the creation of space for it's execution occurs from constant rotation, sharp movement, and acute disguised passing.
Moving forward, with the width generally offered by the wing-backs, they occupy central areas to become inside forwards and form a narrow front three. Operating in close quarters helps them to link-up effectively and exchange quick one-two touch passes to maneuver past defenses.
Patrick Bamford leads the line expertly and has emerged as an important player in the side despite his finishing leaving a lot to be desired. He holds the ball up brilliantly and combines well with his fellow forwards. For all their intricate sizzling play, Leeds United aren't afraid of taking the non-glamorous route and launch a long ball into the feet of Bamford whenever the opportunity to do so presents itself, which helps to bypass midfield lines directly.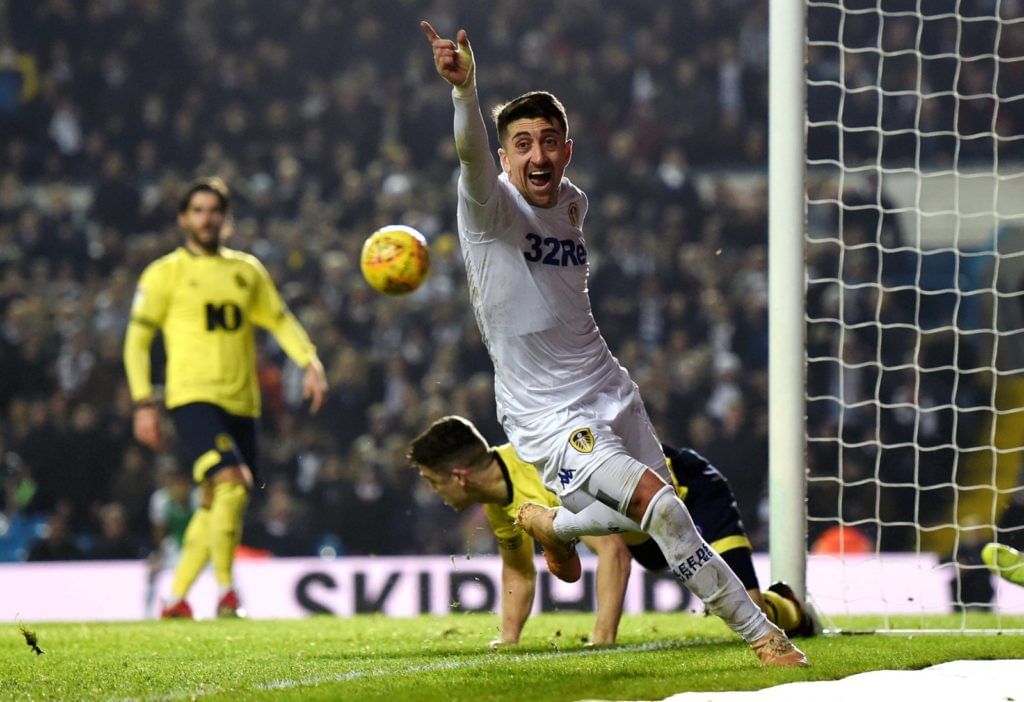 Furthermore, Bielsa prefers utilizing an Enganche, also known as an advanced playmaker. His job entails linking attacks, pressing from the front, and providing mobility with his quick interplay. Now the intricacies of Bielsa's system might make it seem overly-complicated and extravagant, but when it all comes together like he has meticulously planned, the unfolding of the organized chaos is quite simply glorious.
The Argentine has had an influence on various renowned managers like Pep Guardiola, Mauricio Pochettino, Diego Simeone, and Jorge Sampaoli among several other names. The principles of verticality, establishing numerical superiority, compactness, and so forth are all visible in Pep's Manchester City and it comes as no surprise that the Spaniard is a disciple of Bielsa.
In the last few years, newly-promoted sides like Wolverhampton Wanderers and Sheffield United have shown that even a club coming from the Championship can make their mark instantly in the Premier League, provided they have a clear philosophy and a well-functioning system. Leeds United have both of them and with the enigmatic tactical mastermind at their helm, the Whites will be expected to wreak havoc with their rock 'n' roll football and are undeniably one to keep an eye out for next term.
For more updates, follow Khel Now on Twitter, Instagram and join our community on Telegram.