The 18-year-old has already represented Rennes 82 times across three seasons.
One of the hottest prospects in the football right now, Eduardo Camavinga is everything you want in a midfielder. His stock has risen very quickly since his debut at the age of sixteen and several big clubs are waiting to rope him in. Rennes might have no choice but to sell him as the future star is in the final 12 months of his contract.
As per transfer rumours in Europe, Real Madrid were long-term admirers of the starlet. However, Premier League giants Chelsea and Manchester United have shown interest in him in recent times. According to reports, Manchester United had already submitted an opening bid for the youngster to Rennes, which was not accepted by the club.
We take a look at five characteristics that make Eduardo Camavinga the next big thing in football.
5. Yet to reach his prime
At 18 years old, Camavinga has huge potential. He has made 67 Ligue 1 appearances for Rennes since making his debut against Angers SCO at 16 years and four months. He became the youngest ever Rennes player to represent the club in the French top flight. What makes him exciting to watch is the fact that he is still very far away from his prime. The Frenchman is already a star in Ligue 1 and his potential could lead him to become one of the top midfielders of his generation.
He would be a valuable addition to a growing young team, improving his game along with the team. However, he can also land a starting role in any top team, owing to his already refined but improving skillset. His tantalizing utility both now and in the future makes him a very rare prodigy.
4. Relentless defensive presence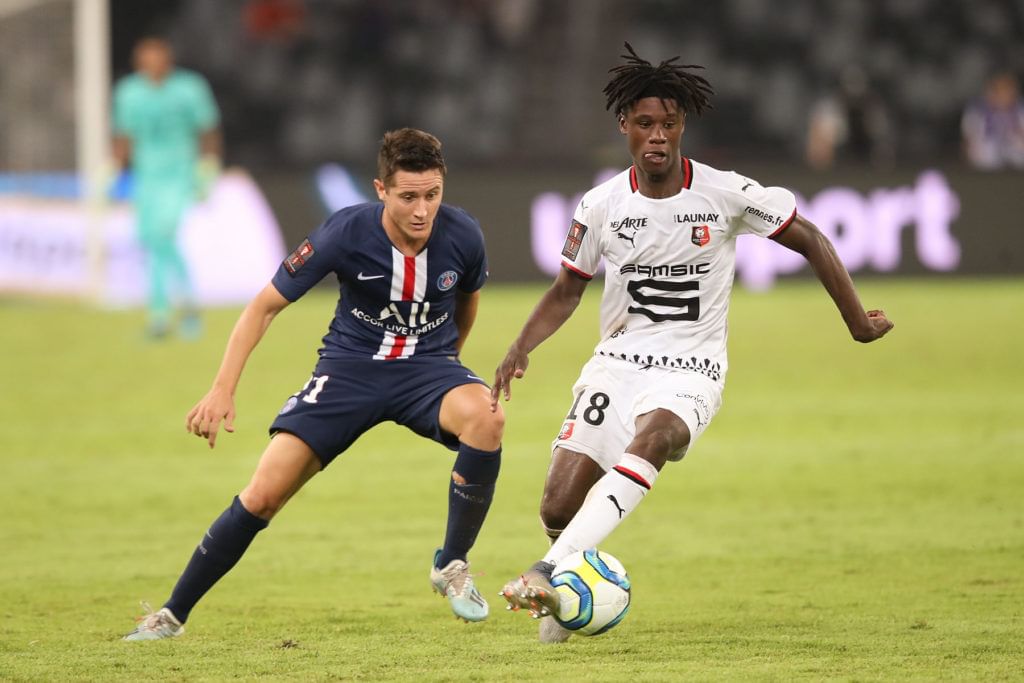 One of the youngster's striking qualities is his quick feet and far reach. He has been one of the solid defensive anchors for Rennes in their Ligue 1 campaign. The 18-year-old is an aggressive disruptor. A chaos engine at the heart of the midfield, Camavinga has a 63% success rate in tackling. His 51 tackles in the midfield third is the sixth most in the league and his aggressiveness extends on both sides of the pitch as well. He is also adept at closing out space for opposition players, ranking in the higher percentile for pressures per 90.
Majority of his defensive actions come in the midfield, thereby nullifying the effect of any creative presence the opposition has. Especially strikers, who love to come deep and get on the ball or deep-lying playmakers. His young age also means high energy, which would provide a solid boost for any team.
3. Dominating offensive facilitator
His relentlessness defensively translates to impeccable and quick decisions offensively. The Rennes midfielder is very comfortable receiving the ball deep and his team used his offensive abilities as a build-up to their attacking structure. His free-flowing progressive movement is one of the best in the Ligue 1.
Camavinga has completed 2.01 dribbles per 90 (95%) as well as 6.27 progressive carries (85%) in the league. He is also an able and efficient passer. The French international recorded an 89.3% passing accuracy despite being a flanking midfielder. In fact, most of his passes are forward passes, facilitating the Rennes build-up.
2. Experience in the international stage
The experience Camavinga has had at such a young age certainly puts lots of clubs on notice. Ever since his debut against Angers when he was 16, he has solidified his starting role in Rennes. One of his most memorable games came against PSG in 2019, when he outperformed the likes of Verratti and Marquinhos to hand Rennes an unexpected 2-1 victory.
The midfielder has also featured for France on three occasions, scoring a brilliant overhead kick in only his second cap against Ukraine. This kind of experience at a young age is a valuable commodity and many clubs will treat such experience as a useful presence in their midfield.
1. Role-flexible youngster
One of Eduardo Camavinga's most attractive qualities is his flexibility. The Rennes star can play in any position in the midfield in a 4-3-3 or a 4-2-3-1 owing to his varied skills. Camavinga can play in front of defence for his highly aggressive style, but his ball-carrying feats under pressure could also allow him to play in a double pivot or as a wide midfielder in a central three.
His flexibility can be a key aspect for top teams, who rotate their midfield regularly. His physicality will allow him to be combative aerially as well. Teams like Manchester City and Paris Saint-Germain who have a fluid midfield system could see the value in having a midfielder like Camavinga within their ranks.
For more updates, follow Khel Now on Twitter, Instagram and Facebook.