The former England forward met with Khel Now during his recent trip to Delhi.
'Allez! Allez! Allez!' sang the jubilant supporters in chorus with an equally gleeful Jamie Webster, as former Liverpool stars Emile Heskey and Jason McAteer watched in delight. Despite concerns surrounding the outbreak of the deadly coronavirus, the Reds' supporters in Delhi gathered in numbers for the LFC World event.
Arms flailing up in the air; echoes of the melodious 'You'll Never Walk Alone' consecrating the atmosphere around. It was a surreal experience at least for the supporters gathered and definitely one for the former Liverpool duo.
Moreover, the Reds' comeback win against Bournemouth at Anfield capped a superb tour to India for LFC World. A roadshow, backed by interactive sessions with the fans, Heskey and McAteer gave the Liverpool supporters memories for a lifetime.
To understand more about the motto of their visit in brief, Khel Now took the opportunity to have a chat with Emile Heskey. "LFC World does a lot of initiatives with supporter clubs around the world. In India too, we have 12 supporter clubs and I reckon Delhi is among the top!" began Heskey.
"Not all fans can come to Anfield, so it's nice for us to come over, interact with them. Show them some love and they can show us some love too. So, it's great."
Further, we couldn't resist but ask Emile Heskey on his thoughts over the Indian Super League (ISL). After all, the news of the league has been making rounds across Europe and several stars have revealed to follow its proceedings.
Speaking about the development that ISL has brought upon in Indian football, Heskey says, "Yeah, it's been going strength to strength. I know a lot of players like David James and Nicolas Anelka have played here."
"It will take time; I know a lot of people want things to happen instantly. But you have to take baby steps and grow. I have been watching the games like for instance Kerala Blasters and the other teams as well," revealed Emile Heskey.
"It has caught the eye of a lot of people and like I said, it's just about taking them baby steps and growing," he reiterated.
In India, Liverpool are rivaled by Manchester United, Arsenal and Chelsea in terms of their fan bases. To thereby solidify their footprint in the country, events like these must hold a lot of importance for the club. However, the former Leicester City and Aston Villa forward shares a different view.
"To be honest, we do not focus much on our rivals. We rather focus on what we can do for our fans with our initiatives and moving forward that way."
"Personally, I couldn't engage with the fans much while I was still playing. So, as a retired footballer, it's nice for me to engage and meet with the fans," he added smilingly.
Furthermore, Emile Heskey appreciated the love he along with McAteer received during their sojourn. "Not all fans can connect the way they have here with us. So, sitting right here connecting with the fans, spreading the love for Liverpool, it's really great!"
Watching the Merseyside club do wonders this season, we were eager to know Heskey's view on the same. Being a former Red, the retired professional was quick with his answers as well. When questioned whether he had a foresight of the recent success when Jurgen Klopp first joined Liverpool, Heskey nodded, "It's difficult to actually see when a manager first comes."
"But, yes, in a year of watching him closely, seeing what he is actually bringing to the club. Especially, the way he has been getting things out of certain players. Then you know, in a few years' time, it's going to be amazing. This is when you are reaping the benefits of that."
"Like we've been speaking from before, there are rivalries within the league that push you to do bigger and better things," he added.
An exuberant Liverpool hit the epitome of success last year, sealing a miraculous victory in the UEFA Champions League. Lifting their first trophy after nearly a decade, that also broke Klopp's 'finals jinx.'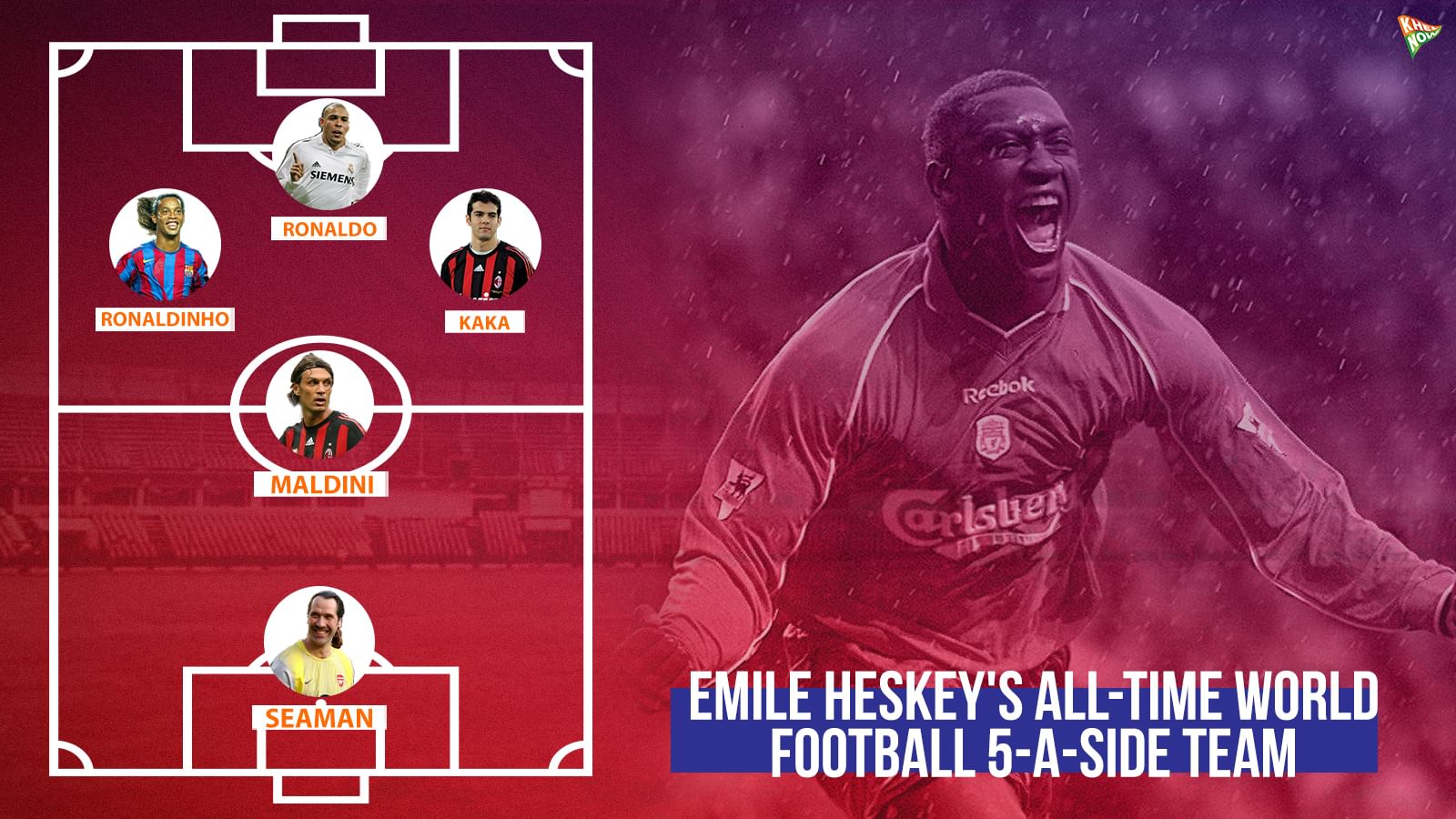 Having won the UCL, there's no stopping Liverpool as they go on adding to their trophy haul, with the UEFA Super Cup and FIFA Club World Cup already in the bag. Needless to mention, the Reds are on the brink of winning their first league title in over three decades and their first in the Premier League era.
Emile Heskey agrees to the assertion that the UCL title has spurred the team to achieve more success of late. He also lauded their consistency this season.
Interestingly, many attribute the signings of Virgil van Dijk and Alisson Becker as the key to Liverpool's resurgence. However, Emile Heskey rather the credit goes to Klopp for their turnaround.
"He's got everyone playing out of their skins! So, you can't really pick out or pinpoint a single signing."
In fact, the 42-year old is pleased with the performances of players in each position. "The boost could be that of Jordan Henderson's game this season. He could go on to be their player of the season!"
"The front three look amazing. The full-backs are playing livelier than natural full-backs. Defenders are solid and the goalkeeper's amazing as well."
Finally, as we arrived to the conclusion of our short conversation, Emile Heskey named his all-time five-a-side team. All-in-all, it was a trip to remember for the traveling duo who were greeted by hundreds of fans.
With Liverpool back to winning ways in the Premier League, LFC World's India tour came as a perfect gift for fans across Delhi!