Winning successive matches in the English top flight is never an easy task.
The Premier League has begun and so has the excitement of fans who have waited for over two months. Manchester City and a new-look Tottenham look very convincing. Chelsea and Arsenal lacked a spark even though they did win their three points. Liverpool's performance was a shocker against newly promoted Fulham whereas Manchester United was once again disappointing in a 2-1 defeat to Brighton.
In this article, we will discuss the top 5 longest Premier League consecutive match-winning streaks.
5- Manchester City (December 19, 2020 – March 7, 2021) – 15 matches
The list is dominated by Manchester City and Liverpool, just like the current PL era. This is the latest streak that the Manchester club made after successfully creating a streak of 15 and 18 games in the past. It began with a 1-0 away victory at Southampton. The streak was broken when local rivals Manchester United defeated City 2-0 at Old Trafford. Even after the defeat, City comfortably managed to win the Premier League title with 86 points. Manchester United came second that season, with 74 points.
4- Manchester City (February 3, 2019 – August 17, 2019) – 15 matches
Manchester City and Liverpool's league domination for the past 3-4 years is quite evident. One of its examples is their winning streaks. Manchester City, just like Liverpool, has broken their own records. After completing a record streak of wins in 2017, City was once again inching towards a record before they were stopped at 15 wins on August 17 in 2019. City had hosted Tottenham Hotspur and the game ended in a 2-2 draw. City's streak had started by winning 14 matches consecutively in the previous season, handing them the Premier League title. They started strongly on Match Day 1 against West Ham, defeating them 5-0.
3- Liverpool (March 10, 2019 – October 20, 2019) – 17 matches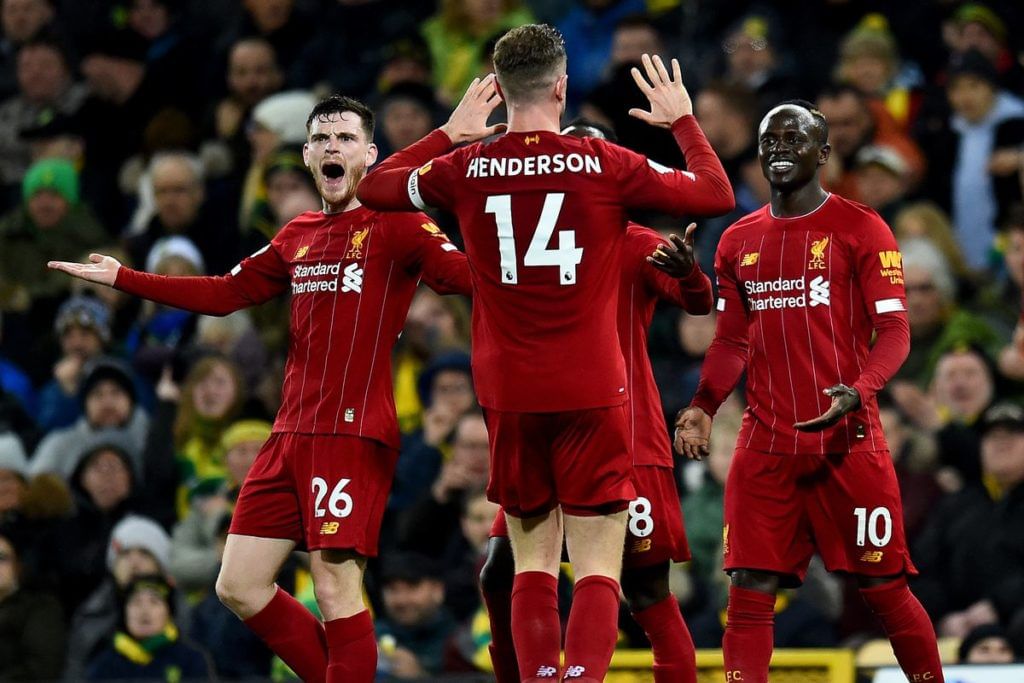 2019 and 2020 were one of Jurgen Klopp's finest years with Liverpool. They managed two separate winning streaks of 17 and 18 matches and won the much-awaited Premier League title in 2020. Their first streak was broken by fierce-rivals Manchester United at Old Trafford after the game ended in a 1-1 draw. The Red Devils were almost certain to win after the 36th-minute goal by Rashford. Adam Lallana came on as a substitute and scored an equalizer with only five minutes left in the game. The game was a treat to watch, with VAR controversy spicing it up further.
2- Manchester City (August 26, 2017 – December 31, 2017) – 18 matches
Modern-rivals Manchester City and Liverpool hold the longest winning-streak of 18 matches. Pep Guardiola's Manchester City was a supreme force in 2017 and their tally of wins surprised everyone. They broke Arsenal's record convincingly by stretching it to 18 games. Guardiola did this after finishing 15 points behind Premier League champions Chelsea in the previous season. It was indeed a statement by the Spaniard. His team went on to collect 100 points in that season and also scored 106 goals. The streak's start was very interesting as they won after a stoppage-time goal by Raheem Sterling.
1- Liverpool (October 27, 2019 – February 29, 2020) – 18 matches
Another set of Pep's Premier League record that Jurgen Klopp matched was the winning streak. After City did the unthinkable in 2017, it was time for Liverpool to do the same in 2019/20. Liverpool had already entered the record books by winning 17 games from March 10, 2019, to October 20, 2019. There was more to come. This streak of wins started by defeating Tottenham at Anfield 2-1. Surprisingly, the streak ended when Watford defeated them 3-0 at Vicarage Road. Many thought Liverpool would break City's record and this defeat came as a huge surprise.
For more updates, follow Khel Now on Facebook, Twitter, and Instagram and join our community on Telegram.