The Gorkhalis side will look to clinch their maiden title in October.
From the very first day of head coach Abdullah Almutairi's tenure, the Nepal national team have their eyes set on the same honour as before. Achievable yet never achieved, close yet far – the SAFF Championship has been craved for a while in the Himalayas. But, it has only brought disappointment over the years.
However, Almutairi's era has seen the team gain new confidence and improve on many fronts. From collective team play to a system that suits the resources, the tactician has done a commendable job. One of his key features has been the squad selection – bringing up young and only players that suit his system. Here's an analysis of the Nepal squad that will travel to the Maldives under him to compete at the SAFF Championship 2021.
Goalkeepers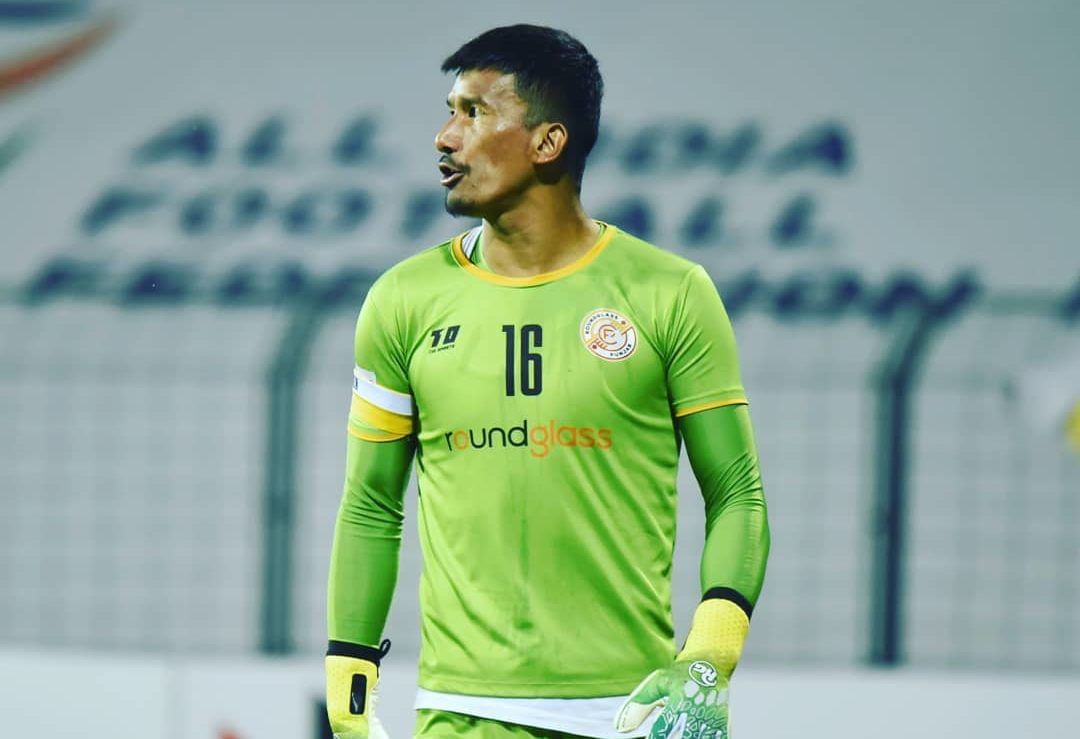 For the coveted South Asian regional tournament, Nepal have four custodians at their disposal. Kiran Kumar Limbu, Bishal Shrestha, Bikesh Kuthu and Deep Karki will be in the 25-man squad that will travel to the Maldives in October.
Like it has been the case for years now, Kiran Kumar Limbu will be Nepal's No. 1 in the tournament. The RoundGlass Punjab goalkeeper recently became the most capped Nepali player ever, surpassing Biraj Maharjan. Along with his experience, Limbu's ball distribution abilities have significantly flourished under Almutairi, glimpses of which were seen in the two recent friendlies against India.
Contending for the goalkeeping position, albeit unlikely, are experienced campaigners Bishal Shrestha and Bikesh Kuthu alongside 23-year-old Deep Karki. Shrestha, after a decade-long wait, debuted off the bench in the second friendly against India. Kuthu, on the other hand, has been a household name ever since coming from Madhyapur Youth Club's setup. Deep Karki occupies a spot on the back of an impressive Nepal Super League campaign for Pokhara Thunders.
Defenders
Nepal's defence for the SAFF Championship looks more settled than in recent times. Head coach Almutairi seems to have found a combination that works along his ideal lines.
Right-back Gautam Shrestha and his counterpart Suman Aryal, the left-back, have been regular under the Kuwaiti coach and will be the favorites to start yet again. Dynamic and aggressive at the same time, both the full-backs are capable of making advanced attacking moves. On the back of these two players' abilities, Nepal have tended to utilize and build-up from the wide areas a lot recently.
Persija Jakarta's Rohit Chand will join the rest of the squad in the Maldives to team up with Ananta Tamang at the heart of defence. Chand has starred as a crucial defender under the new manager and will most likely hold the spot. Ananta, on the other hand, has been a proper attacking centre-back since his youth days.
Options like Dinesh Rajbanshi, who played and impressed as a centre-back against India and Kathmandu Rayzrs' Rajan Gurung will come handy for this packed tournament. Rajbanshi can operate both as a reliable centre-back and a utility full-back to top things off. In addition, midfielder Sujal Shrestha can also chip in as a left full-back to complete the defensive roster.
Midfielders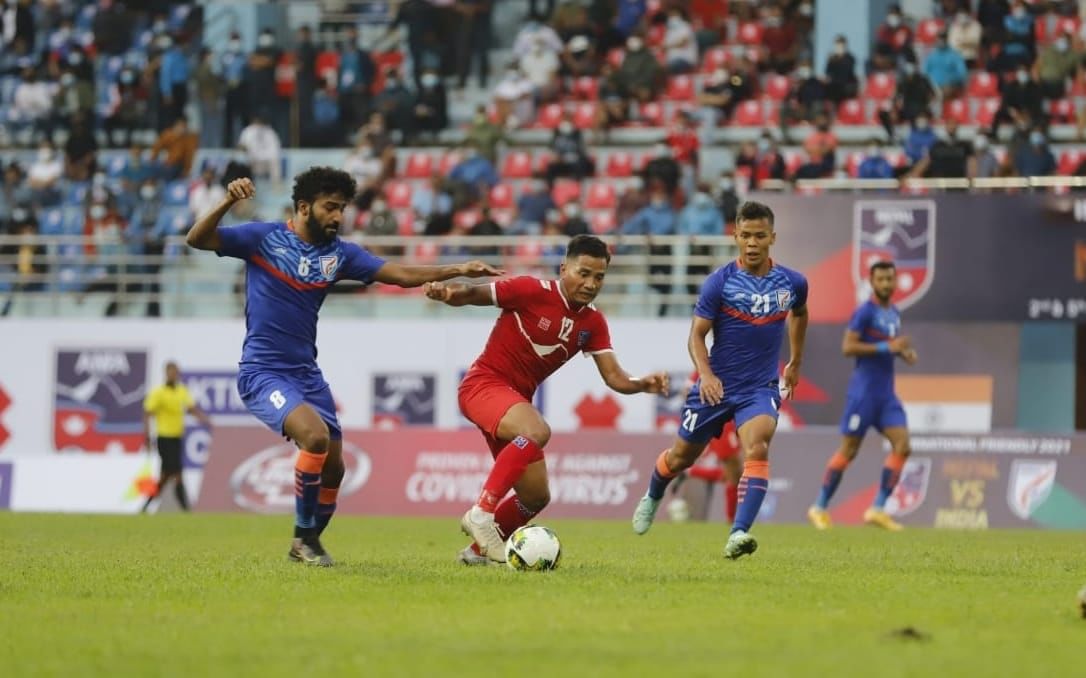 Like the defence, Almutairi tends to have a specific set of midfielders that he starts with. As referred to in his post-match press conference against India, he prefers a midfield trio of a defensive, a box-to-box and a classical attacking midfielder. In this case, the obvious three are Pujan Uperkoti, Tej Tamang and Suman Lama.
Uperkoti has been a crucial piece in Nepal's setup. Considering the team's tendency to switch to a 4-1-4-1 shape off the ball, Uperkoti's role as a conventional screening defensive midfielder becomes vital. Although Rohit Chand is also able to play this role, it's unlikely that Almutairi will sacrifice a player from the defence to bench another quality player.
Besides, Tej Tamang operates as a box-to-box midfielder and is able to make runs to both progress and quickly breakdown attacks. On the other hand, Suman Lama is the driving force – one that is tasked to transition from the middle to the final third. Along with the individual abilities, these three midfielders complement each other well with the given profile.
Besides, the Nepali squad will have youngsters Suraj Jeu Thakuri, Kamal Thapa Magar, Nitin Thapa, Bishal Rai, and Santosh Tamang coming off the bench. Sujal Shrestha, Nepal's 2019 South Asian Games gold medal-winning midfielder also adds to the dynamism in Nepal's midfield.
Forwards
Going into the SAFF Championship, Nepal have six forwards in their squad. Manish Dangi, Anjan Bista, and Nawayug Shrestha, as always will be the key attackers in this setup.
Arriving in Nepal after coming though the youth ranks in South Korea, Manish Dangi has impressed with his ability to use his pace to get behind defences. Operating from the half-spaces, the youngster is capable of pressing relentlessly as well as showing great on-the-ball strength.
Anjan Bista and Nawayug Shrestha have been Nepal's crown jewels since the 2016 period. Bista, in particular, has emerged as a premium forward in the new system. Similarly, he is able to make clever runs in and out of the box to create spaces. Nawayug, on the other hand, is a striker capable of finishing and getting the blind-side runs in his side's favour. Although shaky in the friendlies against India, Nawayug can be a lethal forward at South Asian level on his day.
Supporting the main batch will be Sunil Bal, Ayush Ghalan, and Aashish Lama. Ghalan, the 17-year-old winger, got his maiden start in the first match against India and put his ability to be a quick and agile threat on display. Bal and Lama can also be lethal forwards and their movements to create opportunities have been lauded for quite some time in the domestic circuit.
For more football updates, follow Khel Now on Twitter, Instagram and join our community on Telegram.