The current Blue Tigers skipper interviewed the former legendary national team player in an Instagram live session.
Indian football team captain Sunil Chhetri interacted with former Indian legend IM Vijayan in an Instagram live session. Fondly known as the 'Black Pearl of Indian Football,' Vijayan represented the senior national team for over 11 years and scored 29 goals in 66 appearances.
Sunil Chhetri was ecstatic at having the legend to answer a few questions. He heaped praise on Vijayan's career as a player and spoke at length about how he admired the Kerala-based player.
Sunil Chhetri expressed his disappointment at not having enough video recordings of IM Vijayan during his playing days to pass on to future generations and show a glimpse of the player's grace. The 51-year-old replied, "Those days we just had Doordarshan who would capture using just one camera and we were content with it."
"But, regretting not having enough coverage is of no use. We had bigger players in the past who didn't have any of these luxuries. We haven't watched players like PK Banerjee or Chuni Goswami play, yet we love them after hearing stories of their matches."
On why he chose not to leave India despite having offers from Thailand, Malaysia and many other countries during his prime, Vijayan said, "I had the fascination to play in India. Playing with players like Jo Paul (Ancheri), Carlton and others, I didn't have the heart to leave. I was very shy to leave, I had been outside India just once to Bangladesh and moreover I felt I couldn't manage very well with my broken English. I'm not sure what would have happened if I had left. Bhaichung (Bhutia) went to England, maybe mine could have worked out well too, but I'm happy to have stayed in India."
"During your (Sunil Chhetri's) and Bhaichung's time," Vijayan continued, "You had many people to refer to before taking a decision. But, I had to take the decisions all by myself. I had to leave Kerala and move to Kolkata to make a living. I received a lot of abuses from my supporters for leaving Kerala, they loved me and that's why they would hurl abuses."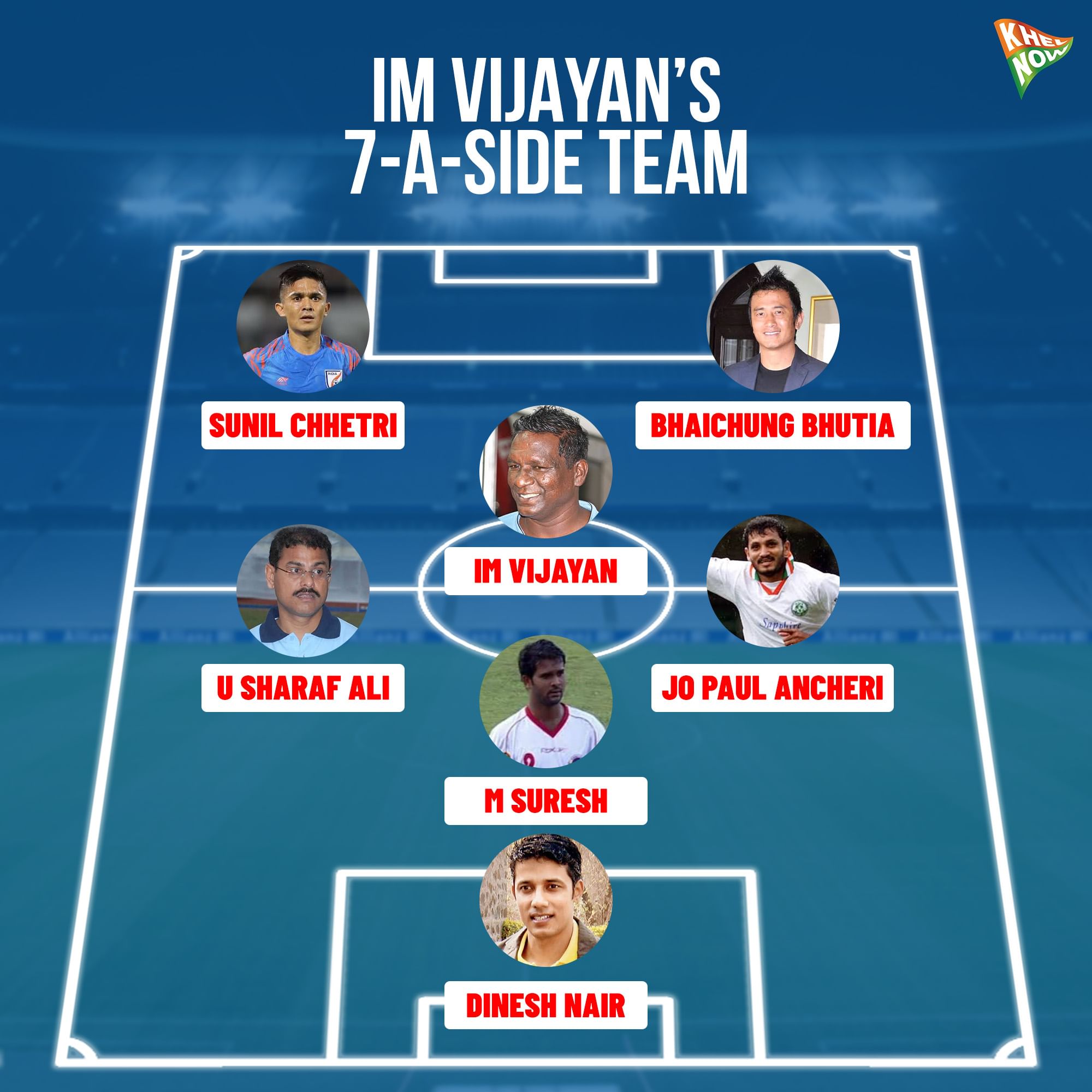 "In reality, they didn't know that I didn't have enough money with me at that time. Things weren't so professional back then and I decided to stay in India because I lacked proper guidance. But, with proper guidance and God's grace, anything could have happened."
On humble beginnings, Sunil Chhetri inquired about the days when IM Vijayan used to collect bottles outside the Thrissur Stadium. "Back in my childhood we didn't have enough money to buy tickets to watch the match. My only aim was to watch the match, so my cousins and I would bring soda and cigarettes into the stadium and sell it to spectators and that way we would get to watch the match."
"Father would hold me by my hand and take me to the stadium to watch matches. My only sorrow is that my father passed before I became 'IM Vijayan.' My mother worked very hard to take care of me after my father passed away. I became the player I am today and my father couldn't get to witness what I have achieved," he added.
"Kerala Police was my bread and butter, but I didn't have a home for myself and I left for Mohun Bagan for this very reason. Back then, Kolkata was the centre-stage of the football scene in India. There were many players better than me back in Kerala, but they didn't take any risks, I took that risk."
The 51-year-old narrated an interesting incident when he was out of favour in the Indian national team. "My name wasn't announced in the national team squad and the coach at that time Akramov told the press that he doesn't like my game. A few days later, they organized a practice match between the national team and a few other senior players including me. At Mohun Bagan's ground, with supporters coming in numbers and there was rain too. I scored five goals alone."
The coach walked into the camp and asked (Naushad) Moosa to mark me for the next game. I was furious that the coach didn't take me into the team and I wanted to get in the team at any cost. The next day, at the same stadium with rain pouring once again, I made Moosa spin circles and scored against them. I then went on to play under him in the future and also captained the side during his time."
Further, IM Vijayan also had words of praise and admiration for Sunil Chhetri, He said, "I advised Sahal (Abdul Samad) to look up to you (Sunil Chhetri); 'you are young, look at your senior player and learn from him. Most players either play only for one side, either club or country, but you are the only player who plays for both.'"
Vijayan also shared a memory involving a few former players. "Tajinder, Jeevan Moraes, Kiran Khongsai and a few players visited my place while I used to play for JCT. I invited them for a match and we formed two five-a-side teams. Jo Paul and the rest formed one team, whereas I brought in a few local players to form a team. We scored six goals past a team filled with Indian national team players. Jeevan Moraes and Kiran Khongsai couldn't do much in a small ground," he concluded.
For more updates, follow Khel Now on Twitter, Instagram and join our community on Telegram