The Dutch tactician is expected to restore the glory days at Old Trafford.
Manchester United have a new master for the upcoming season. Erik ten Hag will take on the role after his success with Ajax in Amsterdam. The Dutch coach comes to Old Trafford with a big reputation and high expectations from the fans. It has been a while since United last tasted success and fans are hopeful that they can return back to their glory days under the Dutchman. Erik ten Hag took over Ajax back in 2017. He finished his reign with two Eredivisie triumphs and a dream run in the Champions League in the 2018/19 season.
The Dutch manager is known for his tactical brilliance and has been compared to Pep Guardiola many times. His football philosophies are very similar to those held by Guardiola. But, his tenure at United will be a completely different challenge. United have been lagging behind their rivals in recent seasons. The Manchester United faithful have blamed this on their inability to establish a consistent playing style.
Since Sir Alex Ferguson retired, the Red Devils have had different coaches with different philosophies. Jose Mourinho preferred to defend, while Ole Gunnar Solskjaer focused on counter-attacking. In his time at Ajax, Erik ten Hag adopted exciting philosophies. Today, we're going to look at three ways in which ten Hag can lineup his Manchester United team.
3. 4-3-3
The Dutch manager preferred the 4-3-3 system the most during his time with Ajax. He employed this same formation during the famous 2018/19 season. He likes fluidity in attack and prefers defenders playing a high line. However, Manchester United have also tried using a similar system in the past, but it didn't work out as well.
The United squad will have a difficult time adapting to Erik ten Hag's style of collective high pressing. As things stand, there are no physically strong players in the lineup who can hold their intensity for 90 minutes. Likewise, Ralf Ragnick also attempted to employ his pressing style, but failed badly as the team lacked the required attributes.
2. 4-3-2-1
The Dutch tactician also altered between the 4-3-2-1 formation and the 4-3-3 formation at Ajax. The departures of key players prompted him to implement this philosophy after the 2019 season. He preferred three attacking midfielders joining the force and feeding the striker from behind, with two defensive midfielders holding the line. Former United manager Solskjær also used the same formation. But, the opposition often caught them open at the back in transition.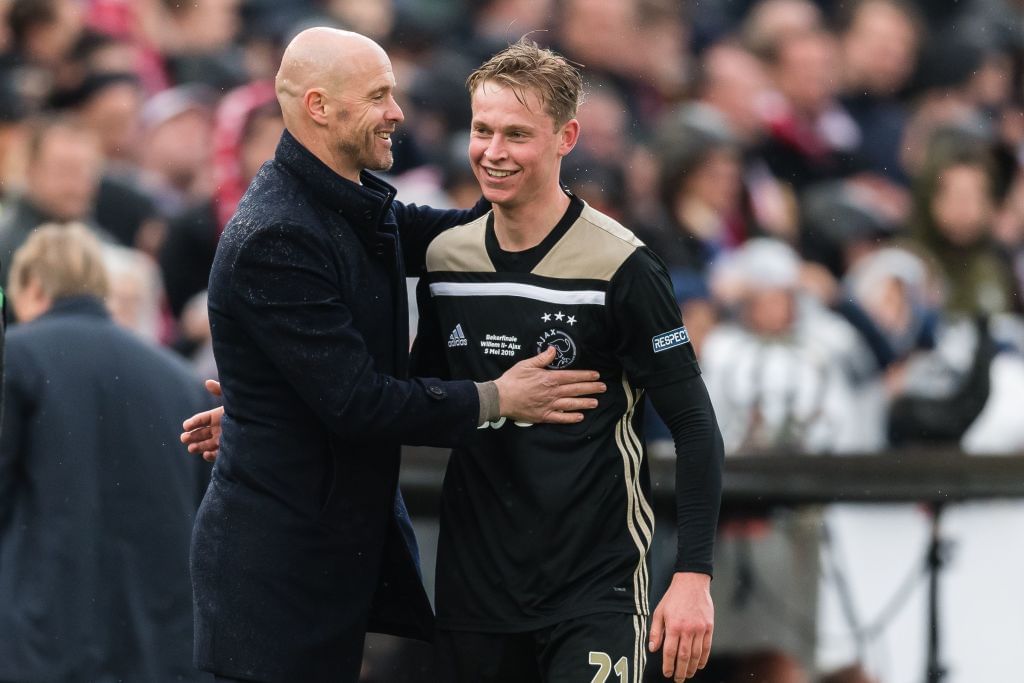 Erik ten Hag thinks Frenkie de Jong could be the answer to these threats. That's why he is eager to reunite with the former Ajax midfielder. Ten Hag may also be keeping an eye on the full-backs. It is already expected that Manchester United will offload Aaron Wan-Bissaka and Alex Telles this summer, as they don't fit into his system. A new right-back will likely be recruited in the summer as well.
1. 4-2-2-2
Erik ten Hag did not use this system often during his Ajax stint. But, it could be a tempting option for him at Old Trafford. The Dutchman likes to play aggressive pressing games with a very high tempo. But, the current squad has players like Cristiano Ronaldo, who might not fit into this philosophy. In this scenario, ten Hag may have no choice but to deploy two men up front.
United are already looking at reinforcements in the striker department to pair up with Cristiano Ronaldo. On top of that, Erik ten Hag doesn't have many wingers in his lineup and has players who enjoy playing upfront. This list includes players like Marcus Rashford, Anthony Elanga, Ronaldo and Mason Greenwood. They are all natural strikers and have been deployed wide in the past. With a limited transfer budget and a difficult market. Ten Hag may have to opt for the 4-2-2-2 system in order to utilize his resources as effectively as possible.
For more updates, follow Khel Now on Twitter, Instagram and Facebook.