These sports stars were attracted by these divas in the first glance.
Football is the most popular and most-watched sport in the world. With this comes fame, fortune and worldwide admiration. Footballers travel the world. Sometimes for matches, sometimes for holidays. In their endeavours, these footballers come across a lot of people, including models.
These models are a category of people who interact with footballers on occasions and it is not unusual to see a budding romance between them. Many footballers have taken a love interest in models over the years.
Here are 10 footballers who have shared significant relationships with models.  
10. Peter Crouch
As a player who has played for several clubs across England, Peter Crouch's personal life has not quite been the same. The towering English striker has been married to an English lingerie model, Abbey Clancy. The couple has been together since 2011. They even have three children together.
Clancy was the runners up of Britain's Next Top Model in 2006 and she has also been the presenter of the show since 2015.
9. Kevin-Prince Boateng
A midfielder for Hertha Berlin in the Bundesliga at the moment, Kevin-Prince Boateng has had his fair share of girlfriends and love interests over the years.  He later married Italian swimsuit model Melissa Satta in 2016, however, the couple split in 2020.
8. Sami Khedira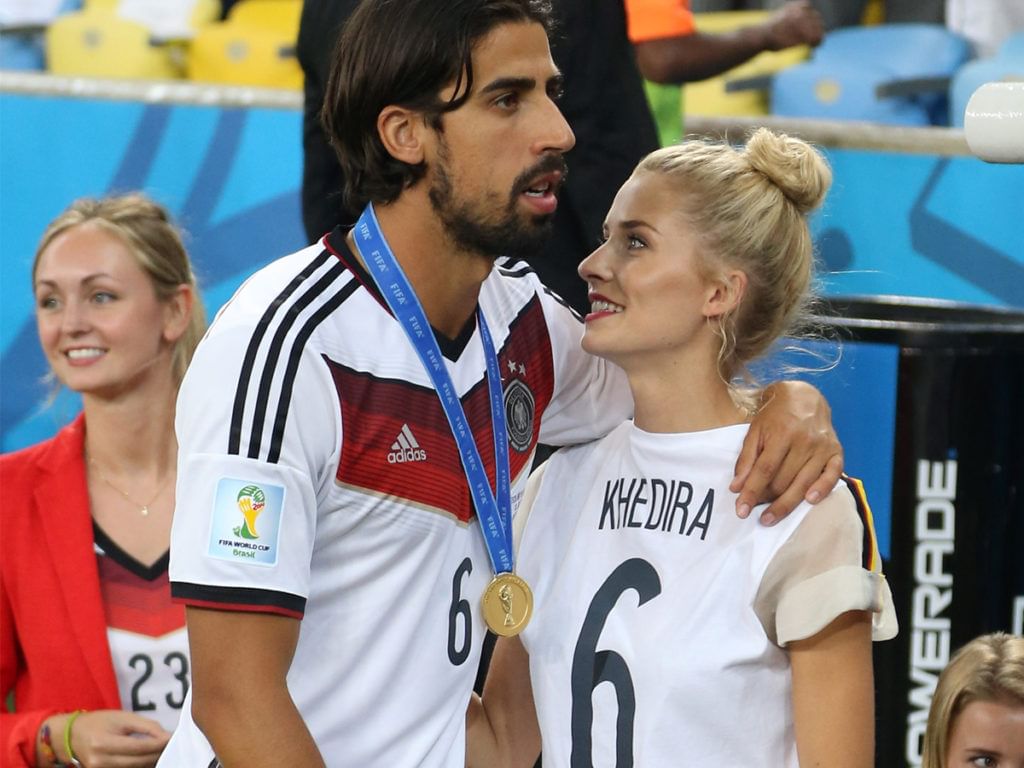 The German midfielder has played for some top teams over the years. After the 2020-21 season, Khedira announced his retirement. He wore the stripes of Hertha Berlin in his final season.
Presently, the retired professional is unmarried and news about a serious relationship remains unrevealed. However, Khedira and supermodels have often been seen together. Khedira dated German model and TV Presenter, Lena Gercke between 2011-2015. She was the first winner of Germany's Next Top Model.
Moreover, like many other footballers, Khedira was spotted with Brazilian supermodel, Adrian Lima in 2019. The two were enjoying a romantic holiday in Mykonos, Greece.
7. Graziano Pelle
The former Southampton sensation, Graziano Pelle was a star in the Premier League. The Italian scored double-digit goals in his two seasons in the English top flight. Currently, he is playing for Parma in the Serie A.
Pelle has been dating Hungarian model, Viktoria Varga, for several years now. Since getting together in Pelle's days in the Premier League, Viktoria has continued to support him and moved with the Italian to whichever country he played in. In fact, the couple thrived together in China. While Pelle endured a successful spell for Shandong Luneng, Viktoria's work flourished as well. The couple have been together since 2012.
6. Edin Dzeko
The Bosnian currently plays for Inter Milan. He has been a prolific forward in Italy at AS Roma since his move from Manchester City and transferred to Inter in the summer of 2021. He was the Bosnian Player of the year for three consecutive years.
Like many other footballers who have dated supermodels, Dzeko married Amra Silajdžić in 2014. At the age of 16, Amra won a French contest, Metropolitan Top Model. Later she signed a contract with a modelling agency in Paris known as Elite Model.
5. Neymar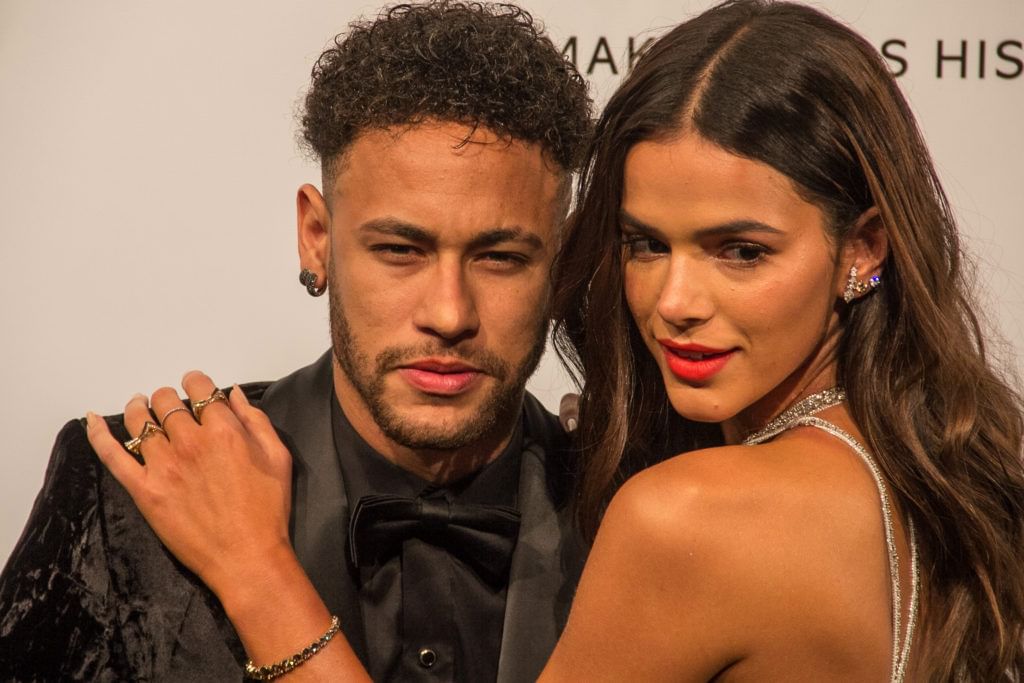 One of the most followed players in the world at the moment, the Brazilian plays as an attacker for Paris Saint-Germain. His most notable relationship is the one with Bruna Marquezine. She is a Brazilian actress and model. The duo began to date in their early 20s. However, they broke up in 2016. Bruna has approximately 40 million followers on Instagram at the moment.
4. Cristiano Ronaldo
One of the games' greatest, Cristiano Ronaldo is rather infamous for the large number of women he has dated over the years. The Portuguese has dated a lot of models as well. The most notable of them all has to be Irina Shayk. An icon in the modelling industry, Irina and Cristiano were reportedly together for five years. In fact, Irina Shayk was supposed to be the woman who was to help Ronaldo settle down.
However, it wasn't to be for the couple and a few years later, Ronaldo got together with Georgina Rodriguez. The couple have been together since 2017 and even have a daughter together. The couple is yet to marry but there seems to be no doubt about the strength of their relationship.
3. Mesut Ozil
Ozil's reputation is one for having dated several supermodels. The former Arsenal and Real Madrid midfielder has had quite a few relationships with models. One of the most significant women amongst this group is Aida Yespica. The Venezuelan beauty was an alleged reason behind his sale to Arsenal. In fact, Ozil allegedly travelled from Spain to Milan in his private plane to meet Yespica frequently.
Despite his transfer, Ozil ended up splitting up with the Venezuelan. The midfielder then dated a singer for four years, which did not work out as well. He ultimately married a Turkish-Swedish model and beauty pageant, Amine Gulse, who was Miss Turkey 2014. The couple now has a child as well.
2. Tammy Abraham
He is one of Chelsea's leading goalscorers in the recent seasons. However, recent developments have seen him vie for a move away from the Stamford Bridge.
The Englishman married a budding supermodel Leah Monroe. Leah is an Instagram influencer and YouTube vlogger. The couple has been together for five years now.
1. Alvaro Morata
The Spanish footballer married an Italian model and fashion designer, Alice Campello. Morata is currently playing for Juventus in what is his second stint with the club. Back in 2016, when Morata played for Juventus previously, he met Alice amongst a group of his fans. Alice later commented on his social media and the two got in touch. In fact, she is quite active on social media and has 2.6 million followers on Instagram. Alice uses Instagram for a lot of her fashion and modelling work.
Currently, the couple are parents to three boys – two of whom are twins! Alice and Alvaro got married in 2017 and lead a happy and healthy relationship.
For more updates, follow Khel Now on Twitter, Instagram and Facebook.