Some of these youngsters have already made their mark in the sport by putting up stellar displays.
Europe has emerged as the breeding ground for developing young footballing talents. We've seen a recent surge in raw talented youngsters gifted with untapped potential getting molded swiftly to take first-team roles with unexpected maturity.
Many teams have made it their strategy to invest more in their academy to yield outputs for sustainability. To diminish the annual spending spree in the transfer market, football clubs are set on producing exclusive assets.
Let's take a look at some of the best wonderkids across the globe currently, below the threshold age of 22.
Giorgi Mamardashvili (21, GK, Valencia)
Valencia has lost its appeal in recent times. They have banked their hopes of recovery on the highly-rated 21-year-old Georgian goalkeeper Giorgi Mamardashvili.
Mamardashvili has stood between the sticks for 18 La Liga matches, keeping eight clean sheets. Furthermore, he recorded 560 minutes without conceding. The string of good performances put him in two La Liga team of the weeks. He also received the King of the Match awards on three separate occasions.
It is unorthodox to see managers trusting their senior teams with such young goalkeepers. But José Bordalás' gamble paid off rather handsomely. Los Che finished ninth last season, compared to 13th the year before.
Ansu Fati (19, LW, Barcelona)
Entrusted with the iconic number 10 jersey, Barcelona's expectations with Ansu Fati are skyrocketing. To everyone's surprise, the youngster carried his responsibilities with composure. He has made himself an asset for Xavi to rely upon.
Since his debut in 2019, he has become one of the best Spanish talents in world football. Fati has scored 15 goals and made three assists in 40 La Liga games. Last season, the Spain international was out for nine long months due to an injury. He had to rehabilitate a torn meniscus in his left knee.
With the distinctive experience of Barcelona's high-octane football, he has honed his craft to establish himself as a deadly finisher. With the ability to cut inside and play exquisite tiki-taka passes, he aspires to do more this season, having impressed the supporters already.
Yéremy Pino (19, RW, Villarreal)
Villarreal promoted Yéremy Pino from its academy. In no time, he claimed his role as a regular first-team player. Unai Emery gave the youngster a break after the 2020 pre-season campaign, only for Pino to emerge as a reliable option for the outfit.
He became the youngest Spanish player to start a major European final, aged 18 years and 218 days when Villarreal reached the finals of the Europa League. He also became the youngest player to win the competition as well. Emery hailed him as an extraordinary finisher. The Spain international has scored nine goals with 27 La Liga starts. He is also the youngest player to score a hat-trick in the first half of a La Liga match.
Eduardo Camavinga (19, CM, Real Madrid)
Real Madrid needed to replenish their aging squad holistically. They approached Rennes to buy one of France's best players in recent years for an estimated offer of £27.90m. Camavinga joined Los Blancos, potentially in a rotatory role for now, with hopes of regular football soon.
In Ligue 1, Camavinga played 71 matches. He got his first crack at the senior level aged 16 and he became the youngest player to ever play for Rennes' first team. From that moment, he utilized any given opportunity that came his way to better his craft. He gathered a lot of spotlight on 18 August 2019 when he recorded an assist and was awarded the man of the match award in a 2–1 win against Paris Saint-Germain.
At Real Madrid, he has made 31 appearances, but a large chunk of it has been as a substitute. Again, with the limited opportunities presented, he has utilized his minutes in the best way possible. A prime example of this was when he got introduced in the 80th minute for Luka Modric. Despite time against him, the Frenchman managed to assist Rodrygo for the winner against Inter Milan.
Camavinga has only made a handful of appearances for the France national team. His status as a La Liga and UEFA Champions League winner at Real Madrid makes him one of the favorites to get his World Cup selection.
Josko Gvardiol (20, CB, RB Leipzig)
Earlier in September, Josko Gvardiol extended his contract with RB Leipzig until 2027, with the club rejecting Chelsea's €90 million offer for the player.
The Croatian has grabbed all opportunities thrown at him with both arms. It did not take him long to establish his spot in the starting XI at Leipzig. Since then, he has played in 36 Bundesliga matches, earning his stripes as one of the most rational-minded talents in the league. He helped Leipzig clinch the DFB-Pokal. It was the first major trophy in the club's short history. Leipzig also reached the semi-finals of the UEFA Europa League, accomplishing such a feat for the first time.
It was only natural that Croatia would be welcoming such talent into their international ranks. Having played ten matches under Zlatko Dalić, he looks ready to be selected for their World Cup squad.
Florian Wirtz (19, AMF, Leverkusen)
Since his youth, pundits hailed Florian Wirtz as an upcoming talent in German football. At the tender age of 17, he became the youngest Leverkusen player to debut for the senior team. He has already scored 13 goals and registered 16 assists in 60 games in the Bundesliga. His dribbling skills, coupled with his long passing has helped Leverkusen's attacking game.
Wirtz became the youngest player to reach 50 Bundesliga appearances at just 18 years and 223 days. Unfortunately, the talented attacking midfielder remains on the sidelines, unable to compete after tearing his anterior cruciate ligament.
Gavi (18, CM, Barcelona)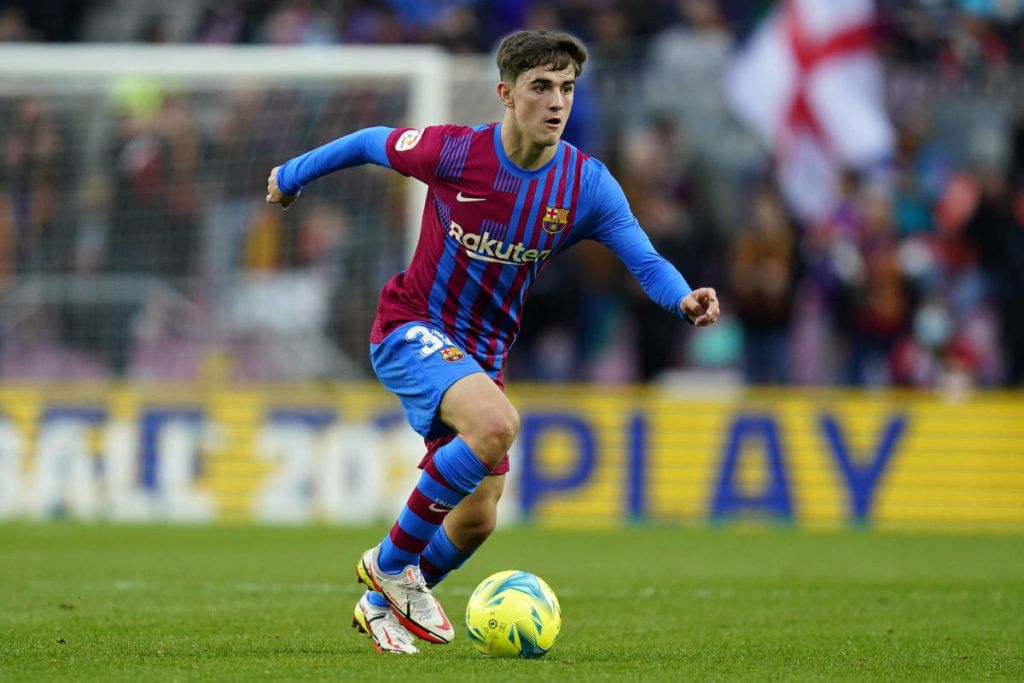 Another young prodigy emerging out of La Masia that has taken Spanish football by storm is Gavi. The rise of the young rookie has been nothing short of exceptional. Gavi eclipsed Riqui Puig in Barcelona's ranks by impressing not only Xavi but also the former Barca manager, Ronald Koeman.
Gavi got praised for his skills – such as dribbling, anticipation, intelligence, vision, passing, first touch, close control, change of pace, and ability to turn quickly to get out of tight spaces and initiate counter-attacks. He featured in 39 La Liga games. He had scored twice with two assists. Internationally, Gavi received a surprise call-up to the senior Spain national team.
Like the previously mentioned coaches, Luis Enrique also admires the talents of this youngster. On 5 June 2022, he scored his first senior goal in the Nations League against the Czech Republic, becoming the youngest player to score for Spain at the senior level.
Jamal Musiala (19, AMF, Bayern Munich)
At 19 years, Jamal Musiala has taken over the responsibilities of carrying out Bayern's offensive department. Already having 63 senior appearances for the Bavarians, he has been a regular starter in Julian Nagelsmann's squad. He has scored 15 goals and registered seven assists while playing as a left-winger alongside his primary position as an attacking midfielder.
He was eligible to play for three countries. Musiala has never played for Nigeria, but has switched allegiances between Germany and England throughout his career. Finally, he decided to represent his birth nation, Germany. By now, he has racked up 15 appearances for them. In all likelihood, Musiala would be participating in the upcoming FIFA World Cup under Hansi Flick.
Jude Bellingham (19, CM, Dortmund)
After his praiseworthy spell at Birmingham, Bellingham left for greener pastures of the German top-tier. He left England to become the most expensive acquisition for any 17-year-old.
The traditional Dortmund youth setup system worked to his benefit for the next two seasons. The English midfielder made an identity within the league, scoring numerous goals behind a remarkable forward line.
His tendency to draw fouls by frustrating opponents with his dribbling is a regularity. Several of his key passes to the forwards were rewarded with goals. He has made 63 Bundesliga appearances, during which he has scored four goals and assisted 11 times. Interested parties from England are closely monitoring him for an opportunity to pluck.
Pedri (19, CM, Barcelona)
Having signed him from Las Palmas, Barcelona was quick enough to give him a starter status. Frankly, there aren't many tireless workhorses like the 19-year-old Pedri.
Within a short period, Pedri has established himself as the sole orchestrator of Barca's midfield. He is the second youngest player to make 50 appearances in all competitions at the senior level. Pedri won the 2021 Kopa Trophy, awarded by France Football to the best performing player under 21.
His long-range shots, defensive soundness, and accurate passing have made him a fan favorite at Camp Nou. The record €1 billion release clause that the outfit has put on him is a testament to their valuation of his untapped potential.
For more updates, follow Khel Now on Facebook, Twitter, and Instagram and join our community on Telegram.