The most successful club in German football history, Bayern Munich, has won 32 national titles. The club has won 10 league titles in a row since 2013. They also have 20 national Cups and numerous European honors in their cabinet. Many players have had glittering careers with the German giants. Last weekend, at the tender age of just 17 years, Bayern Munich wonderkid Mathys Tel became the youngest goal scorer in the club's Bundesliga history.
Let's take a look at the top ten youngest goal scorers in Bayern's history.
10. Franz Beckenbauer
Position – Sweeper
Competition – Aufstiegsr. 1. BL
Age – 18 years 08 months 26 days
As one of the most influential players in the history of football, Franz Beckenbauer is undoubtedly a living football legend.
Throughout his glittering career, Beckenbauer helped Germany win almost every major international trophy. He was the captain of West Germany when they won the World Cup. Nicknamed Der Kaiser, Beckenbauer has been a commentator, manager, and critic since the 1960s. He also captained Bayern Munich to three consecutive European Cups as well as the European Winners' Cup.
Playing for Bayern in his youth, Beckenbauer made his Bundesliga debut as a left winger against FC St. Pauli on 6 June 1964. Beckenbauer, at the age of 18 years 08 months 26 days, scored the third goal as Bayern comfortably won 0-4.
9. Joshua Zirkzee
Position – Centre forward
Competition – Bundesliga
Age – 18 years 06 months 26 days
Now playing in Serie A for Bologna, the Dutch footballer was signed as a youth player by Bayern in 2017.
He made his Bundesliga debut on 18th December, coming on as a 90th-minute substitute against Freiburg with the score tied at 1-1. He immediately made an impact, making it 2-1. The game ended 3-1 with Serge Gnarby scoring the third.
During his time at Bayern, Zirkee made 12 senior appearances, scoring four in that period. Unable to break into the first team with Robert Lewandowski leading Bayern's attack, he was sent on loan at Parma and Anderlecht. In 2022, Joshua Zirkzee left FC Bayern and signed for Italian club Bologna FC for 8.5 million euros.
8. Dieter Brenninger
Position – Left winger
Competition – OL Süd (bis 62/63)
Age – 18 years 06 months 09 days
Born in 1944, Brenninger joined FC Bayern Munich at the age of 18. In his debut season in 1962, Brenninger scored a brace in a thrilling match against SSV Reutlingen 05, with the match ending 4-4. In 1965, Bayern was promoted into the German Bundesliga three years after he had joined.
Brenninger went on to play a total of 276 matches, scoring 127 goals. He lifted the German Cup trophy four times, in 1966, 1967, 1969, and 1971. He also won one UEFA Cup Winners' Cup (1966–67) and won the Bundesliga in 1968–69.
7. Bastian Schweinsteiger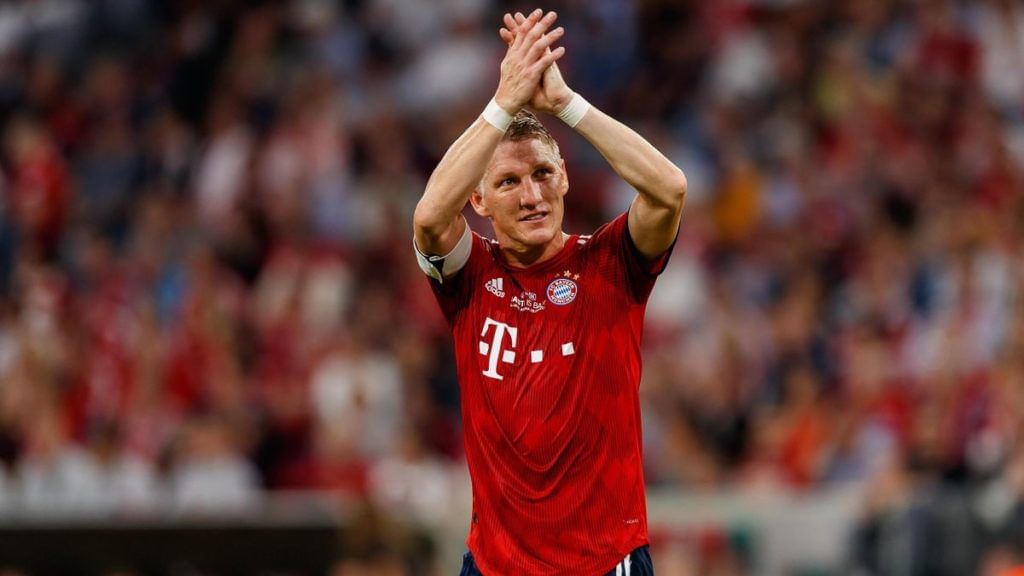 Position – Central midfield
Competition – DFB-Pokal
Age – 18 years 06 months 03 days
Bastian Schweinsteiger is a Bayern Munich icon and one of the greatest players Germany has ever produced. Schweinsteiger joined them in 1998, aged just 14.
At 18, Schweinsteiger was handed his debut as a late substitute in a UEFA Champions League match. A little later, Schweinsteiger scored his first goal at the age of 18 years, 6 months and 3 days against FC Köln in DFB-Pokal. Bayern demolished them 8-0 in that match.
Schweinsteiger spent 17 seasons at Bayern Munich, playing 500 matches across all competitions, scoring 68 goals. His contribution for the club earned him the nickname 'Fußballgott' (football god). During his time with the Bavarians, he won eight Bundesliga titles, seven DFB-Pokal titles, a UEFA Champions League title, a FIFA Club World Cup title, and a UEFA Super Cup title.
6. Alphonso Davies
Position – Left back
Competition – Bundesliga
Age – 18 years 04 months 15 days
The Canadian international started his youth career with Vancouver Whitecaps Rose. He become the first player born in 2000 to debut in MLS when he played for the Whitecaps.
Bayern was quick to spot the lighting quick left back who was equally adept to playing as a winger. The German club brought him to Germany at a very young age in 2018. With a slot open at left back, Davies was quick to grab his opportunity and instantly become integral to Bayern's side.
In 2019 against Mainz, Davies scored the sixth goal in Bayern's 6-0 demolition at a mere age of 18. 10 trophies and counting, Davies has already achieved a lot and is hungry for more.
5. Samuel Kuffour
Position – Centre back
Competition – Champions League
Age – 18 years 01 month 30 days
Born in Ghana, Samuel was signed by Torino F. C at the age of 15 in 1991. Years later, the powerful center-back caught Bayern's attention, joining them in 1993.
In 1994, Bayern was trailing behind 1-2 against Spartak Moscow in a CL match. At the age of 18, Samuel became the youngest ever defender to score in a Champions League, ending the match 2-2.
He became a regular starter for Bayern for years. Kuffour spent 11 seasons with Bayern. He was a prominent figure in Bayern's squad that won the 2000–01 Champions League. Kuffour made 175 appearances during his time in Munich, winning Bundesliga six times and DFB-Pokal four times.
4. Roque Santa Cruz
Position – Centre forward
Competition – Bundesliga
Age – 18 years 12 days
The Paraguayan international started playing youth-level football for Club Olimpia in Paraguay and made 24 appearances for the club. He then joined Bundesliga club Bayern Munich in August 1999 for €5 million, which was the highest transfer fee received in Paraguayan football history until 2019.
Santa Cruz scored his debut goal for Bayern Munich when he was just 18 years and 12 days old against Unterhaching in 1999. Facing a series of injuries and heavy competition from teammates Élber, Roy Makaay, and Claudio Pizarro, his game time and impact was limited. However, he managed to make 155 appearances in eight years, scoring 55 goals.
3. Toni Kroos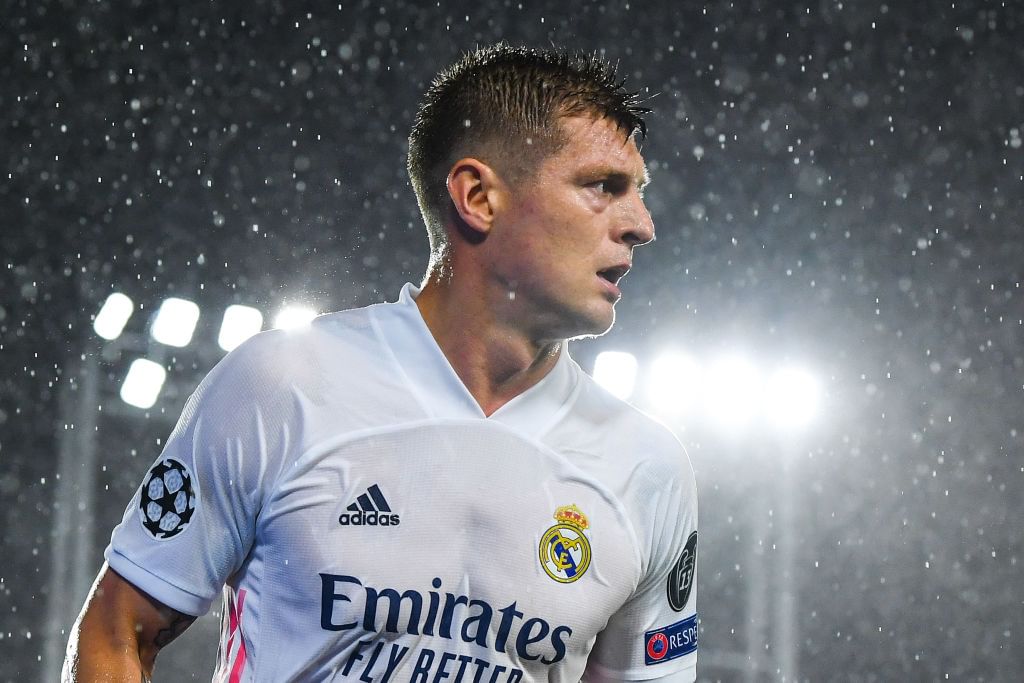 Position – Central midfield
Competition – UEFA Cup
Age – 17 years 09 months 21 days
Bayern Munich picked him from the youth ranks of Hansa Rostock in the summer of 2006. At just 17, Kroos made his debut. Kroos developed his profile in terms of his ability and mental strength during a loan at Bundesliga side Bayer Leverkusen, where he became a regular starter for them, managing 43 apps and 10 goal contributions.
His debut goal for Bayern Munich came in the UEFA Cup as a substitute. In a match against Red Star Belgrade, Kroos scored the winning goal in the 90th minute, helping his side win 3-2. Kroos had already assisted Miroslav Klose in that match
With Bayern, Kroos won three titles, a UEFA Champions League title, two DFB-Pokal cups and was voted into the league team of the season three times. In 2014, he joined Real Madrid in a deal worth €25 million.
2. Jamal Musiala
Position – Attacking midfield
Competition – Bundesliga
Age – 17 years 06 months 23 days
It's hard to tell that he is still a teenager – Musiala's ability and talent is unimaginable. He spent most of his youth career at Chelsea. Lack of first team opportunities and regular playing time forced Musiala to change clubs and he joined Bayern.
On September 18, 2020, Bayern Munich thrashed Schalke 8-0. Musiala scored the eighth goal of the match, becoming one of the youngest scorers in the club's history.
1. Mathys Tel
Position – Centre forward
Competition – DFB-Pokal
Age – 17 years 04 months 04 days
Tel played for Paris FC at the youth level. He then moved to Rennes in 2020, making his professional debut for the club at 16, the youngest in Rennes history. The record was previously held by Eduardo Camavinga.
Tel played for the Rennes B team in 2021 and he scored six goals in six apps. He also played seven games for their first team.
Mathys Tel was signed this summer from Rennes for a deal worth €28.5 million. On his full debut in FC Bayern's 5-0 (2-0) victory over Viktoria Köln in the DFB Pokal Cup, he marked the occasion with a goal. At just 17 years and 126 days old, the attacker is now the German giants' youngest-ever goal scorer.
For more updates, follow Khel Now on Facebook, Twitter, and Instagram and join our community on Telegram.