It has been five years since the Portuguese tactician won a league title.
Tottenham Hotspur began their 2020-21 Premier League campaign on a poor note, succumbing to a 1-0 defeat at the hands of Everton. It was a deserved victory for the Toffees as they were the superior side and looked in cruise control for the majority of the encounter. The same cannot be said about the team managed by Jose Mourinho, who were lethargic and put in a dull uninspiring display.
Moreover, this is the first time Jose Mourinho has lost a game on the opening matchday of a league season in his managerial career. Although it would be preposterous to write Mourinho and Spurs off based on just the first game, the manner in which they lost must have been concerning for the fanbase.
As a result, we decided to take a look at five reasons why Jose Mourinho needs to reconsider his plans and perhaps think about making slight alterations to his approach to football in general.
5. Questionable methods
After every damaging defeat, Jose Mourinho's methods are unfailingly called into question by observers. In a time when top teams are expected to play sparkling attacking football and to be designed to take initiative regardless of the calibre of the opposition, his more restrained gameplay continues to frustrate supporters.
All archetypical Mourinho sides are known to be defensively rock-solid, robust in midfield equipped with a dazzling attacking quartet to run riot up-front. One always expects his teams to have a sound defensive structure and shape that will limit the opposition's chance creation thereby making them very difficult to break down.
However, those trademark defensive qualities also worryingly seem to be missing at his current Tottenham side. The defence has leaked goals and appear shaky despite defending in numbers at times, which should bother the tactician and should force a thorough analysis of his current methods.
4. Fantastic array of talent
It is sometimes forgotten that it was more or less this group of players that reached the finals of the UEFA Champions League not so long ago. Despite suggestions to the contrary, Mourinho has some wonderful talent at his disposal – in Harry Kane, they possess one of the most lethal strikers in world football, Heung-Min Son boasts of all the qualities that his gaffer likes in his wingers and Spurs have also made some astute additions in Matt Doherty and Pierre-Emile Hojbjerg in the current window.
Importantly, we have seen that these players are capable of playing a vibrant and dynamic style of football, as they did under Mauricio Pochettino. With the English outfit linked heavily to Sergio Reguilon and Gareth Bale, they are bound to have a stronger squad for this season and in that case, there should be no reason why Mourinho cannot get his men playing a more proactive and aggressive brand of football.
3. Lack of cohesion in attack
Mourinho prefers to give his attackers the liberty to inter-change, occupy different spaces and use their own creativity to carve open defences. He provides them with a steady structure to play in and demands them to put in a shift defensively. However, the three-time Premier League winner doesn't necessarily put major emphasis on methodically constructing mechanized attacks beforehand as he rather wants his players to be unpredictable and spontaneous in their attacking actions.
This approach might have worked for him previously, but it has increasingly become vital in recent times to have defined patterns of play to consistently find success against low-blocks. Their attack has even appeared disjointed and out of ideas in certain matches like they did against Everton. As a result, it is something that deserves Mourinho's attention and needs to work on the training ground to provide their attack an added incision.
 2. Increased importance of pressing
In modern football, pressing in a synchronized fashion is crucial to the success of any team. It isn't mandatory to press from the front in order to win but if recent examples of Manchester City, Liverpool, or FC Bayern Munich in Europe are taken into consideration, one can observe a pattern emerging that indicate sides that excel at regaining the ball in dangerous areas, often unsurprisingly go on to attain desirable results.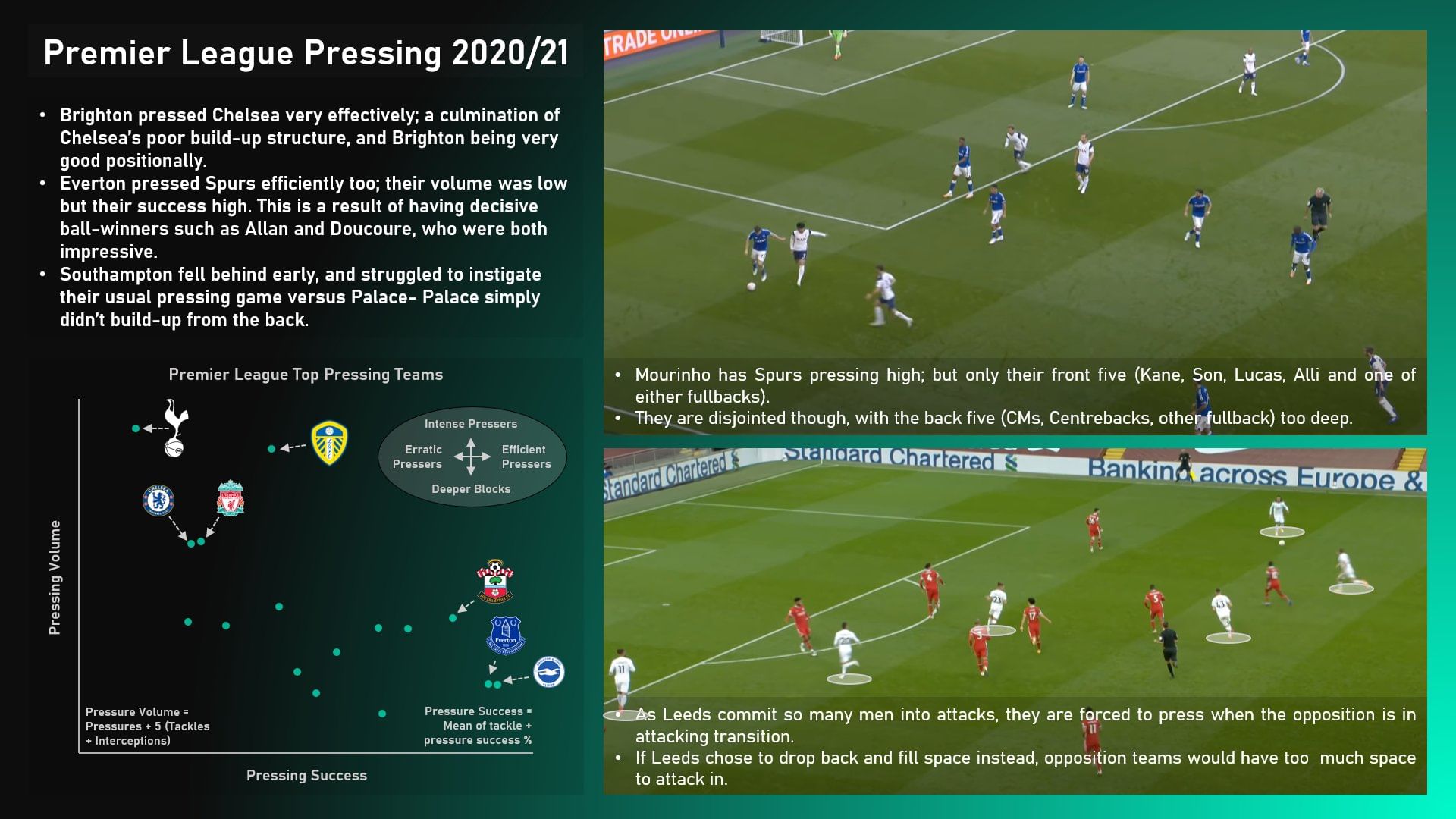 Mourinho more than anyone understands the significance of transitions but he isn't necessarily known for encouraging his attacking players to press aggressively higher up the pitch. Even if his forwards try to do so, it is difficult to detect any specific pressing triggers or consistency in the manner in which they proceed to press that then opens up an unwanted gap between the defence and the attack. If the tactician is to find success at Spurs, it is imperative that he works on this particular aspect of their game.  
1. Results
Ultimately, football is a results business and failure to win will always create pressure and raise concerns. In Mourinho's case, he has rarely ever been adored for his style of play. It is more of his charming demeanour, ability to get the results by hook or by crook, and knack of developing a siege mentality that appeals to his ardent fanbase.
He is branded as a winner and the man who will help Tottenham win trophies and take the club to the next level. As long as he is getting the results, the manner in which he does so wouldn't draw any complaints.
But the problem is his team aren't winning matches as often as they would have liked to in the first place. There is no doubt that Jose Mourinho is one of the most decorated managers in world football but he arguably has to revisit his tactical plans to get the best out of his players and stand a chance of winning top honours again in his managerial career.
For more updates, follow Khel Now on Twitter and join our community on Telegram.