Both teams played to their strengths but it was Les Blues who triumphed 1-0.
France and Germany played their hearts out in their campaign opener at Euro 2020 on Tuesday. The home side lost 1-0, with Mats Hummels scoring an own goal in the 20th minute. The game, however, saw innumerable chances for both teams, with the losing side having 10 attempts at Hugo Lloris' goal. This is the first time Germany have lost their first game at the Euros, but such was France's dominance, that the scoreline could have been much worse.
It was a brilliant encounter tactically, as both Joachim Loew and Didier Deschamps fielded players suited to set patterns on the pitch.
The structure
Germany
Germany played the game with a static 3-4-3, with Hummels, Matthias Ginter and Antonio Rudiger manning the backline. Robin Gosens and Joshua Kimmich took the wide roles . The midfield had two architects in Ilkay Gundogan and Toni Kroos. Up front, Thomas Mueller was playing the false-nine role. He was supported by Kai Havertz on the right and Serge Gnabry on the left. The team looked to be playing at its strength – with only a pair of weaknesses.
Hummels, Germany's key man in the heart of their defence, was also tasked upon with finding forward runs from deep into his own half. However, as the game progressed, Rudiger started pinging his trademark long balls to find Kimmich with more regularity. Germany had two brilliant forward-minded midfielders who could find the right pass with consummate ease. But the team missed the services of a proper defensive midfielder. The Real Madrid and Manchester City midfielders did not have the energy and dynamism of N'Golo Kante, a player who won several balls for his team yet again. Kimmich might be brought into the midfield if Germany change their pattern in the games to come. Kroos was at his delightful best, but could not do much to disturb the opposition defence significantly.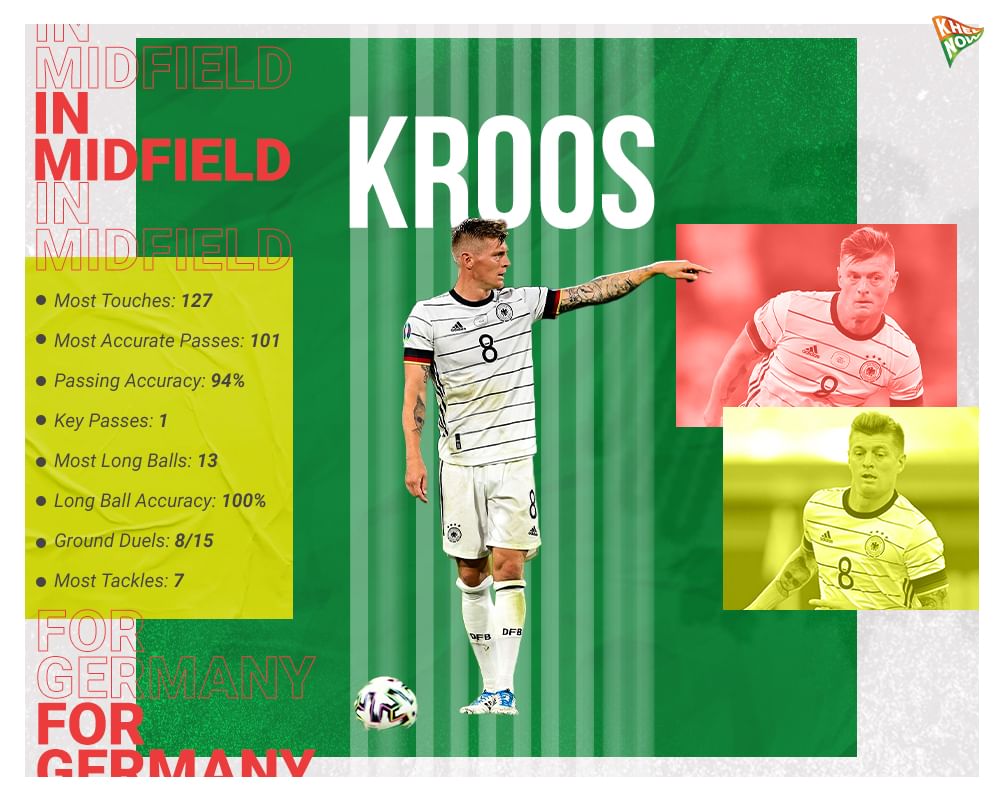 The second was more glaring. With Kimmich bursting forward, Mbappe had on several instances a lot of space to attack Ginter. With his speed and guile, the PSG star beat the defender, with only two centre-backs taking care of Antoine Griezmann and Karim Benzema. A better final ball from Mbappe could have earned another goal for France, for instance, in the 35th minute.
Germany showed more intent for a significant period in the second half. Gnabry had a great chance in the 54th minute to convert a Gosens cross, but the Bayern Munich forward could only side-foot it over Lloris' bar. Gosens had a chance himself a little later, but clattered into Pavard, who was covering a floating cross off Kimmich. They looked to have played at least 10 yards further forward and were looking for passing between the lines, rather than just passing sideways. A slew of chances created by Die Mannschaft showed they were missing a proper No. 9. Changes in the form of Leroy Sane, Timo Werner and Kevin Volland did not help proceedings too much.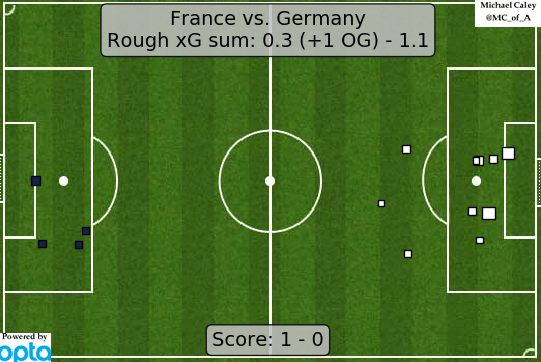 France
If Germany was playing to its strength, France was doing that too and a little more.
Presnel Kimbembe and Raphael Varane started as centre-backs, supported by Lucas Hernandez and Benjamin Pavard as full backs. A three-man midfield saw Kante supported by Paul Pogba and Adrien Rabiot playing in front of him. Up top, Karim Benzema was flanked by Mbappe and Griezmann on both sides. With Kante, France was playing with an extra man.
He broke down several good moves of the opposition and even recycled the ball brilliantly. France was content to not have the ball, with their opposition enjoying 62% possession. The Real Madrid centre-back was a beast at the heart of his defence. He shielded everything that came around him with immaculate precision.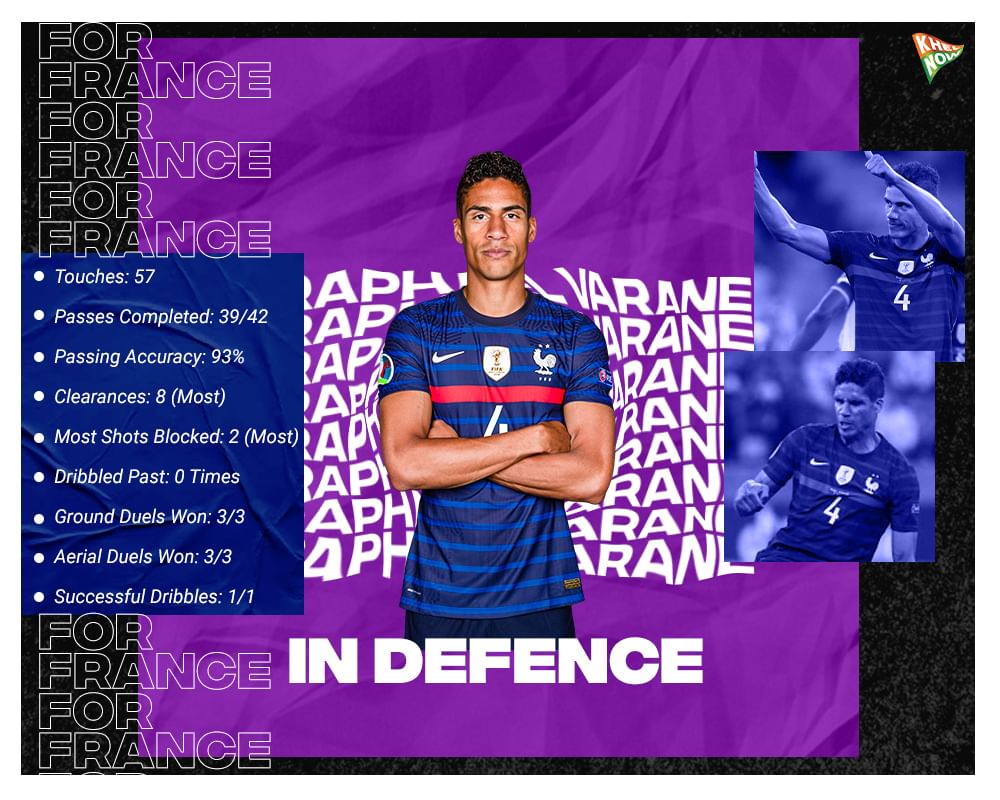 France seem to have continued from where they left off – and look like the team to beat. With Hernandez and Pavard running on engines found not so long ago, France's transition from defence to attack changed from 3:3 to 5:6 or even 7:6 at several points in the game. Given the full-backs' ability to hug the touchline, it spread out the field and created more space centrally for the likes of Pogba and Griezmann to weave their magic on the ball.
In the 21st minute, the Manchester United midfielder found an onrushing Hernandez with a delightful chip on the left side of the German box, with Mbappe pulling in both Ginter and Hummels. Unmarked, Hernandez fed in the ball and Hummels made a mess of the clearance to bundle the ball into his own net. Had he not met the cross, Mbappe was sniffing right behind to make the most of it. In the second half, the PSG forward made life worse for German defenders.
He was found by a well-weighted pass in the 56th minute from his strike partner – Hummels did well to stop that attack. In the 78th minute, Mbappe was in the Germany box yet again and a timely challenge from Hummels yet again stopped him from scoring. In the 85th minute, he laid the ball to Benzema to score after some smart midfield from from Pogba and Griezmann, only to be deemed offside. Mbappe had scored himself too, in the second half, but was offside once again.
With the kind of form France has displayed, they will be the team to beat. Also, when the world lauds Kante for his tireless running, there's another man who deserves a lot of credit for the Les Blues.
The Antoine Griezmann role
Antoine Griezmann might be playing for Barcelona at the moment, but has not given up the resoluteness he learnt during his time under Diego Simeone at Atletico Madrid. At 30, Griezmann is at the peak of his powers. Whenever France build up play and have comfortable position, the No. 7 finds space on the right side of the wing, supporting his fellow forwards with more space by pulling the full-backs wide.
Against Germany, too, Griezmann was found on the right flank, but rarely. Of the three forwards playing for the Les Blues, he was the first to drop down and do the dirty work whenever his team needed. He won headers on set-pieces. He even tackled Kimmich late into the game – showing his tremendous tenacity and give-it-all attitude for the national crest. Playing in tandem with Pogba, Griezmann was absolutely brilliant. He continuously pulled players with his runs that gave other midfielders and Benzema more space to operate.
When Germany attacked, Griezmann would drop down. He would then form a layer of midfield with Pogba, with Rabiot and Kante just behind. This screening helped France break down Germany's attempts at playing through the channels. This was something capable operators such as Gundogan and Kroos perform with ease.
Griezmann is the only player in the French side to have a free role and every time he steps on the pitch in the Blue jersey, he proves why. Alongside him, Pogba looks a different player altogether with far more confidence and composure on the ball. The touch-and-go played between Pogba and Griezmann in the 85th minute was any football fan's delight. It was a mega box-to-box shift from the FC Barcelona forward and there's no doubt Deschamps is happy to have him in his team.
The Euros 2020 group of death features Hungary, Portugal, France and Germany. It will be an interesting ride to the top two spots for the three heavyweights. Germany will face Portugal in a must-win encounter on Saturday. France will confirm a spot in the last 16 if they beat Hungary at the weekend.
For more updates, follow Khel Now on Twitter, Instagram and Facebook.