Circle these dates in your calendar for the ongoing continental championship.
The 2022 UEFA European Women's Football Championship is currently underway in England. England are joined by 15 other nations in the hope of lifting the trophy at the end of the tournament. There are a total of 24 group stage matches. This will be followed by 7 knock-out matches from July 20 to July 31. The final of the competition will be held at the Wembley Stadium in London.
The hosts of the tournament England have been drawn into Group A alongside Northern Ireland, Austria and former winners Norway. 8-time winners of the competition Germany are in Group B alongside Denmark, Spain and Finland. Group C consists of Switzerland, Portugal and former one-time winners Netherlands and Sweden. Two times runners-up Italy are in Group D alongside France, Belgium and Ireland.
Here are the top five matches to look forward to at Women's EURO 2022:
Northern Ireland vs England (Group A) – 15 July
This will be Northern Ireland's debut at the UEFA Euros. No one expected them to reach the tournament but they beat Wales, Belarus and Ukraine in the knockout rounds to reach the EURO 2022 group stage. However, most of their players are from part-time clubs in Northern Ireland and English lower-tier clubs. But they have faced England before in World Cup qualifying. They did lost 4-0 and 6-0 against England in their last two clashes. Despite England being clear favourites, Northern Ireland do hold the qualities to cause a massive upset.
Germany vs Denmark (Group B) – 8 July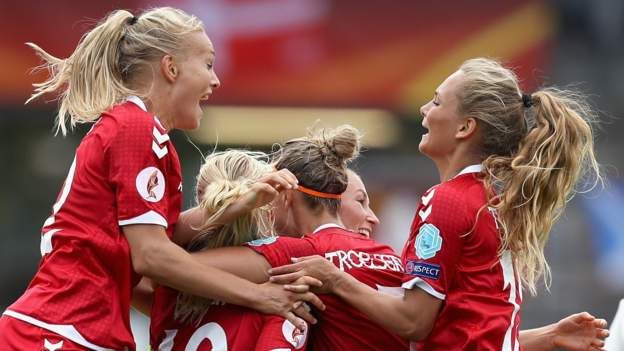 Both Germany and Denmark have been ever-present in Women's EURO tournaments since its first edition with a group stage in 1997. Germany won the tournament 5 successive times between 1997 and 2017. But they lost to Denmark in the quarter-finals of the 2017 edition and head into the group stage not as the defining champions for the first time in a long time. The German team will be looking to take revenge for the 2017 quarter-finals defeat, making the match even more exciting.
Denmark vs Spain (Group B) – 16 July
There is no doubt that Group B is the group of death this time around. Spain have been looking to breakthrough in a major tournament for some time now. Their youth squads have been dominating the UEFA youth tournaments in recent times. Barcelona's dominance at the club level is also a big plus as most of the Spanish players play for Barcelona. This finally may be Spain's tournament. While Denmark beat Austria in the semi-finals of the 2017 Euros, this was the same squad that beat Spain in the quarter finals before. Denmark also beat Spain 3-0 in a friendly match last June.
Iceland vs France (Group D) – 18 July
Iceland lost their debut game in any UEFA finals tournament against France 3-1. While in 2017, France beat Iceland with the help of a late spot-kick to secure three important points in a very tight group. This will be Iceland's fourth straight UEFA finals tournament. While France have been tipped to win a tournament for many years now. But they still are yet to really kick on and take the final step. All these factors make Iceland and France clash even more exciting.
Netherlands vs Sweden (Group C) – 9 July
Netherlands enter the 2022 UEFA European Women's Football Championship as the defending champions. The Dutch side defeated Sweden in the quarter-finals of the 2017 Euros and again in the Semi-finals of the World Cup 2019. But Sweden did end the World Cup with a bronze medal. If their last two competitive meetings are anything to go by, this clash is definitely one to look out for at the tournament.
For more updates, follow Khel Now on Twitter, Instagram and Facebook.