World Football
Mentality of RB Leipzig suits me a lot, feels Yussuf Poulsen
By

Kaushik
The Danish striker talked about his time with the club, his ambitions and Denmark's remarkable run at the Euros
When you talk about clubs of the 21st century, the name of RB Leipzig is sure to arise in the discussion. The German club founded in 2009, are a modern-day case study for many clubs in planning and development. In only 13 years of their existence, Leipzig got to the Bundesliga in 2016 from the fifth tier in 2009. They have finished runners-up in the Bundesliga (including their debut season) and the DFB Pokal twice. Leipzig also made it to the Champions League semi-finals in 2020-21.
Their success is largely attributed to their vision for the team and their ingenuity. But, more importantly, it is their players as well. A vital cog in the latter has been Yussuf Poulsen. The Danish international joined Leipzig in 2013 and has been a part of Leipzig's journey ever since. In his eight seasons with the club, Poulsen has scored 78 goals in 308 games, having been part of all their achievements listed above.
He was also part of the Denmark squad that made it to the semi-finals of Euro 2020. Despite having faced so many highs and a few lows, the 27-year-old holds the same determination to perform for his club and country.
In a conversation with Khel Now, Yussuf Poulsen talked about his time at the club and his future ambitions.
The best moment at RB Leipzig
As mentioned before, Yussuf Poulsen was part of Leipzig's promotion to the Bundesliga and their four-season stint in the UEFA Champions League. When asked about the best moment in his time with Leipzig, Poulsen was quick to point out the club's run to the UCL semi-finals in 2020-21.
"I think the biggest achievement was going to the semi-finals. To be in the best four teams in Europe was a big achievement for the club. Eight years ago we were playing in the third division and to be in the top four teams in Europe in one year was huge. We have had a lot of great moments, but if I have to pick one it would be this," the forward remarked.
Staying the course with RB Leipzig
Although RB Leipzig's successes cannot be discounted, the club like many other German clubs have often bid farewell to plenty of great talents. Despite seeing his teammates leave for the biggest clubs, Yussuf Poulsen has stayed put at Leipzig.
When asked for the reasons and the motivation behind the same, he replied, "I think the mentality of the club suits mine a lot. I'm always trying to achieve the next thing, always trying to be the best that I can be. The same is with the club and that suits me. So, I feel that I have something to achieve here and something to push me. So I think the club is a really good fit for me."
The current season's struggles
Despite their obvious quality, the 2021-22 season has not been easy for Yussuf Poulsen and his team. Leipzig currently stand ninth in the Bundesliga. They also crashed out of the Champions League in the group stage this season.
When asked for the reasons behind the team's struggles, Poulsen replied, "We had a lot of changes this year. We changed our coach and lost quite a few of our top-performing players in the summer transfer window. So, I think it's normal that although we do perform well every season, with the pace of change at the club, it takes some time to get to the level you have already achieved. These are bumps on the way and I know we will be successful."
"We have had a hard year and haven't performed as well as we want to. But, we see that we are on the right track again. We have got a new coach (Domenico Tedesco) who has some good ideas that we are getting used to. The team is doing well on the pitch and our first match after the winter break shows that (4-1 win over Mainz). There were also issues with COVID and injuries and we couldn't even fill our bench. So, we are on the right track to getting back to the same level," Yussuf Poulsen added.
Relationship with Andre Silva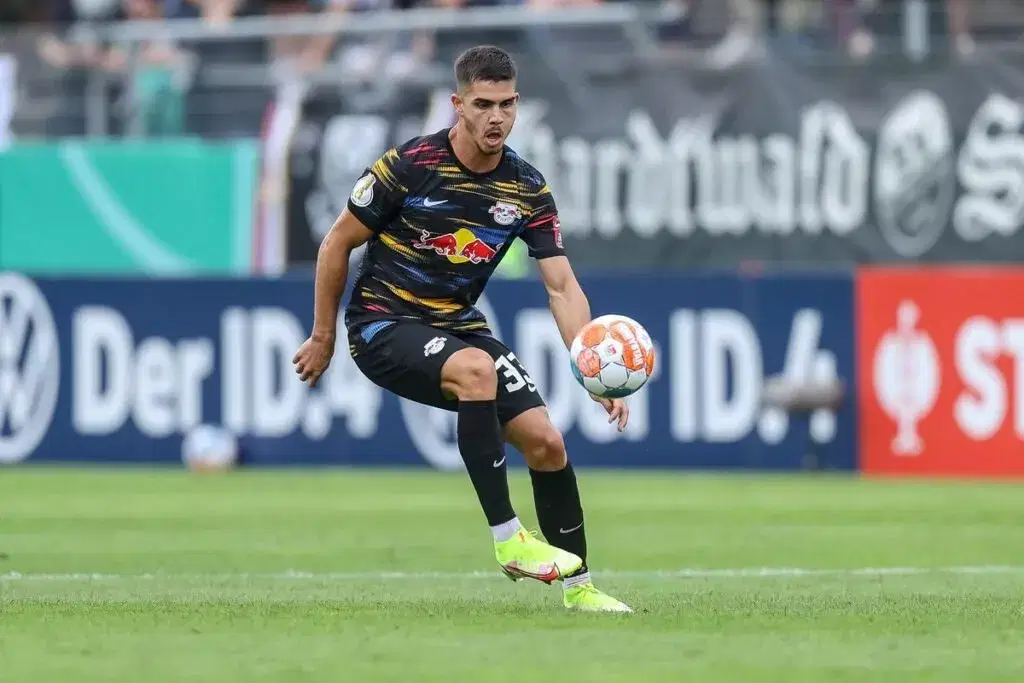 RB Leipzig underwent a summer of change. While they lost important players like Marcel Sabitzer and Dayot Upamecano, they also got in talented players like Andre Silva, Ilaix Moriba, Mohamed Simakan and more.
The former has particularly impressed one and all at Leipzig with his goalscoring instincts. Yussuf Poulsen spoke in glowing terms about his Portuguese strike partner. He replied, "Andre is a great player. He has been developing a lot. It is always difficult when you come from another club. It takes some time to get adjusted to new teammates, tactics. But, it has gone quite fast with Andre. He is slowly hitting the level he had at Frankfurt and that is a great thing for us."
Poulsen added, "We are very happy to have Andre in the team. He is working very hard for himself and the team. I love such people who always try to achieve. So, I think Andre is on the same level mentally as I am."
Playing & mentoring the young crop
Leipzig's crop of young players is the envy of Bundesliga and many other clubs. Die Roten Bullen possess exceptionally talented players with the likes of Christopher Nkunku, Dominik Szoboszlai and many more. As the experienced campaigner in the squad, Poulsen has the task of improving these players and taking them to the next level.
When asked about his thoughts on the youngsters, Poulsen positively noted, "It's always exciting to see people develop. I've been one of those young players in the past and I've also developed a lot. So, it's great to see these players take the next step. I'm always trying to help them to understand the way of the game."
"These players have a lot of talent, but they need to learn that football is about winning. Sometimes, young players want to look good, want things to look good instead of winning. So, I can help them learn, win and to get better. We have a really young squad, so it's always nice to see them performing and developing," the Dane quipped.
The impact of COVID on football
COVID-19's impact has been felt on football as much as it has on the global scale. The deadly virus has impacted plenty of football clubs, including Leipzig.
When asked about the difficulties concerning COVID, Poulsen remarked, "The problem is of course with the limitation of the squad. When someone gets infected, they have to quarantine which makes it difficult for them. This has been there at all clubs not only us. It is a difficult time, but such is the time that we live in. We live in a restricted area and we have COVID tests every day. So, we are maybe more protected than the average people. We have managed this well so far and hopefully, we can continue to manage this situation and stay safe."
Denmark's sustained success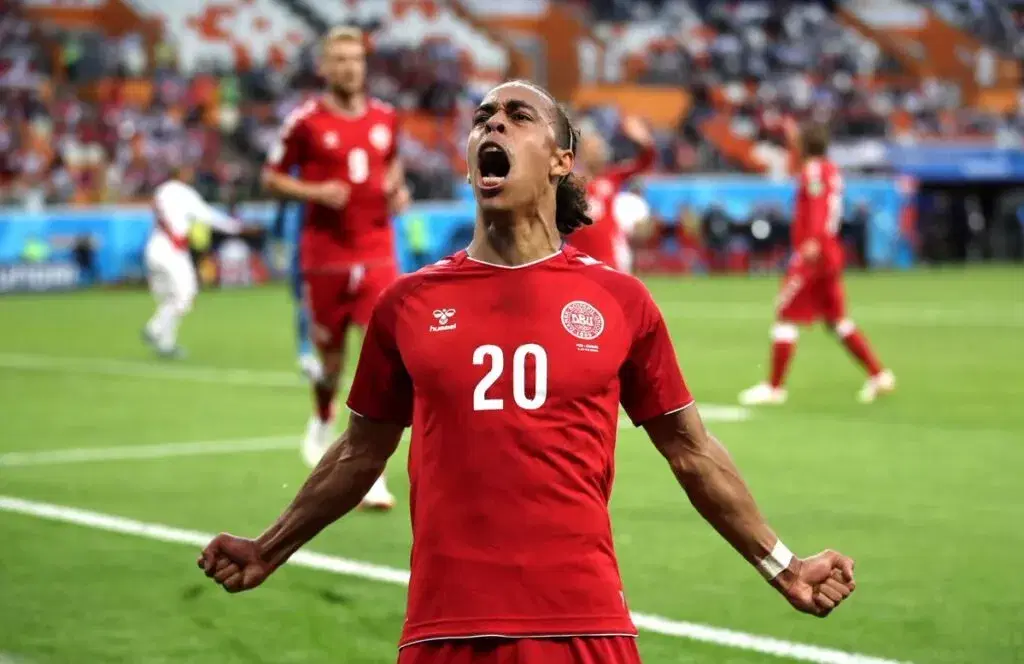 Yussuf Poulsen's success doesn't only stop at the club level. The forward has also represented his country 64 times, scoring 11 goals. He is part of a golden generation of Danish players who made it to the 2018 World Cup, the semi-finals of Euro 2020 and now the 2022 World Cup in Qatar.
When asked about the reasons behind the team's success, Poulsen pointed out, "First of all, we have really good players. We have a group of people who are very close to each other. It is a team that has played together for a long time. We have played together at youth levels, so that level of consistency is not seen that much in a national team. There have been ups and downs, but the secret is to be consistent with the team and the group of players."
Yussuf Poulsen added, "It is not as easy as it is in club football because here you see the players everyday. You need to be able to trust each other and know how they play. In the national team, we have people who know each other very well. We have a great coach in Kasper Hjulmand who has taken us to the next level. We have a great team spirit as well. So, I think you will see a Denmark side that is going to perform very well in the next 4-5 years."
Aspirations for Qatar 2022
Denmark topped their qualifying group for the 2022 World Cup. As a result, the Danes were among the first teams to qualify for the showpiece event in Qatar next year.
When asked to rate his team's chances, Poulsen diplomatically replied, "It is always difficult to talk about chances. I think it is subjective. Nobody knows for sure because everything could change in a second. But, we have an ambition of making it very far. I think dreaming about it will not get us anything. We will give everything we have. We came close to a final in the Euros and we showed that we can compete against the best in the world. So, I don't see why we can't do it in the World Cup. I hope at the end of it we can surprise everyone."
For more updates, follow Khel Now on Twitter, Instagram and Facebook.