The 28-year-old was one of the top performers in the Pro Kabaddi League in 2019.
K Prapanjan has slowly evolved into one of the top raiders in the Pro Kabaddi League (PKL). He was the third-best raider for Bengal Warriors en route to their maiden PKL title in 2019. The raider accumulated 105 points in 20 matches and was in the top 20 raiders last season. The title win was the fruit of a long and laborious effort for a young man from Salem.
In the league since the fourth season, K Prapanjan made a slow start to his PKL career. He had made only 19 appearances in his first three campaigns and scored just 19 raid points. Since then, he has scored at nearly 5.5 raid points per match (347 raid points in 64 matches), his efforts paying off in the last three seasons as he strived to up his game.
"If a raider has to click in Pro Kabaddi League, he has to be dedicated, no matter if he is a junior or senior player. Seniors and juniors might not have the same techniques, so the seniors shouldn't hesitate to learn from the juniors and be dedicated in their careers," explained K Prapanjan on Beyond the Mat show.
Watching and learning from the top raiders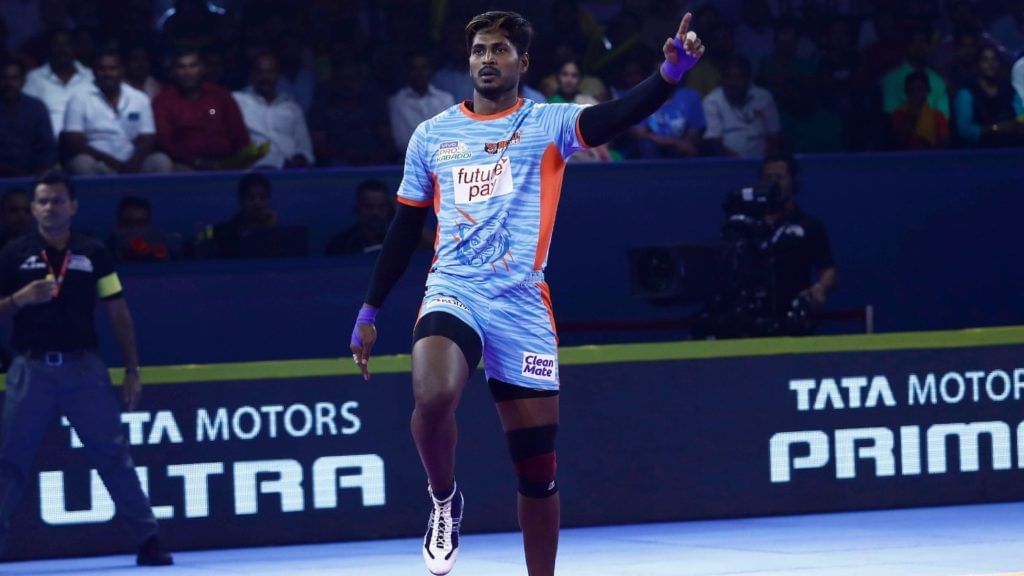 K Prapanjan may not be as prolific as some of the top raiders in but he currently sits on 22nd position in the all-time top raid-scorers list with 366 points from 83 matches. However, he insists that is constantly learning.
"We cannot replicate Pardeep Narwal or Pawan Sehrawat, but we can grasp their techniques and perform them according to our style," stated Prapanjan, who entered the limelight as a support raider to Ajay Thakur for Tamil Thalaivas during PKL Season 5.
"We can improve our skills that way. This is how I learn techniques, by looking at them – adapting them according to my height and weight. I cannot play like Sukesh (Hegde) Anna, but I can learn his techniques and apply them according to my physical fitness. That is how a raider can be successful," he pointed out.
Both Sukesh Hegde and K Prapanjan were part of the title-winning Bengal Warriors team in Season 7. While captain Maninder Singh led the raids for his side, with 205 points in 20 matches, Prapanjan too proved key to the campaign. He scored 102 points in 20 games — that included his season-best four Super Raids — as the second raider.
For more updates, follow Khel Now on Twitter, Instagram and join our community on Telegram.